Alumni News
Alumni in the News
By Anne-Ryan Heatwole JRN'09
Jerry Nadler '69 (D-N.Y.) was elected to his 12th term as a member of Congress representing the 10th congressional district of New York, which includes Western and Lower Manhattan and parts of Brooklyn. Nadler, who was first elected in 1992, defeated Conservative party candidate Ross Brady and independent Michael Dilger.
Several alumni were cited by Forbes magazine recently. Zak Ringelstein '08 was named on the 2015 30 Under 30: Education list for his work as cofounder of Uclass, a platform for storing and analyzing educational curriculums. Marco Zappacosta '07 was on the 2015 30 Under 30: Retail & Ecommerce list as cofounder of Thumbtack, an e-commerce platform that helps users hire professionals for services. Jared Hecht '09 made the 2015 30 Under 30: Consumer Tech list as the cofounder of Fundera, an online marketplace for small business loans. And Jonah Van Bourg '07 and Moran Baldar '09 placed on the 2015 30 Under 30: Finance list for their roles as executive director and a VP at Goldman Sachs, respectively.
Bernadette E. Brown '99 Bernadette E. Brown '99 has been named director of the Center for Sexual and Gender Diversity at Duke. Previously at the California-based National Council on Crime and Delinquency, where she focused on LGBT youth within the juvenile justice system, Brown will promote and support LGBTQI inclusion at Duke.

John Coletti '97 has been awarded a fellowship from the New York Foundation for the Arts in poetry. The award offers an unrestricted cash grant of $7,000 to artists working in 15 disciplines and is designed "to empower artists at critical stages in their creative lives by providing cash grants and entrepreneurial training." Coletti is the author of the books Mum Halo (2010) and Deep Code (2014), among others.

Yuntong Ma '12 has received a Gates-Cambridge Scholarship, awarded to outstanding applicants from countries outside the United Kingdom to pursue graduate degrees at the University of Cambridge. Ma, a third-year medical student at Washington University in St. Louis, will use the scholarship to pursue an M.Phil. in sociology; she plans to study the experience of infertility and assisted reproductive technologies in the British Chinese community. She majored in neuroscience and behavior at the College.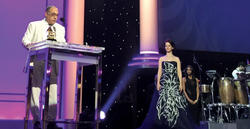 Ashley Kahn '83 (left) accepts his Grammy on February 8. PHOTO: HARRY WEINGERAshley Kahn '83 won a Grammy for Best Album Notes for the never-before issued John Coltrane album Offering: Live at Temple University. Kahn, a music journalist and a professor of music history and criticism at NYU's Clive Davis Institute for Recorded Music, also co-produced the album. This was his third time in the Grammy album note category; he previously received nominations for essays written for a Coltrane anthology and a Nina Simone anthology.

Matthew Wilson '00 was featured in a Washington Post article "One clown, two openings: Actor/director juggles his own commedia and a hit farce" about his work directing One Man, Two Guvnors for 1st Stage in Tysons Corner, Va., while simultaneously preparing to put on a one-man commedia dell'arte show, The Great One-Man Commedia Epic. Wilson earned an M.F.A. from the Shakespeare Theatre Company's Academy of Classical Acting and is the founder of Faction of Fools Theatre Company, which in 2012 won the Helen Hayes Award for outstanding emerging troupe.

Alumni were well represented at the 2015 Academy Awards on February 22. Graham Moore '03 won for Best Adapted Screenplay for The Imitation Game while Dan Futterman '89 was nominated in the Writing, Original Screenplay category for Foxcatcher and Dede Gardner '90 was a producer of Selma, nominated for Best Picture. Moore gave what was widely talked about as the most moving acceptance speech of the night, using the opportunity to focus on suicide awareness and depression. "I would like for this moment to be for that kid out there who feels like she doesn't fit in anywhere," he said. "You do. Stay weird. Stay different, and then when it's your turn and you are standing on this stage please pass the same message along."

Maggie Gyllenhaal '99 won a Golden Globe for Best Actress in a Mini-Series or TV Movie for her work in The Honorable Woman. Kate McKinnon '06 has been tapped as a cast member of the upcoming all-female reboot of Ghostbusters; the film, directed by Paul Feig, will also star Melissa McCarthy, Kristen Wiig and Leslie Jones.