Alumni Profiles
Richard Ravitch '55 Conquers Crises
By Laura Butchy SOA'04
Detroit's bankruptcy may have faded from the headlines, but the long recovery continues, in part under the experienced guidance of Richard Ravitch '55. Building on a diverse career as a successful businessman, politician and financial adviser, Ravitch is now senior adviser to Detroit's Financial Review Commission.
Last year also marked the release of Ravitch's first book, So Much to Do: A Full Life of Business, Politics, and Confronting Fiscal Crises. Part memoir and part how-to for managing various business and government fiscal challenges, the book chronicles his six decades of public service leading to his current position, including his role leading New York City out of its 1975 fiscal crisis.
"He's preeminent in dealing with fiscal crisis," says attorney Judah Gribetz '49, LAW'52, who has worked with Ravitch on numerous projects. "There are few people who know more about the financial aspects of government at the federal, state and local levels."
A native New Yorker, Ravitch grew up on the Upper West Side with his father, who owned HRH Construction, and his stay-at-home mother, who played cello and sculpted. Although he briefly attended Oberlin in Ohio, Ravitch returned to New York to be near his mother after his father passed away during his freshman year.
"I can't imagine going another place in New York other than Columbia. … I was interested in American history and government, so I was looking for that in New York City," Ravitch says. As a student, he was inspired by such legendary thinkers as Lionel Trilling '25, GSAS'38; Jacques Barzun '27, GSAS'32; and Henry Graff GSAS'49, his adviser. "My intellectual interests and political and social values came from my years at Columbia and began by being exposed to extraordinary people," Ravitch says.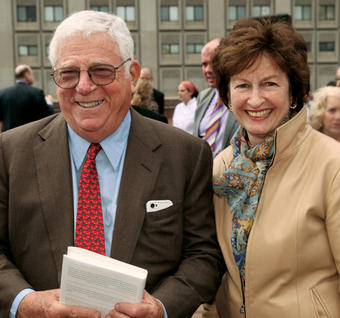 Richard Ravitch '55 and his wife, Kathy Doyle, at a May 2013 book party at Waterside Plaza. PHOTO: GORDON ERIKSENRavitch focused his studies on American politics, writing his thesis about the Progressive Party of New York and serving as co-chair of Students for Stevenson during Adlai Stevenson's 1952 presidential campaign. After graduation, he briefly worked in Washington, D.C., but soon decided he didn't want to make a career as a political staffer.

In 1960, Ravitch settled in New York to join his cousins in the family building business, and he loved the work. He is most proud of Waterside Plaza, a complex of four residential towers with numerous amenities overlooking the East River. As detailed in his book, the project took 10 years from conception to obtaining the necessary permissions and financing to completion in 1974.

Although he has since held other positions, Ravitch still plays an active role in Waterside. Peter Davis, Waterside's managing director and son of its architect, describes Ravitch as a citizen politician. "He's the most engaged private citizen I've ever met," says Davis. "If he has a good idea, he won't rest until that idea is turned into reality … He's the most insightful and strategic thinking person I've ever worked with."

In 1975, New York Gov. Hugh Carey called upon Ravitch to rescue the near-bankrupt New York State Urban Development Corp. He was appointed UDC chairman, and across the next two years led it out of crisis. Immediately following, Ravitch was a key player in New York City's 1975 fiscal crisis. Though he was not in a public office, he worked with Carey and others to prevent bankruptcy on several occasions through the years.

In 1979, Carey appointed Ravitch chairman of New York City's Metropolitan Transportation Authority. Ravitch describes his four years at the MTA as "exhilarating" despite having to wear a bulletproof vest after an MTA security guard at his office was shot by a man threatening to kill Ravitch. "I put together a plan to rebuild the subway systems and build Metro-North," Ravitch explains. "It was an incredible feeling of accomplishment." Under Ravitch's leadership, the New Haven and New York Central commuter lines of Conrail were taken over by the MTA as Metro-North, and the city's IRT, IND and BMT subway lines were updated with stainless cars that could be cleaned of graffiti.

Ravitch has continued to advise government agencies and leaders since that time, perhaps most visibly when he was asked to step in as lieutenant governor of New York in 2009 under Gov. David Paterson '77 after Gov. Eliot Spitzer resigned. Commuting between New York City and Albany, Ravitch analyzed state infrastructure and made recommendations for the strained state budget.

"He did a lot of tremendous work for Gov. Carey, and he did it again as lieutenant governor for David Paterson," says Gribetz. "He's extremely capable in understanding how legislatures and government offices work, and he knows how to compromise and get results."

Ravitch's masterful grasp of finance and dedication to public service made him an obvious choice when Detroit faced its own bankruptcy woes, although he describes the situation as very different from New York in the 1970s. "New York was almost broke in 1975 but was still a thriving city and center of commerce, entertainment and media," Ravitch says. "Detroit's problems were far more serious, from 50 years of neglect."

After advising the bankruptcy judge about the feasibility of plans for five months last year, Ravitch thought his work was done. "Then the governor asked me to be adviser to the financial control board created to supervise the bankruptcy," Ravitch says. In the coming years, he will attend meetings in Detroit and provide advice from his home in New York.

Working from New York allows Ravitch to spend time with his wife, Kathy Doyle, and his two sons and 13 grandchildren. He also continues his public service as a community leader. He was the first president of the Jewish Community Relations Council of New York and he serves on a number of boards.

Looking back on his career, it is easy for Ravitch to identify his favorite endeavors. "Public service," he replies without hesitation, adding, "I love business, too. I have a lot of pride when I look around this city and see all the things I built."

Laura Butchy SOA'04 is a professor of humanities at Plaza College and a freelance dramaturg and writer based in Queens.