Alumni Profiles
Andrew Carroll '93 Preserves the Past
By David McKay Wilson
Andrew Carroll '93 is on a mission to help America remember. Following the publication of four best-selling collections of war correspondence, his latest effort recognizes forgotten corners of the nation's history — from the site of Martin Luther King Jr.'s almost-fatal stabbing on West 125th Street in Harlem to the dormitory at Wisconsin where Sierra Club founder John Muir had his epiphany about the wonders of America's wilderness.
On a month-long cross-country trip last October, Carroll stopped at several such places to raise community awareness by installing plaques to mark the sites. In San Antonio, he visited the Menger Hotel, where he installed a plaque noting the contribution of preservationist Adina De Zavala, who made a valiant stand against the destruction of the Alamo Mission's Long Barracks in the early 1900s.
Carroll detailed De Zavala's story in his 2013 book, Here is Where: Discovering America's Great Forgotten History, a folksy travelogue about his experiences discovering overlooked incidents in American history. He says De Zavala's civil disobedience has been overshadowed by the philanthropy of Clara Driscoll, who financed much of the Alamo's early reconstruction. "Driscoll gets all the credit but De Zavala stopped her from tearing down the barracks," says Carroll, who lives in Washington, D.C. "She barricaded herself inside until the governor agreed not to tear it down."
The project is part of Carroll's multi-faceted pursuits in history, which include giving speeches and serving as director of Chapman University's Center for American War Letters, set to open in Orange, Calif., in May. The collection will include more than 100,000 letters Carroll has amassed during the past 16 years, including a new trove gathered on his recent journey.
Carroll's dedication to celebrating "forgotten history" evolved from his work preserving war correspondence — specifically, a letter he read in 1999 about an incident in New Jersey, when President Abraham Lincoln's son slipped on a train platform and was saved by a man named Edwin Booth. About a year later, Lincoln was shot by Booth's brother.
The De Zavala plaque in San Antonio was one of about 10 that Carroll has designed, financed and installed. In Manhattan, he put up a plaque in the New York Hilton Midtown to commemorate the first mobile telephone call in 1973; it was made by a Motorola engineer named Martin Cooper, who was walking nearby with the 10-pound contraption.
"He was almost hit by a car while making the call," Carroll says. "They were a distraction from Day One."
In Brooklyn, he discovered the Cypress Hills Cemetery mausoleum that's the final resting place of Dr. Thomas Holmes, who attended P&S in the 1840s and is known as the father of embalming for his work during the Civil War to preserve the bodies of Union soldiers for their final journey home. The cemetery installed a bench and marker by the mausoleum.
"Andrew reached out to the cemetery, and it came as a surprise to us," says Andrew Desmond, Cypress Hills' VP. "It's amazing how he has dedicated his time and energy to recognizing historical places and notables that many people never knew about."
Carroll's keen interest in preserving history dates to his sophomore year at Columbia, when his childhood home burned down, and with it his family's photo albums and letters.
"I had a turning point when everything was wiped out," recalls Carroll. "It inspired my mission to preserve the past."
The life-and-death issues that come to life so poignantly in the war correspondence echo Carroll's determination to highlight the circumstances around the deaths of some famous Americans. In Franklinton, N.C., he put up a plaque in Cutchins Funeral Home to commemorate the 1946 death of heavyweight boxer Jack Johnson. On the night of his death, Johnson left a diner in a rage after he was refused service, speeding off in his car — only to drive off the road. Ambulances would not transport blacks, so the local black funeral home transported Johnson to the hospital, where he was pronounced dead.
Then there was the case of Thomas "Pete" Ray, a member of the Alabama Air National Guard, whose plane was shot down in the CIA's 1961 botched Bay of Pigs invasion of Cuba. To prove that the United States invaded Cuba, the Cubans kept his body until 1979, when Ray's sister won its release for burial in a letter-writing campaign that finally convinced Cuban authorities.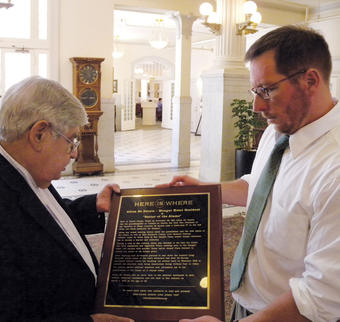 Andrew Carroll '93 (right) installed a plaque at the Menger Hotel in San Antonio last fall; here, with hotel historian Ernesto Malacara. A plaque was unveiled at a ceremony — which included a 21-gun salute — last April at the Birmingham cemetery, .

"It's a lesson about the Cold War," says Carroll.

Carroll continues to research as he travels, looking for places where history and his path cross. When visiting a town, he often asks the librarian or town historian if there's anything of historic significance that has been overlooked. Then he scours local history books and documents to learn more. That's how he found out about the sinking in 1865 of the ship Sultana in the Mississippi River near Memphis. More than 1,400 lives were lost in the nation's deadliest maritime incident.

"It's like a treasure hunt," he says. "I like to explore. It might be a parking lot or a church. It has been an incredible experience sharing my passion for preserving what's lost."

David McKay Wilson, a columnist for The Journal News in White Plains, N.Y., profiled particle physicist Carl Haber '80, GSAS'85 for the Summer 2014 CCT.