Around the Quads
Dean's Scholarship Reception
By Lisa Palladino
Almost 425 named scholarship donors and College student recipients filled Roone Arledge Auditorium on the evening of February 12 for the Dean's Scholarship Reception, an annual gathering that presents an opportunity for the groups to meet, to share stories about their College experiences and to begin to build lasting relationships.
The reception featured a buffet dinner as well as reserved seating, to ensure donors and their recipients found one another in the crowd and had time to chat. A trio of student musicians performed jazz throughout the night.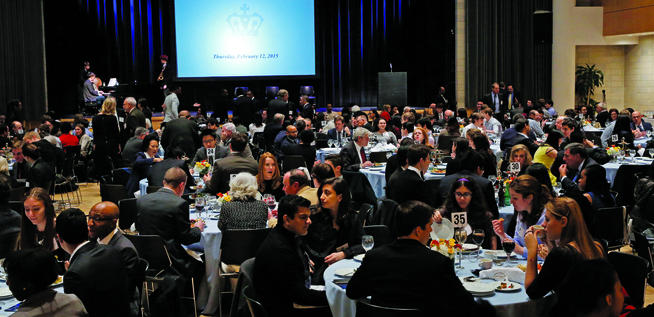 A spirit of generosity and camaraderie infused the evening. The official program featured brief speeches from Dean James J. Valentini, donor Tracy V. Maitland '82 and recipient Diarra White '15.

Valentini reported that the College offers 765 named scholarships this year, benefitting 1,181 students. Half of the College's undergraduates receive financial aid, which the dean stressed "is not a process, not an office, not an application, not an award … It's a tool to advance the important objectives for us in the College." He thanked the donors, saying, "The entire class benefits from your generosity," alluding to the fact that scholarships allow for a diverse class with students from all walks of life. He also referenced the students in the room, noting that he "wants them to think of themselves years from tonight as donors."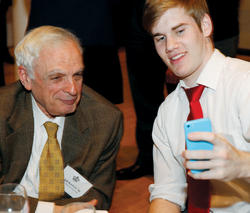 Ralph Kaslick '56 chats with Titus Willis '18. White, who grew up in West Orange, N.J., described attending the Alexander Hamilton Award Dinner in the fall. She said she thought she might not have anything in common with the honoree, Phillip M. Satow '63, until in his acceptance speech he noted that had it not been for financial aid, he would not have been able to continue his College education.

White said she was grateful for financial aid for the "level of access it has given me," adding that she "never would have been the first person in my family to attend an Ivy League school" without it. "Thank you for the tools to live out my dream."

The benefactor of the Dr. Leo C. Maitland Scholarship Fund, in honor of his father, Maitland drew a laugh from attendees when he said, "I'm going to get right to the point. We need more money." Financial aid, he added, gives students the opportunity to find and pursue their passions: "One must be passionate about something to excel."

Each attendee received a printed program, which featured a letter from Grace Kim '15, the Senior Fund chair; bios of the evening's speakers; and a profile of donor Carlos R. Muñoz '57, GSAS '61, who attended the event with his wife, Kassie, and greeted several of his student recipients. Muñoz, who attended the College on scholarship, in 1996 established the Gladys H. Muñoz Scholarship Fund in honor of his mother. "I feel that I'm doing something to return some of the benefits I received," he says.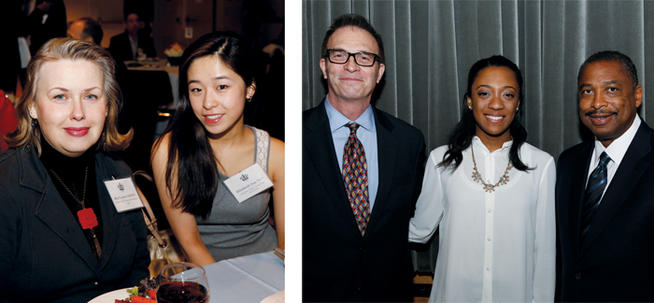 Left, Ria Coyne BC'84, GSAS'85 with Elizabeth Sun '15. Right, the evening's speakers, left to right: Dean James J. Valentini, Diarra White '15 and Tracy V. Maitland '82. Photos: michael divito
To view the complete list of 2014–15 donors and recipients, visit the Named Scholarships website: college.columbia.edu/namedscholarships.