Around the Quads
Student Spotlight: Kailee Pedersen '17 Expresses Herself in Many Genres
By Nathalie Alonso '08
In an "experimental autobiography" titled Mythopoetics that won the English department's 2014 Philolexian Prize for Prose, Kailee Pedersen '17 introduces herself as Iphigenia, daughter of Agamemnon in Greek mythology, who must be sacrificed in order for the gods to allow her father's fleet to sail to Troy. Pedersen weaves the story of Iphigenia (who is spared in some versions of the myth) and the events of her own infancy into a poignant personal narrative.
A writer and poet who already has several prestigious awards under her belt, Pedersen knows little about her origins beyond that she was left at a hospital in her native China as a newborn — without a note, she points out — and brought to the United States at 1 by her adoptive parents. Throughout Mythopoetics she couches her experiences, such as the alienation she felt from her Asian roots while growing up in Oklahoma and Nebraska, in Greek, Chinese and Japanese myths. "I take on personas that are mythical or literary and play with the boundary between 'Who am I as a real person?' and 'Who am I in the context of literature?'" she says.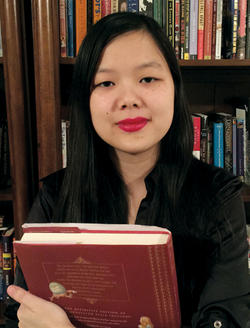 Writer and poet Kailee Pedersen '17 enjoys experimenting with genres. PHOTO: JON PEDERSENPedersen, who considers herself to be "in the experimentation phase of being a writer," has been recognized for her work in several genres. She was named a 2014 National YoungArts Foundation Winner for The Pareidoliad, a long-form poem narrated by a woman in the Reconstruction-era South who is forced to marry a man who then leaves her because she is unable to conceive. The unnamed narrator ends up committing infanticide when an adulterous relationship with her brother-in-law produces a deformed offspring. "I wanted to explore different narratives associated with Southern fiction — decay, tragedy, madness, et cetera — but put a Greek and Biblical spin on them," says Pedersen.

In addition to a monetary prize, Pedersen was selected to attend National YoungArts Week in Miami in January 2014, during which she recited part of The Pareidoliad at one of several galas and participated in workshops with professionals in the literary field. Among her mentors was Bryce Milligan, a Texas-based publisher and writer. Milligan says Pedersen has "a natural gift for recognizing etymological associations" and adds, "Not only the range, but the usage of both literary and linguistic allusions is staggering for a writer her age."

In 2013, Pedersen won a $25,000 Davidson Fellows Scholarship from the Davidson Institute for The Transliteration of Flesh, a 60-page portfolio of poetry, fiction and nonfiction in which she challenges the legitimacy of "metanarratives" that attempt to universalize human experience. "Winning that was huge," says Pedersen, who is using part of the funds to pay for her College education and plans to put the rest toward graduate school. Exploring multiple genres as part of a single massive project "gave me a different perspective on writing," she adds.

That same year, Pedersen earned three medals — two gold and one silver — in the Scholastic Art and Writing Awards (one of the gold medals was for The Pareidoliad) and took first place in the American Foreign Service Association's National High School Essay Contest.

Pedersen, who as a teenager penned what she now considers an "embarrassing" science fiction novel, says the first inkling that she might have a future as a writer came at 12, when film critic Roger Ebert, in response to a comment she left on his blog, sent her an email praising her writing ability. "He was very encouraging," recalls Pedersen.

Pedersen, who moved with her family to Nebraska just before high school, chose the College in part because she wanted to be in New York, "where the publishers are." Inspired by two of her favorite writers — poet Anne Carson and dramatist Tom Stoppard, who wrote a play about classical scholar A.E. Housman — she took elementary Greek as a first-year and "fell in love with the idea of a classics degree, which is a fusion of learning the language, reading the literature and learning the history," says Pedersen, who is also studying Latin and Japanese.

Since her first year, Pedersen has taught a weekly GED writing lab for adults through Columbia-based nonprofit Community Impact. "I find that really rewarding because I like to share my passion for writing," she says.

"When you're writing, no one can tell you what you're feeling is wrong," adds Pedersen. "It's just you and the page."

View a video of Pedersen reading part of The Pareidoliad at the 2014 National YoungArts Gala.

Nathalie Alonso '08, from Queens, is a freelance journalist and an editorial producer for LasMayores.com, Major League Baseball's official Spanish language website.