Cover Story
Food, Glorious Food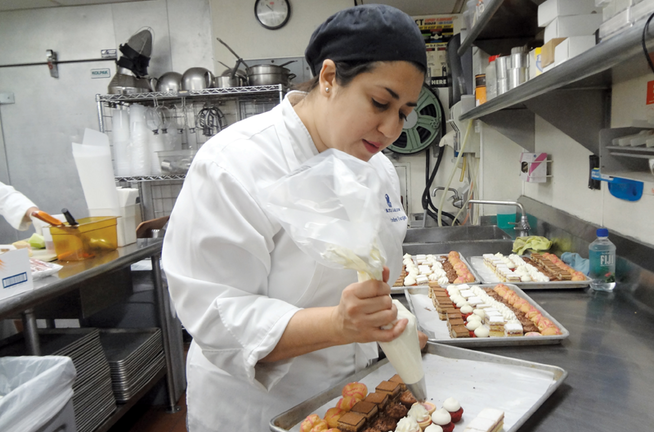 Ritz-Carlton pastry cook Mercedes Vargas '99 puts the finishing touches on a tray of petits fours. photo: nathalie alonso '08
Most any denizen of Morningside Heights in recent years has spotted a tourist (or two or 20) snapping photos outside the large-windowed restaurant on the corner of Broadway and West 112th Street. Its name was Monk's on Seinfeld but we all know it as Tom's Restaurant. What is a pop culture icon for some means something different and is real to Columbians for other reasons: It's always open in the wee hours of a Saturday night. The man behind the counter knows my name. The chocolate milkshakes are just so good.
Of course, the starting point for nearly every College student's food experience is the dining hall. All first-years sign on for a meal plan, after which enrollment is optional. Students can also opt for debit systems of varying kinds, accepted at a dozen places on campus, including the venerable John Jay Dining Hall. (There's even a café with coffee and snacks in Butler, improbable as it seems to those who frequented the library in its more austere days.) Only as time passes do favorites emerge. Habits are developed, haunts found.
And so if Tom's isn't the place that left an impression from your College days, maybe it's The West End or V&T, The Hungarian Pastry Shop or The Mill. Maybe it isn't a restaurant at all, but a memory of a bleary-eyed breakfast at John Jay after an all-nighter, or a dorm-room lunch of ramen noodles prepared on a contraband hot plate. Or a dinner where the food turned out to be beside the point, because it was one of those rare nights when the company and conversation somehow changed your life.
Then there are the times when food is exactly the point — give me something quick and cheap.
In this themed section, we look at food and some of its many meanings, albeit always through the perspective of Columbians. Among students, food is community, as Nathalie Alonso '08 reports in her article about the residence halls and special interest groups whose activities reflect the range of campus food culture. It is also the backdrop against which the everyday life of the undergraduate plays out, as Karl Daum '15 shows in his illustration of lunchtime inside Alfred Lerner Hall's Ferris Booth Commons.
For alumni, food is nostalgia, as Alex Sachare '71 demonstrates in his article about how Columbians recall many of the restaurants that have come and gone — and for a few stalwarts, come and stayed — in the neighborhood through the years. Food is camaraderie, as Anne-Ryan Heatwole JRN'09 learned when she dropped in on lunches with the Classes of 1958 and 1963 (sidebar to Sachare's piece). And food is profession, as evidenced by our profiles of nine alumni from the '90s and '00s. These graduates join an illustrious group of Lions who have made names for themselves in the industry, including Michelin star-winning chef Anita Lo '88 and Cook's Illustrated and America's Test Kitchen founder Christopher Kimball '73, and we're eager to see what they do next.
Bon appétit.
Alexis Tonti SOA'11