Cover Story
Epicures and Entrepreneurs
College alumni build careers in all aspects of the food industry
---
Nick Anderer '99 Offers Taste of Rome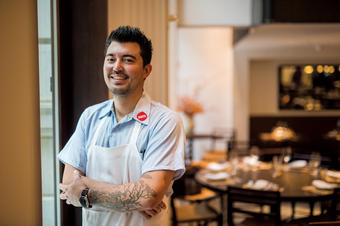 PHOTO: DANIEL KRIEGERA passion for art drove Nick Anderer '99 to spend his junior year of college in Rome but it was "the rustic food of the people" he discovered there that cemented his ties with the city. The connection has since shaped his career, and today he is executive chef and partner at two restaurants inspired by the Italian capital: Maialino and Marta.
Anderer was in his sixth year as a sous chef at Danny Meyer's Gramercy Tavern in spring 2009 when the acclaimed restaurateur approached him about opening a Roman-style trattoria. Out of those conversations was born Maialino ("little pig" in Italian), which opened in November 2009 at the Gramercy Park Hotel. Befitting of its name, Maialino's menu features roasted suckling pig alongside classic pasta dishes such as spaghetti alla carbonara.
These days, Anderer spends most of his working hours at Marta, his second venture with Meyer, which opened in September at the Martha Washington hotel. There his mission is to sell a population accustomed to folding pizza on the virtues of thin, crackly, Roman-style pies. Toppings range from recognizable (mozzarella and basil) to unconventional (bechamel sauce, ricotta and fontina cheeses and white truffles).
Anderer, son of Paul Anderer, the Fred and Fannie Mack Professor of Humanities, has worked full-time in restaurant kitchens since he was a senior at the College. In addition to his time at Gramercy Tavern, where he cooked under Tom Colicchio (now the head judge on Bravo's Top Chef) and the current executive chef, Michael Anthony, Anderer's resume also includes a stint at Babbo in Greenwich Village under Food Network icon Mario Batali.
Here, Anderer talks with CCT about cooking Roman food for New Yorkers and his foray into the pizza scene.
What do you love about Roman cuisine?
PHOTO: alice gao
It's really aggressive and has lots of bold flavors: salty pecorino cheese, cured meats like guanciale [pork cheek], black pepper, dry pastas and spaghettis — hearty food of the people. It's not fancy food at all. In some ways, it's kind of sloppy. They are into offal and off-cuts of meat, which I'm really into, too. I like the way they utilize everything.
How have you tailored Roman recipes for a New York clientele?
Sometimes it seems appropriate to respect tradition. In the case of a dish like spaghetti alla carbonara, I wanted to respect the original ingredients and do the best version of it that we could. Then there is a dish like carciofini friti — fried baby artichokes — where I couldn't find the carciofi they get in Italy, so I had to prepare the artichokes in a slightly different way.
If I'm going to call a dish by a traditional Italian name, I'm going to make it in the traditional Italian way. If I can't, then I'm going to alter the name and figure out a new way to present it to New York so we're not misinforming people. Food history is something I take pretty seriously.
What risks did you take with the menu at Maialino?
Serving offal is a big one. There is a risk associated with serving things that are a little more off-color, but we've had great success selling tripe. We put it on the menu from the get-go and after a few months, it started to gain a following. Now we sell fried pig's heads, pig heart salads, skewered chicken hearts and a number of things with liver.
Have you chosen to modify any dishes based on feedback?
When we first opened Maialino, I was very stubborn about serving proper al dente pasta the way it's served in Rome. That type of pasta, most Americans would say, is crunchy. That's what I did for the first two or three weeks and several people, some of them food writers, some of them friends, started saying, "This is delicious, but the pasta needs to be cooked just a little bit more." After I heard it the 10th, the 12th, the 15th time, it would have been foolish to continue down my stubborn path.
How would you describe your culinary philosophy?
Less is more. I'm always looking to strip down a dish rather than gussy it up. When we do tastings, most of my comments are, "There are one or two too many ingredients here. We need to pull away these two so that these three shine." Then it's figuring out how to make those three or four ingredients express themselves to their utmost. I don't like to manipulate ingredients too much. I do like using modern technology but not to the point where you can perceive it on the plate. You shouldn't know that chicken has been sous-vide [vacuum sealed in a plastic pouch and cooked in a water bath]. You should just taste it and think, "This is delicious; I don't know how they got it this moist."
A number of chefs have embraced casual concepts like you have at Marta. Is that a way to take a break from fine dining?
I actually think New Yorkers take pizza very seriously. And even if they didn't, I would still feel compelled to bring something new to the conversation. But chefs doing more casual things is certainly a trend and I think it's a good one. Not everybody wants to go out and eat fancy food all the time. They want to let their hair down and relax.
Where do you like to dine out?
I like to keep things lively, different. I love casual, small places. I don't go to a lot of fancy restaurants, although I do appreciate a good, fancy dinner. I crave Asian food. I get my fill of Italian food at work.
Nathalie Alonso '08
---
Delivering Delicacies from Around the World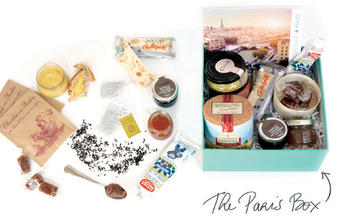 PHOTO: courtesy Try the worldNo matter where she travels, Katerina Vorotova '07, BUS'14 always returns with a suitcase of unusual foods. But the New York-based, Russian-born foodie is not one to keep a good thing to herself. So she founded a start-up with Parisian friend David Foult SIPA'14 that allows anyone to eat his or her way around the world — sans the TSA patdown.
In September 2013, the pair launched Try The World (trytheworld.com), a subscription service that delivers a curated gourmet package from a different country to customers' doorsteps every two months. Vorotova and Foult work with renowned chefs to select local, hard-to-find premium foods for each box — think Italian Urbani truffle sauces, Brazilian Bazzar brigadeiro spreads or Turkish Nar olive oil. Each box (there have been 10 so far) also includes a "culture guide" with recipes, a music playlist and a list of recommended films from the area.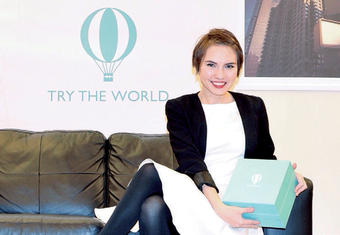 PHOTO: courtesy Try the worldIn June 2014, Vorotova and Foult completed their first round of financing of $700,000, prompting Vorotova to quit her job as a strategy and business development manager at Weight Watchers. Since then, Try The World has been featured everywhere from The Huffington Post to Travel+Leisure and MSNBC to The Wall Street Journal. The company now boasts thousands of customers, with more than 10,000 boxes shipped so far from its New York headquarters.
The founders curated the Paris Box (their first) with the help of Christophe Schmitt, chef of the Michelin-starred Le Diane in Paris. Here, Vorotova — who fell in love with French culture when studying abroad at Reid Hall — offers an inside look at her selections from Normandy, Corsica and more.

Le Palais des Thés
François-Xavier Delmas, owner of the Paris tea shop Le Palais
des Thés, has traveled the world for more than 25 years searching for the finest teas. The Thé du Hammam is a fruity green tea blended from roses, berries and orange flower water that evokes the fragrances of a hammam (a Turkish steam bath). The Thé des Sables was inspired by a journey to Morocco where the famous Damascus roses grow on the Atlas mountains. "Enjoyed hot or cold, these fragrant teas are far more than a beverage; they are perfume in a cup," Vorotova says.

La Mère Poulard
Founded in 1888, the La Mère Poulard restaurant and bakery in Mont Saint-Michel remains a paragon of French gastronomy. With only six ingredients, including salted butter from Brittany, the sablés shortbread cookies included here are a fan favorite. "You can't find more traditional French cookies than La Mère Poulard," says Vorotova.

La Maison d'Armorine
Based in Brittany, the family-owned Maison d'Armorine crafts salted butter caramels with a traditional Breton recipe, originally created with Breton butter and the region's famous fleur de sel. This treat was born after WWII when the French celebrated a return to the beach in Brittany. "For any French person, each bite of the chewy caramel evokes childhood memories of seaside holidays and family trips: a nostalgic joie de vivre," says Vorotova.

Clovis France
PHOTO: courtesy clovis franceClovis France is the only mustard and vinegar maker in Reims, capital of the northeastern province of Champagne, and the company's recipes date to 1797. The terrain in which the mustard seeds grow contributes to their flavor, which is enhanced with a splash of wine from the finest barrels from Reims and Épernay. "We wanted to feature a French mustard different from the so-famous Dijon," says Vorotova. "The mustards from Clovis benefit from a centuries-old heritage and premium ingredients."

Clément Faugier
In 1882, Clément Faugier started his candied chestnut company in Ardèche, a mountainous region known for its chestnuts. The first to apply an industrial production process to chestnut drying, he created a spread from the pulp three years later. The recipe is unaltered today. "The most popular way to eat it is as a topping for Greek yogurt," says Vorotova.
Le Saunier de Camargue
Le Saunier de Camargue comes from the naturally salty French Mediterranean coastal area. Local sauniers collect the unrefined salt by hand once it's crystallized by the hot summer temperatures. Vorotova suggests using it to "finish a dish, as it adds a crunch and a lingering taste that brings out a range of subtle flavors from salad to fish and meat."
Charles Antona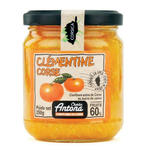 PHOTO: courtesy charles antonaCharles Antona is a Corsican jam producer whose Minnà jams are 100 percent natural and organic. Respecting age-old recipes —"minnà" means grandma — Antona's secret ingredient is the Mediterranean sun. The clementine jam featured here is made from a rare species of the fruit exclusive to the island of Corsica. "You can enjoy these jams on fresh bread, a croissant or crêpe for breakfast, or pair with a cheese platter," Vorotova suggests.
Yelena Shuster '09
---
Talking Burgers with Billy Thanopoulos '95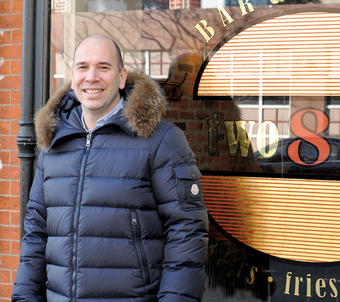 PHOTO: MEG MOORHOUSEWhen Billy Thanopoulos '95 was a teenager bussing tables in diners owned by his parents, he never imagined that he'd return to the restaurant business as an adult. After unfulfilling stints in law and real estate, however, he opened Brooklyn's two8two Bar & Burger — named after the Atlantic Avenue street address — in 2011. Since then, the relaxed restaurant and bar has wowed everyone from Top Chef's Dale Talde to the Travel Channel's George Motz, with appearances in GQ and Brooklyn Magazine to boot. Here, Thanopoulos describes how he became Boerum Hill's burger king.
What is the secret to a good burger?

The most important part is the meat, and we get that freshly ground every day. My butcher at Los Paisanos Meat Market delivers it right to our door every morning. It's like when you have coffee beans and you grind them right away: the coffee, the smell — everything is better as opposed to getting something that's already ground.

What is your trademark?

Definitely the two8two burger [with roasted poblano chiles, cheddar and two8two sauce]. We don't do anything really fancy. Everything is cooked to order and the prices are reasonable. A lot of people want to dress up burgers with a lot of different toppings. The people who like to do that use frozen meat and want to dress the burger up with other things to disguise it, but we really want our meat to show. It's marinated with salt; that's it. We use three cuts of beef: brisket, short rib and chuck. Many restaurants usually just use ground chuck or maybe leftovers from scraps. Our burgers are basically a steak that's ground into a burger.

Why open your own restaurant?

My parents were in the restaurant business. We're Greek. My parents came to the United States in their early 20s. When Greeks come over from the old country, for some reason, that's the business they gravitate to. So that's what my father did. At one point, he owned maybe 10 diners in our area [Highland, Calif.]. He had no prior experience, just kind of learned it on the fly, and ended up building a fairly good business. I grew up working there, from the kitchen to bussing tables to delivering, so I had a little experience in that industry.

With my own family, we'd have a monthly burger night at my house. My wife [Anastasia Thanopoulos '96] and I would buy ground beef from Paisanos, and we'd have friends over and everyone would comment on how good it was and they'd never had anything like this and that I should open a restaurant. And then this location became available and I used my experience with real estate and development to build the place out, because I had contacts with contractors and plumbers and electricians.

What was it like to start completely from scratch?

That whole process of opening was probably one of the most daunting experiences I've ever had. Everything from the staffing to installing a kitchen with a fire suppression system — all that stuff I had to figure out on the fly without having any experience. There were times during the process where I wondered, "Am I sinking all this money in to lose it all, because I'm totally out of my league?" It took a year from when I got the space to officially open.

What impact did Columbia have on you?

It was definitely the four best years of my life. I met my wife there. She was a history major like me. We started dating right before Christmas 1994, and she had already been scheduled to study abroad in Greece the next semester. I had this elaborate Spring Break planned with all my guy friends, and I cancelled it and went to Greece instead. We had only known each other for a few weeks before that. There wasn't email in 1994; we communicated by writing letters, very romantic. There was never really a pause in the relationship after that. Now we have three kids.

Can you still stomach burgers?

My family never gets sick of burgers. We eat at the restaurant once or twice a week. It's nice to know that our friends can come to two8two and we don't have to clean a greasy kitchen at home.

Yelena Shuster '09
---
Korilla: Korean Food on the Move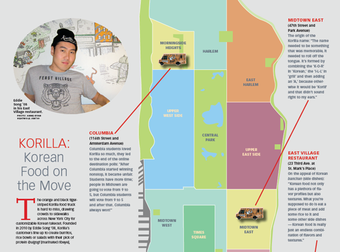 The orange and black tiger-striped Korilla food truck is hard to miss, drawing crowds to sidewalks across New York City for customizable Korean takeout. Founded in 2010 by Eddie Song '08, Korilla's customers line up to create burritos, rice bowls or salads with their pick of protein (bulgogi [marinated ribeye], chicken, pork barbecue or tofu), rice, vegetables, kimchi (fermented vegetables) and house specialty hot sauces.
See the full story and Korilla Truck Map (PDF).
---
Recipe Writing Is Art for Dina Cheney '99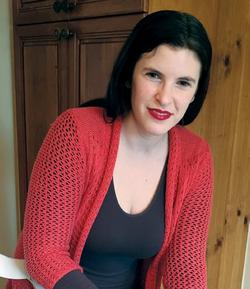 PHOTO: COURTESY DINA CHENEY '99Those who read about food may recognize the name Dina Cheney '99.

She is a prolific recipe developer and cookbook author, including of the forthcoming The New Milks (2016) and Mug Meals (2015), as well as Meatless All Day (2014). Among her other credits are Year-Round Slow Cooker, Williams-Sonoma New Flavors for Salads and Tasting Club (think book club for the culinarily inclined). As a magazine food writer she penned the "Taste Test" column for EveryDay with Rachael Ray for three years and contributes to Clean Eating, Parents, Fine Cooking and Cooking Light. And she paints — food, naturally.

The subject has been a longstanding passion for Cheney, starting in 1992 when, she says, she was an unhappy high school kid trying to find herself. In the pages of Bon Appétit, Gourmet and Saveur, she did just that. The exquisite photos of shortbreads and lamb roasts, the spreads of holiday feasts and summertime fêtes, the pithy pleas to chop, sauté, toss, drizzle — they all lit her up. "I was writing a lot of poetry at the time," Cheney recalls. "The recipes were like abbreviated poems. … I [also] was obsessed with the mastheads. I wanted to be those people."
For her Columbia application, Cheney sculpted and submitted a clay sandwich, along with an essay comparing herself to it. She likened her intellectual prowess to the sandwich meat, and the lettuce to her whimsical creativity and playfulness. Once at school, when she wasn't studying, she was exploring New York restaurants. An anthropology major, she did her thesis on community cookbooks.

After graduation Cheney moved with her future husband, Jacob Rosenschein '99 (whom she met on the first day of college), to California, where he'd been hired as a tech writer for Netscape. Cheney scoured job listings for openings in food writing or marketing but found nothing, and instead began working in PR for a tech firm. Though she flourished professionally, she wasn't happy: "I wasn't expressing my creativity. I was a square peg in a round hole," she says.
When the couple moved back to New York a year later, Cheney was more determined than ever to make her dream of a career in food a reality. She checked out the Columbia job board and found that Karen Page and Andrew Dornenburg, the legendary cookbook author duo, were looking for an assistant. She jumped on the opportunity and worked closely with the couple researching, editing and writing.

Realizing she had to earn her "culinary chops," Cheney also attended the Institute of Culinary Education (ICE) from April 2002 to December 2003. For an academic, artist and introvert, the social, fast-paced world of culinary school was challenging. "I almost quit, it was so hard for me," she says. "I had to really learn how to cook."

After graduation from ICE, Cheney hustled. She taught cooking classes and led food tours. "I had to be tenacious, almost obsessive. I must have sent thousands of pitch emails" for food articles and recipe ideas, she says. Rejections piled up, but with time, so did opportunities. One article led to another, and then to a book deal. The more Cheney was published, the more publishers and editors sought her work.

Today, Cheney lives in Cos Cob, Conn., with her husband and their two sons. Some days, she spends a lot of time at her computer, especially when she's in the writing phase for a cookbook. She also logs many hours in the kitchen, creating, tweaking and testing recipes for her cookbooks and magazine articles. Lest the life of a recipe developer and cookbook creator sound glamorous, let Cheney set the record straight: "I do a lot of grocery shopping. I do a lot of dishes. I have a gel mat for my feet.

"It still amazes me that I've accomplished this dream that I had when I was 14," Cheney says. "I feel so lucky to be doing this."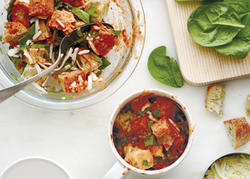 Pizza TossPHOTO: COURTESY THE TAUNTON PRESSThis easy crowd-pleaser — think pizza in a mug, in less than 5 minutes — will become one of your go-to dishes. My kids request it all the time. Be sure to use a high-quality marinara sauce.
1 cup 1-inch cubes country bread, such as ciabatta
½ cup high-quality marinara sauce
½ cup shredded mozzarella cheese
½ cup coarsely chopped fresh spinach leaves, washed and patted dry
Stir together the ingredients in a small bowl, then pour into a 12-oz. mug. Pack down.
Cover and microwave until hot, about 2 minutes.
Try two recipes from Cheney's Meatless All Day: Recipes for Inspired Vegetarian Meals.
Hannah Howard '09
---
Going Slow with Kate Krauss '98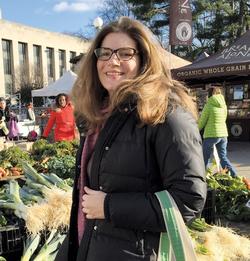 As managing director of Slow Food USA, one arm of a global nonprofit dedicated to advancing its vision for the pleasures and politics of food, Kate Krauss '98 works and tells stories at the intersection of food and community.
Take the one about the postcard-pretty Gilliard Farms in Brunswick, Ga., where Matthew Raiford belongs to the sixth generation to call the family farm home. As a young man, however, he was eager to get as far from it as possible. He served in the military for a decade, then earned a degree from The Culinary Institute of America and spent the next 15 years as a chef and teacher far from home. Then, in 2011, he returned to Gilliard Farms, where today he is a farmer, chef and restaurateur. He cooks traditional Southern fare with a modern bent, and uses ingredients from his farm.

"That's what we're about," Krauss says. "People reclaiming parts of their tradition, and using that to celebrate their identity." As she describes it, the member-supported organization is "not more locally sourced $6 eggs at farmers' markets" but rather about taking steps to "build a different kind of food economy … one that is good, clean and fair for all."

This last phrase encapsulates the official mission of Slow Food — which originated in Italy and marked its 25th anniversary in December — and lays out a far-reaching ideal. Good means tasty as well as seasonal, fresh and local. Clean connotes healthful as well as produced in a way that is environmentally sound. Fair applies to both affordability of food and how food workers are treated. And for all is just that: accessible to everyone across traditions, cultures and nations.
The worldwide Slow Food network comprises roughly 100,000 members in more than 150 countries, all working to further its mission through a mix of activism, educational events and social gatherings. Slow Food USA's wide-ranging charge includes preserving and sharing local food and food culture; helping the next generation grow, prepare and share food responsibly; and connecting communities through local projects, educational events and shared meals. "I think the most important thing you can do is to cook and share," Krauss says. "By cooking food, you learn how food works, where food comes from. You understand the story."

The Cincinnati native says that food was not a particular passion growing up (she balked at eating fruit from her family's peach tree rather than from the grocery store). She studied political science at Columbia and planned to become a political journalist, landing a job with ABC after graduation. At the time, the country was fixated on the Clinton-Lewinsky scandal, and Krauss' assignments demanded long days digging up dirt and stalking lawyers. "My high ideals were deflated," she says.

Krauss headed to Berkeley, Calif., to work "in the trenches" fighting climate change for The Nature Conservancy, an opportunity more in line with her optimism and values. TNC's offices occupied a dark basement, however, and she would head to the sunny streets for walks whenever she could. At the Berkeley farmers' market, Krauss heard folk music and saw kids dancing amidst fruits and veggies so beautiful as to be nearly "mystical." She had a revelatory moment, and became a regular at the farmers' market. "I started cooking. I started experimenting with vegetables. I threw dinner parties. I lost weight."

Krauss still longed for work filled with more light, both actual and figurative. She looked for a job where she could "save the world, and have some fun while doing it." She found an opening for director of development of Slow Food USA, and in 2009 moved back to New York. Krauss spent seven months as interim executive director and has been in her current position as managing director since January 2013.

Operating from the organization's Brooklyn base, Krauss manages Slow Food USA's inward-facing responsibilities: She hires and leads the team, organizes new and existing initiatives, and oversees and connects approximately 175 local and campus chapters nationwide. Every day is different. One of Krauss' biggest accomplishments was lobbying for Double Up Food Bucks, a program that provides Supplemental Nutrition Assistance Program beneficiaries with a one-to-one match to purchase healthful, locally grown fruit and vegetables. The program helps people eat more healthfully, helps small farms succeed and helps local food communities flourish. It was a big win for Slow Foods, and for Krauss.

Krauss notes that momentum "to go slow" has built within the last quarter-century, citing as examples everything from backyard gardening to the proliferation of food trucks and farmers' markets. She says that more people want to revel in food tradition and innovation and to nurture community through food — pillars of the Slow Food mission.

She adds that they — we — have a dauntingly long way to go before we realize "a world where what's easy and cheap is also what's good."
Go Slow in Your Life
Buy whole ingredients. Cook them. Eat them.
Avoid processed stuff with long ingredient lists. Eat real food.
Grow some of your own food. Start in your backyard or community garden, or on your windowsill.
If you eat meat, choose grass-fed; if you eat poultry, choose free-range.
Whenever possible, know the story behind your food.
Go Slow in Your Community
Cook and eat with others, and not just family and friends. Bring new people and perspectives to the table.
Join a community garden and grow food with others.
Connect with your local Slow Food chapter for events and community projects (slowfoodusa.org).
Shake the hand that feeds you. Meet the people who grow your food. Shop at a farmers' market, visit a farm or buy shares from a farm that offers a Community Supported Agriculture (CSA) program.
Learn about your local or regional food history and cultural dishes.
Hannah Howard '09
---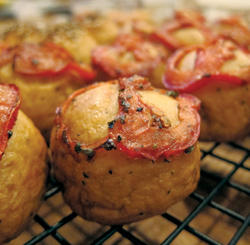 PHOTOS: COURTESY BANTAM BAGELS
Nick Oleksak '06 and Elyse Oleksak '07 run a burgeoning bagel business in New York City, but the college sweethearts didn't set out to get degrees in dough. Nick was an economics major and Elyse studied political science and sociology. The two landed jobs on Wall Street after graduating but say there was a part of them that was bored.
Then, in May 2012, Nick dreamed one night about a different kind of bagel, shaped like a small ball and filled with cream cheese — sort of like a jelly donut. Elyse thought that sounded tasty, so they made the first batch in their Brooklyn kitchen. Bantam Bagels was born.
Soon they were experimenting with all kinds of savory and sweet varieties and cream cheese fillings. Their friends gobbled up the bite-sized bagels and wanted to know where they could buy them. The couple realized they had a real business on their hands and decided to open a store.
Elyse quit her job, and in 2013, after raising just under $600,000 from friends and family, they opened a shop on Bleecker Street. Business has been booming ever since.
In November, Bantam Bagels was included in Oprah's annual list of "favorite things." And in January, TV viewers nationwide were introduced to the Oleksaks' bagels through the ABC reality entrepreneurship show Shark Tank. The pair struck a deal with investor Lori Greiner: $275,000 for 25 percent of their business.
Now they have about 10 employees and are producing thousands of bagels a day, which they sell at their retail store and online for about $1 each. The couple talked with CCT about their lives as young entrepreneurs and their growing business.
How did you meet?
Elyse: I played lacrosse and Nick played baseball. We had a mixer at the baseball fraternity house where the boys put us on the spot and asked us to pick the cutest player. I picked Nick.
Did you cook at Columbia?
Nick: I was at John Jay all the time, but I tried to make Elyse something good every now and then. I made her Valentine's Day dinner at the fraternity house.
Elyse: He made crepes because it was my favorite food.
What was life like after Columbia?
Elyse: We had good jobs and we were both doing really well at them. But we're the kind of people who get bored really easily and we always have to be doing something harder. So we created something harder for ourselves!
What was your first batch of bagels like?
Nick: They were terrible! We didn't know what we were doing. The flavor profile was wrong.
Elyse: To get the chewy inside and the crispy outside is not an easy thing.
What baking experience did you have before starting Bantam Bagels?
Nick: I grew up cooking. I learned a lot from my grandmother.
Elyse: My grandfather and great-grandfather were bakers. I loved baked goods and baking with my mom but never was a baker or cook myself.
What's the story behind the name?
Nick: It originated as a simple search for synonyms for small. "Bantam" means tiny or miniature and we liked the alliteration.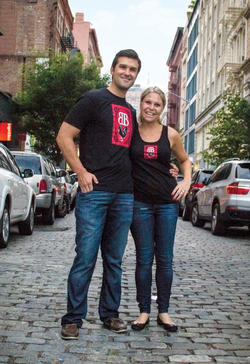 What's the key to a good Bantam Bagel?
Elyse: It's got to be a burst of flavor. You have to be able to taste everything in that first bite.
Why are yours a better experience?
Elyse: Their size allows you to have different flavored bagels in one sitting, and all the bagels are right around 100 calories.
Interest in Bantam Bagels was so high after your Shark Tank episode that your website [bantambagels.com] crashed. What happened?
Nick: After it aired on January 9 we had upward of 100,000 different users trying to do something on the website. A lot of people wanted our bagels!
What are sales like now?
Elyse: We make from 3,000 to 4,000 bagel balls daily in our shop. About 3,000 of those are for catering orders. Now we're also getting hundreds of orders daily on our website and have a commercial kitchen that produces thousands more bagels.
What are your best sellers?
Elyse: The Everybody's Favorite [an everything bagel filled with veggie cream cheese], The Classic [a plain bagel filled with plain cream cheese], Hot Pretzel [a pretzel salt bagel filled with cheddar Dijon cream cheese], French Toast [a cinnamon nutmeg egg bagel with maple syrup cream cheese], Cookies & Milk [a brown sugar walnut bagel with chocolate chip cream cheese] and Grandma Jo Jo [an Italian seasoned bagel filled with pesto cream cheese].
Nick: The Grandma Jo Jo is inspired by my Italian grandmother. My mom made her a T-shirt that says, "I'm the original Grandma Jo Jo."
Which are your favorites?
Elyse: I like the classic flavors.
Nick: The Weekend Brunch [an everything bagel filled with lox, tomato, red onion and cream cheese], which isn't available every day. I'll sometimes sneak in the bakery and make some for myself and not share them.
Are they any flavors you experimented with that didn't make it into the shop?
Elyse: We made a Thai-flavored bagel inspired by our honeymoon in Thailand. It was a Thai spice bagel with green curry cream cheese. It was a little too niche.
Within the last few months, Oprah made you a favorite, Shark Tank aired and you had your first child. What have things been like?
Nick: There's so much happening. It's pretty exciting and tiring. And then we have this sweet little baby boy who needs as much if not more of our attention. It's been quite the challenge, making sure we pay enough attention to both of our babies.
Jessica Gresko '05
---
On the Day Shift with Pastry Cook Mercedes Vargas '99
It's just before 10 a.m. on a December Monday at The Ritz-Carlton New York, Central Park, and pastry cook Mercedes Vargas '99 is in her work clothes: a white chef jacket embroidered with the hotel name, an apron that shows faint evidence of encounters with chocolate and loose pants with a fine black-and-white checkerboard pattern. Her dark hair is tucked into a pillbox hat.
Vargas has worked for the five-star hotel for seven years. Her days are largely unscripted, her tasks determined by the number of banquets (the size of which can swell unexpectedly), seasonal offerings to be made (hot chocolate and gingerbread cookies around the holidays) and last-minute requests. Her customary first stop, however, is the pastry station in the service kitchen, and today is no exception. She looks for order tickets — none yet — and disappears into a walk-in refrigerator to inventory the desserts. She will be summoned back throughout the day to plate orders for patrons, but right now she descends the stairs to the prep kitchen in the bowels of the hotel.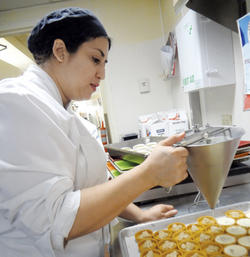 PHOTO: NATHALIE ALONSO '08The compact room is shared by the five-person pastry department and the garde manger cooks (cold food preparation), and walking space and work surfaces are at a premium. Music competes with the clink of metal on metal, the whir of blenders and the beeping of the oven. Anthony D'Adamo, head of pastry, stirs a coconut risotto pudding atop a portable burner. Though shifts are staggered — D'Adamo comes in at 5 a.m. and plots out the day — the room can get snug. As many as four pastry cooks will work side by side to make cookies, ice cream and other sweets for the hotel's restaurant, in-room dining, two lounges and private events.
Vargas begins preparing petits fours, scones and other sweets for afternoon tea. Though she says Mondays are relatively slow, Vargas seems to be in constant motion, shuttling back and forth between a walk-in refrigerator at one end of the kitchen, the stainless steel counter where she whisks, stirs and slices, and a dry storage closet down the hall. Around 10:45 a.m., she cracks the first of 36 eggs that will become the custard for four varieties of quiche — bacon, bell pepper, asparagus and mushroom — for tomorrow's breakfast.
At noon Vargas starts making the sponge cake that's used in several of the hotel's desserts. Instead of relying on memory, she consults a thick binder crammed with handwritten recipes: eggs whites go into an oversized mixer to whip; other ingredients are added to a metal mixing bowl that sits on a scale (ingredients here are weighed). Eventually she folds the whites into the batter. The finished product fills six full-sized sheet pans lined with parchment paper and doused with non-stick cooking spray.
Vargas began pondering a career in the food industry in 2002 while working in ad sales at TheStreet.com, a financial news and services website. Inspired by an article she'd read about celebrity chef Giada De Laurentiis' catering business — "That sounds like fun," she recalls thinking — Vargas decided to study culinary arts and management at the Institute of Culinary Education. Most of her experience since has been with pastry, however. Vargas was the pastry chef at Gemma at The Bowery Hotel and has also worked at La Bottega at The Maritime Hotel, now-shuttered Pair of 8s on the Upper West Side and Great Performances, a New York City-area catering company. She describes the essence of her profession as "anticipating people's needs and creating moments that make them want to come back."
To that end, details elevate a dish, as Vargas demonstrates by adding green chocolate discs to portions of dulce de leche layer cake. Around 2:15 p.m. she is plating brownies, blondies and the Ritz's signature dessert, an orange-flavored chocolate cake, when a request for a s'more hot chocolate comes in on the kitchen's landline. With a bag of cream that threatens to overflow and a box of scones for tea service in tow, Vargas rides the elevator to the service kitchen. After rewhipping the cream and transferring it to a new pastry bag, she sends out the hot chocolate and plates orders for cheesecake and crème brulee. Each dessert is accompanied by fresh berries that Vargas scrutinizes before adding to the plates.
Vargas will leave at 5 p.m. but before going she must complete one last task: several hundred cheddar biscuits. She tosses bricks of butter into the mixer with sugar, lets it whip, then warms the mixture with a torch before combining it with the flour and other dry ingredients. After rolling out the dough, she forms the biscuits with a round cutter and layers the discs between sheets of parchment paper. Tomorrow they will rise and turn golden brown in the oven, but for now they go into the refrigerator.
As Vargas gets ready to go home to her partner, Howard, and their daughters, Adriana and Isabella, she reiterates that it was a slow day. She's not sure what she will walk into tomorrow, but the reward will be the same: "It makes people happy," says Vargas about the food she makes. "Being part of that experience is what I enjoy."
Nathalie Alonso '08
About the Authors
Nathalie Alonso '08, from Queens, is a freelance journalist and an editorial producer for LasMayores.com, Major League Baseball's official Spanish language website. She writes "Student Spotlight" for CCT.
Karl Daum '15, CCT's editorial intern, majors in American history. He is a former Spectator editor and is a current columnist and editorial cartoonist.
Jessica Gresko '05 works in Washington, D.C. Her most recent contribution to Columbia College Today was a profile of David Alpern '63.
Anne-Ryan Heatwole JRN'09 is CCT's editorial assistant.
Hannah Howard '09 is a food and culture writer who has written for The New York Times, Thought Catalog, AMEX OPEN forum, Serious Eats, Grub Street, Refinery29, Zady and oyster.com.
CCT Editor in Chief Alex Sachare '71 recalls eating many a roast beef hero from Mama Joy's at his desk in the Spectator office in Ferris Booth Hall.
Yelena Shuster '09 is a freelance writer whose work has appeared in The New York Times, InStyle andManhattan magazines. Say hello @YelenaShuster.