Features
Students Bond Around Food
Food clubs and communities offer students with similar interests a chance to connect
By Nathalie Alonso '08; photos: Char Smullyan GS'98
One rainy Tuesday evening last December, just before finals week, about 20 undergraduates gathered in Alfred Lerner Hall's East Ramp Lounge for a messy, laughter-laden "gingerbread house" competition organized by the Columbia University Culinary Society. In lieu of gingerbread, participants working in teams of two to four fashioned Hansel and Gretel- worthy structures out of graham crackers. Frosting served as adhesive, while gummy worms, chocolate-covered pretzels, Skittles, yogurt-covered raisins and other candies became decorative accents — and snacks — for the architects. Some of the creations defied gravity; a couple succumbed to it.
All materials were provided by the Culinary Society, whose fall 2014 events also included a truffle-making class, gourmet popcorn tasting, pumpkin carving, and pie-making and blind cheese-tasting contests. Open to the entire University, the events reflect the light-hearted spirit of the society, which describes itself on social media as being "dedicated to the enjoyment of food, drink and the culinary arts" and "raising a greater food appreciation." The group attracts regular and occasional participants who are looking to relax over good — and free — food.
"There are other clubs that are more work-oriented and can be a source of stress," says Jonathan Cohen '16, one of 15 students on the Culinary Society's executive board, who attempted a replica of the Pentagon for the gingerbread house competition. "This is not stressful, it's fun and you get to eat good food. I've made a lot of good friends through it."
The Culinary Society is one of several student communities at Columbia that revolve partly or entirely around food. That category also includes residential programs and niche clubs that allow students to connect with peers who adhere to similar lifestyles or eating philosophies. While the groups vary in nature, scope and the level of commitment required, they all acknowledge and promote food as a unifying aspect of campus culture.
Established in 1998, the Culinary Society is the oldest food-oriented student club at Columbia and, with a listserv that co-president Amelia Rosen BC'15 says has more than 2,000 people, also one of the most popular. Like Cohen, Rosen, who has been involved with the society since her first year, notes that the group provides a space for students to bond: "It's really amazing how friendships are fostered through the Culinary Society," she says, adding that what also makes the club fun is "getting everyone's take on food. Growing up, everybody had a different culinary background."
Rosen also plans the launch events for Culinarian, a digital food magazine by and for Columbia students (culinarianmagazine.com). Started in September 2012 by former Culinary Society officers Amanda Tien '14 and Manon Cooper BC'14, Culinarian has published four issues to date. Typically it includes feature stories, interviews and essays, as well as recipes and restaurant reviews to help students navigate New York's culinary scene. A blog on the website offers additional content.
"I noticed that there's a tendency for students to want to get off campus for the explicit reason of finding a really good Roman place or an amazing donut, for example," says Tien, who edited the Culinary Society's blog (cuculinary.com) for two years.
The Culinarian staff celebrated its "Food as Science" issue in January with a party that included a demonstration by the Chandler Society on the chemistry of caramelizing sugar and preparing ice cream using liquid nitrogen.
According to Tien, she and Cooper launched Culinarian in response to what they perceived as a void not filled by the Culinary Society's monthly events. "Food is such an important way to bring students together on campus. I felt a magazine would be a resource," she says.
Current Culinarian editor-in-chief Meena Lee '15 has worked to expand the magazine's scope to explore food from the perspectives of various disciplines. The most recent issue is themed "Food as Science" and includes an interview with Barnard biology professor John Glendinning, who studies the physiology of taste. Other themes on deck include "Food as Art" and "Food as Culture." "We have so much great research here at Columbia and I wanted to incorporate more of that into the magazine," says Lee.
The Culinary Society falls on the casual end of the student communities and initiatives that revolve around food. On the opposite, more structured end are Potluck House and Metta House, two Special Interest Communities (SICs) where students make communal meals a defining feature of their residential experiences. Open to sophomores, juniors and seniors via an application process, SICs are sponsored by Residential Life and offer students the opportunity to live with peers who share a common interest. Potluck House residents bond over home-cooked food, while Metta House is a community of vegetarians and vegans.
The 15 residents of Potluck House share a brownstone on West 114th Street and, as the name suggests, host frequent potlucks, usually on Fridays. Some events are for residents only but many are open to and well attended by the broader Columbia community. In addition to potlucks, residents form smaller dinner circles based on food preferences and dietary restrictions and take turns cooking during the week.
While the conversations that occur at a dormitory potluck also happen in dining halls, house coordinator Lisa Zhou '16 notes that cooking for each other helps foster the tight-knit community that defines Potluck House. "You feel more accomplished when you make your own food and you're more willing and happier to share it," says Zhou, who moved into Potluck House midway through her sophomore year. "One part of cooking is cooking; the other part is sharing."
Home-cooked meals are also an important component of the experience at Metta House, one of the few SICs open to Barnard students, where each of the six residents commits to making dinner once a week. Camila Marcone '15, house coordinator, has been a resident since her sophomore year and has found there are social and financial advantages to living with peers who share an eating philosophy. "When you are the only person with an alternative eating style, you can seem like the person who is bumming everyone else out," says Marcone, who has been vegetarian since she was 11.
Metta House residents split the cost of groceries evenly, which Marcone notes makes an alternative eating style more affordable. "Having the cost shared among six people is really helpful," she says. "We monitor our spending because no one wants to overspend and put the other people in the house in a difficult position."
Such a setting also encourages creativity and minimizes waste: "If someone makes mashed potatoes the night before, the next person will make potato pancakes [with the leftovers]," says Marcone. "That's been really fun to see."
Cooking is also an integral aspect of life at the University-owned Beit Ephraim Food Co-op on West 112th Street, which was established in 1972. More commonly known as the Bayit, which means "house" in Hebrew, the co-op houses both undergraduate and graduate students who are assigned rotating responsibilities such as grocery shopping. Monday through Thursday, two of the Bayit's 28 residents make dinner for the entire house. Though they vary in the nature and extent of their Jewish affiliation, all residents are required to maintain a kosher kitchen.
"Everyone cares about food," says Jacob Portes '15, who moved into the Bayit in January 2014. "You come home and there's a nice cooked meal."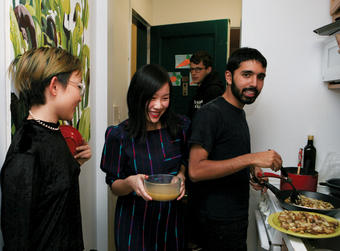 Potatoes were the main ingredient at a Potluck House dinner in January. Those casual, weeknight dinners are also a highlight for resident Julia Snyder GS/JTS'16. "It's a nice, reflective time," she says. "The art of listening is definitely developed over the table. We have an opportunity to hear about each other's days, exchange ideas and talk about how we're building this community."
Last November, Metta House and several other student clubs got together for a casual discussion about food sustainability and environmental justice. Each group contributed a dish for the meal, which was held in the SIC House, a residence hall on 113th Street shared by several SICs. "We discussed the intersection of human rights, animal rights, environmental impact and the choices we make in what we eat," says Marcone.
Among the groups that participated were the Columbia Vegan Society and the Columbia University Food Sustainability Project. While a group like the Culinary Society attracts a range of students, including some who relish New York City's vibrant food scene and others who would rather cook for themselves, the Vegan Society and CUFSP bring together peers with similar eating philosophies.
The Vegan Society, formerly called the Columbia Students for Animal Protection, has approximately 10 members that show up regularly for meetings, which are held weekly or biweekly and occasionally take the form of restaurant outings. The group also hosts larger, campus-wide events, such as documentary screenings and a vegan Thanksgiving dinner.
According to the club's president, Shaine Leibowitz SEAS'16, while veganism is the group's common denominator, members bring a variety of perspectives to the table. "People become vegan for a number of reasons, including animal rights, but also for environmental concerns and health consciousness," she says, adding, "Having people who share your values and beliefs helps you realize that you're not alone and helps you continue."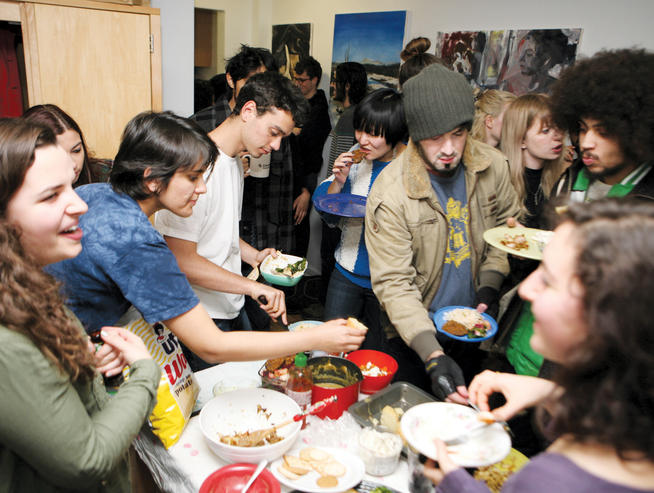 The themed meal doubled as a housemate recruiting session for next semester.
John Hao '18, who became a vegan a few weeks into his first semester at the College, became involved with the group precisely because he sought support for his newly adopted lifestyle. "I thought it'd be cool to connect with people who are vegan as a way to get myself further into the movement," he says.
CUFSP has an even more specific focus, which is tending to the Columbia Community Garden in Pupin Plaza. On Sunday mornings during growing season — April through early fall — anywhere between five and 10 CUFSP members meet at the garden to plant, weed and harvest. Planting happens in the spring. Most crops are ready to be picked during the summer, which means it is up to members of the group who stay on campus to harvest. In the recent past, co-president Paloma Contreras '15 has handled that responsibility. Previous harvests have yielded tomatoes, carrots, eggplant, kale, turnips and squash blossoms, along with other produce. During the winter months, members gather for potlucks and to decide what to plant in the spring.
In addition to enjoying gardening, a typical CUFSP member wants to know where ingredients come from and prioritizes cooking. "All these people love to dig and weed and cook — it's wonderful," says co-president Eleanor Goerss '16, who structures her day in such a way that it allows her time to cook lunch and dinner.
Contreras and Goerss share home-cooked meals often, both at CUFSP events and on their own. One weeknight last semester, the menu featured salmon that Contreras marinated in balsamic vinegar, olive oil and fennel seeds recently harvested from the garden.
Contreras credits CUFSP with connecting her to peers like Goerss. "Being able to find those people has been an important outlet for me because we have an interest that's not necessarily common among college students," she says. "But we exist and it's awesome that we have this space to work with."
In describing the other rewards of being involved with CUFSP, Contreras echoes Cohen's comment about stress relief: "There's something great about showing up at the garden on Sunday morning and gathering with people who also want to be outside, working with dirt," she says. "It's very therapeutic."
Nathalie Alonso '08, from Queens, is a freelance journalist and an editorial producer for LasMayores.com, Major League Baseball's official Spanish language website. She writes "Student Spotlight" for CCT.