Features
So Where Do You Want To Eat?
As the neighborhood has changed, so have the majority of dining choices in Morningside Heights, though a few standbys remain
By Alex Sachare '71
The West End or The Gold Rail? Tom's or The College Inn? Pisticci or Caffé Pertutti? Columbia Cottage or Moon Palace?
Ask alumni about the neighborhood restaurants they went to as students and the answers come quickly; the years since graduation fade and vivid memories produce lively anecdotes whether due to the food or the prices, the location or the ambiance.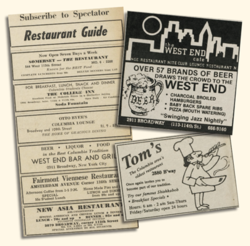 Ray Robinson '41 recalls Columbia Chemists, across Amsterdam Avenue. "The food wasn't very good — it was drugstore food — but it was the place we all went to hang out," he says. "Nothing really positive could be said about the food, except that you could eat something for a nickel or a dime. But it was always crowded; you could never get a seat."
"I spent half my life at Columbia at The West End," says Ana Salper '96, referring to the venerable Broadway pub that was a home-away-from-home for Beat poets, Spec editors, Varsity Show composers and other students for more than a half-century before being sold in 2006. "It was like our 'Cheers.' It was nice knowing there was a place right down the street where you would always run into someone you knew and a place that always welcomed you, whether you were a first-year new to the Columbia scene or a 'veteran' senior."
"Groups would go out to eat, and people were very specific about which place they usually went to," says Doug Wolf '88. "There's the experience, the continuity. People who worked in those places were really good at dealing with college students. At Tom's, they always knew your order — as people walked in they would call out your order before you even sat down. My classmate Jonathan Lavine '88 went into Tom's with his daughter recently and they remembered him."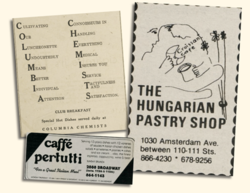 Indeed, for many College alumni, the quality of the food was only part of the reason they chose one off-campus eatery over another — camaraderie often was the deciding factor.
Brian Krisberg '81, LAW'84 says that when it came to area diners, "I was more of a College Inn person than a Tom's person." Asked why, he replies, "It was where more of my fraternity brothers went."
The group dynamic can work both ways. One person may have a favorite haunt, but if the rest of the group does not concur, that craving might go unfulfilled. "I remember somewhat fondly that The Green Tree Restaurant had blini that I liked very much," says Peter Jacoby '71. "But I generally couldn't convince other people in my circle to go there."
College students being college students, quantity often trumps quality when it comes to cuisine.
"Every Friday we went to Vic & Katie's," recalls Michael Oberman '69. "It was double portion at the same everyday price that night, and while we all ended up with upset stomachs, we could not resist the value. We thought of it as a meal with a Pepto-Bismol chaser. Another favorite spot was V&T. To this day, my roommates remember the time we ate there and as we were leaving were asked, 'Have you boys paid the check?' To which I replied, 'We paid with our stomachs.'"
Classes Stay Connected Through Monthly Lunches
On a cold Wednesday in December, members of the Class of 1963 waved down classmates at The Grill, the restaurant in The Columbia University Club of New York. They weren't seated at their usual table, and force of habit led the later-arriving men to beeline for their regular spot on the opposite side of the room. There they found fellow Columbians, but men who had graduated five years earlier.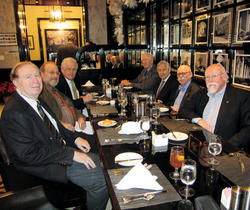 Members of the Class of 1963 enjoyed lunch in December.PHOTO: ANNE-RYAN HEATWOLE JRN'09The overlap in the two class lunches was unusual, as the '63ers typically meet on the second Thursday of the month. No problem, however; once everyone was situated at the new spot, talk quickly turned to family, friends and Columbia memories.
Many other classes (including 1956, 1957 and 1960) also hold regular lunches as a way to stay up-to-date with friends. CCT decided to drop in on two of them — the November CC'58 lunch as well as the December CC'63 one — to get the scoop about what happens when classmates meet up over meals.
The majority of the lunches take place at the Columbia Club, which is housed within The Princeton Club at 15 W. 43rd St. Though the facility is also shared with NYU and Williams, there's no confusion as to from where alumni hail; the diners make their allegiances clear. In December, Dr. Henry Black '63 sported a Columbia bow tie, Geoffrey Thompson '63 wore a traditional Columbia tie and organizer Paul Neshamkin '63 wore a Columbia lapel pin. In November, Paul Herman '58 wore a blue and white traditional tie and a sailing club pin (Sheldon Raab '58 joked that he was surprised to learn there was a sailing club while they were in school).
Neshamkin started the CC'63 lunches in December 2004 and says that during the past decade, more than 65 classmates have attended — some as many as 75 times — and that the gatherings average seven or eight attendees each month.
The CC'58 lunches have an even longer history — more than 20 years — and have been coordinated by Art Radin '58 since 2003. At the November outing, several diners were longstanding attendees though Ted Story '58 had come for the first time. Most were New York natives (three attended Stuyvesant H.S. together), so talk turned to how the city has changed since their time at the College.
Columbia sports were a popular topic at both lunches, with CC'58 discussing football and their memories of the '58 team, while CC'63 got excited about the prospects for this year's men's basketball team. Neshamkin spoke about his time as a member of the crew team and their experiences painting the C-rock on the Harlem River where they rowed.
In December, Doron Gopstein '63 pointed out that at reunion, classmates often say they should get together more often and then don't follow through but that class lunches allow them to stay connected. He added that not everyone knew each other while at the College and the get-togethers are a great opportunity to meet people with shared cultural touch points thanks to the Columbia experience. Joseph Applebaum '63, who was in NYC from Miami for work, said that he was happy the lunch's date change coincided with his visit.
As the classmates mingled over shared meals, their Columbia bonds were clear — many of the men had been friends for 50 years and, as the lunch wrapped up, they excitedly planned their next month's lunch.
Anne-Ryan Heatwole JRN'09
Michael Ackerman '84 says timing was everything when it came to Pizza Town, on Broadway near 113th. "My good friend Herb Reich SEAS'84 and I were able to see Pizza Town from our windows and one late night, after watching a Twilight Zone rerun, we went down. Since they had only six slices left and we were buying two of them, the Pizza Town guys gave us the other four so they could close up and leave. We soon started to plan to go there in order to get the last slices, sometimes employing binoculars from the windows to see how many slices they had left to strategically plan our visits."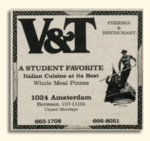 While Pizza Town is long gone, V&T remains to offer the same "heart-attack inducing extra cheese pizza that practically slid off your plate. The veal parmigiana was good, too — a great way to satisfy your hunger pangs," says Mark Kingdon '71.
Founded in 1945 and housed at its current location on Amsterdam between 110th and 111th since the mid-'60s, V&T has satisfied many generations of Columbia students. Other neighborhood veterans that remain include The Hungarian Pastry Shop, which shares the same block with V&T; Tom's Restaurant, on the corner of Broadway and 112th, made famous by Suzanne Vega BC'81's song "Tom's Diner" and even more so from TV because its exterior was used in Seinfeld; and Symposium, the Greek restaurant on the lower level of a brownstone on 113th between Broadway and Amsterdam. All have been serving Columbians, Morningside Heights residents and visitors for more than 40 years. Not far behind are other Broadway mainstays Amir's Grill (for falafel) and Mill Korean Restaurant (formerly a luncheonette renowned for its milkshakes).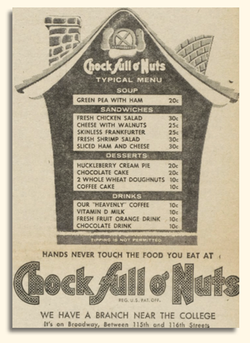 Not a sit-down restaurant but another old-timer is Mondel Chocolates, which has been serving candies and other delectable treats from its tiny storefront on Broadway near 114th for more than half a century.
More commonly, Morningside Heights eateries have come and gone through the years. Alumni of all ages can walk up and down Broadway or Amsterdam and play the game of "Remember when such-and-such was here?" The West End became Havana Central at The West End, which gave way within the past year to Bernheim & Schwartz. The high-profile spot on the corner of Broadway and 116th that once housed Chock full o' Nuts now belongs to Ollie's Noodle Shop and Grill (Chinese).
The changing face of the neighborhood, however, means some of the buildings that housed long-ago eateries are also now long gone. For example, many alumni from the '50s and '60s recall a restaurant on Amsterdam and 114th called Campus Grill. Paul Neshamkin '63 says it was "the best greasy spoon near campus," but the expansion of what is now Mount Sinai St. Luke's Hospital has erased its former home.
For students, convenience is an important factor. Several alumni said they frequented the College Inn rather than Tom's when it came to diners because it was closer to campus. Pisticci, on LaSalle Street off Broadway, is a favorite for those who reside north of 120th, as are several restaurants along that stretch of Amsterdam. Camille's, on Amsterdam at 116th, is popular with East Campus residents today as well as with younger alumni who lived there, while older alumni recall going to the Campus Dining Room on 119th east of Amsterdam for homestyle food at reasonable prices.
Columbia Chemists was another Amsterdam favorite among older alumni, including Dr. Melvin Hershkowitz '42, whose regular breakfast was a small OJ ("a large OJ was too expensive"), a donut and coffee. "The Chemists was owned by two brothers who might once have been pharmacists but now ran this breakfast-lunch-dinner place," he says. "It had a counter and stools on one side, booths on the other. Service was hectic and orders were yelled out to cooks, with phrases like 'shoot one' (a Coke), 'draw one' (a cup of coffee), 'burn one' (put a burger on the grill) and 'Adam and Eve on a raft' (two poached eggs on toast)."
Speaking of diner lingo, Phil Satow '63 recalls that the tuna salad on toast at Columbia Chemists was called "radio," because it was "tuna down," with down being the diner description for toast. So how do you get to radio? "Tuna down" sounds like "turn it down," which was the command often repeated when the radio in the kitchen was too loud. So, "turn it down" became "tuna down" which became simply "radio."
If the college years are a time for growth and stretching one's horizons, the same often applies to food. All Columbia students and alumni have benefited from a wealth of culinary choices in New York City, including many right in Morningside Heights. Randy Nichols '75, TC'79 cites Symposium for "pitchers of sangria, grape leaves and wonderful moussaka — probably the first place I ate Greek food, and I still eat Greek often." He also fondly recalls being introduced to falafel at Amir's.
On the other hand, hamburgers are a staple of student dining, and older alumni may recall Prexy's, whose logo was a burger with a mortarboard and whose slogan was "The hamburger with a college education." And while Cosmopolitan Restaurant and Happy Burger, both on Broadway, are gone, nowadays Mel's Burger Bar operates from the former location of the Gold Rail, and right across Broadway is a branch of the Five Guys Burgers and Fries burger chain.
Pizza remains a staple of the V&T dining menu, but there has been no shortage of pizza-by-the-slice choices through the years, with several alumni mentioning Pizza Town. Koronet Pizza, on Broadway near 111th, is famous for its huge slices, and Famous Famiglia, directly across Broadway, also is popular.
The coffee shop/diner is of course a staple of the restaurant category, and the neighborhood has had its share through the years. Older alumni cite Bickford's, Rikers and Chock full o' Nuts, with the latter's "heavenly" coffee bringing back fond memories for several who were contacted for this article. Satow called it "a good, economic place to eat"; Neshamkin says he "lived on date bread with cream cheese and their coffee in my senior year"; and Ackerman calls it "the go-to coffee shop in the neighborhood, before the Starbucks revolution." These days, Tom's continues to serve students (as well as the tourists who snap photos of its iconic façade), and Deluxe operates from the former site of The College Inn.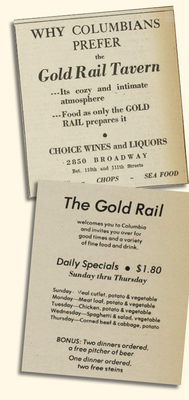 Many Columbia students enjoy a bagel for the convenience of a grab-and-go breakfast or lunch. Longtime favorite Columbia Hot Bagels is gone, replaced by an apartment building with Westside Market on its street level on Broadway at the corner of 110th. Nussbaum & Wu Café, Bagel & Bakery, on the corner of Broadway and 113th, is among those picking up the slack. And while Absolute Bagels, between 107th and 108th, is a bit of a schlep, it has its share of aficionados.
Chinese restaurants have come and gone from the area, including Columbia Cottage, New Asia Restaurant, Blue Moon and La Bella China. Many alumni recall venturing to Chinatown, or, for something closer, to Hunan Balcony on Broadway near 98th. Richard Hsia '71 fondly recalls one longtime neighborhood restaurant, Moon Palace, which closed in 1991 and "served the best, most authentic and [most] endearing Chinese cooking, specializing in Mandarin cuisine and friendly service. Columbia and Morningside Heights were lucky to be home for so long — 26 years — to Moon Palace, the epitome of Chinese cooking, delicious and inexpensive at the same time. Tragically, there is nothing like Moon Palace today."
Moon Palace may be gone, but much of Broadway from campus to 110th Street is lined with restaurants offering a variety of cuisines, many of which include outdoor cafes when the weather permits. Le Monde, the French bistro on Broadway between 112th and 113th, would fit right in on a street in Paris or Marseilles.
Filling a different niche among off-campus dining choices are the take-out stores. For decades the mainstays were Ta-Kome (Dennis Klainberg '84 recalls "the mystery meat sandwiches, I mean, the meatball heroes") and the somewhat more upscale Mama Joy's (Nichols favored roast beef and Swiss on an onion roll and recalls, "sometimes the beef was so fresh and warm that it almost melted in your mouth"). Today, Milano's Market, just south of 113th on Broadway, sells an array of heroes as well as gourmet foods from the former footprint of Mama Joy's, while Samad's Gourmet provides an alternative a block south. Hamilton Deli ("HamDel") on Amsterdam near 116th is convenient for East Campus residents and a favorite of David Donner Chait '07, BUS'13. "I loved the off-menu ABC Special — everyone should give it a try," he says.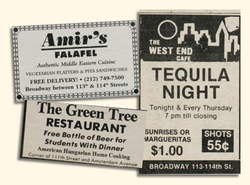 Images: courtesy columbia daily spectator digital archivesFor the more adventuresome, Peter Kang '05 puts in a good word for M2M, on Broadway near 115th, which offers the standard sandwiches and steam-tray food to go as well as a variety of Korean and Japanese specialties. "I grew up eating Korean food, so it was nice to have a place where I could pick up some kimchi and rice. My go-to at M2M was the frozen eel. Back at my dorm room, I would cook some rice and microwave the eel, making myself instant unadon. I also have a lingering image of the mysterious Japanese sports drink Pocari Sweat, which was a milky semi-sweet drink that grew on you if you weren't too grossed out by the name."
For generations, the most elegant place to dine on Morningside Heights was Terrace in the Sky restaurant, on 119th near Morningside Drive. Its top-floor location boasted sweeping views of the city that made an impression, as did its prices. For many, it was the place to go to wow a date, or when Dad was picking up the tab. "Butler Terrace [as it was known,] was the fancy place when my folks came in for my birthday or another special occasion," says Jon White '85. "It had really great atmosphere and view, and often had a harp/piano combo." Possibly because special occasions come around only so often, however, it closed several years ago.
Didn't see your favorite eatery in this story, or have a memory you want to share? Write to us at cct@college.columbia.edu and we'll try to share select responses in print or online.
CCT Editor in Chief Alex Sachare '71 recalls eating many a roast beef hero from Mama Joy's at his desk in the Spectator office in Ferris Booth Hall.