Letters to the Editor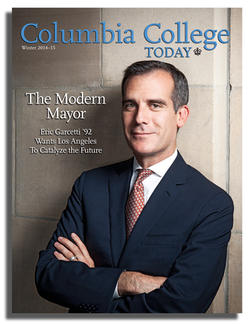 The One Eric Eisner '70
When I started reading Jamie Katz '72, BUS'80's article about Eric Eisner '70 in the Winter 2014–15 issue, I thought that maybe there was another Eric Eisner in our class. I could not imagine the Eric Eisner I knew 44 years ago becoming a "top-tier Hollywood lawyer and dealmaker." But the article was indeed about my old friend, whom I remember as being shy, idealistic and one of the nicest people I have ever known. I am delighted to learn that he seems to have had a happy life and that he is helping young people from poor neighborhoods attend good schools and colleges.
Henry Munson '70
Winthrop, Mass.
Secretary of the Treasury
CCT is mistaken, and belittling, when its Winter 2014–15 edition says, of Alexander Hamilton (Class of 1778) in "Within the Family": "Hamilton was the first Treasurer of the United States …" Hamilton was never Treasurer of the United States. He was instead the first Secretary of the Treasury (1789–95).
Then, as now, the Treasurer is a presidentially appointed officer in the Department of the Treasury, while the Secretary is the presidentially appointed "head" of that department. The honor of being the "first Treasurer" is usually given (by the Treasury Department's website, for example) to Michael Hillegas, appointed by the Continental Congress to serve, first as Treasurer of the United Colonies, and then of the United States, 1775–89.
Charles R. Braun '63
Pittsburgh
David Rosand '59, GSAS'65
I read the obituary for David Rosand '59, GSAS'65 [Winter 2014–15], emeritus professor of art history. Rosand was my instructor for Art Humanities circa 1965. Columbia students will remember the class in which the instructor showed slides from the back of the room and discussed the works of art shown.
I was on the staff of the Columbia humor magazine Jester and had gone through our back issues. Not only had Rosand drawn the primary image of a jester that we used (it had his initials, "DAR," on it) but he also drew cartoons for Jester. In one of them, an art instructor is at the back of a classroom showing slides. The caption was, "You may not know much about art, but at least you know what I like." I brought it to class and showed it to him. His drawings were always fluid and vivid. Edward Koren '57, a New Yorker cartoonist about whom Rosand wrote one of his books, was also a Jester cartoonist.
Steve Goldfield '68
Oakland, Calif.
I was sorry to read of the death of David Rosand '59, GSAS'65, a Columbia contemporary though not precisely a classmate. It came as interesting news that he once wanted to become an abstract expressionist painter. What I most remember about Dave Rosand, which seems to have gotten lost behind his academic eminence, is that he was a terrific cartoonist for Jester. I thought then and would probably think now that his cartoons were far more sophisticated than one would expect from a college humor magazine, even ours.
Many of us know that cartoonist Edward Koren '57 went from Jester to The New Yorker. But not every Jester went from humor to humor. Unless I am mistaken, the future Trappist monk Thomas Merton '38, GSAS'39 published cartoons in Jester, not all of them monkish. Ad Reinhardt '35, who in fact did become an abstract painter of the highest distinction, was a lively illustrator for Jester and its editor in chief. Your Rosand obituary makes me wonder if Jester has a secret history, of contributors who went from jesting to at least the appearance of Dignity with a capital D.
Jerome Tarshis '57
San Francisco
A Responsible Stand?
The suicide of an Ohio State player and an article in The New York Times bring the issue of football at Columbia front and center.
Isn't it time for Columbia to drop this dangerous sport? Its continuation condones that these young athletes should be subject to the considerable hazard of brain injury. The fact that Columbia can record few winning games has nothing to do with this suggestion, though the long list of losses doesn't encourage persistence. No; it is simply true that football is associated with a risk of irreparable cerebral damage for those who play the game. Columbia should take the responsible stand and ban the sport.
Dr. Giulio D'Angio '43
Philadelphia
Correction
Steven Handel '66, the subject of an alumni profile in the People section of the Winter 2014–15 issue, was originally listed with an incorrect class year. CCT regrets the error and has corrected it online.