Web Exclusive
Recipes from Dina Cheney '99
The following recipes are excerpted from Dina Cheney '99's cookbook Meatless All Day: Recipes for Inspired Vegetarian Meals (2014).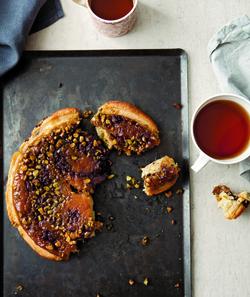 PHOTOS: COURTESY THE TAUNTON PRESS
Baklava Sticky Buns with Pistachios and Dates
Sticky buns meet baklava in these decadent nut-capped treats. Serve them with lots of strong coffee or fresh-squeezed orange juice. Look for orange flower water in international, Mideastern and gourmet stores. If you can't find it, substitute another tablespoon of orange juice.
Serves 6; makes 12 small buns
1/2 cup warm (100°–110°F) 2% milk
One 1/4-ounce packet active dry yeast
1/3 cup plus 1/2 teaspoon granulated sugar, divided
10 tablespoons (1 stick plus 2 tablespoons) unsalted butter, 4 tablespoons melted and the remainder at room temperature, divided
1 heaping teaspoon orange zest
1 teaspoon lemon zest
1/2 teaspoon plus 1/8 teaspoon coarse salt, divided
1 large egg, beaten
2 1/4 cups plus 1 tablespoon unbleached all-purpose flour, divided, plus more for the pan
2/3 packed cup plus 2 teaspoons dark brown sugar, divided
1/2 cup maple syrup
1/4 cup fresh-squeezed, strained orange juice
2 tablespoons orange flower water
1/2 cup finely chopped raw shelled pistachios
1 teaspoon ground cinnamon
1/2 teaspoon ground cardamom
1 cup coarsely chopped pitted Medjool dates
1. In a small bowl, mix the warm milk, yeast and 1/2 teaspoon granulated sugar. Let it sit until lots of small bubbles form, about 12 minutes. Meanwhile, combine the remaining 1/3 cup granulated sugar, 1/2 stick of the room temperature butter, the orange and lemon zests, and 1/2 teaspoon salt in a large bowl. Using an electric mixer with the paddle attachment, beat on medium speed until the mixture is well blended, light, and fluffy, about 3 minutes. Add the egg and beat for about 20 seconds, then add the yeast mixture and beat for about another 20 seconds.
2. Beat in 2 cups of the flour in three installments, beating for about 10 seconds after each addition and scraping down the sides of the bowl with a rubber spatula. Sprinkle about 1⁄4 cup of the remaining flour onto a large clean surface; transfer the dough to the surface and knead until it's smooth and stretchy, about 4 minutes (add more flour if needed). Grease a large bowl with 1 tablespoon of the melted butter. Add the dough and turn to coat. Cover with plastic wrap and let rise in a warm place until doubled in volume, about 2 hours.
3. Meanwhile, grease the entire interior of a 9-inch round cake pan with 1 tablespoon of the melted butter. In a medium bowl, stir together the remaining 2 tablespoons melted butter, 2/3 cup of the brown sugar, the maple syrup, juice, and orange flower water. Pour this mixture into the bottom of the pan, and sprinkle evenly with the nuts.
4. Punch down the dough. Sprinkle the remaining 1 tablespoon flour onto a large clean work surface. Gently stretch the dough into a rectangle roughly 12 x 8 inches. Brush any excess flour off of the dough and spread the dough evenly with the remaining 2 tablespoons of room temperature butter. Mix the remaining 2 teaspoons brown sugar, the cinnamon, cardamom, and remaining 1⁄8 teaspoon salt in a small bowl. Sprinkle it evenly over the dough. Sprinkle the dates evenly on top.
5. Starting at one long side, tightly roll the dough into a log, keeping it as even as possible. Using a sharp knife, cut it into 12 rounds. (Spray the knife blade with nonstick cooking spray if it sticks to the dough as you cut it.) Place the rounds cut side down on top of the nuts in the pan. Cover the pan with plastic wrap and let the buns rise in a warm area until they double in volume, about 1 hour. Place a rack in the center of the oven, and heat the oven to 350°F.
6. Bake the buns on the center rack until they're golden brown on top and the insides are cooked through, 30 to 35 minutes (start checking after 25 minutes). Let cool in the pan for about 10 minutes, and then flip onto a serving plate. Cool
for another 5 minutes and serve warm.
Serving suggestion: For a brunch buffet or elaborate meal, serve with warm flatbread, scrambled eggs, tomato and cucumber salad, and labneh (Mideastern strained yogurt).
Try This: Dry yeast, which is dormant, dissolves and comes back to life when stirred into warm liquid, so you need to make sure the milk is sufficiently warm to activate the yeast. The liquid should feel warm, but not hot (if it's too hot, it can kill the yeast). To be sure, use an instant-read thermometer to check the temperature.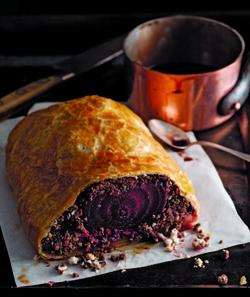 Beet Wellington with Pinot Noir Sauce
Here's a vegetarian twist on a classic, upscale Continental dish (which normally includes filet mignon, pâté and truffles); but this version is inexpensive, easy (if somewhat time-consuming) to prepare, and meat-free. Rich red wine, earthy mushrooms, creamy herb-flecked goat cheese, sweet roasted beets and flaky buttery crust meld in a harmonious, luxurious whole ideal for holidays and even weeknights. A velvety Pinot Noir sauce tops it off (though if you're time-pressed, the dish is delicious without it).
Serves 6
1 pound 2 ounces beets
2 1/4 teaspoons coarse salt, divided, plus more as needed
Scant 1/2 teaspoon black pepper, divided, plus more as needed
8 tablespoons (1 stick) unsalted butter, divided
1/3 cup finely chopped shallots
2 pounds cremini mushrooms, stems discarded and caps finely chopped
8 sprigs fresh thyme, tied together with kitchen twine
2 1/4 cups Pinot Noir or red Burgundy wine, divided
8 ounces fresh goat cheese, at room temperature
1/4 cup minced fresh chives, plus another 2 tablespoons for garnish, divided
1 heaping teaspoon lemon zest
About 2 tablespoons unbleached all-purpose flour for working with the puff pastry dough, divided
One 14-ounce package frozen puff pastry dough, such as Dufour, thawed
1 large egg beaten with 1 tea-spoon water for egg wash
1/4 cup dried wild mushrooms, enclosed in a cheesecloth bag with kitchen twine
1 tablespoon arrowroot dissolved in 1 tablespoon plus 1 teaspoon cold water
1 cup reduced-sodium vegetable broth
1 tablespoon granulated sugar or honey
1. Heat the oven to 400°F. Wrap the beets in aluminum foil and roast until they're just barely cooked through, about 50 minutes (you should be able to poke a fork in about 1/2 inch with some resistance). Reduce the oven temperature to 375°F.
2. When the beets are at room temperature, trim off their ends, peel, and slice into 1/2-inch-thick rounds (you should yield about 6 slices). Lay the slices on a large surface and season both sides evenly with a total of about a scant 1⁄2 teaspoon salt and a pinch of pepper.
3. Meanwhile, melt 3 tablespoons butter in a 12-inch, heavy, nonstick frying pan over medium-high heat. When melted, add the shallots and sauté until translucent and aromatic, about 3 minutes. Add the mushrooms, thyme, 1 teaspoon salt, and a large pinch of pepper, and sauté until the mushrooms are tender and all of the liquid has evaporated, about 13 minutes. Add 1/4 cup wine and simmer until all of the liquid has evaporated, about another 7 minutes. Remove and discard the thyme sprigs, and set the mushrooms aside off the heat to cool to room temperature (you can freeze them for about 15 minutes to expedite this process). Meanwhile, mix the soft goat cheese with the 1/4 cup chives, the zest, 1/4 teaspoon salt, and a large pinch of pepper.
4. Sprinkle about half of the flour on a large clean work surface. Unfold the puff pastry onto the surface and evenly and lightly flour both sides. Carefully stretch it a bit so it measures 12 1/2 x 12 1/2 inches square. Working about 5 inches down the center of the dough rectangle (leave about 3 inches each at the top and bottom and roughly 4 inches each at both sides), evenly arrange half of the mushroom mixture, then the beet slices, then the cheese mixture, and then the remaining mushroom mixture. Fold both ends of the dough over the edges of the vegetables to cover. Then fold both sides of the dough toward the center to enclose the filling completely; shape into an even rectangle. Carefully transfer the filled pastry to a parchment paper–lined baking sheet with sides. Brush the top and sides of the pastry with the egg wash. Refrigerate for 45 minutes to 2 hours.
5. Bake in the center of the 375°F oven until the pastry is golden brown, puffed, and completely firm when poked, about 50 minutes. Let sit until you've made the sauce.
6. Pour the remaining 2 cups wine into a small, heavy saucepan; place the dried mushroom sack into the wine and cook over high heat until the liquid is reduced by about half, about 16 minutes. Remove and discard the mushroom sack. Stir in the arrowroot-water mixture, the broth, sugar, the remaining 1/2 teaspoon salt, and the remaining pepper; lower the heat to medium and simmer (do not boil) until thickened, about 6 minutes. Whisk in the remaining 5 tablespoons butter. Taste and adjust the seasonings if necessary (you should yield about 2 cups sauce).
7. Slice the Wellington, carefully transfer to a serving platter, and garnish with the remaining chives. Serve the sauce in a gravy boat alongside the pastry or spoon some atop each serving.
Serving Suggestions: For holidays, consider doubling the recipe by preparing two Wellingtons. Serve a frisée and apple salad alongside, with chocolate mousse for dessert.
Try This
Plan ahead by defrosting your puff pastry; it takes 2 to 3 hours in the fridge or 1 hour at room temperature. Prepare the mushroom and goat cheese fillings and roasted beets a day ahead of time.
When working with beets, wear plastic gloves and an apron to prevent staining.
Use a food processor to chop the mushroom caps quickly.
If you don't like goat cheese, substitute boursin cheese for the seasoned goat cheese-zest-chive mixture.
Important: Don't overcook the beets; make sure the fillings are dry and at room temperature or cold prior to filling the pastry; and chill the pastry after filling.