Alumni Corner
Lou Gehrig '25 in His Own Words
"Fans, for the past two weeks you have been reading about the bad break I got. Yet today I consider myself the luckiest man on the face of the earth."
Gehrig spoke his most famous words on July 4, 1939, at a day of appreciation the Yankees held for him shortly after his retirement due to ALS.
---
"These people are yelling 'Good luck, Lou,' and they're wishing me well — and I'm dying."
---
"I have seen many Negro players who belong in the big leagues. I don't believe there's any room in baseball for discrimination. It's our true national pastime and a game for all."
Gehrig played in the major leagues from 1923–39, retiring eight years before baseball became integrated in 1947.
---
"I believe that Columbia helped me to appreciate good books and classical music."
---
"He was all pitcher that [Carl] Hubbell [of the New York Giants]. If he had stopped us that day with that incredible pitch of his, he would have been very tough in a seventh game. I've had thrills galore —but I don't think any of them topped this one."
Gehrig's comment came after he hit a home run off Hubbell in Game 4 of the 1936 World Series, which the Yankees won in six games.
---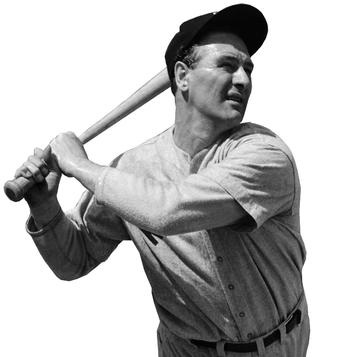 PHOTO: Bettmann/Corbis"I envy this kid [Joe] DiMaggio. He has the world before him. He has everything, including the mental stability."
Gehrig and DiMaggio were teammates for three full seasons, and it was DiMaggio who became the Yankees' team leader upon Gehrig's retirement.
---
"I'm not a headline guy. I know that as long as I was following [Babe] Ruth to the plate I could have stood on my head and no one would have known the difference."
---
"Only a small percentage of men have to go back to prison. It seems to me that many convicted fellows deserve another chance. We don't want anyone in jail who can make good — but we don't want people out there who are a danger to the rest of the community."
Following his retirement, Gehrig served on the New York Parole Commission.
---
"When these writers would ask me questions, they'd often think I was rude if I didn't answer right away. They didn't know I was so scared I was almost shitting in my pants!"
---
"I never realized how much I would miss the clubhouse atmosphere. I guess my life is bound up with baseball and this ball club."
---
"My sweetheart — and please grant that we may ever be such — that thing yesterday I believe and hope was the turning point in my life … I broke before the game because I thought so much of you. Not because I didn't know you are the bravest kind of partner but because my inferiority grabbed me and made me wonder and ponder if I could possibly prove myself worthy of you."
From a letter to his wife, Eleanor, the day after he announced his retirement.
---
Selected quotes provided by Ray Robinson'41, a longtime sportswriter and the author of Iron Horse: Lou Gehrig in His Time.