Alumni Profiles
Jennifer Medbery '06's Data-Driven Software Empowers Teachers
By Karen Iorio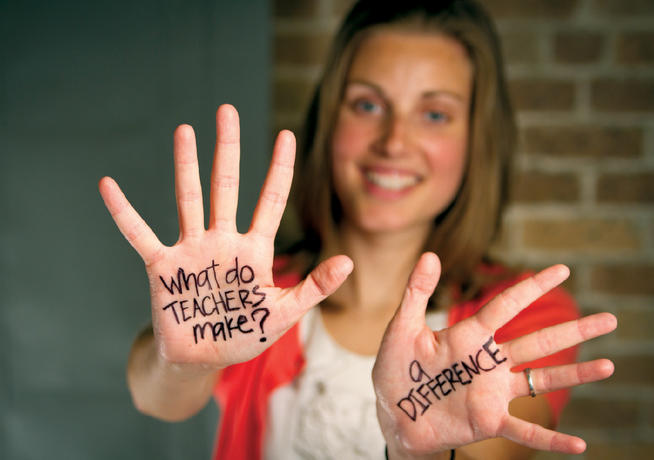 Jennifer Medbery '06 provides teachers with an innovative tool to track students' progress. Photo: Robert X. Fogarty, Dear World
For those who know Jennifer Medbery '06 (née Schnidman), founder and CEO of Kickboard, an educational software company whose namesake program tracks and analyzes student performance data, she seems to possess superhuman strengths.
"She has the ability to walk through walls," says David Whittemore '06, a friend and fellow entrepreneur. Or as Ed Zimmerman, Kickboard's attorney and an adjunct professor at the Business School, puts it: "It's not clear to me that she understands what the word 'no' means."
Both describe a tenacious woman who views obstacles, such as the vast achievement gap that divides our nation's students along socioeconomic lines and the charge of finding investors for a new company based in disaster-ravaged New Orleans, as opportunities.
As a high school student in Ridgefield, Conn., Medbery became interested in Columbia when she attended non-credit weekend classes on campus through the Science Honors Program. Once at the College, she majored in computer science. During her senior year, a class on social entrepreneurship at Barnard "opened my eyes to what you can do as an entrepreneur for social enterprise," she says.
With a new interest in social reform, she joined Teach for America upon graduation and taught eighth-grade math for two years in the Mississippi Delta. For her third year of teaching, in 2008, Medbery moved to New Orleans to work as a founding teacher at New Orleans Math and Science Academy, a charter school known as Sci Academy. (She now lives in the Crescent City with her husband, Trey.)
"New Orleans is a mecca of opportunity," Medbery says. "After Hurricane Katrina, the old schooling system was literally washed away and now new charter schools and school governing systems are flourishing.
"[Teaching at Sci Academy] was my 'aha' moment as an entrepreneur. I had a dynamite school leader and a hardworking group of teachers all on the mission of closing the achievement gap. We had a strong school culture and our students were engaged in learning. Still, it felt cumbersome to track student progress." She recalls juggling dozens of files, stacks of paper and desks full of Post-It notes, struggling to organize information ranging from test scores to parent phone numbers.
With her data-driven computer science background, Medbery knew there had to be a way to use technology to help teachers track students. After a year spent developing Kickboard, she introduced a prototype to Sci Academy at the start of the 2009–2010 academic year.
"The response was overwhelmingly positive," she says. "Teachers loved going from an old-fashioned gradebook to a new, streamlined web 2.0 tool. They loved being able to visualize student progress with charts and graphs. It opened up teachers' minds on how to use data to help move students along faster."
Kickboard is a highly customizable program that can be just as useful for a high school physics teacher as it is for a kindergarten reading instructor. Teachers can choose what they'd like to track, including test scores and specific skills as varied as subtracting fractions and understanding similes and metaphors. Teachers who see the same students in different classes can share data to analyze behavior and performance patterns. Kickboard also allows for teachers to maintain call and meeting logs indicating when they speak with each student's family and what is covered in the conversation.
After its resounding success in Sci Academy, Kickboard launched in 11 New Orleans schools the following year and now is in 70 schools across 12 states. Each school signs up starting at a cost of $15 per staff member, which includes training.
"Our No. 1 objective is growth — getting more teachers on Kickboard and making teachers more analytical and data-driven," says Medbery. "For many teachers, 'data-driven instruction' is a theoretical buzzword; Kickboard is the tool teachers can use to turn theory into practice."
Although the company has expanded nationally, Medbery says, "Our headquarters is still, and will always be, in New Orleans. The city is an intersection of entrepreneurship and educational reform."
Despite a poor economic climate, investors have seen the value of Medbery's mission. Last spring, her company was accepted into the highly competitive First Growth Venture Network, founded by Zimmerman, which enables entrepreneurs to work with advisers on business strategy. Zimmerman says he was impressed by Medbery's conviction through "a dark time in the market and a terrible time for venture funding.
"If you asked a venture investor what they would not like to fund, they'd say a first-time entrepreneur who's a teacher, has no financial training, isn't a deep technologist and doesn't live in Silicon Valley or another major city."
However, once Zimmerman met Medbery during the application process he realized, "She was one of the most impressive people in an impressive room. She's going to stick with it."
In addition to First GrowthVenture Network, Medbery also has found business sup-port from the Columbia Venture Community, a group of Columbia students, employees and alumni interested in entrepreneurship. Among the classmates she works through problems with are Whittemore, a co-founderof Clothes Horse, and Mike Brown Jr. '06, a founding partner of AOL Ventures.
"She's so passionate about education," Brown says. "Shehas a sincere interest in changing how the business is operated. When a problem arises, she doesn't waver. She adapts to solve it."
Medbery's resilience is getting noticed outside the education sphere. Last June, Inc. magazine included her in its list of "30 Under 30" young entrepreneurs to watch. And in August she was honored by President Barack Obama '83 as one of the White House's Champions of Change Young Entrepreneurs.
All this recognition is not a signal for Medbery to rest on her laurels; instead, she says, "Press and awards are validation that what we're doing is important and motivate me to spread the message wider."