Alumni Profiles
Frank Seminara '89 Now Makes His Pitch in Finance
By Joshua Robinson '08
Frank Seminara '89 keeps two cards in his office. Which one he gives out depends on the visitor. Most people who show up at his midtown brokerage practice at Morgan Stanley get the standard business card —name, title, phone and email. But for a visitor looking to talk about Seminara's previous life, he pulls out a different one. This one lists his height, weight and, among other things, his earned run average.
Across the top, it reads: "Frank Seminara. P. San Diego Padres."
It is his 2½-by-3½-inch badge of honor from a pitching career that took him through every echelon of professional baseball in the time between his junior year at Columbia and his move to the world of finance. And even though his taste of the major leagues was relatively brief — 47 games spread over parts of three seasons — Seminara is certain that the lessons of baseball have shaped him as an investor. He knows as well as anyone "Even when you're on top of the world, something can go wrong."
That, he says, "has trans­lated into my being very cau­tious on behalf of my clients."
Seminara arrived at Columbia in 1985 as a late-blooming pitcher from Brooklyn with a fastball that touched 90 mph with movement, and the confidence to go with it. "He had this competitive, positive cockiness, like he wasn't going to let anybody beat him. That's a dream for a coach," says Paul Fernandes, who coached the Columbia baseball team for more than two decades (1977–98 and 2004–05).
But that attitude was nearly his undoing. Looking back, Seminara compares himself to "a bull in a china shop" and "a little bit of a cancer on the team" during his first year. Still immature, his self-confidence outweighed his work ethic and he played poorly, giving up 20 runs in 19 innings in the 1986 season. By the end of spring, Fernandes had grown tired of the attitude he had once admired and informed Seminara that he was no longer on the squad.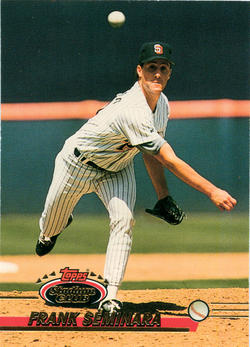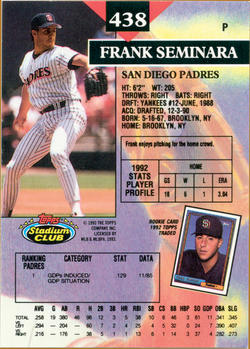 Frank Seminara '89 Topps baseball card from 1992. After eight years in the major and minor leagues, Seminara now is a Wall Street broker.
It proved to be a wake-up call. That fall, Seminara adjust­ed his approach and refocused on his mechanics, realizing that the pitches he had thrown right by batters in high school looked like batting practice to college players. Four months later, more humble and ready to put the team first, Seminara went back to Fernandes and asked to rejoin the squad.
Despite struggling with in­jury, Seminara went 4–0 in six appearances with a sparkling ERA of 0.29. It was enough to make him — and a few scouts — think he might have had what it takes to turn pro. A year later, Seminara's transfor­mation from cocky teenager to elite prospect was complete, and in 1988, the Yankees selected him in the 12th round of the amateur draft, 313th overall. Seminara was elated (despite being a Mets fan), and got his father's permission to turn pro by committing to complete his Columbia degree by attending two more fall semesters, in 1988 and 1989.
Seminara moved from the Yankees' farm system to that of the San Diego Padres before his break came in June 1992, when the Padres called him up for a trip to Chicago. He made his big league debut in iconic Wrigley Field on a warm afternoon, with a pack of Columbia buddies in the stands. Seminara took on a Cubs lineup that included the likes of Sammy Sosa and current Yankees manager Joe Girardi and pitched a shutout into the seventh inning. That's when a line drive off the bat of Mark Grace nailed him in the arm and ended his debut. "He really hit it hard," Seminara remembers. "I thought, 'Oh well — shortest career in the major leagues.'"
Not quite. Seminara would make 18 more appearances that season and finish with a respectable 9–4 record and a 3.68 ERA. He split next season between the majors and minors, however, and a trade to the Mets' organization in 1994 only got him another 17 innings in the big leagues. After another year in the minors, Seminara sensed that his time might be up. He knew for sure once the Cubs cut him on the final day of spring training in 1996. Finally, at 29, he told his agent to hang up the phone. "It was very, very tough to do," Seminara admits. "But I'd had a terrible year in 1995, I was now removed from the major leagues 1½, two years and I had no job. I was in limbo."
Seminara realized that with an Ivy League degree and the personal skills he had picked up in baseball, meeting new people in new cities on a near-daily basis, Wall Street might make sense as his next stop. Leaning on every Columbia connection he could think of, he landed a position at Smith Barney. And that's when the phone rang one more time: The Yankees wanted Semi­nara for their Columbus farm team. After working out for a week, however, Seminara re­alized that his heart was no longer in baseball. He called the Yankees and told them thanks, but no thanks.
Now 45, Seminara is a managing director at Mor­gan Stanley Private Wealth Management and can describe a dozen similari­ties between baseball and investing, the stuff of motiva­tional talks and sales bro­chures. What it all boils down to is realizing how quickly things can change, on or off the field, and knowing how to adjust.
"It seems like my baseball career was just a totally differ­ent segment of my life," Semi­nara says. "I like to tell people that I'm a lot better at this than I was at baseball."
Joshua Robinson '08 is a freelance writer based in Manhattan. He mainly covers sports for The Wall Street Journal. His work can be found at joshuasethrobinson.com.