Alumni Profiles
Dylan Voorhees '98 Clears the Air in Maine
By Nathalie Alonso '08
As clean energy project director for the non-profit Natural Resources Council of Maine (nrcm.org), Dylan Voorhees '98 spends most of his working hours advocating for — and often, against — govern­ment policies that could impact the state's air quality and green­house gas emissions. Occasion­ally, though, he takes on other assignments, such as doing skits in a polar bear costume to encourage NRCM supporters to jump into a frigid Atlantic Ocean.
Funded largely by private foundation grants, Augusta-based NRCM is the largest and one of the most influential envi­ronmental advocacy organiza­tion in Maine, with a combined 12,000 dues-paying members and supporters. To raise money and awareness about climate change, the nonprofit organizes an annual polar bear plunge; since 2009 it has been held on December 31. Voorhees appeared in a promotional video for the event in a polar bear costume which, accord­ing to the storyline, he refused to take off until NRCM met its pledge goal for the fundraiser. While he did not actually wear the costume until the goal was met, Voorhees, who has himself taken the icy dip several times, acknowledges, "We know we can't engage people without a bit of humor. We protect the environment but we work by engaging real people."
For Voorhees, such activi­ties represent "rare but needed departures" from his more serious regular work of combat­ing global warming pollution in Maine and clearing a path for renewable energy sources such as wind power. On any given day, you can find Voorhees in his office writing analyses of state bills or, when Maine's part-time legislature is in session, nearby at the State House lobbying law­makers. He also participates in NRCM's media campaigns. "It's a really diverse and dynamic job that I love because it involves working directly with laws and the legislators who make them, but also organizing a whole ap­paratus of advocacy to support that over time," Voorhees says.
NRCM's advocacy director, Pete Didisheim, lauds Voorhees' enthusiasm for all aspects of his job. "That's what I look for in a staffer — a willingness to do whatever it takes to advance our mission, and to have fun in the process," Didisheim says. "Whether in a polar bear suit or his lobbying suit, Dylan will play the part needed to help promote a clean energy agenda for Maine."
Voorhees is especially proud of the key role he and NRCM played in having Maine join the Regional Greenhouse Gas Initia­tive in 2007. RGGI is an agree­ment among the New England and several Mid-Atlantic states to collectively reduce carbon dioxide emissions from their power plants through a cap-and-trade system. With support from other environmental groups, Voorhees negotiated with local industries to produce the bill that determined how Maine would implement the program. "Anytime you have environmental groups and big industrial business groups coming to an agreement, it's very helpful, and legislators love it," says Voorhees, who joined NRCM in 2006 upon completing a master's of public policy from Harvard's Kennedy School of Government.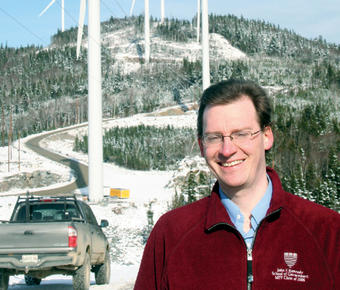 Dylan Voorhees '98, shown here at the Kibby Wind Farm in Maine, advocated for sustainable energy sources. Natural Resources Council of MainWhen it comes to clean en­ergy practices, Voorhees walks the walk, too — literally. After several years of going to work via bicycle he now commutes by foot, having purchased a home blocks away from NRCM's office. He lives with Annie, his wife of 10 years, and their daughters, ages 3 and 5.
Maine was not always on Voorhees' radar, however. As a teenager he aspired to become an archaeologist and was drawn by the University's an­thropology department as well as an overall "flavor and pace of life" that was different from his rural Vermont upbringing. His fondest memories of the College include rowing with the lightweight crew team three out of his four years and the primatology courses he took with professor Marina Cords, which, in retrospect, he cites as evidence of an ingrained inter­est in the natural world.
"Growing up in Vermont and being outdoors hiking and skiing, I certainly have a love of the natural world," says Voorhees. "I think there's a sense in places like Vermont and Maine that our environment is not just a pretty thing around us to visit but is actually part of who we are and part of our economy."
Hesitant to start graduate school right away, Voorhees took a job teaching eighth grade at The Gailer School, an independent institution where he attended high school. That experience changed his trajectory. "Teaching led me to public affairs and being interested in our civilization today more than our civilizations of 3,000 years ago," he says.
Voorhees nonetheless continues to find his College education, especially the Core, relevant to his mission. "A lot of the work I do is about climate change, which is a long-term issue and relates to some fundamentals of how civilization will operate. And so, on top of the direct politics of it, appreciating the sweep of Western civilization, how we fit in and where we are headed are themes that are relevant to me still," he says.
In that vein, Voorhees, who considers climate change "the defining issue of our time," sees himself as making a small contribution to a much broader vision of "being able to have an economy and a culture and a civilization that can survive over the long term by behaving sustainably."
Watch Voorhees in a polar bear costume fundraising for NRCM.
Nathalie Alonso '08, from Queens, is a freelance journalist and an editorial producer of LasMayores.com, Major League Baseball's official Spanish language website. She also writes Student Spotlight for CCT.