Around the Quads
Richard Sun '13 Embraces "Triple Bottom Line"
By Nathalie Alonso '08
Ask Richard Sun '13 to describe his academic and professional interests and you will get a succinct answer: "People, planet and profit."
Since high school, when he served on his hometown of Summit, N.J.'s recycling advisory committee, Sun has envisioned a career devoted to furthering sustainable environmental policies. That goal has guided his College trajectory, which includes the prestigious Undergraduate Award bestowed by the government of Ireland and a White House internship.
Sun, an economics and sustainable development major, has developed a personal mission based on a widely accepted measure of sustainability performance known as the "triple bottom line," which defines organizational success in terms of social welfare ("people"), environmental impact ("planet") and economic growth ("profit").
Sun's selection for Ireland's Undergraduate Award in 2011 is a testament to his grasp of the subject. He was an international winner in the sustainability category for his essay, "Triple Bottom Line Analysis of Sustainable Urban Development," which used Newark, N.J., as a case study. Sun cites mayoral staff recruited from around the country and the $100 million donation that Mayor Cory Booker inspired Facebook founder Mark Zuckerberg to give to Newark's public school system as examples of the city's unconventional approach to leadership and development.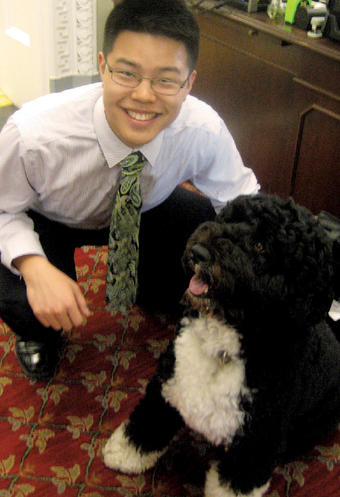 Richard Sun '13, here with Bo, "the First Dog," interned at the White House last spring. Photo: Paige EpsteinSun flew to Dublin in October to receive the Oscar Wilde Gold Medal from then-president of
Ireland Mary McAleese. He'd completed the 5,000-word entry essay in less than a month last summer while working long hours as a paid research analyst on financial services company Credit Suisse's U.S. electric utilities desk. This summer, he is an analyst for McKinsey & Co. in Washington, D.C.
In 2011, Sun also received the Morris K. Udall and Stewart L. Udall Scholarship for Excellence in National Environmental Policy, which consisted of $5,000 and the opportunity to interact with fellow scholars, including Rebecca Chan '12 (see Student Spotlight, May/June 2010) and Adam Formica '13, during a four-day orientation in Arizona.
Sun was away from Columbia during the Spring 2011 semester while he interned full-time in the Office of White House Personnel (a pursuit that began during his days as a West Wing fan). There he functioned as the "RA (resident adviser) of the internship program," organizing speaker events and coordinating community service projects for his peers.
Sun credits his experience as an RA in McBain Hall for his selection; he has since been community adviser for Schapiro Hall and plans to be an RA in Carman Hall as a senior. In April, Sun was elected to one of the College's three seats in the University Senate; he was chief of staff for the Senate's student affairs committee from September 2010–May 2012.
Though his endeavors have brought him to different places, Sun hopes to begin his career at the local level in his home state. As a member of Summit's recycling advisory committee from 2006–09, he was instrumental in establishing the city's "freecycling" program, which includes a website (summitfreemarket.org) where residents can post unwanted items for others to pick up; he believes the program has reduced Summit's solid waste stream by 100 tons during its first four years.
As a high school upperclassman, Sun participated in Columbia's Science Honors Program, through which he took Saturday morning classes on campus on topics such as fossil fuels and climate change and public health and policy. These courses cemented his interest in sustainable development and his decision to attend the College. "That was really helpful for getting a feel for the school and understanding its values," he says. "It's been a springboard for a lot of my interests."
In fall 2010, Sun took "Economic and Financial Methods to Sustainable Development" with Satyajit Bose, lecturer in the discipline of economics and continuing education, who has become a mentor. "Environmental policy can only be advanced with a plurality of support. Richard, with his determined approach of incorporating feedback and connecting with others, has the potential to be an effective policymaker," Bose says.
Sun, a self-proclaimed "municipal nerd" who enjoys spending time in Central Park and belongs to the fraternity Sigma Phi Epsilon, speaks with conviction about becoming "a policymaker [who] aligns societal goals with private interests to make sure the maximum public goal is being achieved.
"The triple bottom line drives my amp and my mission," says Sun, who hopes to "find opportunities that allow me to do all three at once."
Nathalie Alonso '08, from Queens, is a freelance journalist and an editorial producer of LasMayores.com, Major League Baseball's official Spanish language website.