Around the Quads
Alumni in the News
By Karen Iorio
Eileen Lee '05, formerly a senior consultant at Accenture specializing in technology integration projects for clients such as Bristol-Myers Squibb and PepsiCo, now is COO of Venture for America, a program that trains and places talented college graduates in start-up companies. Time magazine featured VFA on April 9, calling the nonprofit "a kind of start-up boot camp." Derek Turner '12, a 2012 VFA fellow who was pictured in the magazine alongside VFA founder and president Andrew Yang '99L, told Time, "One thing that draws me to the entrepreneurial world is that everything can change. The moment you stop changing, you die out."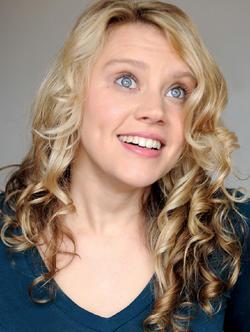 Kate McKinnon '06 Photo: Ari Scott/UCB TheatreKate McKinnon '06, who was known as Kate Berthold during her days at the College, debuted April 7 as a feature player on Saturday Night Live. The first openly gay female member of the cast, she portrayed Penélope Cruz and Bravo personality Tabatha Coffey on her first show. Newsday lauded her performance as "comfortable, assured, confident and above all, funny." Prior to joining SNL, McKinnon spent three years as a cast member on Logo network's The Big Gay Sketch Show, produced by Rosie O'Donnell, on which she began acting during her senior year at Columbia. Read CCT's profile of McKinnon in the March/April 2007 issue.
Pulitzer Prize-winning author Steven Millhauser '65 was honored with The Story Prize on March 21 for his 2011 book, We Others: New and Selected Stories. Millhauser received $20,000 for winning the prestigious award, given annually to an author for an outstanding collection of short stories. Other finalists were Don DeLillo and Edith Pearlman. Millhauser's Pulitzer came in 1997 for his novel Martin Dressler: The Tale of an American Dreamer.
In a March 27 article on the growing popularity of computer programming classes and online instruction modules, The New York Times called Codecademy, founded by Ryan Bubinski '11 and Zach Sims, "the center of the recent frenzy in this field." Founded last summer, the start-up has more than three million students participating in interactive lessons on programming languages including HTML and JavaScript. Sims, who matriculated with the Class of 2012 and has since left the College to run Codecademy full-time, told the Times, "People don't just want to use the Web; they want to understand how it works." One of its students is Mayor Michael Bloomberg who, according to the Times, "made a public New Year's resolution to use the site to learn how to code."
Ai-jen Poo '96 Time magazine in April named Ai-jen Poo '96 to its "2012 TIME 100" list of the most influential people in the world for her work advocating for domestic workers' rights. Poo co-founded Domestic Workers United, a New York-based organization for nannies, housekeepers and caregivers, and now is the director of the National Domestic Workers Alliance. Her work led to New York state passing the country's first Domestic Workers' Bill of Rights, with California likely to follow soon. Gloria Steinem, in her Time profile of Poo, called her "a gifted organizer … [who] knows how to create social change from the bottom up."
David Paterson '77 Photo: Judy Sanders, Office of the Governor
In April, New York Gov. Andrew Cuomo appointed former New York Gov. David Paterson '77 to the board of the Metropolitan Transportation Authority. At a news conference, as reported by The New York Times, Cuomo said Paterson will be a "powerful advocate and informed voice." MTA chairman Joseph J. Lhota told reporters that Paterson, the state's first legally blind governor, "will bring a unique and practical perspective, particularly with respect to issues affecting minority communities and disabled New Yorkers." He will be the first former governor to serve on the transit authority's board.
Eli Sanders '99, associate editor of The Stranger, an alternative weekly newspaper in Seattle, has won the Pulitzer Prize for Feature Writing for his haunting piece "The Bravest Woman in Seattle." The article, published last summer, recounts the story of a woman who survived a horrific attack that left her partner dead. The Pulitzer board commended Sanders for "using the woman's brave courtroom testimony and the details of the crime to construct a moving narrative." Sanders has chronicled the crime from its inception, also profiling the convicted murderer for the paper. The award, announced in April, is the first Pulitzer for The Stranger.