Cover Story
Jodi Kantor '96 Offers Revealing Portrait of the First Couple
By Alexis Tonti '11 Arts
On a Thursday night in early February, one mild enough to have New Yorkers unbuttoning their coats, The Kaye Playhouse on the East Side opened its doors for a discussion hosted by the Roosevelt House Public Policy Institute at Hunter College. The program originally had been scheduled to take place at the institute's home, a double townhouse several blocks away where Franklin and Eleanor Roosevelt once lived. But as the RSVPs poured in, organizers realized the demand for tickets would exceed that venue's 110-seat capacity and changed locations. By 6:20 p.m., almost all of the playhouse's 624 seats were filled.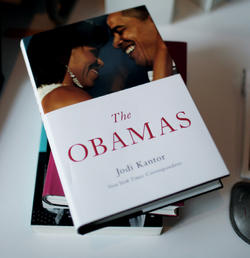 New York Times Washington correspondent Jodi Kantor '96 offers a behind-the-scenes look at the Obamas' changing roles and adjustment to life in the White House. PHOTO: DANIELLA ZALCMAN '09The stage was set simply: two chairs separated by a table with a water pitcher, the fronds of several large plants splayed in the background. In a few minutes, journalist Kati Marton, who in 2001 published a bestselling book about a dozen presidential marriages (from the Wilsons to the younger Bushes), would interview Jodi Kantor '96, who in 2012 published a bestselling book about one: that of the current President and First Lady, Barack '83 and Michelle Obama.
Kantor, who first garnered attention when she became The New York Times Arts & Leisure editor in 2003, at 27, now is a Washington correspondent for the paper. She covered the 2008 campaign and the start of the President's term before taking a 1½-year hiatus to report and write The Obamas, in the process securing the co­operation of not only the West Wing but also the lesser known domain of the First Lady, the East Wing. The result is a multi-dimensional book that pulls back the cur­tain on some of the administration's in­ner workings. It is also a human portrait of the Obama presidency. The nation's incidents and accidents — including the Gulf oil spill, the debt crisis, the 2010 mid­term elections and the Gabrielle Giffords shooting — provide the backdrop against which a more personal narrative unfolds. Among other things, Kantor describes how the President and First Lady adjust to life in the White House; how Michelle Obama struggles with and eventually de­velops a role for herself; the ways in which the Obamas serve as philosophical foils for each other; and how their partnership has affected the presidency.
As Marton attested by way of intro­duction, "It takes a brilliant reporter to pierce the image and façade in which [politicians] are so invested and to give us the flesh and blood." She noted that the book has won Kantor a national audi­ence; since its publication on January 10, Kantor has traveled extensively for book events (Los Angeles, Chicago, London) and made the rounds of the television circuit (Charlie Rose, Face the Nation, The Daily Show with Jon Stewart).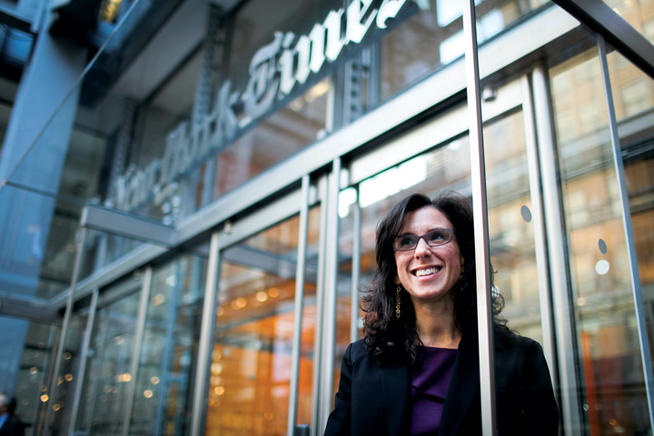 New York Times Washington correspondent Jodi Kantor '96 offers a behind-the-scenes look at the Obamas' changing roles and adjustment to life in the White House. PHOTO: DANIELLA ZALCMAN '09
Speaking with Marton, Kantor was thoughtful and articulate. She cited anec­dotes to the chapter (one got the impres­sion she could cite to the page). Her tone, meanwhile, conveyed the curiosity and delight in discovery that likely drove her reporting. Fifty minutes in, the discussion shifted to Q&A. One audience member wondered about the degree to which the Obamas differ from how they want us to see them. Another wanted examples of how Michelle Obama influenced political decisions. A third asked, "Who were your best sources?"
The audience — and Kantor — laughed. "You know I can't tell you that," she said.
For the record, there were more than 200 of them.
The New York Times is the only newspaper Kantor has ever worked for. In fact, aside from her four-year tenure at Slate, it's the only publication she has ever worked for. But it's a natural fit for someone whose mother showed her "how to pick out the 'Ninas' in the Al Hirschfeld drawings" in the Arts & Leisure section when she was 6, and who began reading the paper regu­larly when she was 11 or 12. Still, interest didn't translate to youthful aspiration.
"I didn't think that being a journalist was something I could actually do, because I didn't know anybody who did it," says Kantor, whose mother was a homemaker and whose father worked in real estate. "To me, it was like trying to be an actor or something — there are probably 10,000 wannabes for every success out there."
Kantor grew up in Queens, Staten Is­land and New Jersey and attended public high school in Holmdel, N.J. "I was from an immigrant family, my grandparents were Holocaust survivors. I didn't feel like I grew up a member of any kind of establishment," she says. "So getting into Columbia and going to Columbia … it represented that there was this different world in New York City that I might be able to be part of. The Times was impor­tant to that, too. I grew up reading people like Frank Rich and Anna Quindlen ['74 Barnard], and they also represented this cosmopolitan ideal, a place where gender roles were different than they had been where I grew up."
At Columbia, Kantor had a "complete grab bag of interests." She was a campus tour guide and volunteered in the Admis­sions Office, did a Wednesday night Torah study program and wrote briefly for Spec­tator. More critical than the activities she pursued were the friends that she made, among them Frank Foer '96, now editor-at-large for The New Republic. "He is a professional partner in crime; we've never worked at the same place at the same time, but we consult constantly on the other's careers," Kantor says. "We've had this long-running conversation that started in East Campus in 1994 and has never really stopped."
Foer says their friendship was cement­ed during their junior year abroad. He studied at Oxford, she at Cambridge, and they did some traveling together. "You could tell from the way that she carried herself that she was somebody who was going places," he says. "She has always been a very gregarious person, and I think she's always been an ambitious person; that was one of the qualities that attracted me to her early on."
Foer recalls that when he applied for his first job after college, "I had written this cover letter that I thought was careful­ly crafted and brilliant and I showed it to Jodi, and she took her red pen to the copy and she kind of shredded it. I was dev­astated and reacted in this very passive-aggressive way," he says, laughing. "But in time I accepted every single one of her ed­its. It was obvious to me before it was obvi­ous to her that she should have a career in journalism."
Kantor similarly credits Foer, calling up a memory from senior year. "We thought the cool thing was not to study in Butler but to take the train to the main branch of the New York Public Library and do our work there," she says. "We wanted to be New Yorkers in a real sense." For Hanuk­kah, they bought each other presents from the library gift shop: "He got me a collec­tion of Yehuda Amichai poetry that I still have, and I got him this poster that was a New Yorker cover. I thought it was such a cool gift at the time, because he loved the magazine. But when I gave it to him, he got this look on his face. And I realized that he didn't want to have a New Yorker poster on his wall; he wanted to write for magazines like the New Yorker. He had this sense of possibility, and the idea that we didn't need to just read these publications and be con­sumers of them but that we could actually help produce them. He helped me see that in myself in a way that was hard to do."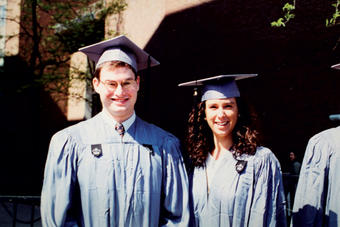 Journalists, career counselors, friends: Frank Foer '96 and Kantor at graduation. PHOTO: COURTESY JODI KANTOR '96To wit, Kantor began Harvard Law School in 1998 but realized her true calling within her first semester. Foer, who had worked at Slate (then a start-up), helped her make a connection. "I wrote a soul-searching letter to [editor/writer] David Plotz asking him what I should do, and it just so happened that Slate needed an assistant at that time in its Washington of­fice," says Kantor, who moved to D.C. for the position.
By the next summer she was handling editing assignments, and soon she became culture editor. (She also was transferred up to the New York office.) She found she liked thinking up ideas for features. To cover season four of The Sopranos, for ex­ample, she recruited a group of psycholo­gists and psychiatrists to analyze each episode — a savvy choice of critics, given the show's premise of a mob boss in ther­apy. She also solicited and edited work by Rich, and the two stayed in touch. When Times executive editor Howell Raines be­gan looking for an editor to reinvigorate Arts & Leisure in fall 2002, Rich was the one who invited her to "develop some ideas." Kantor wrote two memos: one that critiqued the Times' culture coverage in general and one that was more specific about Arts & Leisure and how it should change. She didn't pull any punches, de­claring at the outset: "The New York Times is serving its readers spinach for dessert." Raines hired her in January.
"Everything moved really quickly. It felt fantastic and a little … it felt like a huge leap. On the one hand I had read the Times all my life and there was a way in which I knew the newspaper in my bones the way you do from really immersing yourself in it every day. But I had never worked in print journalism. And at the Times, there are several layers involved. There's the journalism, and then there's also learning to navigate the Times as an institution, the diplomacy and lobbying — really learning the ways and standards of the institution from the inside out."
Some of her changes were met with resistance, notably the abolition of the ex­tensive events and exhibitions listings (she and the other culture editors later reintro­duced them in modified format). But over time Kantor transformed Arts & Leisure. She made it more visual, recruited writ­ers from other sections to contribute and expanded coverage beyond what was new that week to include more heavily reported profiles and issues-driven pieces. One such article focused on a lawsuit over crude language in a Hollywood writers' room; another examined the use of beta blockers among classical musicians. "We were asking the question, does classical music have an issue with performance-en­hancing drugs just the way sports does?" Kantor says. "These were articles that we felt would be compelling to everybody. No matter if you were young or old, whether you were a big classical music or a com­edy consumer, they were universal."
David Leonhardt, now the Washington bureau chief and one of Kantor's editors, was then an economics reporter whom Kantor solicited for several articles on the business and economics of culture. "I found her to be a curious and creative thinker. She really wanted to think about questions from different angles," Leon­hardt says. "She pushed me to think about ending stories in ways that weren't simply clever restatements of a point I had made elsewhere in the story — or not clever," he adds wryly.
When Kantor turned 30 in spring 2005, she began to reevaluate her career.
"The strange thing is that I really be­came an editor before I'd done a lot of writ­ing myself. I felt a little bit like I was helping run a hospital before I had ever been a doc­tor," she says. "And I was a little bit jealous of the reporters I was working with. I felt like, wait a second: I'm young and I'm in journalism and yet I'm in meetings all day. I'm not doing the fundamental thing that journalists do, which is going out and gath­ering information in the world and turning it into stories to share with people."
Kantor also soon learned she was pregnant (she had married journalist Ron Lieber in 2002) and no longer wanted to run a weekly section, with the late-night schedule that entails. That fall she stepped down to report for the national desk and a section called The Way We Live Now.
On September 8, 2008, the Times' front page featured an article by Kantor about Sarah Palin's fusion of motherhood and poli­tics, and one by Lieber, by then the paper's personal finance columnist, about what the federal takeover of Fannie Mae and Freddie Mac meant for consumers.
That page (for which the couple has the printing plates) stands as a testament to one of the more intense periods of their lives. Kantor had transitioned to presiden­tial politics not long after leaving Arts & Leisure, and the campaign was reaching its climax at the same time that the coun­try was grappling with the magnitude of the financial crisis. Both husband and wife were "drinking from firehoses." They were also relatively new parents, living in Brooklyn with daughter Talia, who had been born in December 2005.
"I'm thrilled that we were on the front page together once, but I never want to do it again," Kantor says with a laugh.
As it happens, Kantor's first campaign article, published in January 2007, was about Obama. Knowing Kantor's con­nection to Harvard Law School, manag­ing editor Jill Abramson had asked her to explore whether Obama's experience as president of the Harvard Law Review held clues as to how he would conduct himself as President.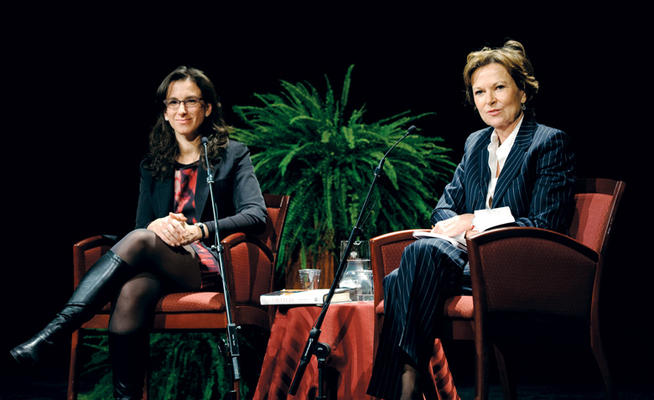 Kati Marton interviewed Kantor in February for the Hazel Rowley Memorial Lecture, a program of the Roosevelt House Public Policy Institute. PHOTO: PHILLIP KESSLER
It was a great first story, Kantor says. "[There were] 60–80 peers who got to know him really well through that pro­cess. When I called his fellow law review editors, I got the sense that they had been waiting for 15 years for somebody from The New York Times to call and ask them about Barack Obama. They had incredibly sharp, clear memories and observations." Among the more prescient takeaways, Kantor identified Obama's desire for a consensus-based leadership style and rec­ognition of the power of his biography.
Kantor went on to cover candidates on both sides of the aisle; moving around gave her a sense of the different ways in which they worked as well as the con­trasts in their backgrounds. She describes the campaign as "rich in character and meaning and news developments — there was so much I wanted to write." She appraised the significance in Hillary Clinton's rare show of emotion at a New Hampshire coffee shop; uncovered the story behind John McCain's son, who was serving as a Marine around the same time McCain staked his candidacy on a surge in Iraq; and tapped into the debate on moth­erhood inspired by Palin's choices. Kantor also broke the Rev. Jeremiah Wright story, which touched off an explosive, national conversation about race and faith.
"Learning to report about presiden­tial politics is very different from report­ing about the local school board," Foer says. "The stakes are so high; the flaks all behave in such a ruthless way. … [The Wright story] was the type of controver­sial scoop that generates a lot of enmity as well as respect. I think one of the im­pressive things she has shown is she has very thick skin, which you need in order to write the types of stories she did.
"What makes Jodi such a good journal­ist is above all else her feel for psychology," he adds. "She has a certain bravery about her willingness to apply psychology to public figures. She does so much reporting and she gets to know her subjects so inti­mately that she is able to acquire insights into them that enable her to take you sev­eral layers deeper into what you thought were familiar figures."
Washington deputy bureau chief Rebec­ca Corbett, who has edited Kantor for about five years, also notes Kantor's strength in profiling: "She was thrown into it all pretty cold and really established herself at being able to do these conceptual stories that were grounded in deep reporting. There was a human aspect to all of them, as well, which made them distinctive." Corbett adds that Kantor's pieces "make you understand who this person is or what they're about; what it means for their public role."
Kantor speaks openly about the chal­lenges of that era. "When you write about the presidential campaign for the Times you're under a ton of scrutiny. And at the same time I was a new mom and learning about motherhood. Sometimes I look at it all in retrospect and don't totally under­stand how that ended up happening …
"I traveled a lot during the campaign, all over the country. The first states that Talia knew the names of were South Caro­lina, Florida, North Carolina, Iowa. I re­member covering the Iowa caucus and I went for 10 days, which was a really long stretch. I was torn, because I had never left my daughter for that length of time. But in retrospect it was absolutely the right thing to do, because there will never be another 2008 caucus."
After Obama was elected, Kantor officially became a Washington correspondent. Lieber's job was based in New York, however, so the family opted to stay in Brooklyn with Kantor traveling to D.C. several days a week. She filed more of the features that were becoming her signature, including one that mapped Michelle Obama's ances­tral roots in slavery. Then, in fall 2009, she sat with the Obamas in the Oval Office for an interview on the subject of their mar­riage. It was a huge get. The article ran as the cover story for the Times Sunday mag­azine on October 26; by mid-November, she'd signed a reported seven-figure book deal with Little, Brown and Company.
"There was so much anticipation," says Geoff Shandler, v.p. and editorial director for Little, Brown, who edited Kantor's book (he also is a longtime friend). "People in publishing had been reading her work in the Times on the Obamas, and hoping for a long time that she was going to write about them at length; I'm sure every publisher to whom she submitted the proposal was thrilled. We wanted it before we even had it to formally want, and we wanted to work with Jodi. She was a brilliant star reporter who seemed to have gotten inside the White House in an intimate way that you didn't see other people coming close to doing."
Though some publishers had asked whether Kantor wanted to do a book that would be essentially a longer version of her magazine article — "a history of the Obama union, starting from when they met to the present day" — Kantor says she was far more interested in their transforma­tion to being President and First Lady.
"I tried to write my best answer to the question that I thought would be on a lot of voters' minds coming up to the 2012 election, which is how have the Obamas changed in office? What was the effect that power has had on them? Part of their appeal in 2008 lay in the fact that they were not real­ly creatures of the political system — and now they're living in the White House and at the center of the bull's-eye," she says. "And ultimately I wrote [a book] because that story is hard to tell in 1,100-word chunks in the newspaper."
Kantor went on hiatus from the Times in April 2010 to work full-time on the book. "Early in the process I had spoken to a lot of people at the White House, committing the project to paper and describing it. The White House decided to cooperate; what was especially unusual is the East Wing de­cided to cooperate," she says, adding that's why she was able to reconstruct so much of what happened behind the scenes.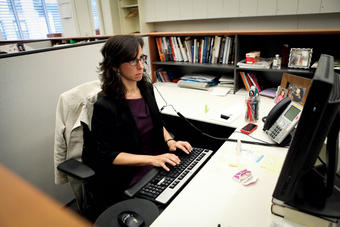 Kantor back at work at The New York Times building. PHOTO: DANIELLA ZALCMAN '09Of Kantor's 200-plus sources, 33 were current and former White House officials, aides and cabinet members. These includ­ed inner-circle advisers such as Valerie Jarrett, David Axelrod, Robert Gibbs and Susan Sher. She also spoke with Obama's longtime friends Marty Nesbitt and Eric Whitaker, whom the President charged with keeping him "normal while in of­fice." Kantor did not secure an additional interview with the President or First Lady, but notes how little access the world of political reporting involves these days. "There's never an opportunity to sit for hours and hours with the people you're writing about and to ask them deep ques­tions. So on the whole I feel I had a lot of access, in part because of the interview I did with the Obamas in 2009 … getting that interview and then talking so long about a sensitive subject."
In her reporting, Kantor pulled at a number of threads that aren't often dis­cussed in daily coverage, and she names two as being particularly striking to her. First, that "the life of the presidency is much harder and lonelier and more con­fined and less glamorous than we think it is. They have incredible privileges but they are also incredibly powerless in so many ways. The president holds the nation's nuclear codes but can't go to Starbucks for a cup of coffee." The second surprise: how different Michelle Obama's story in the White House was from the one that was being publicly told. "There are things we see from her that are very authentic — the warmth, the crowds, the sense of her being a groundbreaking figure, the maternal con­cern that she has," Kantor says. "But espe­cially in the first year or two, there were a lot of parts of her experience that we didn't see, which are described in the book … [Public figures are] under so much pressure to present the perfect image, and there's no way an experience like becoming the First Lady can be perfect."
Kantor hired Corbett from the paper as an additional editor, cross-checked anec­dotes with multiple sources and even en­listed a fact checker from The New Yorker. The final few months were particularly consuming: the book's closing scene takes place at Obama's 50th birthday party in August, and Kantor faced a mid- September deadline. "It was incredibly tight writing about things that had hap­pened so recently, and exciting to see the story take shape before my eyes. Yet I was working morning, noon and night, reporting and writing at the same time … my husband heroically took the lead on parenting. It was in­credibly intense."
The thoroughness paid off, as The Obamas received much scrutiny upon publication. While critics gave it generally positive reviews, some in the media gravitated toward dishier tidbits or plucked moments out of context, creating what Kantor felt were negative distortions. White House offi­cials, meanwhile, pushed back against the book; so did Michelle Obama, who gave an interview where she questioned how someone else could know what she was thinking (at the same time, she admitted that she hadn't read the book).
On The Daily Show, Jon Stewart ad­dressed the public perceptions in a seg­ment with Kantor: "I heard a tremendous amount of controversy about this book, portraying the First Lady very poorly as an angry woman; she was on the Gayle King show talking about it … I made the mistake of listening to that before reading it, so I was very angry at you."
"And then what happened?" Kantor asked.
"I read it," Stewart replied.
In April, reflecting on the initial cov­erage, Kantor says: "It was a strange situation, with people opining with great certainty on cable TV about a book they hadn't read; once they started reading it, the conversation really changed. I think it goes to the challenges of publishing a book about a sitting President and First Lady. The political atmosphere is so polar­ized, everything gets put into positive and negative categories.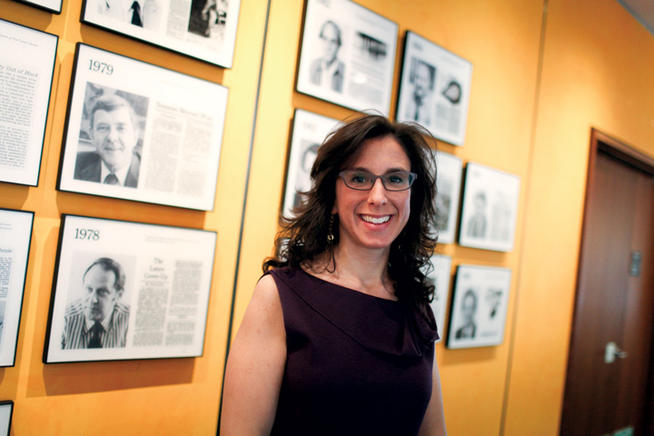 Kantor is covering both Mitt Romney and President Obama during the 2012 presidential campaign. PHOTO: DANIELLA ZALCMAN '09
"My goal was to write a nuanced, hon­est book about the Obamas, the way they were changing, the effect that power was having on them, the challenges of their jobs. The book is definitely not the fantasy version, but it's by no means a book that's negative about them; it's intended to say, here are two people whose public im­ages are so carefully managed — let's get behind that a bit. That's something that doesn't come across well in a one-minute sound bite. And so the first week, I kept saying to people, read the book, you'll see the Obamas' successes and their failures, the things they were instantly good at and the things they had to work hard on. Part of what's interesting about the reporting is watching them change so much.
"It's easy to be intimidated by the polit­ical world," Kantor adds. "The President is powerful, the White House projects a lot of power, the Rush Limbaughs of the world can make a lot of noise. But you can't let that intimidate you. You have to still report aggressively and check your facts, obviously, and be very precise, but you can't let that stop you from saying, 'This is what I really see as a reporter, this is a pattern that I think is important to un­derstanding these people.' … The alterna­tive to that is not to write at all."
Her tone makes clear, that's no alter­native.
Saturday mornings are a good time to meet because of the way her deadlines fall, Kantor says over coffee one morning in March. She's keeping a close eye on the time; she's due to pick up Talia when Hebrew school ends, and then they'll meet Lieber for the afternoon. "I'm a big believer in working hard and throwing myself into things en­tirely, but you can only do it in flashes," she says. "Then you have to recalibrate and have a normal life."
She recalls a recent weekend when the pace of book-related activities was slow­ing. "I came home and watched Downton Abbey, and I realized it had been a few years since I had allowed myself to not work after putting my daughter down. It was a relief to watch something passively and just enjoy."
Kantor also has re-started at the Times, and in fact has an article in that day's pa­per about Mitt Romney. When asked for a recap, she unleashes a rapid-fire series of observations — how it's such an interest­ing time for him to be a candidate, given his wealth and the financial crisis; how even his casual remarks can set off power­ful emotions in people — that underscore how energized she is to be back on the campaign trail. She will be covering both Romney and Obama in the months ahead.
"I love being back at the paper," she says, "being back at my desk and being with my colleagues. The book was great, but it was kind of a year abroad from my real life."
As for whether she'd tackle another one, her answer comes out part elation, part exhalation, and suggests the question might be premature: "Writing a book is like walking around carrying a piano — when you set the piano down, the relief is immense."
Alexis Tonti '11 Arts is CCT's managing editor.