Features
College Celebrates Alumni Reunion Weekend, Dean's Day 2012
By Alexi Tonti '11 Arts
More than 3,700 College alumni and their guests descended on campus from May 31–June 3 for Alumni Reunion Weekend and Dean's Day 2012. The 50-year milestone belonged to the Class of 1962, which capped off its Saturday dinner by presenting a $1.13 million Class Gift to the Columbia College Fund — the largest reunion Class Gift ever given by a 50th-anniversary class. The Class of 1987, meanwhile, celebrated not only its 25-year reunion but also its silver anniversary as the College's first fully coeducational class.
View and download reunion class photos.View the list of Dean's Pin recipients and Class Agents.View Alumni Reunion Weekend event photos and Dean's Day lecture photo galleries on Facebook.
Gathering this year were classes that end in 2 or 7, and every class had something to celebrate, from the six self-proclaimed members of the "Nonagenarian Club" who represented the 70th anniversary Class of 1942, to the Class of 2007, which made its reunion debut with a record-setting 264 alumni attendees. And among them all, the chorus was the same: how fast time flies.
The sentiment also applied to the weekend itself. On Thursday and Friday, alumni fanned out around the city for special events, tours and receptions. Friday featured Back-on-Campus Sessions, an array of Mini-Core Courses on subjects from Plato and Rousseau, to the Divine Comedy and Beethoven's Fifth Symphony, to Hellenistic philosophy and the inner workings of the brain. Saturday featured Dean's Day Public Intellectual Lectures in the morning and more Mini-Core Courses in the afternoon; Saturday's lectures and presentations were open to all alumni, including those from non-reunion years, as well as to parents. Saturday also inaugurated the Witten Center for the Core Open House and Core Stories Taping.
Throughout Saturday, Camp Columbia for Kids kept little Lions ages 3–12 busy with sports, arts and crafts, movies and magic. Saturday evening brought the all-class Wine Tasting and class-specific dinners; afterward, all were invited to Low Plaza for the annual Starlight Reception, where guests enjoyed dessert and drank champagne while the band served up songs for every generation. The dancing lasted until 2 a.m., when the party broke up — at least until next year.
---
Class Photos
Download the full-sized image to view larger or to print.
Class of 1942: Class members who registered for reunion were (left to right) Morris Grossman, Immanuel Lichtenstein, Melvin Hershkowitz, Arthur Graham Jr., Robert Kaufman and Bernard Small. All who attended reunion are proud members of the CC '42 Nonagenarian Club.PHOTO: RICHARD D. COLE
Download the full-sized image to view larger or to print.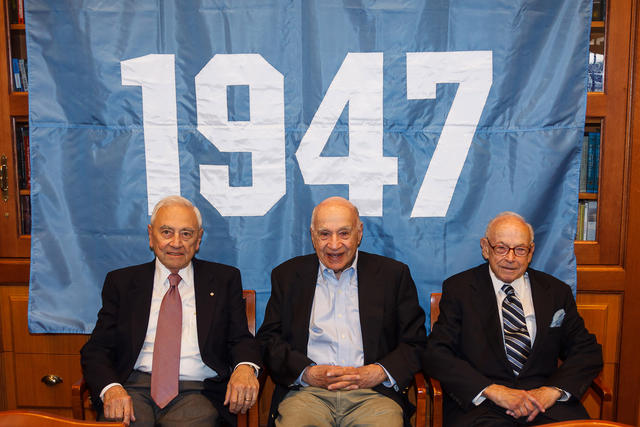 Class of 1947: Class members who registered for reunion were (left to right) Frank Iaquinta, Lawrence Friedland and William Kahn.PHOTO: RICHARD D. COLE
Download the full-sized image to view larger or to print.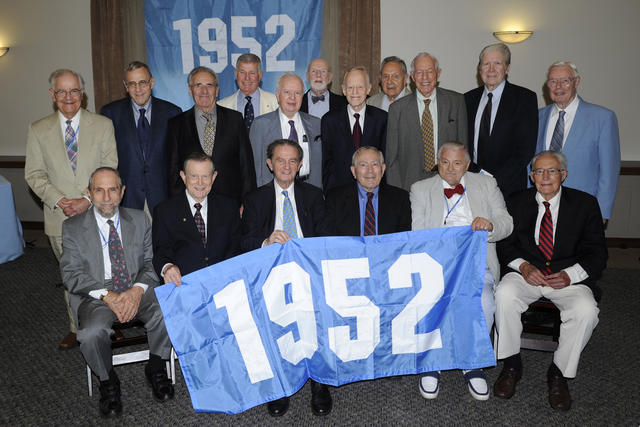 Class of 1952: Class members who registered for reunion were Robert Adelman, Bruno Bellinfante, Alan Bomser, Harry Chandless Jr., N. David Charkes, David Charlton, Joseph Di Palma, Bernard Friedland, Ira Hoffman, Aldo Ippolito, Gerald Kahn, John Laszlo, Martin Liebowitz, George Lipkin, Alden Mesrop, Sidney Prager, Frederic Primich, John Ripperger, Jack Rosenbluth, James Santos, George Satran, Jerold Schwartz, Sholom Shafner, Alan Stein and Herbert Steinberg.PHOTO: LYNN SAVILLE
Download the full-sized image to view larger or to print.
Class of 1957: Class members who registered for reunion were Austin Angleberger, Peter Anker, James Barker, Stanley Barnett, Richard Berkson, Arthur Bernstein, Kenneth Bodenstein, Haig Bohigian, Martin Brothers, Martin Cohen, Daniel Davidson, Edward Dwyer, Richard Eberl, Joseph Feldschuh, David Fink, Jerry Finkel, Martin Fisher, Karl Fleischmann, Robert Flescher, Salvatore Franchino, Alan Frommer, Paul Frommer, Stephen Fybish, Richard Johnson, Alvin Kass, Robert Klipstein, Steven Kornguth, Harold Lecar, Lewis Leventhal, Munro Levitzky, Herman Levy, Ira Lubell, George Lutz, Neil McLellan, Arthur Meyerson, Carlos Munoz, Benjamin Nachamie, Gabriel Pinski, Arthur Rifkin, Stephen Ronai, Leon Satran, Julius Schachter, Lewis Schainuck, Mark Stanton, Myron Stein, John Taussig, Eugene Wagner, Edward Weinstein, Daniel Younger, Paul Zola and Alan Zuckerman.PHOTO: LYNN SAVILLE
Download the full-sized image to view larger or to print.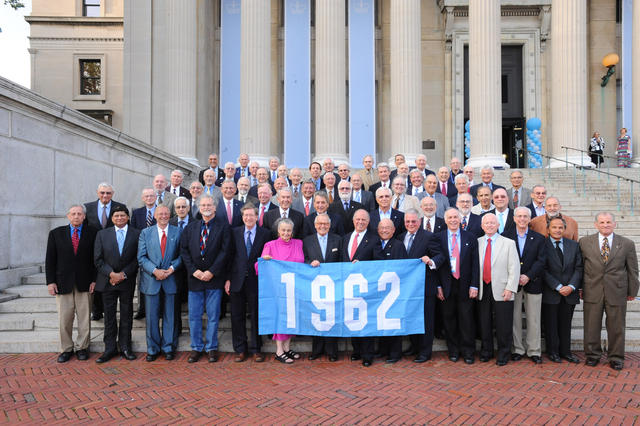 Class of 1962: Class members who registered for reunion were Neilson Abeel, George, Abodeely, Paul Alter, David Angstreich, Russell Baccaglini, James Balquist, Alan Barnes, Armand Bartos, Jeff Bergen, Stephen Berkman, Barton Blanchard, Stephen Blitz, Charles Bowers, Harry Brown, James Bruni, William Campbell, Harvey Chertoff, John Chinkel, James Christodoulou, Paul Cooper, Richard Curtis, Salim Dallal, Gerald DeBonis, Robert Dickstein, Martin Erdheim, Richard Evans, Geza Feketekuty, Howard Felperin, George Frangos, John Freidin, Charles Freifeld, Gerald Garfinkel, Antonio Gebauer, Robert Gedachian, Herbert Gerstein, Frank Giargiana Jr., Robert Glassman, John Goberman, Joel Goldman, Harvey Goldschmid, John Golembe, Sanford Greenberg, Lester Hoffman, Lawrence Horowitz, Gregory Kane, John Kater, Martin Kaufman, Roman Kernitsky, Melvyn Klein, Richard Kobrin, Robert Koehler, Robert Kohn, Lawrence Kotin, Phil Lebovitz, Barry Leeds, Burton Lehman, Frederick Lewis, Lawrence Loewinger, Robert Lowenstein, Stanley Lupkin, Peter Lushing, Michael Maschio, Joseph McLaughlin, Jeffrey Milstein, Fred Modell, David Nathan, Barton Nisonson, Joseph Nozzolio, Louis Olenick, Bernard Oxman, Bernard Patten, Edward Pressman, Joel Rentzler, Tobias Robison, Joseph Romanelli, Harvey Rosen, Stuart Rosenbluth, Loren Ross, William Ross, Richard Roth, Gary Roxland, Kalman Rubinson, Richard Schwartz, Peter Shrager, Allen Small, Jerry Speyer, James Spingarn, Michael Stone, Franklin Strauss, Michael Strong, Leopold Swergold, Yen Tan, Richard Toder, David Tucker, Robert Umans, Stanley Waldbaum, David Wallack, Russell Warren, Michael Waters, Michael Weinberg, Irving Weissman, William Weissman, Robert Weitzman, Peter Yatrakis, Allen Young and Benjamin Zablocki.PHOTO: EILEEN BARROSO
Download the full-sized image to view larger or to print.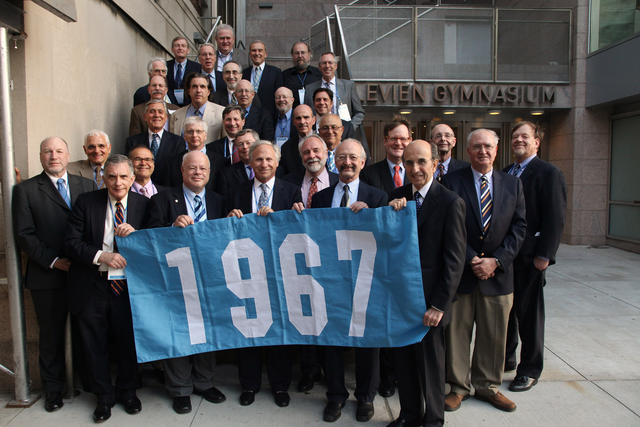 Class of 1967: Class members who registered for reunion were Martin Andrucki, Lawrence Besserman, Arnold Bodner, Melvin Brender, Paul Brooke, Raymond Burghardt, Carlton Carl, Robert Costa, William Costanzo, Paul Czarzasty, David Dell, Leigh Dolin, David Fields, Bennett Flax, Richard Frances, Anthony Greco, Jack Harris, Christopher Hartzell, Kenneth Haydock, Elliott Hefler, William Heinbach, William Herrick, Richard Jupa, Robert Kalter, Clifford Kern, Joel Klaperman, Gordon Klein, Joel Klein, Robert Klein, Andrew Kolstad, Jonathan Kranz, David Langsam, Everett Lautin, Roger Lehecka, Richard Leonard, Ralph Linsker, Merek Lipson, Richard Lorber, Larry Miller, Mark Minton, Jeffrey Nightingale, Martin Nussbaum, Martin Pomp, Jenik Radon, Stephen Rice, Dean Ringel, Robert Rosenberg, Robert Rudy, Stephen Sachs, Jeff Schneider, David Shaw, Allen Spiegel and Richard Strassberg.PHOTO: MICHAEL DAMES
Download the full-sized image to view larger or to print.
Class of 1972: Class members who registered for reunion were Kenneth Abramowitz, Douglas Altabef, Paul Appelbaum, Steven Bellovin, Stuart Bernsen, J. Emilio Carrillo, Eugene Cornell, Peter Darrow, Arthur Ensroth, Lewis Fischbein, William Geissler, Michael Gerrard, Frederick Dennis Greene, Robert Grey, Mary Hasan, Tariq Hasan, Arnold Horowitz, Steven Howitt, Kenneth Hurwitz, Neil Izenberg, Bruce Jacobs, James Katz, Rick Kurnit, Harlan Lachman, Mark Lesky, Joseph Lowe, Keith Luis, Mark Mandell, Jeffrey Mattloff, Dowell Myers, Eugene Nathanson, Gerard Papa, Allan Reiss, Mriano Rey, Eugene Ross, Allan Schuster, Marc Sferrazza, Joseph Smith, Gary Szakmary, Harold Veeser, Sean Wilentz and Robert Williams.PHOTO: RICHARD D. COLE
Download the full-sized image to view larger or to print.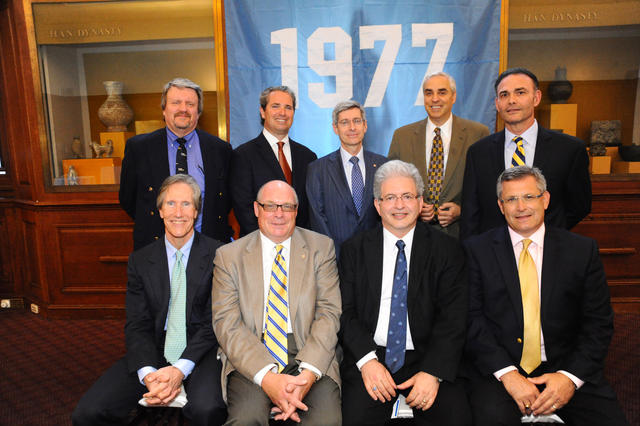 Class of 1977: Class members who registered for reunion were Michael Aroney, Craig Brod, Peter Buxbaum, James Camparo, Leslie Cohen, Thomas Dames, Louis De Stefano, Mark Goldberger, William Gray Jr., John Hallacy, Michael Katzman, Robert Kent, Martin Kutscher, Jon Lukomnik, James Mullin, Rufus Sadler, Daniel Sang, John Santamaria, Jim Schapiro, Michael Sherman, David Stanton, Christopher Sten, Thomas Wagner, Robert Werner and George Whipple.PHOTO: EILEEN BARROSO
Download the full-sized image to view larger or to print.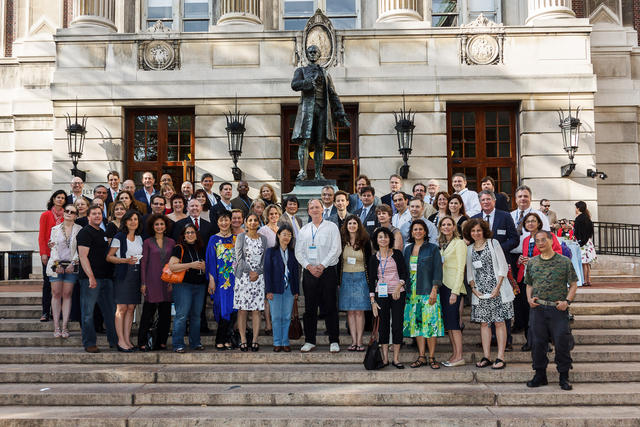 Class of 1982: Class members who registered for reunion were Mark Berti, Christopher Bowen, Joseph Cabrera, Evan Charkes, Louis Cornacchia, Andrew Cytroen, Andrew Danzig, John Dawson, Louis De Chiara, Joseph DeGenova, Max Dietshe, David Filosa, Edward Fox, Jonathan Fox, Samuel Friedman, Timothy George, Douglas Hepworth, Edner Jean-Baptiste, Stuart Karle, Frederick Katayama, Harry Koster, Yigal Litvin, Francisco Lopez-Balboa, Victor Lopez-Balboa, Mark Magel, Tracy Maitland, Mark Monane, Mark Napack, Tom Nevitt, Jim Palladino, Randy Pearce, Joseph Piscina, James Rubin, Michael Scally, David Schacher, Michael Schmidtberger, Ronald Simons, Philip Smith, Arthur Staub, Rick Steinberg, Robert Strauch and Wallace Wentink.PHOTO: RICHARD D. COLE
Download the full-sized image to view larger or to print.
Class of 1987: Class members who registered for reunion were Lauren Alter Baumann, Anthony Alvarez, Stephen Amitay , Sandhya Asirvatham, Mary Austin, Lynne Azer, Dora Baer, Daniele Baliani, Dave Barry, Kyra Tirana Barry, Andrea Basora, Nancy Basri, Christine Beeby, Jennifer Berry, Randal Bessolo, Jane Bolgatz, Jonathan Bram, Ellen Broido, Laura Brumberg, Ron Burton, Edward Cabot, Jose Calvo, Jean Cange, Farah Chandu, Panithaya Chareonthaitawee, John Corrigan, Reva Corrigan, Christopher Crovatto, Ellen Crovatto, Richard Dawson, Katherine Tkach Dawwon, Christina Diaz, Barbara DiDomenico, Kevin Drury, Luis Duany, Martha DuRuz-Lynch, Yale Fergang, Joseph Feuer, Adam Fleischer, William Flick, Tina Fong, Mark Foss, Shelly Friedland, Nancy Friedman, Bruce Furukawa, Laurie Gershon, Gerri Gold, Leonard Goldberg, Kevin Greber, Virginia Harnisch, Zoe Hart, Monica Herz, William Hicks, Diane Hilal, Anna Lee Hom, Lee Ilan, Jennifer Insogna, Christine Jamgochian-Koobatian, Annmarie Jurczak, Michelle Kaiser, Christopher Kane, Sarah Kass, Rob Kennedy, Kyle Kietrys, Irine Kim, Joongi Kim, Judy Kim, Jonathan Klavens, Susan Koester, Laura Lent, Anthony Lugo, Linda Macri, Michael Markhoff, Nancy Markhoff, Margaret McCarthy, Kevin McGrattan, Frances McLaughlin, Matt Minnetian, Augustus Moore, Christina Musrey, Jill Niemczyk Murphy, Donna Pacicca, William Parsons, Julie Persily, Juanita Punwaney, Sue Raffman, Anne Redhead, Cherie Ruben, Richard Russell, Anthony Salvidio, Dawn Santana, Aida Santiago, Teresa Saputo-Crerend, Patricia Schnaidt, Marc Schwartz, Jonathan Seckler, Irka Seng, Richard Simonds, Divya Singh, Luciano Siracusano, Daniel Solender, Andrea Solomon, Chris Stala, George Stone, Kimberly Swanson, Suzanne Taylor, Rina Teran, Philip Tham, Keith Thomson, Laura Ting, Sonya Tsiros, Susan Upton, Madeleine Villanueva, Anna Maria Vitek, David Walker, Suzanne Waltman, Catherine Webster, Stephanie Wissinger, Robert Wolf, Bernadette Wroblak and Stavros Zomopoulos.PHOTO: RICHARD D. COLE
Download the full-sized image to view larger or to print.
Class of 1992: Class members who registered for reunion were Jonas Abney, Negar Ahkami, Sarah Aibel, Evan Ambinder, Alexis Andrews, Denise Apicella, Frank Au, Galia Austin-Leon, Christine Bannerman, Rachel Benevento, Heather Benson, Richard Bernard, Ana Blaze, Cliff Blaze, Jude Bond, Harry Burton, Joan Campion, Steven Cannon, Philip Chang, Nina Chaudry, Wah Chen, Frank Cicero, Quinn Cochran, Dalia Cohen, Karl Cole-Frieman, Charles Conconi, Andrew Contiguglia, Kirsten Danis, Joe De Simone, Clare Deegan-Kent, David Derro, James Dew, Elizabeth DiLullo, Son Do, Andrew Ehrlich, Abby Black Elbaum, Jeremy Feinberg, Kirsten Fermaglich, Philip Fischer, Deirdre Flynn, Lauren Fournier, Eric Garcetti, Gayle Glik, Roberto Glik, David Goldberg, Wendy Greene, Reginald Griffin, Jason Griffith, Eric Guth, Rachel Hall, Hilary Hatch, Peter Hatch, Sean Hecker, Jonathan Henick, Dane Holmes, David Hong, Patricia Ireland, Will Jackson, Maritza Jauregui, Sandra Jerez, Rebecca Johnson, Lawrence Kahn, Kristin Kanthak, Carrie Kayser-Cochran, Robert Kent, Olivier Knox, Steven Kramer, Tamara Kuittinen, Benjamin Lawsky, Aaron Lebovitz, Ken Levine, Nomi Levy-Carrick, Eric Lewis, Julian Liau, Laura Lopez, Judith Luwish Levin, Jennifer Madrid, John Marciano, Heather McKay, Amanda McLean, Shalene Monahan Starr, Lisa Morton, Donna Myers, Jean-Luc Neptune, Hai Ngo, Meredith Norton, Victoria Orlin, Jennifer Pellegrini, Rachel Peterson, Jennifer Pouchot, Cathleen Price, Yael Ptachewich Halaas, Maria Ramirez Jurgens, Manu Rana, Nathalie Rey, Saul Richter, Edward Rodriguez, Andrew Rothschild, Marc Rysman, Amanda Schoenberg, Jason Schwartz, Thomas Seltzer, Claire Shanley, Alyssa Shapiro, Joshua Siegel, Jacqueline Simmons, Rob Speyer, Joshua Sternoff, John Thompson, Catherine Thorpe, Adam Towvim, Andrew Vladeck, Farnaz Vossoughian, Kimberly Washington, Chris Watanabe, Laura Weinfeld, David Weisoly, Susan Welber, Ellisa Whitley and Sarah Wolman.PHOTO: RICHARD D. COLE
Download the full-sized image to view larger or to print.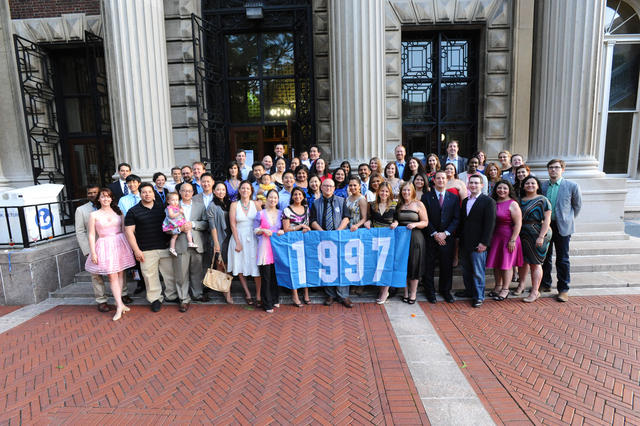 Class of 1997: Class members who registered for reunion were Gallane Dabela Abraham, Philip Alberti, Erich Anderer, John Dean Alfone, Elmer Arguilla, Michael Beck, Andrew Beemer, Nick Bentley, Rick Biggs, Cristina Bonaldes, Dorraine Burrell, Marco Capasso, Kenneth Chapman, Joyce Chapnick, Andrew Chen, Hoong-San Chen, Laura Chittick, Rushika Conroy, M. Luisa Cruz, Tom Dever, Jennifer Duran, Dan Evans, Deborah Feldman, Jennifer Feldsher, Marisa Goldstein, Graham Goodkin, Jason Halper, Kerensa Harrell, Nicole Harris, Nathan Hillstrom, Timothy Hogan, Katherine Howe, Gene Hu, Gary Kahn, Raji Kalra, Vishal Kapoor, Maggie Osdoby Katz, Sarah Katz, Swati Khurana, Robert Kunzweiler, Joanne Kwong, Bryan Latham, Danielle Lee, Samuel Lee, Kevin Liau, Karla Lopez, Matthew Luban, Zaharah Markoe, John Ogle, Athena Ole, Palma Volino McCormick, Danielle Paige, Gadi Peleg, Paloma Ramirez, John Rodin, Beth Rosen, Shiri Rosental, Joshua Ross, Eric Rothfeld, Cristina Rumbaitis del Rio, Nathan Sadeghi-Nejad, Roya Sani, Brian Sauvigne, Shivali Shah, Catherine Song, William Stasiulatis, Sanoj Stephen, Eva Subotnik, Chris Valentino, Rachel Viscomi, Stephanie Vogel, Andrew Wang, Matthew Wang, Andrew Wu and Vasilios Yialamas.PHOTO: EILEEN BARROSO
Download the full-sized image to view larger or to print.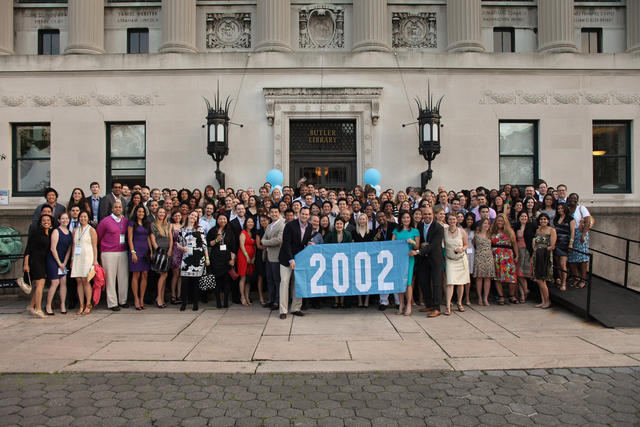 Class of 2002: Class members who registered for reunion were Dan Abelon, Evelyn Addo-Wallace, Pooja Agarwal, Ardavan Akhavan, Elizabeth Alicea, Gail Altman Dushey, Franklin Amoo, Jeffrey Anderson, Helena Andrews, Raquel Aragon, Yanut Asatthawasi, Kaylan Baban, Russell Baker, Agnia Baranauskaite, Chirag Barbhaiya, Amber Baylor, Brendan Beier, Sara Berk, Joseph Bernabucci, Dan Bloch, Kimberly Blumenthal, Leonard Braman, Calista Brill, Jarvis Buckman, Nicole Campbell, Joseph Case, Michael Castiglione, Ronald Charlot-Aviles, Andrew Cheung, Ricky Chin, William Chiong, Leo Chiu, Paul Choi, Sina Choi, Jaclyn Chu, David Chubak, John Cicero, Herbert Clegg, Jarel Cockburn, Jeffrey Colen, Jesse Conan, Anya Cooper, Karen Corrie, Stephen Dance, Yves-Richard Dole, Alon Donohue, Zecki Dossal, Jennifer Dwork, Edward Eng, Kevin Eng, Emily Erstling, Kevin Espy, Uchenna Evans, Jeremy Falk, Farnosh Family, Arianna Faucetta, Chris Felicetta, Avi Fernandes, Christine Fernandez, Michelle Finocchi, James Flory, Yuan Foo, Anastasia Friedman, Dixon Gaines, Seth Gale, Jason Ganfer, Elisabeth Genn, Marnie Glassman Gale, Lauren Glick, Nihal Godiwala, Helen Goldman, Aaron Goldsmid, Jennifer Gover, Michael Greenfield, Ellen Gustafson, Jessica Haftek, Gareen Hamalian, Daniel Hammerman, Hyosun Han, Jasmine Harrison, Matthew Harrison, Kyla Hayden, Ramin Hedayati, Matthew Himelstein, Nichole Hinman, Sonia Hirdaramani, Sarah Hsiao HuYoung, Margaret Hudson, Will Hunter, Saurabh Jain, Derek Johnson, Elizabeth Johnson, Raegan Johnston, Sloane Joseph, Lynn Juang, Lindsay Jurist-Rosner, Tsion Ketema, Jarrett Keys, Olga Khodosh, Jeffrey Klein, Regina Kline, Genevieve Ko Takizawa, Amanda Konstam, Scott Koonin, Karen Ku, Christy Lai, Kenneth Lantigua, Roni Laserson, James Laughlin, Grace Lee, Grace Lee, Maximilian Lee, Sara Lichtman, Edward Lin, Yakov Linetsky, Beth Lipschitz, Andrew Liu, Allison Lloyds, Derek Lo, Justin Logan, Alice Lu, Sarah Lundquist, Christopher Lynch, Brian Lysiak, Mandy Ma, Nadia Majid, Ilia Malkovitch, Sonal Malpani, Nicholas Manheim, Robert Marks, Elizabeth Matory, Derrick Mayo, Jeff McCall, Ksenija McCormick, Alisdair McKay, Michael Mellia, Lissette Melo, Cristina Metcalf, Ariel Meyerstein, Everett Miles, Robert Mook, Adrienne Moran, Emily Morris, Teresa Mulaikal, Killian O'Brien, Asmatique Oriol, Leslie Papa, Leonard Pearson, Morgen Peck, Robert Polsky, Kate Polson, Emily Prager, Dhaya Ramarajan, Ian Rapoport, Sylvester Reese, Joshua Reich, James Ricks, Aiyana Rivera, Bronwyn Roantree, Magnus Roberson, Edwin Rodriguez, Jorge Roman, Tiffany Rounsville, Elizabeth Roy, Kareen Rozen, Giulianna Ruiz, Robert Ryang, Abena Sanders, David Sauvage, Kristin Savarese, Nicholas Schifrin, Kirsten Schneider, Adam Schwartz, Susan Schwarz, Corinne Sheth, Gregory Shill, Sheethal Shobowale, Nora Simpson, Nicholas Singer, Erika Smith, Andrew Solomon, Graig Springer, Melissa Tominac Stewart, Genevieve Thornton, Purdy Tran, Grant Tucker, Paul Quentin Unsworth, Roya Vakil, Robin Van Der Meulen, Emily Voigt, Audrey Vuong, Matthew Waldman, Andrea Wang, Lakia Washington-Strong, Jennie Watson-Lamprey, Jillian White, Jennifer Wildeman, Margaret Wilson, Marjorie Winfrey, Grace Woleslagle, Christopher Wong, Henry Wong, Stacy Wu, Lauren Wynne, Jee Young You, LinYee Yuan and Evan Zeisel.PHOTO: MICHAEL DAMES
Download the full-sized image to view larger or to print.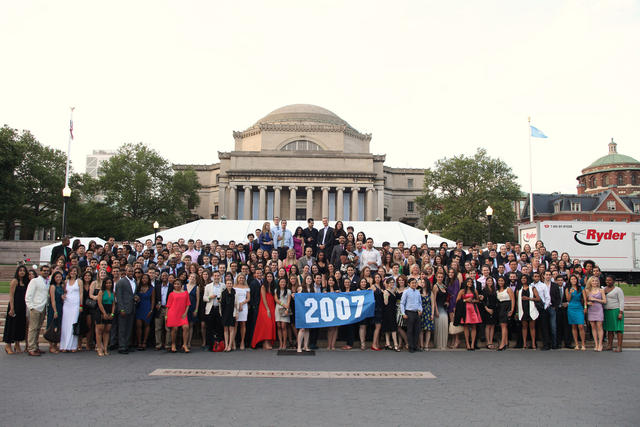 Class of 2007: Class members who registered for reunion were Alan Abrams, Todd Abrams, Michael Accordino, Olson Aguirre, Muhammed-Saleem Ahmed, Ella Aiken, David Ali, Jason Allegrante, Alejandra Alvarez, Giovanni Alvarez, Joseph Anzalone, Usman Arain, Allison Bajger, Dan Bajger, Benjamin Baker, Gerard Barrett, Zoe Barry, Matthew Barsamian, David Bauer, Nina Bell, Laura Berghoff, Fiori Berhane, Anne Berke, David Berlin, Juliet Berman, James Besselman, Rebekah Bliss, James Boganey, Tarik Bolat, Adam Brickman, Aaron Bruker, Margaret Bryer, Drew Bucilla, Francesca Butnick, Christian Capasso, Bobbie Cappiello, Kristel Carrington, Amy Cass, David Chait, Nandini Chandrasekaran, Jessica Chang, Genevieve Chavez, Scott Chisholm, Matthew Christiansen, Risa Chubinsky, Luciana Colapinto, Jardiris Collado, Natasha Conway-Juarbe, Elizabeth Cooper, Clay Cordova, Stephanie Corona, Charlotte Cowles, Christina Crowder, Lawrence Dabney, Kylie Davis, Krystle Dean-Duru, Sarah Decker, Nicholas DeGasperis, Adrian Demko, Nicholas DeRosa, Andrea Derricks, Alison Desir, Nicholas DiCarlo, Nishant Dixit, Sonya Dumanis, Patricia Ebner, Salima Eboo, Katherine Elgin, Alexandra Epstein, Caryn Epstein, Shanan Essick, John Estrada, Samantha Feingold, Elizabeth Ferguson, Gabriela Figueroa-Pinto, Sarah Fisher, Cecilia Fix, Melissa Flores, Edward Fox, Wendy Francois, Antonio Frasca, Ambar Galvan, Michael Gambacorta, Michael Gambacorta, Elizabeth Garcia, Kori Gatta, Helam Gebremariam, Kristina George, Anna German, Dawit Getachew, Karen Giangreco, Laura Gladstone, Christopher Glenn, Matthew Glynn, Angelica Gonzalez Pastoriza, Jonathan Gonzalez-Ortiz, Alisa Gross, Caitlin Gunther, Esther Gweon, Edward Hambleton, Jamoki Hamilton, Rebecca Hartog, Zoe Heimer, Susan Hendrick, Keith Hernandez, Mariely Hernandez, Elizabeth Herrup, Jessica Hertz, Andrew Herzog, Jamie Hinman, Emily Hoffman, Suzanne Hopcroft, Kirsten Hornbach, Jerone Hsu, Lissy Hu, Bronwyn Huggins, Meghan Hurlbut, Elizabeth Ichniowski, Jessica Isokawa, Subash Iyer, Jami Jackson, Marcus Johnson, Christopher Jones, Milena Kachar, Arvind Kadaba, Mariya Kagan, Geoffrey Karapetyan, Samuel Kass, Brian Kauffman, Thomas Keenan, Shafaq Khan, Sareena Khera, Nikhil Khosla, Katie Kingsbery Palmer, Elizabeth Klein, Howard Kline, Blake Kobashigawa, Zachary Kostro, Ayana Labossiere, Martin LaSalle, Marc Leblond, Tamara Lee, Casey Levine, Loren Lewallen, George Lewis, Marisa Li, Jordan Lievers, Thomas Lightcap, Sophia Lin, Christopher Liu, Joanna Loewenstein, Donna Loffredo, Ilona Logvinova, Peter Luccarelli, Cassidy Luitjen, Risheen Maheswaran, Ethan Marcovici, Erin Markman, David Mazzuca, Kelly McConnell, Mary McCue, Kevin Meek, Yael Merkin, Ramie Merrill, Susan Millenky, Allison Mirkin, Sid Misra, Bryan Mochizuki, Christin Mone, Emily Msall, Evan Muehlbauer, Gauriel Mullokandov, Gaurav Munjal, Colleen Myers, Michael Nadler, Anna Natenzon, Matthew Nguyen, Ian Nussbaum, Andrew O'Connor, Kinouye Jennifer Oki, Ngozi Okoh, Elyse Oleksak, Cosette Olivo, Jacob Olson, Jaclyn Overton, Matt Palmer, Raza Panjwani, Mary Paranac, Emily Park, Jarrod Perry, Natalia Premovic, Alexandria Pulido, Walter Rahmey, Kathleen Reckling, Dytonia Reed, Matthew Reuter, Ruth Rivera, Craig Rodwogin, Monique Rojas, Gabriel Rose, Carl Rosenthal, Yael Ross, Olivia Roszkowski, Daphne Rubin-Vega, Dahlia Runco, Mary Rutledge, Joel Ryzowy, Khalil Savary, John Schneider, David Schor, Adriana Sein, Jessica Shalek, Peter Shalek, Daniel Shapiro, Zoe Shea, John Shekitka, Caitlin Shure, Chris Simi, Brooke Smith, Ping Song, Siheun Song, Aditi Sriram, Thomas Stone, Ambalika Sudan, Scott Sugimoto, Yurika Sugimoto, Allen Sukholitsky, Caroline Sullivan, Hilary Sullivan, Earnest Sweat, Chris Szabla, Max Talbot-Minkin, Tao Tan, JoBeth Tananbaum, Jennifer Tillman, Nathalie Torres, David Trofa, Jonathan Truppman, Jonah Van Bourg, Elisabeth Vastola, Rachelle Veasley, Katerina Vorotova, Scott Waddell, Anthony Walker, Andrew Walther, Andrew Ward, Kathryn Warner, Jacquelyn Weisman, Alana Weiss, Alana Whitaker, Courtney Wilkins, Brandon Williams, James Williams, Iman Wilson, Erlina Yeo, Kira Yugay, Noor Zaidi, Terence Zaleski, Marco Zappacosta, Jessica Zen and Yi Zhang.PHOTO: MICHAEL DAMES
---
Dean's Pin Recipients and Class Agents
Dean's Pins are given to members of each class's Reunion Committee who have demonstrated particular dedication to and involvement in their reunion. Names listed below denote those who received Dean's Pins.
Class Agents share their time, connections and talents as spokespeople for giving to the Columbia College Fund. By networking at reunions and alumni activities, sending letters to or calling classmates, Class Agents champion worthy programs and give invaluable support to the College. Names listed below with an asterisk (*) denote those who are receiving a Dean's Pin and serve as a Class Agent.
Class of 1942
Melvin Hershkowitz
Class of 1947
Frank Iaquinta
Class of 1952
Robert Adelman
Larry Grossman
Howard Hansen
Gerald Kahn
Sidney Prager
Class of 1957
James Barker
Martin Brothers
Joseph Feldschuh
Martin Fisher
Robert Flescher
Alan Frommer
Steve Fybish
Alvin Kass
David Kinne
Herman Levy
Neil McLellan
Arthur Meyerson *
Carlos Muñoz *
Paul Zola *
Class of 1962
Paul Alter *
George Abodeely *
William Campbell *
John Freidin *
Lester Hoffman *
Richard Kobrin *
Burton Lehman *
Stanley Lupkin *
Edward Pressman *
Jerry Speyer *
James Spingarn *
Leopold Swergold *
Peter Yatrakis *
Class of 1967
Robert Costa
William Costanzo
Joel Klein
Jonathan Kranz
David Langsam
Roger Lehecka
Larry Miller
Mark Minton
Jeffrey Nightingale *
Robert Rosenberg *
Albert Zonana
Class of 1972
Paul Appelbaum
Peter Darrow *
Martin Edel
Lewis Fischbein *
Michael Gerrard
Bob Grey *
Jeffrey Howitt
Richard Kurnit *
Charles Laughinghouse
Benjamin Lopata
Class of 1977
Barry Bergdoll
Craig Brod *
Mark Goldberger *
Daniel Goldschmidt *
William Gray *
Jon Lukomnik
Dominic Petito *
David Stanton *
Christopher Sten *
Class of 1982
Mark Berti
Joseph Cabrera *
Louis Dechiara *
David Filosa *
Douglas Hepworth
Frank Lopez-Balboa
Victor Lopez-Balboa
Gregory Nabhan
Thomas Nevitt
Joseph Piscina
Charles Santoro
Michael Schmidtberger *
Philip Smith *
Arthur Staub *
Liam Ward *
Class of 1987
Laura Adams
Kyra Tirana Barry *
Nancy Silver Basri
Ronald Burton
Doug Cifu
Christopher Crovatto *
Jennifer Donarski
Yale Fergang *
Bill Flick
Sandra Kim Hoffen *
Ed Hoffman
Lee Ilan *
Michelle Estilo Kaiser *
Sarah Kass
Lynne Lada-Azer
Michael Markhoff
Nancy Allen Markhoff
Donna Pacicca
Peter Ross *
Teresa Saputo-Crerend *
Marc Schwartz *
Richard Simonds Jr. *
Andrea Solomon
George Stone
Dave Walker *
Suzanne Waltman *
Class of 1992
Evan Ambinder
Galia Austin-Leon
Heather Benson *
Richard Bernard *
Joan Campion
Wah Chen
Frank Cicero *
Karl Cole-Frieman
Andrew Contiguglia
Jeremy Feinberg
Tim Griffin
Hilary Hatch *
Peter Hatch *
Sean Hecker *
Olivier Knox
Laura Lopez *
Jennifer Madrid
Adam Meshel *
Manu Rana *
Rich Rosivach *
Claire Shanley *
Josh Siegel
Rob Speyer
Farnaz Vossoughian
Laura Weinfeld *
David Weisoly
Class of 1997
Michael Beck *
Cristina Bonaldes
Marco Capasso
Rushika Conroy
Luisa Cruz
Joe Delafield
Alison Donohoe *
Jennifer Feldsher
Marisa Goldstein
Karen Grolier
Jason Halper *
Raji Kalra *
Gail Katz
Maggie Katz
Mike Latham *
Kevin Liau *
Zaharah Markoe
Carolyn Mezvinsky
Amrit Nagpal *
John Ogle
John Rodin *
Rachel Rodin
Catherine Song
Chris Valentino
Bill Yialamas *
Class of 2002
Pooja Agarwal
Franklin Amoo
Raquel Aragon
Nicole Campbell
Joseph Case
Sarah Chase
Paul Choi *
Ishwara Chrein
Jaclyn Chu *
John Cicero *
Katharine Conway *
Stephen Dance *
Alon Donohue *
Zecki Dossal *
Jeremy Falk
Chris Felicetta *
Christine Fernandez *
Jonathan Fischer
Ellen Gustafson
Jessica Haftek *
Matthew Himelstein *
Sonia Hirdaramani *
Emma Katznelson *
Scott Koonin *
Kenneth Lantigua *
Roni Laserson
Justin Logan
Nadia Majid *
Elizabeth Matory *
Derrick Mayo *
Jeffery McCall *
Everett Miles *
Teresa Mulaikal *
Leslie Papa *
Sylvester Reese
Cameo Roehrich
Graig Springer
Beth Stein
Genevieve Thornton *
Roya Vakil
Class of 2007
Michael Accordino *
Allison Turza Bajger
Andrew Baron
David Chait *
Kylie Davis
Alison Desir
Katie Doyle
Tricia Ebner
Samantha Feingold *
Seth Flexman
Wendy Francois
Keith Hernandez *
Andrew Herzog
Milena Kachar
Arvind Kadaba *
Geoffrey Karapetyan
Katie Kingsbery
Ian Nussbaum
Alissa Ochs
Andrew O'Connor *
Lauren Outlaw *
Kathleen Reckling
Monique Rojas
Daniel Shapiro
John Shekitka
Caitlin Shure
Aditi Sriram
Tao Tan
Courtney Wilkins
James Williams *