Alumni News
CCAA Board Turns Alumni Energy Into Results
We have reached the close of the academic year and the transition of another College class from students to alumni — or to former students, as Dean James J. Valentini likes to call us. We are ex­cited to have the Class of 2012, with its strong attachment to and enthusiasm for the College, join our ranks. They are extraordi­narily talented and we look forward to their continued success.
I am reminded daily of the affection Columbia students and former students have for the College. The Columbia College Alumni Association (CCAA) Board of Directors helps translate this passion into tangible benefits for Columbia.
This past year has been filled with not only transition but also the anxiety and concern for the College that comes with any change, especially an unexpected one. The board worked with the administration and staff to guarantee as seamless as possible an experience for the students this academic year. I am very grate­ful for the time and commitment of our incredibly dedicated Ex­ecutive Committee members and board committee chairs. These alumni spend hours each week on issues important to the Col­lege, students, faculty and alumni. Their priorities mirror those of the alumni community and students.
I am more firmly convinced than ever that if we can open up more avenues for alumni engagement and communication Columbia will continue its ascendancy. The CCAA board is for the students and former students of Columbia College. Its efforts benefit us all. Please do not hesitate to contact Kim Rogers, as­sociate director, volunteer management, at kr2276@columbia.edu with your concerns and ideas. To learn more, go to college.columbia.edu/ccaa. To nominate someone for consideration by the Alumni Recognition Committee, go to college.columbia.edu/ccaa/nominations. This is your board and our Columbia.
For the CCAA board, every second June is a time of transition as we conclude a two-year term and prepare for the upcoming term. Like our graduating students, who may leave campus but will al­ways be Columbians, alumni may depart the board but they are not leaving Columbia, rather transitioning into different roles.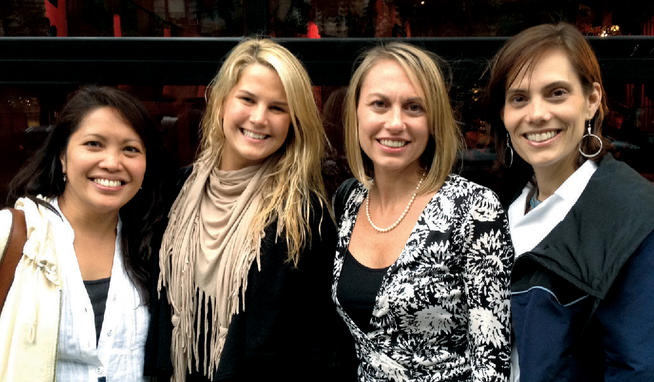 New CCAA Board members (left to right) Michelle Estilo Kaiser '87, Stephanie Foster '12 and Joan Campion '92 join President Kyra Tirana Barry '87. My recent conversation with Conrad Lung '72, who is becoming an honorary member of the board after years of dedicated service, ex­emplifies the many conversations I have had with alumni about Columbia. I reached out to Conrad to talk about the board and to get his thoughts on alumni engagement. His immedi­ate response was full of ideas and suggestions on how to increase the value of the Columbia experience in Asia. An Alexander Hamilton medalist in 2009 for his service to the College, Conrad remains actively engaged in helping build on and improve the Columbia alumni and student experience. This kind of passion typifies our alumni volunteers. The CCAA board's role is to ensure that every alumnus/a has the ability to see his or her dreams for Columbia realized.
This summer, we say goodbye to four board members, congratulate two on becoming honorary members due to their long and extraordinary service and welcome seven new members. Thank you, Eugenio Cano '95, John Crabtree '78, Marc Mazur '81 and Mark Wojciechowski '76 for your years of service to the College. We welcome James Brandt '79 and Conrad Lung '72 in your new roles as honorary board members and thank you for your continued commitment to the College.
CCAA Executive
Committee Officers
Kyra Tirana Barry '87, president
Geoffrey J. Colvin '74, chair
Brian C. Krisberg '81,
honorary chair
Michael P. Behringer '89 and
Ira B. Malin '75,
co-chairs, Columbia College Fund
James P. Gerkis '80 and Ted Schweitzer '91, co-chairs, FDC
Craig B. Brod '77, past chair, FDC
Francis Phillip '90 and
Daniel S. Tamkin '81,
co-chairs, Class Agents Program
Jess H. Drabkin '79, secretary
Laura A. Lopez '92,
assistant secretary
Mark L. Amsterdam '66
We welcome Joan Campion '92, Rick De Los Reyes '97, Stephanie Foster '12, Justin Ifill '06, Michelle Estilo Kaiser '87, Paul Neshamkin '63 and Jonathan Sobel '88 to the CCAA board. To highlight a few of their many contributions to date: Joan is a former president of the Varsity C Club and a member of her 20th Reunion Gift Committee; Rick is an active member of the Alumni Representative Committee and a Class Agent; Stepha­nie was co-chair of the 2012 Senior Fund; Justin is the outgoing president of Columbia College Young Alumni, events chair of the Black Alumni Council and a board member of the Columbia University Club of New York; Michelle was a leader of her 25th reunion and a member of the Dean's Alumnae Leadership Task Force; Paul is a longtime CCT class correspondent and a member of his 50th Reunion Committee; and Jonathan is finishing his term as a member of the College's Board of Visitors and currently provides student internships. We eagerly look forward to their contributions.
Columbia College has never been stronger, and I am confident the efforts of the past year will propel it to new heights. There is a newfound focus and strong new relationships among the faculty, administration, trustees, alumni and students. This collective effort of those who care deeply will make the difference. What unites them all is their passion for Columbia.