Roar, Lion, Roar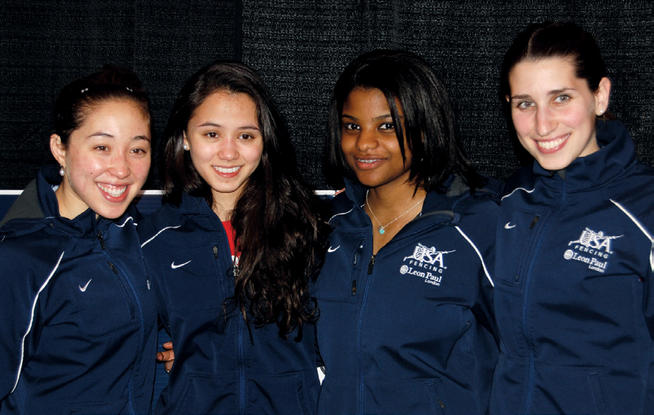 The U.S. Olympic women's foil fencing team consists of (left to right) Doris Willette, Lee Kiefer and Columbians Nzingha Prescod '15 and Nicole Ross '11. Photo: Nicole Jomantas
Columbia's Olympians
When you tune in to the Summer Olympics from London beginning on Friday, July 27, look for at least seven Columbians, including four fencers, among the competing athletes.
James Williams '07, a member of the men's sabreteam that won a silver medal four years ago in Beijing, returns for a second Olympiad and is joined on the sabre squad by former All-American Jeff Spear '10. Nicole Ross '11 and Nzingha Prescod '15 will compete on the women's foil team in London. Spear and Ross each were national champions in their respective weapons while fencing for the Lions, while Prescod took the past year off from school to train full-time for the Olympics.
Rower Nick LaCava '09 qualified for the Olympicsas part of the U.S. lightweight men's four without coxswain, which defeated the Netherlands ina qualification regatta in Lucerne, Switzerland, on May 22. In addition, distance runner Lisa Stublic '06 will compete in the marathon for Croatia, where herfather was born and where she has lived for the past four years; and sprinter Erison Hurthault '07, who ran for Dominica in Beijing in 2008, will run for the island nation again in 2012.
Kyle Merber '12 qualified to be invited to the U.S. Olympic Track & Field team trials to be held in Eugene, Ore., from Thursday, June 21–Sunday, July 1.
2011–12 Ivy League Champions
Columbia's women's team won its first Ivy League Heptagonal Indoor Track & Field Championship at Cornell on February 25–26, topping off athletic achievements by Columbians in 2011–12. Following is a list of Lions who were individual Ivy League champions this academic year:
INDOOR TRACK & FIELD
WOMEN
Nadia Eke '15, triple jump
Marvellous Iheukwumere '14, 200 meters
Miata Morlu '14, 400 meters
Waverly Neer '15, 3,000 meters
Uju Ofoche '13, long jump
Monique Roberts '12 Barnard, high jump
MEN
Kyle Merber '12, mile
4x800m relay: Brendon Fish '15E, Harry Mc­Fann '14, Liam Tansey '13, Connor Claflin '15
Distance medley relay: Adam Behnke '12, Byron Jones '14, Daniel Everett '15, Kyle Merber '12
OUTDOOR TRACK & FIELD
WOMEN
Nadia Eke '15, triple jump
Uju Ofoche '13, long jump
MEN
Harry McFann '14, 800 meters
Kyle Merber '12, 1,500 meters
4x800m relay: Mark Feigen '13, Brendon Fish'15E, Kyle Merber '12, Harry McFann '14
SWIMMING
WOMEN
Katie Meili '13, 100 breaststroke
Katie Meili '13, 200 breaststroke
Katie Meili '13, 200 individual medley
200 freestyle relay: Katie Meili '13, Mikaila Gaffey '15, Salena Huang '15, Laney Kluge '14
400 medley relay: Dorothy Baker '12, Katie Meili '13, Kristina Parsons '13, Salena Huang '15
MEN
Omar Arafa '15E, 100 backstroke
Jeremie DeZwirek '15E, 200 backstroke
Varsity C Honorees
Track stars Kyra Caldwell '12 and Kyle Merber '12 were each presented the Connie S. Maniatty Out­standing Senior Student- Athlete Awards at the Varsity C Celebration on May 1. Caldwell is a six-time individual Ivy League champion and a member of four relay champions, while Merber won three individual and three relay titles. The Athletics Alumni Awards went to brothers David Barry '87 and Michael Barry '89 (wrestling) and Leslie Gittess Brodsky '88 (women's tennis).
Cowboy Adams
Men's Tennis to NCAA
Men's tennis earned an at-large bid to the NCAA tennis championships after finishing the regu­lar season with an 18–4 record and a 5–2 mark in Ivy competition, good enough to be ranked 42nd nationally. The Lions dropped their NCAA match at Virginia Commonwealth, which won the first four matches to be completed, after which the remaining matches were suspended. Winston Lin '15, who was 21–1 this season in singles play, was named the Ivy League Rookie of the Year and was one of four Lions to earn All-Ivy First Team honors, along with Haig Schneiderman '12 in singles and the doubles team of Ashok Narayana '15 and Max Schnur '15.
Jeff Adams '12, a three-time All-Ivy left tackle at Columbia, has signed a free agent contract with the NFL's Dallas Cowboys. Adams, who attended the Cowboys' rookie mini-camp in early May, was named a third-team AP All-American in 2011. He is the first Columbia player to earn three consecutive first team All-Ivy honors since Rory Wilfork '97.
Players of the Year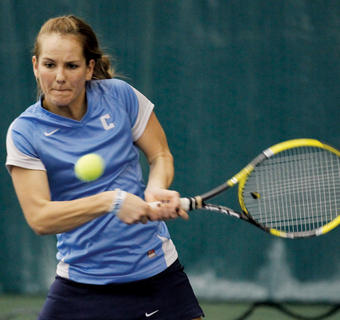 Nicole Bartnik '13 Photo: Gene BoyarsNicole Bartnik '13 (women's tennis), Michelle Piyapattra '14 (women's golf) and Dario Pizzano '13 (baseball) all won Ivy League Player of the Year honors in 2011–12. Bartnik, who achieved a 14–3 record and was unbeaten in seven Ivy matches, and Piyapat­tra, who posted wins at the Harvard Invitational and the ROAR-EE Invitational, are the first Columbians to gain Ivy Player of the Year honors in their sports. Piz­zano is the second Lion in the past five years to earn the honor in baseball, join­ing Henry Perkins '08, who won it in 2008.
Merber's Marvelous Metric Mile
Kyle Merber '12 posted the fastest time ever by an American collegian for the metric mile when he won the 1,500-meter event in 3:35.59 at the Swarthmore Last Chance Meet on May 14. It was the second-fastest time in the United States this year, the fastest collegiate time of the year and the second-fastest collegiate time ever. It smashed the 37-year-old Ivy League record of 3:37.14 and barely missed the collegiate record of 3:35.30, which was run by Sydney Maree of Vil­lanova, a citizen of South Africa at the time, on June 6, 1981.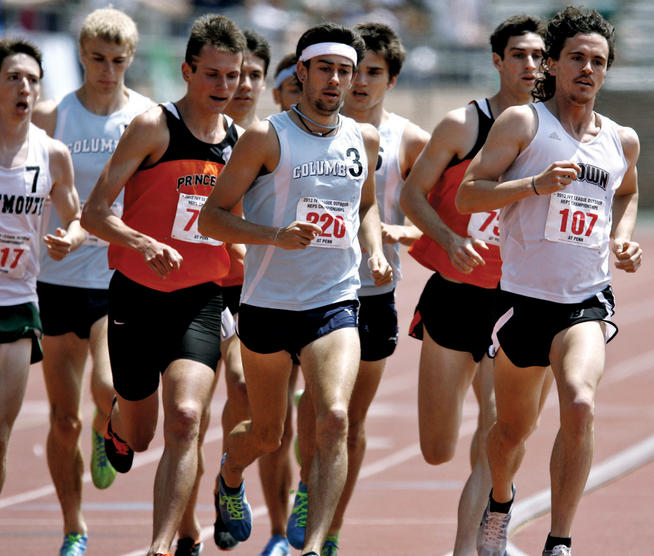 Kyle Merber '12 (center) won the 1,500 meters at the Men's Ivy League Heptagonal Outdoor Championships on May 5. Photo: Mike McLaughlin
Diamond Stars
In addition to outfielder Dario Pizzano '13 win­ning Ivy League Player of the Year honors (see above), third baseman Jon Eisen '12 was awarded the Blair Bat as the league leader in batting average. Eisen, Columbia's leadoff hitter, had a league-high 33 hits in 74 at-bats for a .446 average and also led the league in on-base percentage (.534) and runs scored (24). Pizzano ranked second in the league in batting average (.409), on-base percentage (.512) and slugging percentage (.621) and also was among the top five in batting average, runs scored, hits, runs batted in, doubles, total bases, walks, hits by pitch and sacrifice flies.
By the Numbers
108 Columbia College student athletes graduated in the Class of 2012.
3 ways to follow new Patricia and Shepard Alexander Head Coach of Football Pete Mangurian online: Facebook, Twitter and his blog.
9 Major Ivy League awards won by Columbia students in 2011–12: Winston Lin '15, Rookie of the Year (men's tennis); Nicole Bartnik '13, Player of the Year (women's tennis); Katie Meili '13, Most Outstanding Performer (women's swimming); Will Spear '15, Rookie of the Year and Most Outstanding Performer (men's fencing); Ramit Tandon '15, Co-Rookie of the Year (men's squash); Michelle Piyapat­tra '14, Player of the Year (women's golf); Dario Pizzano '13, Player of the Year (baseball); and Jon Eisen '12, the Blair Bat (baseball).
Save the Date!
October 18: Columbia University Athletics Hall of Fame Inauguration of Class of 2012, Low Library
October 20: Dedication of The Campbell Sports Center, Homecoming, Columbia vs. Dartmouth Football, Baker AthleticsComplex
For the latest news on Columbia athletics, visit gocolumbialions.com.