Alumni News
Students and Alumni Have Much To Share
Message from CCAA President Kyra Tirana Barry '87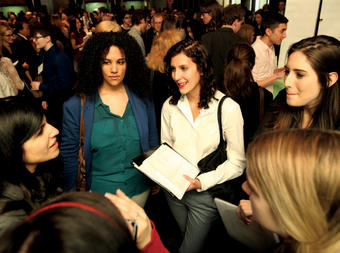 A growing number of programs, such as this Media Networking Night on March 11, provide opportunities for students to engage with alumni. PHOTO: BRUCE GILBERT
As an alumna, two of my favorite days on campus are Convocation in August, when a new group of first-year students officially enters the Columbia community, and Class Day in May, when the College welcomes its newest alumni.
The students' energy, enthusiasm and anticipation is abundant at Convocation. Four years later, that energy translates into cheers and exuberant "woo-hoos" when those same students — now the graduating class — watch the alumni march during the Alumni Parade of Classes on Class Day. The moment is an affirmation of the importance of alumni to students, who are soon to become alumni themselves. What happens during the four years from Convocation to Class Day is a focus of the Columbia College Alumni Association (CCAA) Board of Directors, and in particular of its Student Alumni Committee.
The Student Alumni Committee, co-chaired by Dan Tamkin '81 and Scott Koonin '02, seeks to help the College improve student life by exposing students to the knowledge, experience and guidance that alumni have to offer. This interaction can be enriching to students and alumni alike and can provide a model for students of what it means to be an active member of the alumni community.
Working closely with Student Affairs and the Alumni Office, the committee looks to identify areas where alumni can support and enhance the quality of the non-academic areas of student life (residences and dining, student advising and activities) as well as create meaningful interactions between alumni and students throughout a student's undergraduate journey. This past year, the committee planned a CCAA board meeting devoted to student-alumni programs, focused on the key role of data in enhancing alumni participation and the transition from student life to alumni life, attended student council meetings and selected the alumni prizes awarded to seniors on Class Day.
CCAA StudentAlumni Committee
Co-Chairs
Dan Tamkin '81
Scott Koonin '02
Members
Jean-Marie Atamian '81
Eric Branfman '69
Michael Braun '70
David D. Chait '07
Alexandra Feldberg '08
Stephanie Foster '12
Lauren Gershell '99
Ellen Gustafson '02
Stephen Jacobs '75
Barry Levine '65
Ira B. Malin '75
Teresa Saputo-Crerend '87
Steven Schwartz '70
Gerald Sherwin '55
Roxann Smithers '99
Affiliate Member
Randy Berkowitz '04
Part of the process is to hear from students directly, and their voices informed the discussions at the board's January meeting. Working closely with the three student representatives to the board (Maryam Aziz '13, Allan Kang '14 and Maria Sulimirski '13), the Student Alumni Committee developed an agenda for the meeting and questions for the board members, and invited students to participate in intimate roundtable discussions. More than 20 students attended the meeting and sat alongside alumni to discuss the objectives of student-alumni engagement programs, the benefits of these programs to both students and alumni, and best practices to communicate student-alumni engagement opportunities to both constituencies in order to maximize participation.
What we are learning is that Columbia has many wonderful programs and opportunities for students and alumni, as described in the cover story of this issue, and that both students and alumni want to increase direct connections with one another. Both want more informal interactions, more events spread out during the students' campus experience and easier access to engagement opportunities. Alumni are enlivened when they meet with and engage with our extraordinary students, and students are grateful and feel a sense of connectedness when they find alumni who want to advise and support them.
This feedback has been very helpful to the CCAA board as it works with the Columbia College Alumni Relations Strategic Task Force, which is led by the Hon. Joseph A. Greenaway Jr. '78, a University trustee who has been an active alumnus since graduation. The task force, with CCAA board support, worked hard this spring to develop a plan to serve alumni. The board's intention is to have a final report by this fall to guide the Alumni Office.
Behind this recent activity is a dynamic new College leader, Bernice Tsai '96. As the senior executive director for alumni affairs and communications, Bernice has had an immediate and significant impact on the College's alumni affairs and communications efforts, supporting and shaping the strategic planning process as well as leading the increasingly important Alumni Affairs and Communications team. The CCAA board couldn't be more delighted to have her as a partner and looks forward to working with her team on behalf of the more than 47,500 College alumni. If you see Bernice at an event, please introduce yourself, or reach out to either one of us (bst8@columbia.edu or ccaapresident@columbia.edu) with your thoughts on how to engage 100 percent of Columbia College alumni to better support our wonderful community.
Happy summer, and I hope to see you at Convocation's Alumni Parade of Classes on Monday, August 26.