Alumni Profiles
Louis Rossetto '71 Goes from Wired to Chocolate
By Dina Cheney '99
The path from founding and overseeing Wired magazine to running the luxury chocolate maker TCHO may seem an unlikely one. Yet, for Louis Rossetto '71, '73 Business, it made sense: In both jobs, he was able to innovate.
Such a propensity toward change took root at Columbia where Rossetto, who grew up in Great Neck (Long Island), N.Y., studied political science. As a partici­pant in the student protests that rocked Columbia (along with campuses nationwide) in the late 1960s, he saw firsthand how people could impact the course of events. Unsure what to do next, but with a sense that he should attend graduate school, Rossetto earned an M.B.A. and wrote a novel, Take-Over (1974).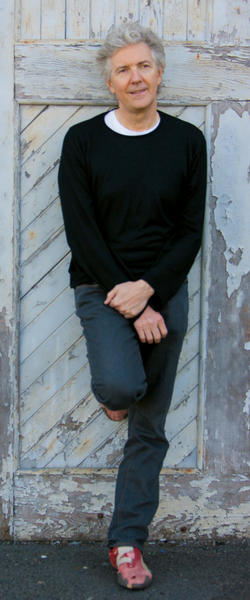 Louis Rossetto '71, '73 Business outside TCHO's factory at San Francisco's Pier 17. PHOTO: MARK LEETHaving settled on writing as a career, he decided to travel the world in search of stories. In Rome, Rossetto helped former Columbia Italian professor Pier­-Nico Solinas write Ultimate Porno: The Making of a Sex Colossal (1981), about Tinto Brass' Caligula. In Amsterdam, he wrote for a political and economic newsletter; in Afghanistan, he covered the war against the Soviet Union. Returning to Amsterdam, he worked for a translation company that was launching a magazine focused on language technologies. With a "front row seat" to such innovation and an awareness of the burgeoning PC revolution in the United States, Rossetto came to believe that "those who were creating and using digital technologies were the most powerful people on the planet, driving more positive change than the priests, politicians, generals or pundits."
With his partner, Jane Metcalfe, Rossetto decided to start Wired magazine to tell the stories of the individuals, companies and ideas driving the digital revolution. The couple worked from 1988–93 to write a business plan, create a dummy issue, raise funds and recruit editors and writers, moving to San Francisco in the process. The magazine launched in January 1993; the second issue covered the creation of the Internet in Geneva. "From there, it was a rocket ride," Rossetto says. In 1994, the couple introduced Hotwired, which Rossetto asserts was the first online publication to include original content (rather than material repurposed from other media) and Fortune 500 advertising (including banner ads). With both businesses having reached break-even and the magazine generating $25 million in sales, Rossetto and Metcalfe sold the magazine to Condé Nast in 1998 and the web business to Lycos in 1999.In his down time, Rossetto became an angel investor and spent time with his children, Orson, born in 1997, and Zoe, born in 1999. One of his investments was in a San Francisco-based chocolate business, Xocomaya (the name was later changed to TCHO, pronounced cho), founded by Timothy Childs, the housemate of an early Wired employee. "I never had a notion of becoming the next Willy Wonka," admits Rossetto, who became involved in the business in 2005. "It's just that Childs reminded me of myself when I started Wired. I wanted to help him realize his dream." Rossetto also wanted to show his children firsthand "what it takes to build a company."
Rossetto could not resist the call of innovation. He joined TCHO as CEO and creative director in 2007 and, with Childs (who left the company two years ago), has come up with new ways to source and process cacao beans and create and market high-quality chocolate. For one, Rossetto explains, larger chocolate companies have tended to focus on the quantity, rather than the quality, of cocoa beans. "Cacao farming is a commodity business, with no incentive for farmers to focus on quality, as most chocolate made is milk chocolate. And milk chocolate is sold on the basis of the flavors of caramelized milk and sugar — the chocolate flavor is an afterthought."
Rossetto realized that TCHO needed to partner with farmers to help them yield the most flavorful raw material. The result: TCHOSource, a program through which the company partners with farmers in Peru, Ecuador and Ghana, helping them implement better bean fermentation and drying practices. The program also provides partner farmers with Flavor Labs (like the one TCHO uses in San Francisco), where they can make their own chocolate. "There, they can calibrate their palates with TCHO's," says Rossetto, and "for the first time in their lives taste the chocolate made from their own beans and understand how their efforts affect the result."
The company, which gives free daily tours of its 25,000-square-foot San Francisco waterfront facility, also innovates in its product development and marketing. According to Rossetto, dark chocolate has been marketed with language associated with other food and drink categories, such as wine and coffee. But terms such as "vintage" and "single origin" not only don't apply well to chocolate, they also confuse consumers and convey nothing about how the chocolate will taste. TCHO's solution: develop several chocolate bars, each with a different dominant flavor attribute, such as "Nutty," "Fruity," "Citrus," or "Chocolatey" (these flavor terms are also the products' names). A graphic on the packaging then does double duty by showing the complete flavor spectrum while also indicating which flavor infuses the bar at hand.
"When Louis showed me TCHO headquarters, I remember thinking how perfect it was that he'd opened a chocolate factory: the ultimate expression of a dreamer's mentality," says James Truman, former editorial director of Condé Nast, who knows Rossetto through Wired. "Louis really does dream things into being.
"Wired might seem logical and prescient in retrospect," he adds, "but at the time, independently launching a highly complicated and expensive magazine about a then-marginal subject out of San Francisco seemed beyond reckless. But Louis isn't reckless, exactly. He's an inventor and a pioneer, and once he believes in something he won't stop until everyone else shares his belief. I'm always impressed not just by his brilliance but also by his determination, discipline and sheer stubbornness in the pursuit of what he sees as possible."
TCHO, which now has 40 employees and hundreds of consumer and professional products ranging from chocolate bars and drinking chocolate to cacao nibs and couverture disks for chefs, also runs an ongoing test program to engage its consumers in co-creating its bars. One recent result of this process: TCHO's first flavored bar, Mokaccino, made with Blue Bottle Coffee. This comes as no surprise for a company that — as Rossetto describes it — "marries Silicon Valley innovation to San Francisco food culture."
After all, he says, "The world does not need another chocolate company. It needs people who want to innovate and invent the future."
Dina Cheney '99 is the author of three books, including the recently released Year-Round Slow Cooker: 100 Favorite Recipes for Every Season. She also is the "Taste Test" columnist for Everyday with Rachael Ray magazine and is at work on a vegetarian cookbook slated for publication in 2014.