Alumni Profiles
Phyllis Fletcher '94 Connects the Dots To Career in Public Radio
By Elena Hecht '09 Barnard
In 2002, jobless after the dot-com bust, Phyllis Fletcher '94 went for a swim and emerged from the pool with a career epiphany. "I thought, 'Man, what if there was a radio I could listen to while I was swimming?' and [then] I thought, 'Wait a minute! I listen to this station [KUOW, a Seattle-based NPR founding member] all the time; if I'm so obsessed with it that I wish that the one hour that I can't listen to it I could listen to it, then maybe I should work there.'"
Now, more than a decade into her career as a radio journalist at KUOW and with a 2006 reporting fellowship on NPR's National Desk under her belt, it's clear that Fletcher's realization led her in the right direction. She has garnered numerous awards, including an RTDNA/UNITY Award from the Radio Television Digital News Association and UNITY: Journalists of Color, RTDNA's National Edward R. Murrow Award and an Alliance for Women in Media Foundation's Gracie, all in 2012, for her story "Secrets of a Blonde Bombshell." The broadcast detailed Fletcher's discovery that Ina Ray Hutton, the famed white leader of an all-female band from the 1930s–'50s, was actually a black woman who had passed as white for most of her life.
Listening to Fletcher's own story, it seems apparent that radio should have been an obvious destination from the get-go. A Seattle native, Fletcher was raised almost exclusively by her mother, a regular KUOW listener, and has described hearing the "Morning Edition" theme song as the signal that she was late for the school bus. Her sophomore year of college brought a love for New York radio that included Howard Stern (to whom she listens to this day), G. Gordon Liddy, Doug "The Greaseman" Tracht, Rush Limbaugh and Ed Koch. Or, as Fletcher notes, "anyone who could rap on a mic."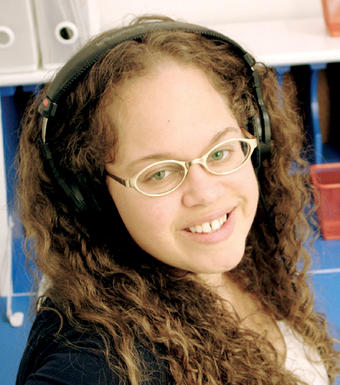 Phyllis Fletcher '94 is a news editor with KUOW in Seattle. PHOTO: JOSH KNISELYNonetheless, for Fletcher, "It took a really long time to connect the dots and say, 'Oh gee, that's something I could do.'" A member of the John W. Kluge ['37] Scholars Program at Columbia, which pays full tuition while providing mentoring and special programming, Fletcher was a self-proclaimed "academic dilettante" — her choice to study psychology was born out of the desire for a major with as few credit requirements as possible, allowing her the freedom to take classes from many academic areas. She interned as an undergraduate at the Schizophrenia Research Unit of NewYork Presbyterian Hospital/Columbia University Medical Center and the New York State Psychiatric Institute and, after graduating, spent one year working for Columbia psychology professor (now also executive vice dean of the Faculty of Arts and Sciences) Geraldine Downey, before being employed for nearly six years as a software engineer in Seattle.
In October 2002, post-pool realization, Fletcher volunteered for a KUOW pledge drive, where she connected with a KUOW reporter. Less than two months later she began a news reporting internship at the station, which led to freelance work. But Fletcher credits the true launch of her radio career to her decision that same year to do something creative with the letters from a college correspondence with her estranged father, who was in prison at the time. Beginning her freshman year and lasting two years, their written connection temporarily rekindled their relationship. When he passed away in 1995, she tucked the letters away.
Years later, inspired by a conversation with friend Marc Maximov '94, Fletcher was motivated to use the letters in an artistic way. Thanks to the family of Dina Guttman '94, Fletcher discovered the nonprofit audio production studio Jack Straw Productions and, using the Guttman family's tape recorder, applied and was chosen to be an artist-in-residence in 2003. The resulting radio documentary, "Sweet Phil from Sugar Hill," was featured on the Peabody Award-winning website Transom in 2004. It wasn't long thereafter that KUOW offered Fletcher a full-time position filling in for a colleague while he studied at the Journalism School.
Fletcher began at the station as an education reporter — a position she helped develop — before being promoted to her current position as a news editor. Wayne Roth, president and general manager of KUOW, says of Fletcher, "The amount of responsibility in her work, her good work and what she brings to it are really quite remarkable for someone who's got a lot of years ahead of her in the business."
Fletcher, who speaks candidly about growing up half-black and poor — what she describes as an "invisible minority" — is most interested in covering areas that are overlooked or not spoken of. "I was always listening for gaps, things that weren't being covered on KUOW at the time," says Fletcher of her post-college listening habits. "A lot of those things had to do with race, some of them had to do with poverty and I was always quite willing and able to walk headfirst into those types of stories. I felt like that was both my opportunity and my obligation."
Since her first piece as a KUOW intern about racism that happens over the phone, known as linguistic profiling, she has helped to expose the abuse of a state database of unemployed job seekers; researched a story on the school districts hit hardest by the recession; and, in a piece for the anniversary of the Family and Medical Leave Act, shared information about a little-known Washington State law that doubles maternity leave. "Anything where I can give information to help somebody," says Fletcher, "I love that."
In 2011, Fletcher earned a master's in communication with a focus in demography from the University of Washington — a track that once again offered her the freedom to take classes from many departments — and in May was preparing to edit a series on black life in Seattle. As for what the future brings, Fletcher is keeping an open mind. "I know exciting things will happen, but I have no plans," says Fletcher. "That's why whatever happens will be exciting!"
To listen to Fletcher's broadcasts, past and present, visit phyl.com or KUOW.org.
Elena Hecht '09 Barnard, editorial assistant at CCT, is a writer and a dancer based in New York.