Around the Quads
Class of 2013 Celebrates at Senior Dinner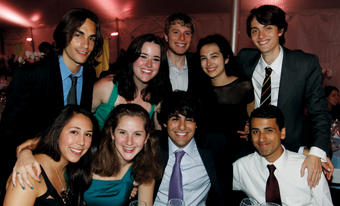 Members of the Class of 2013 turned out in their finest for the annual Senior Dinner on May 7; PHOTO: GENE BOYARS
Lit by the glow from colored floodlights as well as their fast-approaching graduation, more than 900 seniors gathered on May 7 to celebrate the annual Senior Dinner. At the time of the dinner, the 2013 Senior Fund was well on its way to raising more than $25,000, the most of any senior class in Columbia College history.
Members of the 255th graduating class gathered under a tent on South Lawn, donned foam crowns and enjoyed food, music, a slideshow and remarks from Class President Ryan Mandelbaum '13, Senior Dinner Co-chairs Helen Bao '13 and Erin Connell '13, who gave the evening's toast, and Columbia College Student Council President Karishma Habbu '13.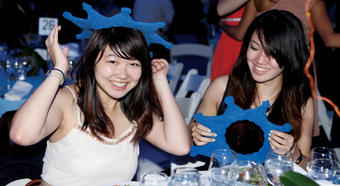 For some seniors at the Annual Senior Dinner, a foam crown offered the finishing touch. PHOTO: GENE BOYARSWearing a green bling sign with "7DD" (the hexadecimal number for 2013) around his neck, Dean James J. Valentini also addressed the gathering, declaring, "I'm only going to say two things. One, pass the swim test, and two, congratulations to the Class of 7DD, the best class ever. And if you don't understand that, ask a computer science major."
A highlight of the evening was the an­nouncement by Senior Fund Chair Maria Sulimirski '13 about the fund's record-setting year. More than 750 seniors contributed to the campaign, 294 of whom opted into Valentini's "3-2-1 Challenge" to contribute for three years, encourage two friends to do the same and have their gifts matched one-to-one by an alumnus/a (for the second year running, Board of Visitors member Gene Davis '75). Because of meeting the participation goal, the Class of 2013 secured an additional gift of $100,000 from Charles Santoro '82, also a BOV member.
Attendees also enjoyed a rousing rendition of Sans Souci led by CC Alumni Association Executive Committee member Jess Drabkin '79 and CC Young Alumni President Calvin Sun '08.