Around the Quads
Pianist Conrad Tao '15 Explores His Relationship to Music
By Nathalie Alonso '08
Conrad Tao '15's extraordinary musical journey began the day his parents found him sitting at the family piano at 18 months, plucking out Mary Had a Little Lamb to the best of a toddler's ability. On that same piano, at 8, Tao practiced Mozart's Piano Concerto No. 12 in A Major, K. 414 for his concerto debut. Since then, he has given critically acclaimed performances of Stravinsky, Chopin and other master composers in venues around the world.
Tao, the only classical musician included in Forbes' "30 Under 30: The Youngest Stars In The Music Business" list in 2011, has taken the stage with The Philadelphia Orchestra, the Russian National Orchestra and the San Francisco Symphony, to name a few. He has given solo recitals in the United States and abroad, including multiple engagements at the Louvre in Paris. He took the Spring 2012 semester off from the College to accommodate a busy tour schedule — approximately 45 concerts — that included stops in Brazil and Germany as well as American cities from Santa Fe to Kalamazoo. Most recently, in June, he released his first full-length album, Voyages, and performed in a music festival of his own design, UNPLAY Festival, which was held across three nights in Brooklyn. Each night was devoted to a different conception of classical music, while the festival as a whole explored the changing role of the musician in contemporary culture.
"I love the work; that's what keeps me committed to performing works that have been around for centuries," says Tao, who in 2011 was named a U.S. Presidential Scholar in the Arts and last year received the Avery Fisher Career Grant from Lincoln Center for the Performing Arts. The $25,000 award is given to instrumental artists for demonstrated excellence and potential.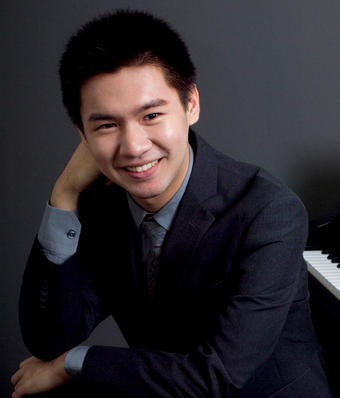 Conrad Tao '15 is an award-winning classical pianist and composer. PHOTO: RUIMIN WANG
The liberal arts education he is receiving at the College "made me realize the importance of understanding what I am doing as a musician, instead of allowing it to be a convenient 'This is just what I'm good at, this is what I do.' That isn't satisfying enough," he says. "It's really important to me that I gain a more critical understanding of what I am doing."
A longing for a "challenging and intellectually stimulating environment" was one reason Tao chose the College; the other was the Columbia-Juilliard Exchange, a cross-registration program that allows students to take lessons at the Juilliard School, where Tao has studied with Veda Kaplinsky since he was 9.
Though his trajectory in the College is somewhat atypical — as a result of his Spring 2012 academic hiatus, he took his first semester of CC before finishing his second semester of Lit Hum — it is nonetheless the most traditional educa­tional experience Tao has had since middle school. He graduated from Indiana University H.S., a distance education program that allowed him to keep a busy performance schedule. "Now there are classrooms and conversations and I am thrilled about that," says Tao, who is considering a concentration in philosophy or sociology in lieu of a major.
Tao's mother, Minfgang Ting, is a research professor at Lamont-Doherty Earth Observatory and, whenever he is in New York, Tao spends three or four hours a day in his family's apartment practicing on his beloved piano. The instrument originally was purchased for his sister, Connie Tao '11. "It's nice to live close to a piano I have grown up with and feel comfortable with," says Tao.
Though piano is currently his sole musical focus, Tao also is an accomplished violinist and has received recognition for his original classical piano compositions in the form of eight ASCAP Foundation Morton Gould Young Composer Awards. This fall, the Dallas Symphony Orchestra will premiere a new work by Tao, The World is Very Different Now, which he was commissioned to write in observation of the 50th anniversary of the assassination of President John F. Kennedy.
Kaplinsky, who describes Tao's performances as "riveting," marvels at his maturity and drive. "Conrad is one of those people who are born with the focus and mentality of an adult," she says. "His natural musical instincts, his impressive intellect and his pursuit of perfection all contributed to an amazing level of performance as a child, and a continuous upward trajectory through his teens."
Eloquent and articulate, Tao takes none of his success for granted. He wonders, in fact, if he would even be a musician had there not been a piano in the house. "I feel fortunate that things lined up the way they did," he says.
Learn more about Tao and see him perform.
Nathalie Alonso '08, from Queens, is a freelance journalist and an editorial producer for LasMayores.com, Major League Baseball's official Spanish language website.