Bookshelf
Is Our Tradition of Tinkering at Risk?
By Justin DeFreitas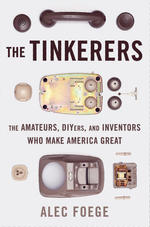 Alec Foege '88 says tinkering — the impulse to experiment with existing objects and technologies to make "something genuinely new out of the things that already surround us" — is a crucial factor in America's centuries-long success story. In his new book, The Tinkerers: The Amateurs, DIYers, and Inventors Who Make America Great (Basic Books, $26.99), Foege makes his case by imparting great tinkering tales past and present, from lesser-known endeavors of the Founding Fathers to the prolific output of Thomas Edison's laboratory to modern-day innovators, entrepreneurs and educators.
In some respects, Foege says, tinkering is not as easy as it used to be. Electronics manufacturers and their overzealous legal departments are increasingly determined to discourage us from cracking open those sleek cases of molded plastic and brushed aluminum — corporate America recently succeeded in making it a criminal act to hack your phone in order to switch carriers. But despite efforts to keep our curiosity at bay, Foege believes we're in a golden age of tinkering.
"Thanks to innovations such as the 3D printer and the $35 Raspberry Pi computer, high-tech tinkering is increasingly within the reach of everyone," Foege says. "In addition, crowd funding sites such as Kickstarter and Quirky make it easier than ever to fund a new idea, and incubators such as Tech All Stars and Y Combinator provide much-needed mentorship and networking resources to young entrepreneurs."
Yet he also argues that the tradition is at risk.
"For many generations in the postindustrial age, puttering around with the mechanical devices that surrounded us was practically a rite of passage and, for many, a way of life," Foege writes. "After an era of economic excess that transformed our nation from one of doers to consumers, the United States risks losing its hallowed tinkerer tradition as well as the engine of innovation that fueled an unprecedented era of growth."
Foege himself has long been a tinkerer of sorts, and he recalls cycling through an array of hobbies and scientific pursuits while growing up in Rye, N.Y. In fact, he says, he well may have tested every chemistry set on the market, and even survived a few experiments with Presto's infamous hot dog cooker — that almost medieval device that impaled a sausage on a bare rod connected directly to an electrical outlet. As a teenager his interests turned to rock and jazz. "But I was drawn as much to the gear as to the music," he says, "tweaking amps and effects pedals to alter the sound of my guitar."
Foege attended Columbia because he felt it was the most countercultural of the Ivy League schools, having nurtured the budding talents of writers such as Allen Ginsberg '48 and Jack Kerouac '44. He became a writer for SPIN, Rolling Stone and People, and later was one of the founding editors of In Touch Weekly. Along the way he wrote books about Sonic Youth, Clear Channel and Pat Robertson. In 2005 Foege founded his own business, Brookside Research, an investment research company. Foege credits his range of interests in part to the realization, during his time at Columbia, that the divide between the sciences and the arts and humanities is not only artificial but also constraining. And conquering that divide, he says, is a crucial element in tinkering.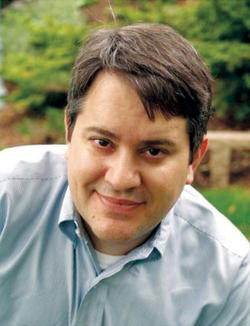 PHOTO: ABIGAIL POPE"Tinkerers need to be dilettantes," he says, "and I mean that in the best sense. You have to let a bit of air into your thinking."The idea for the book came from one of Foege's editors, but the concept really came into focus when Foege faced a typical latter-day consumer electronics quandary: The screen on his BlackBerry broke, rendering the device unusable. He took it to a licensed dealer but the sales representative said they were no longer allowed to fix them. "That was my favorite part of the job," he told Foege. "Now all I get to do is sell phones." He informed Foege that all he could do was sell him a new BlackBerry, at the full retail price.
Foege decided to research cheaper replacements online. "What I stumbled onto instead was a short video on YouTube [that] showed a pair of hands disassembling a BlackBerry and replacing the screen in a matter of minutes," he writes. He ordered a new screen from an online retailer and fixed the device himself for less than a quarter of the cost of replacing it. Foege had tapped into an online network of DIYers and discovered that tinkering is indeed alive and well.
The most interesting case studies Foege presents are of modern-day tinkerers who are attempting to instill a bit of that old-time spirit in younger generations. One is Gever Tulley, who started Tinkering School, an adventurous and industrious six-day overnight camp in San Francisco in which kids work on a series of ever-larger projects. The first camp, in 2005, saw the kids progress from building chairs to building bridges and towers, ultimately uniting these concepts for their final project: a 100-ft.-long roller coaster.
"The detail with which they remember riding the roller coaster or flying the hang glider that they built," Tulley says, "the minutiae they remember and the principles that are burned into their brains from those experiences — those are lasting, durable memories."
Like Tulley, Foege believes that the importance of tinkering has not been generally recognized in recent years, and his book represents an effort to give the tradition its due. He's optimistic."I believe Americans are beginning to unlock a new level of consciousness about tinkering," Foege says. "Having lived through the era of mammoth corporate conglomerates, we as a country are returning to our tinkering roots and fully appreciating the power of our historic pioneering spirit."
Justin DeFreitas is a Bay Area writer, editor and artist.