Cover Story
The College Connection
Alumni and students forge meaningful bonds across disciplines and generations
By Alexis Tonti '11 Arts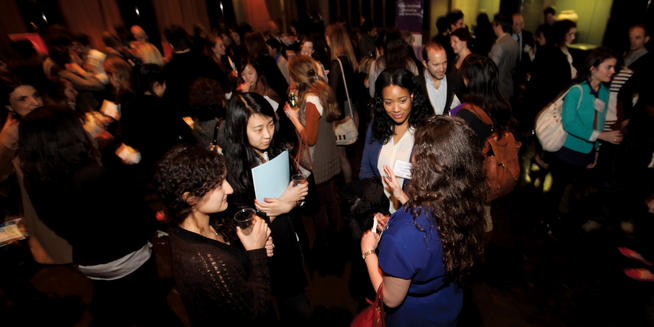 Alumni and students mingle in Low Rotunda at Media Networking Night on March 11. PHOTO: BRUCE GILBERT
One Saturday afternoon last June, 70-plus incoming students — along with their family and friends — attended a Summer Advising session in Alfred Lerner Hall. After greetings and informational remarks by administrators and alumni, copies of The Iliad were handed from alumnus/a to student, one by one, in a ceremonial welcome to the Columbia community. "You could see the enthusiasm on their faces," Ganesh Betanabhatla '06 says of the incoming students. "But I could also see people were nervous. It brought me back to how I felt, embarking on that journey, having so many different thoughts and questions."
On his way out, Betanabhatla stopped by a group of six or seven students and introduced himself. They ventured a few questions — about the city and college and even life after college. He chatted for a few minutes, then gave each his business card and promised to be responsive if they contacted him.
Among those students was Nikhil Nayar '16. A few weeks later, back home in Yardley, Pa., Nayar began putting together his Fall class schedule. As his thoughts turned to majors and possible career paths, he went to the Center for Career Education (CCE) website to scroll through alumni profiles and immediately recognized Betanabhatla. Nayar's curiosity about finance made Betanabhatla, who works for a New York-based investment firm, a natural go-to. A few emails later, they arranged to meet for brunch near Union Square.
"It was a great experience," Nayar says. "Basically he gave me an intro to what Columbia was, and what the experience was like. He got me very excited about coming here."
Importantly, Betanabhatla also drew out some of Nayar's other interests.
"When he realized I was interested in tech startups," Nayar recalls, "he said, 'You're going to have a lot of time to think about your career; make sure you consider all of your options.' And there are times when we've met since then that he's reiterated that idea. It really affected my freshman year and the choices I made. I was more open to considering different things when I was choosing clubs; I joined the entrepreneurship club [Columbia Organization of Rising Entrepreneurs] early on, and since then it's become an important part of my Columbia experience." He adds that he'll be on the executive board, as treasurer, next year.
Betanabhatla believes strongly in this type of informal meeting with students.
"I pay for breakfast and talk about whatever students want to talk about," he says. "Unless you ask, you never know the answer to things: 'Do you know someone who can help me? I'm thinking about journalism.' or 'Do you know someone who can help in human rights?' They discover the concept of a network and the power of the community that they belong to.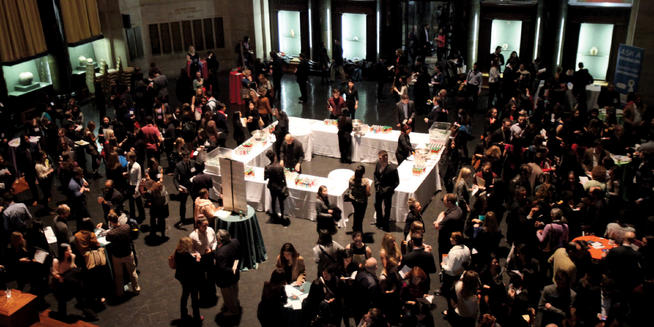 Media Networking Night has proven to be extremely popular, with students and alumni filling Low Rotunda. PHOTO: BRUCE GILBERT
"To say that student-alumni interaction is important is underselling it," Betanabhatla adds. "It's an essential or critical part of the undergraduate experience. One of the unique elements of the CC undergraduate education is having access to general life mentors or professional, career-oriented mentors who are a subway ride away. It's embodied in the name of our school: Columbia University in the City of New York. That prepositional phrase says a lot."
Intergenerational interaction is becoming a definitive part of the Columbia College experience. While alumni-student relationships can grow from less formal encounters, the shift in large part reflects the effort of the College and many of its units, including CCE, Columbia Student Affairs, Columbia Undergraduate Admissions and the Columbia College Office of Alumni Affairs and Development (CCAAD). Working on their own and in partnership with each other and alumni groups — such as the Columbia College Alumni Association (CCAA) and the Columbia Alumni Association — staff members have developed an array of programming to increase and enhance the quality of engagement among students and alumni. Specific goals vary from one program to the next, but the overarching mission is the same: to enrich the student experience, strengthen alumni ties to the College and in general bridge the gap between life as a student and life after graduation.
"Our 47,500 highly accomplished alumni are one of the greatest resources the College has and I am grateful that they are eager to share their experience and expertise with our current students," says James J. Valentini, dean of the College and vice president for undergraduate education. "The intergenerational community is a key part of the Columbia College experience. Alumni help students imagine career paths and envision life after Class Day, and current students, in turn, provide alumni an opportunity to relive their time on campus. We all benefit from this alumni-student relationship."
The opportunities for connection take many forms, from career-related programs to mentorships to community-building activities. While one office usually takes the organizational lead, programs more often than not are the result of staff members throughout the College pooling expertise and resources.
CCE spearheads the Columbia College Alumni-Sponsored Student Internship Program, Columbia Exploration Externship program, Columbia College Dinner & Discussion Series, Media Networking Nights and more. Student Affairs also tailors programs toward professional subjects, from industry-specific panel presentations such as Doctor in the House, Legally Speaking and MBA Marketplace, to lecture series such as CSA Talks, which provides a platform for people "with experiences worth sharing."
Student Affairs also oversees programs in conjunction with the Alumni Office. These include the Dean-in-Residence Dinner and Discussion Program at the Living & Learning Center — the College's all-class integrated residential community — where Cristen Scully-Kromm, assistant dean for community development and residential programs, hosts an intimate, monthly dinner with an alumnus/a for LLC students. There's also the Alumni Parade of Classes at Class Day and Convocation, which reinforces and celebrates Columbia bonds.
The Alumni Office additionally puts students in contact with alumni through events such as the Dean's Scholarship Reception and the Columbia College Senior Dessert Reception. The former gives scholarship recipients and scholarship donors (and/or their representatives) the chance to meet. Sponsors learn about students' paths to Columbia and lives at the College as well as their plans for the future; students learn about donors' experiences as undergraduates and their professional endeavors. The latter, held for the first time this spring, brought seniors together with members of Columbia College Young Alumni to learn about the opportunities to engage with the Columbia community after graduation, both in NYC and through regional and international alumni clubs.
The Alumni Office also collaborates closely with Columbia College Women, whose mission is to create networks within the alumnae and student communities while building on the legacy of women at the College. CCW's flagship activity is its mentoring program, begun in 1993, which connects alumnae with female undergraduates in one-on-one matches. This year, there were 175 matches. "The program is not meant for the students to find a job," says Michelle Estilo Kaiser '87, '97 P&S, co-chair of the CCW Mentoring Committee, "although that's first and foremost on their minds. And certainly the relationship is different for everyone; there's chemistry involved. But we hope both parties get something out of it that's really valuable, even if it's just one conversation that sticks in their mind."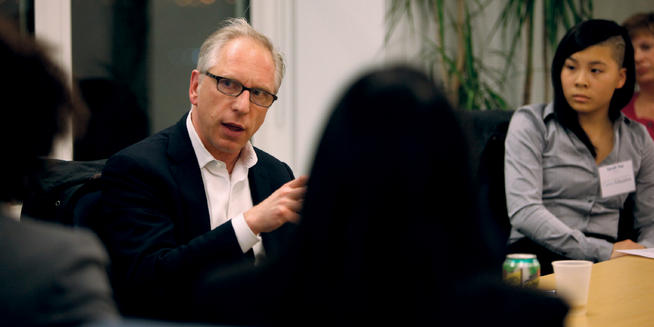 Elliot Sloane '83 spoke with a group of students at a Dinner & Discussion Series event on March 4. PHOTO: BRUCE GILBERT
For some students, relationships with alumni are forged even before they begin their first year. Through the work of the Alumni Representative Committee (ARC), many high school seniors meet alumni during interviews, through welcome receptions for accepted students or at send-off receptions for those who decide to attend.
Simon Salas '79, '83L, '83 SIPA, who chairs the San Antonio/South Texas Valley region for ARC, had a particularly meaningful experience last year. Of the eight students who attended his welcome reception in Spring 2012, seven chose Columbia. Several months later, during the send-off reception he hosted with his wife, Anita Vela-Johnson '83 Barnard, he made a point of collecting their email addresses.
"I'd seen and interviewed dozens of students during the last 14 years but what I hadn't done was make that connection afterward," says Salas, who also is president of the Columbia University Club of San Antonio. "I thought, I don't want to lose them anymore — once you're admitted, you're [on your way toward becoming] an alum, and part of the alumni network — and that's something I really want to develop going forward."While in NYC in October, Salas gathered the entire group for dinner at V&T Pizzeria. "They'd never been," he recalls with a laugh. "I said, 'How can you have been here for a semester and not been?' So I got to introduce them to that. But what I really wanted to know from them was, 'How's it going?'"
Kelly Echevarria '16 and Matthew Sheridan '16E were among the seven. "Simon was great at interacting with all of us on an individual basis as well as in a group," Echevarria says. "I could tell that he was concerned that we were doing OK and getting through freshman year. He called a few weeks later to check up and to ask about others in the group … and asked us to make sure they were doing OK. That's what I really appreciated about him."
Echevarria continues: "I love having the relationship with him that I do. If e ver I need anything, I can talk to him and he's always looking out for us. A lot of things at Columbia are stressful and career-focused and everyone's looking for alumni relationships to get a job — but it's nice to have this casual, general support relationship, more of a family-type relationship than one that's based on getting ahead or getting into the job market."
Sheridan echoes the sentiment: "It was cool to know that he was looking after our well-being, and to be able to tell our friends, 'Oh, we're going to meet 'our alum.' They all wished they had someone like that from their cities. … Simon had given me advice not to sign up for so many classes, which I'd ignored — and then got slammed and had to drop one. But I was able to tell him, 'You were right.'
Addressing more broadly the value of students speaking one on one with alumni, Salas says: "When you see an alum who has been out of Columbia for five, 10, however many years, and they're successful and they have interesting jobs, you see the possibilities. Yes, the alumni are emissaries [for the College] but it's more than that — it's about showing here's what life can be. You can read about people's accomplishments and that's great, but when you meet someone and talk to them, and they're articulate and accomplished, the student says, 'That can be me.'"
Helping students to see a pathway — or rather, to see many pathways — is a central goal of the career-oriented programs that take place throughout the year. These run the spectrum from large-room lectures, to networking events, to small group dinners. While the backdrop varies, alumni speakers often hew to the same model: They describe their careers and the forces that shaped them, illuminate what it means to work in their industry and field questions from students on matters both professional and personal.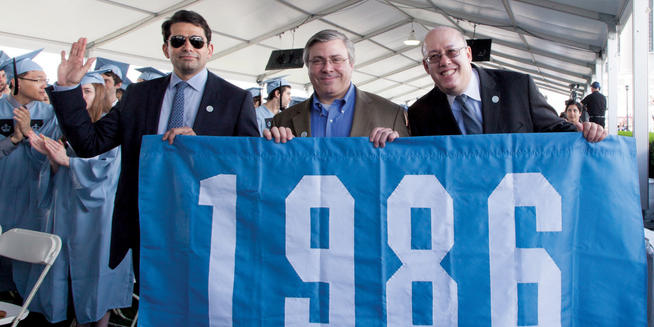 (Left to right) Hooman Mehran '86, Rick Wolf '86 and Mark Berman '86 proudly carry their class banner in this year's Alumni Parade of Classes at Class Day. PHOTO: SUSAN COOK
A survey of March and April alone illustrates the variety. The CSA Talks series welcomed Li Lu '96, '96L, '96 Business, a leader of the 1989 Tiananmen Square demonstrations and chairman and founder of Himalaya Capital, and Jodi Kantor '96, a New York Times reporter and author of The Obamas. The Columbia College Dinner & Discussion Series featured Elliot Sloane '83, founder and CEO of the communications firm Sloane & Company, and David Feith '09, an editor with The Wall Street Journal and chairman of Citizenship First. And the Dean-in-Residence Dinner and Discussion Program brought in actress and Barnard theatre professor Rita Pietropinto-Kitt '93, '96 Arts; she spoke about breaking into show business as well as her experiences with the Tony Award-winning play Next to Normal, written by her husband, Tom Kitt '96, and Brian Yorkey '93. There also was a Media Networking Night, which allowed students to chat with alumni who work in film, television, marketing, advertising, newspapers and more.
Off-campus, two dozen students attended a CCE panel discussion at Bloomberg headquarters in Midtown. Hosted by Janet Lorin '95, '96J, the panelists included journalists John Brecher '73; Robert E. Friedman '69, '71 GSAS; Jared Sandberg '90; and Nick Summers '05 (all of the panelists but Sandberg are former editors-in-chief of Spectator). The panelists described their career paths, stressing the value of a broad liberal arts education for journalists, then answered students' questions, staying afterward to chat more casually with individual students.
Other destinations for CCE-sponsored site visits included Bloomingdale's, the Metropolitan Museum of Art and the headquarters of Major League Baseball.
CCE's Columbia Exploration Externship program, which matches first-year students with alumni in an array of industries for a three- to five-day job-shadowing experience during Spring Break, also took place in March. Among this year's participants were Shen Qiu '16 and Albert Pan '16, who worked with Venture for America COO Eileen Lee '05. (The nonprofit trains and places top college graduates at start-ups around the country to give them experience in the world of entrepreneurship.) The last day of their externship coincided with an especially big day for VFA — the final selection of its 2013 fellows — and Qiu and Pan were greeting candidates, observing group interview sessions and taking photographs. In the process, they'd read applications of many of the fellowship candidates, themselves college seniors. Earlier in the week, the two had, on their own initiative, conducted interviews with nine of the 10 VFA staff members to learn more about their backgrounds as well as their positions with the company.
Reflecting on the externship, Pan says, "I had a lot of upperclassmen telling me, this is what you have to do to get into investment banking, and I was pretty set to do all the steps. But now it got me thinking about all the diverse possibilities — like during my summers I don't have to intern at a bank … Talking to a lot of people, finding out about their experiences and seeing other people's resumes, it's really like wow, there are so many more options out there. [You can] live your life and try to do interesting things other than just following the generic path."
Of the VFA staffers in particular, Qiu says, "The more interesting part is their personal story, their motivations and inspirations, and how to plan your college life and career. We heard that some of them, for example, went to [a big banking company] and then quit after a year because it was boring or tedious to work in a huge company where you're only functional. We were surprised to hear that, even though the name is prestigious, it's not very challenging or meaningful for intellectual people to work there."
He adds that the experience opened up his and Pan's thinking about the future: "Should we work in those huge-name companies or should we do something like entrepreneurship or a business that we like, like an NGO or nonprofit? It's very inspiring."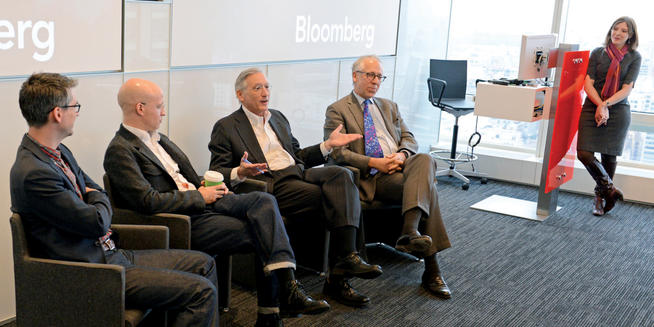 Janet Lorin '95, '96J hosted a panel on journalism at Bloomberg headquarters in Midtown on April 4 that featured (left to right) Nick Summers '05, Jared Sandberg '90, John Brecher '73 and Robert Friedman '69, '71 GSAS. PHOTO: PETER FOLEY
For Lee, who has worked for VFA for 2½ years, Qiu and Pan had just the experience she was hoping for. "I thought I only had four options coming out of school," she says. "It was either investment banking, consulting, law or medicine. And so I went into consulting … [I liked] the idea of being able to expose two freshmen to something other than that, and the idea of trying to make an impact on somebody."
The students also spoke to the value of connecting with Lee herself.
"We can relate on a lot of different levels even though she graduated 10 years before," Pan says. "She was asking us, 'Do you go to these restaurants, these places?' and I said, 'Yeah, I do!' She's been really helpful and down to earth. Before, I would have been hesitant to reach out to people, but now it's given me a different perspective on how they're just willing to be there."
Qiu adds, "I'm from China and in Chinese universities people don't have a very strong connection with alumni. Here we have an Alumni Center and it's a very dynamic relationship, because when you are young you have to depend on alumni for opportunities, and when you are old you offer opportunities back to the University, which is really good. It's a win-win effect, because you get something and then you give back."
Speaking with alumni about the reasons they get involved with students underscores this idea of a community in action — one whose members help each other in the ways that they can, when they can, and also enjoy that sense of building and belonging to something greater than themselves.
"Above all else Columbia is a community of people. Through our interactions with one another, we have created a unique opportunity for students and alumni to learn, grow and pursue knowledge throughout our lives," says Kyra Tirana Barry '87, president of the CCAA. "Students benefit from the wisdom and guidance alumni provide, while alumni are enriched and energized by the new ideas, enthusiasm and talents that students bring to the table. Alumni are able to share in students' journeys — once again experiencing intellectual wonders and professional pursuits, while enjoying the growing stature of a Columbia College degree."
Jerry Sherwin '55, who is among the College's most active alumni, echoes the sentiment: "Participating in student-alumni programs has made for the most rewarding experiences I have been involved with over the past many years. It has made me feel like I have never left the school."
Pietropinto-Kitt, who as a senior was the student representative on the Board of Directors of the CCAA, recalls the value of her own early experiences with alumni. "It certainly was a direct connection with what the alumni community was after graduation, which I found very comforting, because I didn't want to leave. I was so happy here. It was a very nice bridge for me to see that there was this big network, and I relied on people like Jerry Sherwin and Brian Krisberg ['81, '84L] and Lisa Landau [Carnoy '89], all of these alumni who were just always there to give advice. They weren't necessarily in the arts but they were certainly life mentors, which was really important."
Rick Wolf '86, in concert with the Alumni Office, began a tradition of alumni-hosted Thanksgiving dinners for students who can't make it home for the holiday. "Part of what drove me is that I had almost no relationships with alumni as a student," says Wolf, who invited students to his Scarsdale, N.Y., home for several years. "It's an attempt to contribute to building a community and helping these students see that when they get out, they're part of a larger community of alumni and that they should be contributing the same way."
Brett Bernstein '84, who also has hosted the dinner, says, "Giving money for some people is easy, and for others it's a stretch. This is another way of giving support that's meaningful. Hopefully it makes students feel good and comfortable and that Columbia truly is more of a community."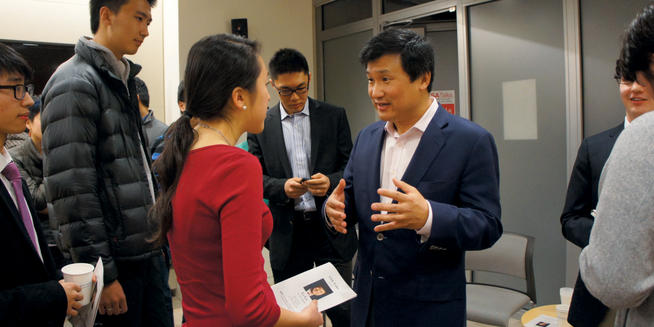 Li Lu '96, '96L, '96 Business, an investment banker who is the founder and chairman of Himalaya Capital Management, spoke with students at a CSA Talks event on March 28. PHOTO: KATHERINE CUTLER
Both spoke to the fun of meeting such a diverse group of students. "Some of them are quite inspiring as to how they got to college and what they've overcome," says Wolf. "They're a uniquely impressive bunch of students — all very intelligent, very driven, much more poised than I was at that age — by miles." He laughs. "It's nice to see who's at the College these days and to feel that connection to the school when you host."
Betanabhatla, who has met with a number of students in addition to Nayar, says that alumni-student relationships are among the things he valued most when he was a student as well as now, as an alumnus: "I love being part of the Columbia family — getting to know students and learn about their interests and I hope, in some way, be helpful as they think about the various questions I thought about as a student."
He adds, "As I think about the greatest inflection points of my life, there's normally someone from the Columbia alumni world who came before me who has mentored me or provided me with transformational advice and altered my perspective on things in a way that I hadn't thought possible."
Betanabhatla cites his relationship with Adam Beshara '96, '04 Business as an example. The two met when Betanabhatla was a junior and Beshara was leading JP Morgan's investment banking recruitment effort on campus. Beshara became Betanabhatla's main point of alumni contact both during recruitment and after graduation, once he started with the company."
On the career end, those first few years are challenging from a physical, mental and emotional standpoint, in terms of hanging in," Betanabhatla says. "There was comfort in having a Columbia alum at the bank who knew what I was doing there, who knew what I was going through, who could be there with advice and point me in the right direction. I talk to him to this day about career choices."
Betanabhatla adds that when his older brother passed away in 2008, "Adam was there to say, 'I understand you're an ambitious kid but there are some things that are more important than your job.' He talked to me about balance and family. He said you have to do these things. He understood who I was and the parts of Columbia that had shaped me and were in me. He was just a great mentor — personally and professionally."
Alexis Tonti '11 Arts is CCT's managing editor.