Features
Class of 2013 Joins Ranks of Alumni
By Alex Sachare '71
Dean James J. Valentini welcomed the 1,169 members of the Class of 2013 into the ranks of Columbia College alumni at Class Day on May 21, saying he had calcu­lated their accomplishments: 1,946,970; 124; and 1. He drew laughs when he explained, "1,946,970 minutes since your very first class on September 9, 2009; 124 credits for graduation; and 1 swim test."
He noted that the graduates swell the ranks of living CC alumni to 47,516 and said, "It is they, now including you, who allow me to say that Columbia College is the greatest college in the greatest university in the greatest city in the world."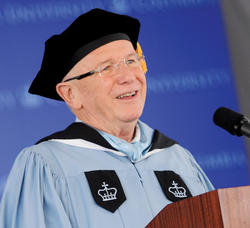 Terrence McNally '60, the keynote speaker at Class Day, told the graduates, "Your work is just beginning." PHOTOS: EILEEN BARROSOThe next day, the members of CC '13 joined some 13,000 other Columbians who officially graduated as President Lee C. Bollinger presided over Commencement. Honored during the ceremony were the 2013 Alumni Medalists, including Stephen L. Buchman '59, '62L; Dr. Marvin M. Lipman '49, '54 P&S; and Ira B. Malin '75, co-chair of the Columbia College Fund.
The Class Day keynote speaker was playwright Terrence McNally '60, a native of Corpus Christi, Texas, who recalled spend­ing his first night in New York City sleeping on the sidewalk outside the Mark Hellinger Theatre, waiting for the box office to reopen the next morning so he could nab a standing-room ticket to see My Fair Lady. "If that didn't make me some kind of an instant New Yorker, I don't know what would," he said.
As for words of advice, he noted, "Good or bad, advice is easy. I don't have a lot for you. Be nicer to people, wash your hands more frequently, count to 100 at least twice before asking someone to marry you. Be useful, keep your word. Re-read that email before you hit the 'send' button. Don't put compromising photos of yourself on Facebook. That's about it."
Also speaking at Class Day were Bollinger, salutatorian Yoshiaki Ko '13 and class president Ryan Mandelbaum '13. In addition, then-Dean of Student Affairs Kevin Shollenberger present­ed distinguished class awards, Dean of Aca­demic Affairs Kathryn Yatrakis presented academic awards, Columbia College Alumni Association President Kyra Tirana Barry '87 presented alumni awards and prizes, and Senior Fund Chair Maria Sulimirski '13 pre­sented the class gift.