Features
Senior Snapshots
The 1,169 members of the Class of 2013 are remarkable for their achievements and their ambitions. Following are eight of their stories.
Richard Fineman Hopes To Have "The Right Stuff"
It is with some trepidation that Richard Fineman '13 reveals his life's dream, which came into focus during an intern­ship last summer at the NASA Ames Research Center in his home state of California. Not too many of his peers, he suspects, are leaving the College with the intention of becoming astronauts.
At NASA, Fineman studied the ways in which the properties of light change as a wave travels through the interstellar medium (dust and other matter that fills the space between stars). The highlight of his experience came in August, when he watched via livestream as the rover Curiosity landed on Mars, marking the beginning of a two-year mission to determine if the planet's Gale Crater could have ever sup­ported microbial life. "Seeing the complicat­ed sequence that had to take place for it to land successfully was amazing," says Fine­man. "I saw 60-year-old scientists cry; they were so happy that it worked. There was so much innovation that went into it."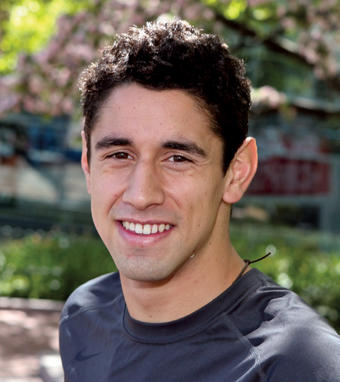 Richard Fineman '13 PHOTO: CHAR SMULLYANAs a result of that experience, Fineman, who majored in chemical physics with a concentration in math, plans to pursue graduate study in aerospace engineering with the goal of fulfill­ing a long-held but previously unexpressed ambition to explore space. "There are so many opportunities right now with the privatization of space flight. I want to be a part of it," he says.
Fineman will first take a year off from academia, during which he plans to compete in several triathlons. In July, through Engineers Without Borders, he will spend two weeks in rural Nahualate, Guatemala, where he will help build a pump, well and filtration system that will provide the community with a reliable source of drinking water.
Born in Palo Alto and raised in his mother's native Guatemala City, Fineman chose the College in part for the opportunity to ex­plore New York City, his father's hometown. He also was drawn by the Core Curriculum, which he found attractive for the same rea­sons that he studies physics. "I feel that I am more well-rounded knowing the origins of the way we think," says Fineman. "One of the things that appeals to me about physics is that it goes into the core understanding of everything and every other science builds on those ideas; I believe that studying the fun­damental background of different concepts gives you a greater understanding of the picture as a whole."
Fineman joined the Columbia swim team as a first-year and was president of the Co­lumbia University Student-Athlete Advisory Committee as a senior. He cherishes the bond he shares with his coaches and teammates, many of whom also belong to his fraternity, Sigma Nu. "I can't think of anyone better to have shared my college experience with," Fineman says.
Fineman so enjoyed his undergraduate years that he volun­teered with the Columbia College 2013 Senior Fund, a campaign that encourages seniors to donate to alma mater. "The College has given me so much that I should give back in any way that I can," he says.
Nathalie Alonso '08
Back to top
For Zuzanna Fuchs, Wordplay is a Subject for Further Study
Zuzanna Fuchs '13 looks forward to spending the next few years of her life "playing with word endings." Beginning this fall, Fuchs will pursue a Ph.D. in lin­guistics at Harvard, where she will delve into her fasci­nation with morphology, a subfield that studies the structure of words and the processes through which words are created.
As a College student, Fuchs, who is fluent in English and Pol­ish and advanced in Spanish, declared a major in statistics but decided to add an independent major in linguistics after enjoying "Introduction to Linguistics."
"Linguistics is something that people don't realize is around us all the time," she says, citing a favorite example. "'Haha' and 'LOL' are modal particles. They don't mean anything; they just set the tone for whatever is being said. It's fun to be at a party and say, 'Do you know that when you text 'haha' or 'LOL' you're us­ing a modal particle?' It's a nerdy fun fact, but it's interesting."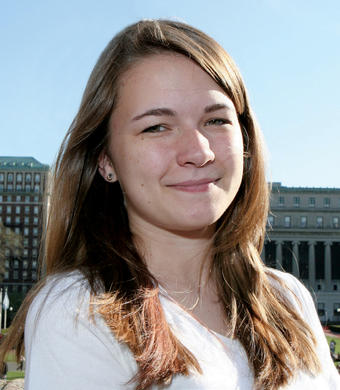 Zuzanna Fuchs '13 PHOTO: CHAR SMULLYANFor her senior thesis, Fuchs examined the gender and gram­matical cases assigned to English nouns adopted into the Pol­ish lexicon. "Because nouns in English have neither cases nor genders, I wanted to see what happens to them when they are borrowed into Polish," says Fuchs, who presented her research at the Annual Conference of the International Linguistic Association, held in April at Kingsborough Community College in Brooklyn.
Buoyed by her experience as a teaching assistant for two semesters each of "Intro­duction to Linguistics" and "Introduction to Statistics," which entailed leading re­view sessions and occasionally lecturing, Fuchs now envisions herself as a linguistics professor. "Seeing [the students'] eyes when they get it — that's the greatest part," says Fuchs, whose father has taught at the University of Detroit Mercy's School of Architecture since she was 8 months old. "When I finish a lecture or a review ses­sion, I feel that I won something huge; it's the best feeling."
Fuchs, who split her childhood between her native city of Warsaw, Poland, and Royal Oak, Mich., recalls always wanting to attend an Ivy League school. It was the Core, however, that ultimately drew her to the College. "A solid base of knowl­edge in a lot of different areas before spe­cializing — that was really important to me," she says.
Since her sophomore year, Fuchs' main extracurricular pursuit has been the Col­lege Group Committee at The Metropolitan Museum of Art. The committee, which in­cludes students from the College as well as Barnard, NYU, the Pratt Institute, Hunter College and other NYC schools, plans mu­seum events for fellow college students. As publicity coordinator her senior year, Fuchs helped plan and execute an Andy Warhol-themed event in October 2012 that she proudly says was well attended by Co­lumbians. "It says a lot about the Columbia student body that everyone has varied in­terests and that the Met brings in everyone, not just the art majors," she says.
Nathalie Alonso '08
Back to top
Alexzander Hudson Raises Awareness of Mental Health Issues
Alexzander "A.J." Hudson '13 can say he was accepted to the College, not once, but twice. Though offered admission the first time he applied, he was unable to enroll due to a last-minute problem and matriculated at The George Washington University. A year later, on a whim, he reapplied to the College and was thrilled to be among the small number of transfer students — less than 10 percent — accepted each year.
"I wanted the most challenging city in the world and the most challenging school in the world and they are both here," says Hudson.
The Indianapolis native made the most of his second chance at a College education. Honored as a Senior Marshal, Hudson majored in psychology with a concentration in sociology — "I love understanding how thoughts work, how they are processed and where certain things arise in the brain," he says — and was among the 10 percent of the graduating class initiated into Phi Beta Kappa.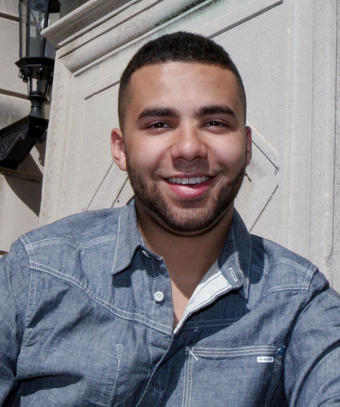 Alexzander "A.J." Hudson '13 PHOTO: CHAR SMULLYANIn October 2011, Hudson helped start a Columbia chapter of Active Minds, a national nonprofit that raises awareness about mental health among college students. "Our programming revolves around explaining the common mental illnesses that are in the popular dialect, which people don't know as much about as they think they do," says Hudson, who also joined the University's NAACP chapter upon arriving in the College. This year, Hudson was recognized for his extracurricular efforts with the King's Crown Leadership Excellence Award in health and wellness from Columbia Student Affairs, which recognizes students who "exemplify the spirit of caring for and about the members of our vast and diverse community."
Hudson's fascination with the human mind led him to pursue several psychology research opportunities in his senior year. With funding from the National Science Foundation's Research Experiences for Undergraduates program, he took a role as a research assistant at the Earth Institute's Center for Research on Environmental Decisions (CRED). His initial task was to review "The Psychology of Climate Change Communication," the center's guide on how to effectively inform the public of issues such as global warming. Hudson now is conducting independent research at CRED on the motivating factors behind prosocial behaviors such as recycling. Since October, he also has recruited subjects for a study at the Mailman School of Public Health that examines the use of mobile dating applications among gay men.
This fall Hudson will begin a stint as a science teacher at a public middle school in Brooklyn through Teach For America. He hopes to enter a Ph.D. program in which he can study the intersection of psychology and education. "I want to get some perspective and I feel there's a lot I can learn by teaching at a middle school," says Hudson, whose long-term goal is to "pursue social policy for education using psychology research."
Nathalie Alonso '08
Back to top
Eric Kutscher Plots Path To Opening AIDS Clinic
Eric Kutscher '13 was struggling with how to integrate his love of biology, health, humanities and human sciences until he traveled to Africa during his junior year to study sexual health.
In Kenya, Kutscher, a history major with a concentration in African studies, lived with a family, studied Swahili and conducted field research on male circumcision and HIV risk in the Luo tribe. He walked throughout Kisumu, a port city, conducting surveys and discussing perceptions of circumcision with male residents.
"Circumcision is against the Luo culture, but western campaigns funding male circumcision there have been very successful," he says. "I wanted to find out exactly why so many men were lining up to get circumcised."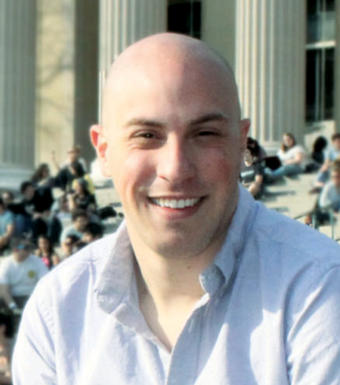 Eric Kutscher '13 PHOTO: STELLA GIRKINS '15Kutscher discovered that Luo men believe circumcision leads to more pleasure and that it also increases condom use, lowering HIV/AIDS risk. The project showed Kutscher that he could merge the social and biological sciences and led to a dream: getting an M.D. and an M.P.H., then starting an HIV/AIDS clinic in New York City.
Kutscher ascribes his interest in Africa to two classes he took to satisfy the Global Core requirement, "Major Debates in the Study of Africa" and "Africa in Cinema." His interest in sexual health was more personal: In 2011, Kutscher was rejected from donating blood in NYC because he identified as a gay male.
"After this incident, I became fascinated by the public health policies around AIDS," he says. "It got me really interested in the idea of 'acceptable risk.'"
Kutscher honed this interest during his junior year through classes at the Mailman School of Public Health. He also participated in The Hertog Global Strategy Initiative, a summer program in the history department that in 2011 focused on "The History and Future of Pandemic Threats and Global Public Health."
The following summer, after returning from Kenya, Kutscher interned in the policy department of Gay Men's Health Crisis (GMHC), but he missed the interaction with patients that he had in Kenya and realized his interests would be best applied as a doctor. So six days after graduation, he will start at Goucher College's one-year Post-Baccalaureate Premed Program. From there, he hopes to attend medical school to study infectious disease and open his clinic.
"What I would want to be unique about my clinic is the quality of care. By mixing a private infectious disease practice where patients receive top-notch care with a general STI and HIV clinic, I think the ease in which someone can come to one place and get every­thing done will increase," he says. "Likewise, it brings people from all backgrounds to the same center … decreasing the stigma against HIV/AIDS."
Even in his final College days, Kutscher did not take time off. He volunteered as a peer advocate at Columbia's Gay Health Advocacy Project and as an HIV tester and counselor at GMHC. His recently completed thesis on the history of public policy and gay bathhouses in San Francisco and New York City received the history department's Garrett Mattingly Prize.
Stella Girkins '15
Back to top
Swimmer Katie Meili Aims for 2016 Olympics
Katie Meili '13 might have been in the 2012 Summer Olympics. But 20 days before the Olympic Team Trials, on June 1, 2012, the record-breaking Columbia swimmer broke her hand during a meet warm-up.
She opted for surgery over a cast so she could get back in the water in only a few days. And while she didn't make it to the Olympics, and considers the injury her most trying moment, she often reminds herself how lucky she was just to compete.Despite the setback, Meili plans to pursue professional swimming after graduation. This summer, she will compete to join the USA Swimming National Team. If she makes it, she might have another shot at the Olympics in 2016.
Katie Meili '13 PHOTO: CHAR SMULLYAN"It's hard to think about the Olympics because it's just a long time and a lot of things can happen between now and then," Meili says. "But I'm definitely training in the summer. Once you start swimming, you're in it for the long run."
Raised in small-town Colleyville, Texas, Meili started swimming competitively at 8. She followed in the footsteps of her older sister, who, she says, "would never let me win." With passions for art and theatre, Meili always wanted to move to a big city. And since arriving at the College, she hasn't lost momentum in the pool.
This academic year alone, Meili won first place in the Ivy League Championships in three events — the 100-yard breaststroke, the 200-yard breaststroke and the 200-yard individual medley — as well as placed third in the National Collegiate Athletic Association for the 100-yard breaststroke and competed in both the Olympic Team Trials and the U.S. Open Swimming Championships. Her 200-yard individual medley record outpaces Cristina Teuscher '00, a 1996 Olympic gold medalist and the University's best-known swimmer.
Meili loves to win, loves to race and is willing to make sacrifices to be successful. "People have told me that they have never seen someone as competitive as I am," says Meili. "I often go 40–50 days at a time without taking a day off. … As you get older, you learn to push your body in different ways. You can push your limits and see how far you can go."
That's not to say that everything has been smooth sailing. Waking up for 6 a.m. practice every day, committing time to train and travel for meets, all while taking five or six courses at a time was exhausting, Meili says. But she attributes most of her success to her coaches and teammates.
"I always say that if I hadn't come to Columbia, I wouldn't have gotten this good at swimming," she said. "It was definitely hard when all your friends are going out, and they can stay up as late as they want, and they can eat whatever they want … when I had to go to bed because I was exhausted or I had practice the next morning ... It's a hard sacrifice when you are going through it, but it's so worth it in the end."
[Editor's note: Another senior has set her sights on the 2016 Olympics. Read about rower Nikki Bourassa '13.]
Grace Lee '14 PH
Back to top
Gerard Ramm Studies His Native American Heritage
With the support of the College's Henry Evans Travelling Fellowship, Gerard Ramm '13 will devote several months immediately after graduation to exploring his Native American heritage.
Ramm, a registered member of the Quapaw tribe, will live with relatives in Quapaw, Okla., while studying the tribe's language with an elder. He also will assess online Quapaw language databases, which he hopes to expand. "I want to learn the Quapaw language as fluently as possible," says Ramm, who claims tribal ascendancy through his father. "Many Native American languages are in dire threat of extinction."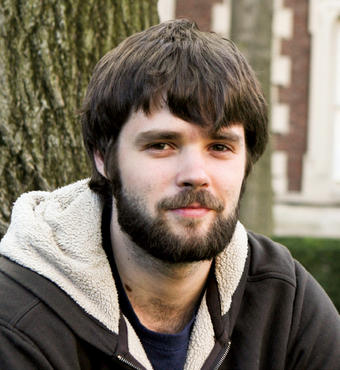 Gerard Ramm '13 PHOTO: CHAR SMULLYANRamm's desire to strengthen and preserve the Quapaw language stems from the independent summer research he conducted with funding from an earlier fellowship, the Mellon Mays Undergraduate Fellowship, awarded each spring to five sophomore minority students with the goal of preparing them for doctoral study. Fellows meet faculty, learn about the process of choosing and applying to Ph.D. programs and receive yearly stipends and summer research funding for the remainder of their College careers. Ramm spent summer 2011 in Quapaw, simultaneously studying and helping to organize his tribe's yearly powwow, which he fondly recalls witnessing as a child. Then, last summer, he attended the Dhegiha Gathering in Quapaw, which brings together speakers and teachers of the Dhegiha family of indigenous languages. "I was exposed to the ways people teach and learn language and the stakes for language revitalization and survival," says Ramm.
An English and comparative literature major, Ramm wrote his senior thesis on the treatment of Native American figures in contemporary American literature. "There is a lot of Native American literature that gets overlooked in curricula and a lot of Native American traces and symbolism that get overlooked in contemporary literary criticism," Ramm says. "How we deal with the presence of indigenous figures in the larger transnational literary canon is interesting to me."
Ramm, who felt alienated from his Native American roots while growing up in Old Saybrook, Conn., is grateful to the College for enabling him to explore his personal history in an academic setting. "Coming here was an opportunity to rediscover a lot of issues," he says. "There are a lot of resources here, a lot of Native American students and Native American events and professors from whom I learned."
While Ramm, a Junior Phi Beta Kappa inductee, chose the College for its academic reputation and location, he also sought a school where he could nurture his lifelong passion for music and theatre. He played the saxophone with the Columbia University Jazz Ensemble and appeared in several plays with the Barnard theatre department. His most enjoyable portrayal, however, was Bottom in the King's Crown Shakespeare Troupe's spring 2012 production of A Midsummer Night's Dream. "It's a huge comedic part and it was so much fun," recalls Ramm.
During the next year, Ramm plans to apply to graduate programs in either literature or Native American studies. "My goal is to bring perspectives on Native American culture and politics into a discourse of current cultural studies," he says.
Nathalie Alonso '08
Back to top
Pre-Med Ashley Shaw Connects Students with Elderly Patients
The elderly nun, a resident at ArchCare at Terence Cardinal Cooke Health Care Center (TCC) in New York City, was quickly declining. A once-gregarious teacher, she had lapsed into near silence by the time Ashley Shaw '13 delivered an envelope in July 2012..
"She held my hand and gripped it," recalls Shaw, a pre-med student who was then interning at the extended care facility for the terminally and chronically ill. "I asked if she wanted me to open the envelope for her. She indicated that she did. A friend had sent her $5 to buy a Diet Coke — she loved Diet Coke. I remember the sort-of smile on her face. I sat with her for an hour or more, in silence, just holding her hand."
Ashley Shaw '13PHOTO: CHAR SMULLYANSuch experiences had prompted Shaw to start the volunteer At Your Service program, which connects Columbia students with elderly TCC residents to provide long-term companionship for those nearing the end of life. With grants from the Columbia College Alumni and Parent Internship Fund and the Work Exemption Program, Ashley devoted summer 2012 to laying the groundwork for At Your Service. Now, each semester approximately 30 College and post-baccalaureate students devote four hours a week to TCC, two of which are spent engaging residents in recreational activities.
"TCC could really benefit from extra hands and extra people to talk to residents who might not have many friends or family who visit," says Shaw. "And there was also the need of pre-med students [at Columbia] who yearned for meaningful patient interaction."
Shaw, who majored in biology with a concentration in art history, became involved with TCC during summer 2011 through an internship offered by the Earth Institute Center for the Study of Science and Religion. She has accepted post-graduation employment at TCC and hopes to enroll in medical school in fall 2014.
In addition to palliative care, Shaw is interested in adolescent medicine as a result of her involvement with Peer Health Exchange, a national teen-oriented health education organization. During the last four years, through the organization's Barnard/Columbia chapter, Shaw has taught more than 45 health workshops in public high schools throughout New York City. As a senior, Shaw also was president of the Columbia University American Medical Students Association – Premedical Chapter and community adviser for McBain residence hall.
The Torrance, Calif., native chose the College for the opportunity to live in New York City, a decision she relishes every time she escapes to Lincoln Center to catch a performance by the New York City Ballet.
A dancer herself since she was 4, Shaw sees a direct connection between her love of art and her work at TCC. "A lot of people at the end of life start to think about what makes life meaningful. Learning about art and what has inspired people to make art throughout the ages — whether it is religion, politics or just the need for expression — is what makes life meaningful. I feel those two areas of my studies are congruent and complementary."
Nathalie Alonso '08
Back to top
Devyn Tyler Juggles Interests in French and Acting
By the time Devyn Tyler '13 enrolled in the College, she had landed minor roles in The Curious Case of Benjamin Button, starring Brad Pitt and Cate Blanchett, and The Great Debaters, directed by Denzel Washington. For the past four years, however, her film career has been largely on hold in favor of a degree in French and Francophone studies.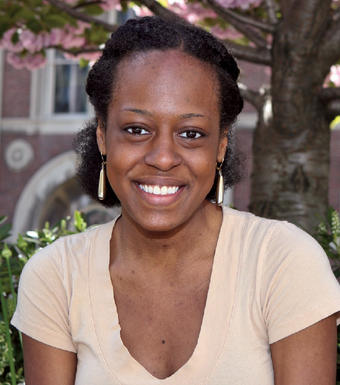 Devin Tyler '13 PHOTO: CHAR SMULLYANSince the Spring 2011 semester, Tyler has had the support of the Mellon Mays Undergraduate Fellowship, awarded each year to five sophomores of underrepresented minorities who are interested in and demonstrate potential for doctoral study and professorial careers. Fellows meet faculty and graduate students in various fields, learn about the process of applying to graduate school and receive financial support and research training for the duration of their College careers. "It took me from being a sophomore, not knowing what a Ph.D. was or why it mattered, [to having it] explained to me, not only what it is, but also why it's important and how I can get there," Tyler says of the program.
Tyler, who plans to pursue a Ph.D. in French, credits the course "Major Debates in the Study of Africa" with broadening her view of the French-speaking world and French colonialism. "I realized I could go to many different places and understand many different histories," she says.
After spending the Fall 2011 semester in Paris through the Columbia-Penn Program at Reid Hall, Tyler became a peer adviser in the Office of Global Programs, where she was a resource for fellow students pondering study abroad in the French capital. This past semester she co-taught an extracurricular French course to middle schoolers at the Thurgood Marshall Academy for Learning and Social Change in Harlem, where she had her students research a French-speaking country. "That wide, diasporic view of the world that French gave me and that made me so excited in college — I wanted to expose them to that," she says.
Tyler first studied French at The High School for the Performing and Visual Arts in Houston, the city her family relocated to when her native New Orleans was ravaged by Hurricane Katrina in 2005. Tyler, who had just started high school in New Orleans, evacuated ahead of the storm and, despite seeing the destruction on television, was initially resistant to starting over in a new state. "I was forced to, because we couldn't go back home," she says. "Even if we did go back, our house wasn't going to be there."
Tyler's transition to the College was smoother; she knew she wanted to go to Columbia from the moment she first visited the Morningside campus as a high school student. "When I saw it I thought, 'That must be what college is.' It was my first 'picture' of college," she says.
After graduation, Tyler, who played Mariana in the King's Crown Shakespeare Troupe's Spring 2010 production of Measure for Measure, plans to take time off from academia to pursue acting more intensely. "I'm going to take at least a year to get back into the film industry and theatre and get artistically productive again," she says.
Nathalie Alonso '08
Back to top