Features
Sand in His Shoes
Nate Bliss '05 has played a key role in Coney Island's comeback
By Mary Jean Babic
On a cold, sunny morning in late March, a group of elected officials, business owners and civic leaders crowded a small stage on the Coney Island boardwalk to proclaim the amusement mecca open for the 2013 season. Palm Sunday opening day is a longstanding tradition with longstanding rituals: the blessivng of the rides, the breaking of a bottle of Brooklyn egg cream on the Cyclone roller coaster. This year, the ceremonies held particular significance. Just five months earlier, Hurricane Sandy had decimated the iconic beachfront community, and at times it seemed doubtful the rides would ever run again.
New York's coastal areas, including Coney Island and the Rockaway Peninsula, suffered tremendous damage from Hurricane Sandy. In Coney Island's Sea Gate community, many beachfront homes were battered by the storm surge.PHOTO: BEBETO MATTHEWS/AP/CO
Up on the dais, seated next to U.S. Sen. Charles Schumer (D-N.Y.), a young man with short dark hair listened attentively as one dignitary after another stepped to the microphone. Though he didn't speak, Nate Bliss '05 has been an indispensable figure in Coney Island's recovery. In fact, when Dennis Vourderis, co-owner of Deno's Wonder Wheel Amusement Park and the morning's emcee, introduced the people on stage, he said of Bliss, simply, "Everyone knows Nate."
This was true enough before Sandy and it's even more so now. Bliss has worked on Coney Island economic development issues for eight years and is the city's point man on ambitious plans to revitalize "the people's playground." He wears several hats: a v.p. of the New York City Economic Development Corp.; president of the EDC-funded Coney Island Development Corp., which is charged with implementing strategic and rezoning plans; and interim executive director of the Alliance for Coney Island, a recently formed group of businesses and civic organizations dedicated to the neighborhood's improvement.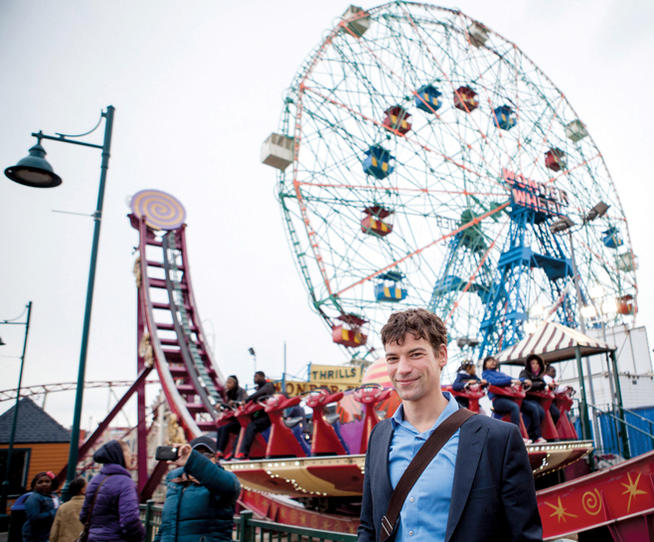 Busy as he was with development work, it went on the back burner for a while after October 29. When the hurricane struck, Bliss swung instantly into relief mode. He worked nearly nonstop for weeks — shoveling sand off the boardwalk, organizing volunteers, knocking on businesses' doors to see what they needed — and soon thereafter helped launch an initiative called #ConeyRecovers. Operating under the auspices of the Alliance for Coney Island, #ConeyRecovers is a central resource for grants and information to help residents and business owners rebuild. City Hall took note of Bliss' actions, and in early December he was named leader of a newly created Business Recovery Zone in south Brooklyn, tasked with helping small businesses get back on their feet. Shortly after that, EDC President Seth Pinsky '93 asked Bliss to join the citywide Special Initiative for Rebuilding and Resiliency. The initiative, headed by Pinsky at the behest of Mayor Michael Bloomberg, will make recommendations on how New York City should rebuild from Sandy and prepare for the impact of climate change on critical systems and infrastructure. The group's report was due in May.
Disasters make for extraordinary times, and though some of his responsibilities will dial down as the recovery moves forward, Bliss has put in a lot of evening and weekend hours to keep up with it all. But his EDC colleagues, he says, work just as hard; long hours go with the territory. Fortunately, he enjoys what he does. "It's a privilege to help New York City and its neighborhoods and residents reach their full potential," he says. "It's rewarding work."
The morning after the storm, Bliss was one of the first city employees to reach Coney Island. Driving down Ocean Parkway from his home in Prospect Heights, he knew things were bad before he even reached the northern edge of the neighborhood. Electricity was out, cars were scattered pell-mell and sand covered the road several blocks inland. "The scariest thing was when people started opening their doors and rolldown gates and seeing what was behind them," says Bliss. "It was five to eight feet of stillwater flooding that killed us in Coney Island."
Some landmarks were shuttered for months, including the New York Aquarium, which had been a week away from breaking ground on a 57,000-square-foot shark exhibit and suffered $65 million in damage, and the original Nathan's Famous hot dog emporium, which had never closed a day in its 96-year history. Both reopened in May.
That first day, Bliss set up an impromptu relief center in the parking lot of MCU Park, the Brooklyn Cyclones' baseball stadium. The parking lot quickly became an operations base from which Bliss directed the efforts of volunteers and a host of aid groups including the American Red Cross, FEMA and the National Guard. Barely a year earlier, Bliss had taken a catastrophe response class while studying for a master's in real estate from NYU. Now, he faced a full-on catastrophe in his own backyard.
Lola Star, who owns the Lola Star Souvenir Boutique on the boardwalk, says that Bliss "was an absolute hero" in those first awful days. "I don't know what we would have done without Nate," says Star. "His dedication to and love for Coney Island during this tragedy were absolutely extraordinary."
The image of Bliss shoveling sand off the boardwalk is one that will stay with the Wonder Wheel's Vourderis, but he already knew of Bliss' dedication from years of working with him on redevelopment efforts. "He's at meetings, he's at grand openings, he's at ribbon cuttings," says Vourderis, whose family has owned the Wonder Wheel and adjacent amusement park for 40 years. "He's part of the family, part of the fabric that makes up Coney Island today."
Bliss has been working in Coney Island since 2005 and says wherever his career takes him, "I'll always have sand in my shoes." PHOTO: NATALIE KEYSSAR
Vourderis sees in Bliss a sincerity and attention to detail not often found in city staffers. "A lot of these guys will give you lip service, but not Nate," he says. "Nate gets stuff done. He's not afraid to get his feet wet, to get his hands dirty."
Pinsky, Bliss' boss at the EDC, says that Bliss combines the technical and management acumen to see a capital-improvement project to completion — be it an amusement park or sewer system — with more intangible qualities.
"Where I think he's particularly effective is in dealing with the people in the community, making himself really a trusted partner," says Pinsky. "There are a lot of people who bring only one set of skills. Nate is a unique individual in that he is not just empathetic but able to turn that empathy into action."
And even with hurricane recovery dominating their efforts in recent months, Pinksy adds, "Nate and his team have not lost sight of the long term and the need to keep thinking strategically while helping people on a tactical level."
For his part, Bliss was deeply moved by the community's determination to dig out from the hurricane's wreckage. "People didn't sit on their hands for a moment," he says. "They started rebuilding their businesses as soon as they could."
No one denies, however, that the neighborhood has a long road ahead. For all the celebratory vibe of opening day, some of the neighborhood's 50,000 residents remain displaced and out of work. Many businesses are yet to reopen; some have closed for good. "There's optimism," Bliss says, "coupled with the new reality."
Growing up in Virginia with Yonkers-born grandparents, Bliss visited New York City frequently enough to know that he wanted to live there one day. It was one of the strongest draws for attending Columbia, and he soaked up all the city had to offer — music, food, neighborhoods. On campus, he was "a real explorer" of academic paths and extracurricular activities; he tried pre-med before settling on urban studies as his major. For one season he rowed with the lightweight crew and became fascinated by what he calls the city's "forgotten urban waterfront," the Harlem River, where the team practices. He also started a Bliss family tradition: His sisters Rebby '07, '13 Business and Samara '13 both followed him to Columbia.
When he's not working, Bliss is the bassist and backup vocalist for a pop/punk/indie band called the Aye-Ayes. He's also planning his wedding next year to Amira Ibrahim '05 Barnard. They didn't know each other during their time on campus but friends introduced them shortly after graduation. "So clearly," says Bliss, "Columbia has had an influence on my life trajectory."
Bliss' employment at EDC began in 2005, when he took a summer internship in its development department. He parlayed the internship into a full-time job as a junior project manager, and in 2010 he was promoted to his current position. All along, Coney Island has been his territory.
The neighborhood offers a feast for an urban policy guy to sink his teeth into: amusement parks, entertainment, a major transit center, a beach and a diverse population. "The people are awesome," says Bliss, who has collaborated with "pastors from local churches as well as burlesque dancers and freaks from the entertainment venues." And after working side by side with residents after the hurricane, Bliss says his connection to Coney Island now "is doubly strong."
Perched on the southern edge of Brooklyn, about an hour by subway from Midtown, Coney Island — which actually is not an island but sits on a peninsula — has drawn recreation seekers since the 1830s, when sweaty Manhattanites traveled there by steamship or carriage for a seaside vacation. The first half of the 20th century was the area's heyday, especially after subway service linked Brooklyn to Manhattan in 1915, delivering hordes of daytrippers to its beach, amusement parks and cheap entertainment. Following WWII, a number of factors contributed to Coney Island's decline: air-conditioning, which made it more bearable to stay indoors; the expansion of automobile ownership, which put less-crowded Long Island, New Jersey and Connecticut beaches within easier reach; and the city's overall economic troubles in the 1970s.
When Bliss started working in Coney Island in 2005, the city was in the throes of writing a comprehensive plan to stimulate economic growth in the neighborhood. Securing its distinctive character as an amusement destination was a central piece of that strategy. At that time, the trash-strewn, vacant lots along the boardwalk were being eyed for high-rise hotels and condos, something few Coney Islanders wanted to see. So the city bought about seven acres from condo developers — an acknowledgment, says Bliss, "that amusement parks will have a hard time surviving, given the vagaries of the real estate market. If the city was serious about preserving Coney Island, it had to do that."
The city, however, had no wish to actually operate amusement parks. A private company runs the two new parks that have gone up on city-owned land: Luna Park, which opened in 2010, and the Scream Zone, which opened a year later. Another major project, Steeplechase Plaza, was set to open on Memorial Day. It will be an outdoor plaza with retail and performance space and a restored 1919 carousel. Both Luna Park and Steeplechase Park resurrect the names of long-closed attractions from Coney Island, hearkening back to its glory days and, the hope is, heralding new ones. Beyond the amusement zone, a YMCA is under construction and rehabilitation of several neighborhood parks also is in the works.
In November, New York City voters will elect Bloomberg's successor. At the moment, Bliss isn't heading for the door, but the arrival of a new administration, he says, is a natural turning point for someone in his position. Whatever his next job may be, Bliss knows he's been fortunate to have begun his career on turf as unique and rich with history as Coney Island.
"There's a saying in Coney Island: 'Once you have sand in your shoes, you never get it out,'" says Bliss. "For better or worse, I'll always have sand in my shoes."
Mary Jean Babic is a freelance writer who lives in Brooklyn.