Letters to the Editor

Keeping the Spirit Alive
Congratulations to the CCT staff for creating an alumni magazine that has kept alive the spirit of intellectual curiosity and exploration that has been such an important part of what Columbia has stood for through the years and, in particular, for your two most recent issues celebrating "the Pride of the Lions" and the Core Literature Humanities course.
Dr. Howard B. Levine '64
Brookline, Mass.
The Winter 2012–13 issue was the very best I have seen, perhaps ever. Good work.
Dr. Paul Erik Gorrin '63
Milford, Del.
Lit Hum @ 75
Time flies. Value stays.
Lit Hum started in 1938. I took it as a freshman in 1939 and again in my sophomore year.
Initially I was annoyed to have a course imposed on me, then entranced.
I have kept all the books. The binders are cracked and the pages yellow — but the contents priceless.
Cedric Philipp '43
Audubon, Pa.
I don't think I've ever read as large a percentage of an issue of Columbia College Today as I did of the [Spring 2013] issue about the anniversary of Lit Hum.
My memories of this class are somewhat painful: Reading a book a week was difficult for me, often impossible. But despite my not having completed all these great works, I would not trade the experience for anything. I am convinced that I am a better scientist and person for having been exposed to these books and the discussions they generated.
Each year, when we are evaluating applicants to medical or graduate school at the University of Michigan, where I am a member of the faculty, I pay special attention to whether they have [studied] a broad liberal arts curriculum. I find that if a student's classes have almost exclusively been in the hard sciences, they lack some of the maturity that I think bodes well for success in graduate or professional school.
Columbia should be proud of this tradition. I look forward to celebrating the 100th anniversary.
Mike Imperiale '76, '81 GSAS
Ann Arbor, Mich.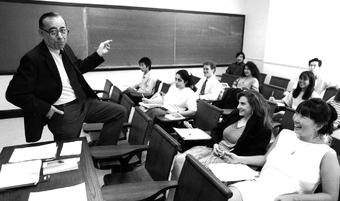 James P. Mirollo '61 GSAS, the Parr Professor Emeritus of English and Comparative Literature, pauses during a Literature Humanities class in 1991. Mirollo was one of the panelists at the keynote event during the Lit Hum @ 75 celebration on April 26. Photo: Nick Romanenko '82
I was deeply influenced by the Humanities courses; I had never read most of the authors we were exposed to nor was I familiar with their ideas.
I was lucky enough to have two great teachers — very different, but both stimulated my mind as nothing before. James Gutmann [Class of 1918, '36 GSAS] was a kind and gentle scholar who pushed the class to think for itself and guided us so gently we didn't realize how much we were learning. He had us to his apartment for tea and cookies and reminded us there was a world outside the College. Mark Van Doren ['21 GSAS] was a brilliant scholar and he did not suffer fools lightly. We were reading The Odyssey and someone in the class said Odysseus was an "arrogant" man. Van Doren looked at him and said, "All great men are arrogant. I myself am arrogant." The inference was not missed by any of us.
I took many other fine courses with great teachers such as James Shenton ['49, '54 GSAS], Moses Hadas ['30 GSAS] and Wm. Theodore de Bary ['41, '53 GSAS] and was deeply influenced by all of them. I received an amazing education at Columbia, but Lit Hum was the first [course] to open my eyes to the wonderful world I now enjoy.
Dr. Carl Norden '56
Philadelphia
Contrary to the self-congratulatory tone of the Lit Hum 75th anniversary issue [Spring 2013], my most vivid Lit Hum memory was standing in front of Low Library holding a paperback edition of something or other in my hand and wondering how I would get through 450 pages of fairly dense reading in a week — and if I did, how I would remember any of it.
Russ Abbott '62
Culver City, Calif.
The series on Lit Hum in the Spring 2013 issue is excellent. I shall be forever grateful for the Core Curriculum. It was then that my education truly began.
Having said that, I have always regretted that only Western Civilization was covered. The world ended in Greece. The rich and manifold cultures, politics, economics and religions of the Near, Middle and Far East were ignored. In that silence, those regions were tacitly relegated to unimportance and I, for one, left with that mindset. If the world ended in Greece for Columbia graduates, the same limited perspective might well have been shared by graduates of other schools with their even narrower curricula. The history of the last century and this one so far has shown the huge importance of the world beyond Greece. Most of today's headlines deal with events in those regions.
One wonders whether more broadly educated college graduates of my day might have produced better managers of world affairs than the less than brilliant record of the West in the 20th century — and the 21st, too, so far.
Dr. G.J. D'Angio '43
Philadelphia
I enjoyed CCT Editor Alex Sachare '71's "Reevaluating My Lit Hum Experience" [Within the Family, Spring 2013]. Even if you read the books more fully, there is always a desire to re-read the Core.
My CC '92 next door neighbor from first year and I hatched a plan that at 70 we would retake both CC and Lit Hum. Recently we were emailing regarding this fantasy subject and hoping the College doesn't go all online by then. For us, half of the experience is the reading; the other half is being in a classroom with a professor and the other Columbia College students. The diversity of philosophical thinking in those intimate classroom [settings] generated discussions I will never forget.
I regret not reading even more in-depth than I did at 18; but I don't ever believe the college experience is wasted. Those books read and unread shaped and inspired my thoughts, fostered dreams realized and unrealized, and bonded me forever in a future with a large intellectual community of thinkers.
To this day I can spot the Columbia College graduate because in every field he or she is known to be the uniquely courageous voice asking the most uncomfortable, difficult, unanswerable questions. I believe the Core experience is responsible for what I describe as the CC unpretentious search for truth.
Jennifer Madrid '92
Bedford, N.Y.
I enjoyed immensely the latest CCT on the Core [Spring 2013]. Everyone who has attended the College owes an immense debt to this seminal idea. I was privileged to extend my Lit Hum experience to "super Lit Hum," the "Colloquium on Literature, Language, Philosophy and History," in my junior and senior years.
A student had to be nominated [to take the class] by the Lit Hum faculty. This was a weekly seminar with two University professors and eight students from different majors reading works from Gilgamesh to the Enlightenment the first year, then through the 20th century for the second year. My professors included Edward Said, James Wood and Hugh Amory. We continue the tradition with a small group in New Orleans. The University would do well to revive this course.
Dr. Frederick G. Kushner '70, '74 P&S
New Orleans
Unlike the ponderous chest-thumping that filled the Spring 2013 CCT dealing with Lit Hum history, I am going to take a different view in offering my memories of my wonderful time in the course. This memory is apocryphal and has a necessary touch of verisimilitude.
I was walking down Broadway from 116th Street to approximately 113th Street with an armful of clothing for the Greek-owned dry cleaning establishment. Ahead of me, to my astonishment, was walking Professor Moses Hadas ['30 GSAS], the legendary Lit Hum professor whom I had heard speak on many occasions.
Professor Hadas walked into the dry cleaning establishment and greeted the owner. Apparently, they were on familiar terms.
The owner looked at the garment that Professor Hadas had placed on the counter between them and said, "Euripides?" Without pause, Dr. Hadas said, "Yes. Eumenides?"
I have never forgotten that brief, poignant moment.
John Breeskin '57
Takoma Park, Md.
Read more alumni reflections on Literature Humanities.
Professor Karl-Ludwig Selig
It was with deep sadness that I read of Professor Karl-Ludwig Selig's passing [Spring 2013, "Around the Quads"]. Like countless other students, I considered him my favorite professor. Moreover, he made me feel, as he did many others, as if I were his favorite student. I know and was forever grateful that he promoted my election to Phi Beta Kappa.
I had Professor Selig for my second semester of Lit Hum — his legendary course on Cervantes' Don Quixote — and an individual tutorial in which I read a different significant text each week. I was quite anxious one morning, running late for the tutorial, until I spotted him sitting across from me on the subway, equally late and fully enjoying a jelly doughnut. Professor Selig and my Viennese mother delighted in talking to each other in German, and he loved that they both were epicures. Years later, Professor Selig joined us and another professor for dinner and discourse in my home, an evening that he dubbed a literary salon. Professor Selig met my wife at this dinner as well. You could imagine my surprise one day as I was presenting the prosecution's case to a Manhattan grand jury to see that Professor Selig was seated among them. Of course, he could not vote in the case; I learned from colleagues that he was quite an inquisitive, analytical juror.
We would see or speak to each other from time to time in later years, and I attended the rowing team's first celebration in his honor. As Professor Selig's physical health declined, he expressed concern over the fate of his treasured books; I tried to reassure him. There came a time when I said that he could benefit from a hearing aid, and he got very upset. Our contact diminished. I greatly regret that — I blame myself. I so wish that Professor Selig could hear me now, for I would convey, once more, that he was the quintessential teacher whose influence on me is enduring and ever endearing.
Gary J. Galperin '77
New York City
Pride of the Lions
I enjoyed the coverage of Professor [Ronald] Breslow (Winter 2012–13). I had him for organic chemistry from 1966–67, my sophomore year. In those days at Columbia, there was applause at the end of the last class. In this case, it was a standing ovation. We had taken up a collection and bought him a gag gift, a chemistry set, and he said, "This is how it all started." We also presented him a bottle of Scotch, to which he replied, "And this is what it all led to."
I have since learned how famous his career was from an early age, and my chemistry department friend borrowed that issue from me with gratitude. I contacted Professor Breslow about a decade ago, and he replied that he remembered that year's class. With hindsight, finishing my 40th year as a professor myself, I only wish, as a student, I had come to know more of my Columbia professors as more than just my classroom teachers.
Bill Stark '69
St. Louis
Norman Dorsen '50
It was good to read the article about Norman Dorsen '50 [Spring 2013]. I'd like to add a detail of his basketball prowess, a memory I've carried top-of-mind for 65 years.
We, the Columbia junior varsity, were playing an away game. On that unfamiliar court, Dorsen took eight shots from the field and made them all. We won the game. Who makes all of that many shots in a game?
My visual memory is of Normie's distinctive driving, twisting, left-handed shooting.
David Berger '50
Madison, Wis.
Tuskegee Experiment
A comment on the letter from my classmate Donald Marcus '55 [Spring 2013]. I believe he is referring to the Tuskegee Syphilis Experiment when he talks about blacks purposely being given syphilis. In this study started in 1932, a group of rural black men with syphilis were being followed to study the natural history of the disease. The problem was that when penicillin was found to be an effective treatment in the late 1940s, it was not offered to the men and they continued untreated in the study until 1972. While this was not much better ethically, they were not given syphilis, as appears to be commonly believed. Wikipedia has a good account of the history.
Bill Mink '55
Napa, Calif.