Message from the Dean
PHOTO: EILEEN BARROSO
This spring, at a campus event celebrating the 75th anniversary of Literature Humanities, faculty, students, alumni and parents gathered in classrooms around campus to discuss The Odyssey, Euripides, Montaigne and Jane Austen, and to deliberate the value of Lit Hum and the Core. Current students heard about the significance of the Core in former students' lives and former students heard how it has changed — and stayed the same — during the years since they took it. It was a great opportunity for intergenerational interaction. And it was just one example of many such opportunities at the College each year.
Columbia College alumni and students engage through internships, mentoring programs, pre-professional advis­ing, scholarship matching and at events. They engage in formal settings and less formal settings on campus, in workplaces and in coffee shops around the city and the world. The process begins when students are applying to Columbia — many are interviewed by Alumni Representative Committee (ARC) volunteers — and continues through Class Day, when representatives of each alumni class march in the Alumni Parade of Classes onto South Lawn to celebrate that year's graduates. Such interaction is key to the College experience: Students see their possible futures through alumni, and alumni remember their pasts and what they experienced as students.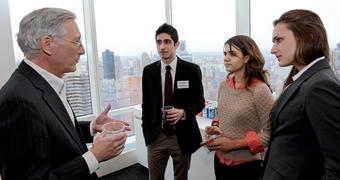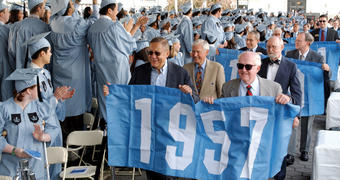 Students engage with alumni at events such as a media panel at Bloomberg headquarters (above) and through community-building activities such as the annual Alumni Parade of Classes. PHOTOS: TOP, PETER FOLEY; BOTTOM; EILEEN BARROSOIn my two years as dean, I have noticed again and again how passionate students and alumni are about seeking connections with one another. And I am committed to creating more opportunities for such connections. One of my long-term goals for the College and the Columbia College Alumni Association is to match every current Columbia College student with a Columbia College alumni mentor. We will be working on developing and implementing this mentorship program with the CCAA and the College's alumni relations and development staffs. This is part of my goal of 100 percent alumni engagement in the College — of encouraging every alumnus/a to be involved in some way each year. I look forward to updating you on this effort.
The Columbia College experience is a continuum that starts from the point of being admitted and lasts until you celebrate the 50th, 65th or even 80th anniversary of your graduation. For me, there are three stages of Columbia College students: future student, current student and former student, and as alumni — former students — you play an important role as mentors, advisers and inspirations for our current students. In you, our talented and accomplished alumni, our students see the exciting opportunities that a Columbia College education can provide. If you are interested in engaging with our current (and future) students, I urge you to get involved. Here are a few ways to do so:
interview prospective students: undergrad.admissions.columbia.edu/admissions/archandbook/frontpage;

mentor a student: college.columbia.edu/alumni/volunteer/mentoring;

attend an event with students: studentaffairs.columbia.edu/studentandalumni; and/or

sponsor an internship, give students career advice or help them prepare for job interviews: careereducation.columbia.edu/alumni.
Enjoy the summer. I hope to see you on campus soon!