Obituaries
1926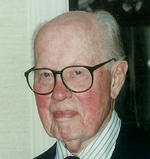 Malcolm R. Warnock '26Malcolm R. Warnock, retired attorney, Maplewood, N.J., on October 9, 2012. Warnock was born in Brooklyn, N.Y., and grew up in Cranford, N.J. He entered Prince­ton but transferred to the College. He earned a degree from the Law School in 1929. During WWII, Warnock worked for the predecessor of the Air Force and then on the Manhattan Project. Until he retired in 1973, he worked for the Lehigh Valley Railroad. Warnock was an avid tennis player into his 90s. He narrated his church's Christmas pageant for 40 years and often had the lead in amateur plays and musicals. He was a trained singer, a painter and an antique clock collector, and he read widely. Warnock and his wife, Dorothy, lived in Short Hills, N.J., for more than 50 years. She predeceased him. Warnock is survived by his daughter and son-in-law, Margaret and Eugene Carlough; daughter, Eleanor; and one grandson. Memorial contributions may be made to the College, the Law School or Winchester Gardens Association Scholarship Fund, 333 Elmwood Ave., Maplewood, NJ 07040.
1943
Harold C. Vaughan, retired history teacher, Fort Lee, N.J., on September 22, 2012. Vaughan was born in New York City on October 26, 1923. He did not attend his College commencement, as he was already off to basic training in Biloxi, Miss., followed by pilot training with the Army Air Corps at Elon University. After the service, Vaughan returned to Teachers College for an M.A., graduating in 1945. He began a 38-year career as a high school history teacher in New York at Collegiate School in 1947. He taught at Brooklyn Friends School from 1949–59 and at Ridgewood [N.J.] H.S. from 1959–85, where he introduced a stock market course. Vaughan was recognized in 2000 with a special tribute at Brooklyn Friends. He was a devotee of theatre and the arts, author of seven history books, a world traveler and an ardent supporter of civil rights. Vaughan is survived by his sister, Dorothy V. Brophy; nephew, Thomas E. Brophy; nieces, Diane V. Brophy and Meta A. Brophy; two great-nephews; and two great-nieces.
1946
Charles J. Fabso, retired sales mana­-ger, Durham, N.C., on January 17, 2012. Fabso was born on June 19, 1925, in New York City. He graduated from Stuyvesant, where he was president of the senior class and a member the National Honor Society (known as Arista in NYC public schools). At the College, he was president of Beta Theta Pi. After earning an M.S. from the Business School in 1947, Fabso joined General Electric, where he was manager – sales, Audio Products Department, and manager – sales, Home Laundry Department. He later was director of marketing, Consumer Electronics Division, for Philco-Ford. He retired from GE as general manager, Sales and Distribution Department, Housewares and Audio Business Division. Fabso was a member of the Congregational Church of Easton, where he was chair of the Board of Deacons, the Board of Finance and the Board of Stewardship and Missions. He is survived by his wife of 64 years, Joan Winsko Fabso; children, Joan Fabso Cassell and her husband Ronnie, and Charles; and three grandchildren. Memorial contributions may be made to The Congregational Church of Easton, PO Box 37, Easton, CT 06612; note in the check's memo line "Book of Remembrance — Charles Fabso."
1950
Alfonso A. Lordi, sales manager, Denver, on January 22, 2012. Lordi was born on January 6, 1925, in Mount Vernon, N.Y., and was a 50-year resident of Dover, Mass. He was a decorated WWII tech sergeant serving directly under Gen. Dwight D. Eisenhower in the 9th Army Headquarters Company. He fought at Normandy, in the Battle of the Bulge and into Germany. Lordi was then sent to Okinawa Island to prepare for the invasion of Japan. He was awarded six battle stars and the Meritorious Service Award for Outstanding Combat Performance. After the war Lordi attended Columbia, reuniting him with Eisenhower, then University president, who often called on him to entertain foreign dignitaries. After graduating with a degree in business, Lordi embarked on a 40-year sales career for Mennen, Playtex and Exquisite Form. A mechanical whiz, he was quick to fix anything with a motor. In Dover, he was a member of the local VFW and a longtime member of Saint Dunstan's Episcopal Church. Lordi was predeceased by his wife of 40 years, Elisabeth Perry Lordi, and is survived by a son, Alan; daughter-in-law, Pamela; three grandchildren; two of his three brothers, Frances "Dick" '50 and Gerardo '48; and their wives and children.
Daniel L. O'Keefe, retired magazine editor, Chappaqua, N.Y., on August 29, 2012. O'Keefe was born on February 25, 1928, in Jersey City. He earned a Ph.D. at The New School for Social Research and studied at St. Catherine's College Oxford as a Rotary Fellow. His journalism career started in high school with speeches around the country for Junior Achievement. O'Keefe had a New York radio show, "Youth Demands the Answer," but was fired when an on-air fistfight broke out between guests. A Reader's Digest editor, he worked with writers such as Ray Bradbury, Ishmael Reed and Czeslaw Milosz. His book, Stolen Lightning: The Social Theory of Magic (1982), was a National Book Critics Circle Award nominee. In a New York Times paid death notice, John Leonard said, "Not since Marx, Darwin and Freud has there been anyone so opinionated" and "Mr. O'Keefe is a better writer than Darwin." O'Keefe's invented family holiday, "Festivus," appeared in a Seinfeld episode, written by his son Daniel. Each weekend in a Chappaqua bar, he spoke multiple languages with his wife and anyone else who would listen; he spoke 40 languages in all, with varying accuracy. O'Keefe is survived by his wife, Deborah; sons Daniel, Laurence and Markham; and one grandson.
1952
Mark Flanigan, retired naval officer, Washington, D.C., on May 26, 2012. Flanigan was born on October 5, 1930, in Manhattan. He was commissioned in 1955 and began service in the Office of Naval Intelligence. In 1965, after completing his first tour of active duty, Flanigan returned to Morningside and served for four years as assistant dean of the College, with responsibilities including the direction of Columbia's Upward Bound compensatory education program. Coaching Columbia's 1966–67 College Bowl team, Flanigan told Spectator: "I am the only coach on campus with an undefeated, untied and unscored-on team." Resuming active duty, he co-authored recommendations to the chief of naval personnel for countering the 1969 NROTC crisis on the nation's campuses, which Flanigan had experienced as assistant dean. He earned an M.A. in modern European comparative literature at Harvard (1960) and taught at Columbia, Hunter and the Defense Intelligence School. Flanigan retired in 1990 with the rank of captain and had been awarded the Navy Commendation Medal. He is survived by his wife, the former Doris Rohte '53 Barnard, and their daughters, Page and Meg.
1954
Peter D. Ehrenhaft, attorney, Washington, D.C., on July 25, 2012. Ehrenhaft was born in Vienna, Austria, and came with his family to the United States in 1938. He grew up in Queens. Ehrenhaft served in the Air Force and reached the rank of colonel in the Air Force Reserve. He simultaneously earned degrees from the Law School and SIPA in 1957 and went to Washington, D.C., in 1961 to serve as senior law clerk to U.S. Chief Justice Earl Warren. He then entered private practice and, in 1968, became a partner at the firm then known as Fried, Frank, Harris, Shriver & Kampelman. In 1977, Ehrenhaft joined the Department of the Treasury as deputy assistant secretary for tariff affairs. He returned to private practice in 1980 and was a partner in the Washington offices of several firms. In the late 1980s, Ehrenhaft was an appellate military judge with the Air Force Court of Military Review. He was a lecturer at The George Washington University Law School from 1965–72 and at Penn's law school in the 1980s. Survivors include his wife of 54 years, Charlotte Kennedy Ehrenhaft; children, Elizabeth Rankin, James and Daniel '93; a brother; and six grandchildren.
Other Deaths Reported
Columbia College Today also has learned of the following deaths. Complete obituaries will be published in an upcoming issue, pending receipt of information. Due to the volume of obituaries that CCT receives, it may take several issues for the complete obituary to appear.
| | |
| --- | --- |
| 1932 | Vincenzo R. Onorato, Carmel, Calif., on February 20, 2013. |
| 1939 | Robert L. Pelz, attorney, New York City, on March 30, 2013. |
| 1940 | Albert S. Benoist, artist, author and futurist, retired architect, Monmouth Beach, N.J., on September 20, 2012. |
| | Melvin H. Intner, Maplewood, N.J., on March 30, 2013. |
| 1942 | Arthur E. Smith, Venice, Fla., on April 12, 2013. |
| 1944 | Richard E. Bader, physician, New York City, on April 16, 2013. |
| | Howard H. Wilson, Three Mile Bay, N.Y., on January 30, 2013. |
| 1945 | Louis A. Collins, Boonton, N.J., on April 3, 2013. |
| | Charles A. Kiorpes, retired business executive, Palm City, Fla., on March 22, 2013. |
| 1946 | S. Irving Sherr, door corporation executive, Sarasota, Fla., on March 24, 2012.. |
| 1948 | Donald L. Auperin, Amityville, N.Y., on February 10, 2013. |
| | Merrill L. Brockway, director and producer, Santa Fe, N.M., on May 2, 2013. |
| 1951 | Robert Nielsen, retired teacher and guidance counselor, Senior Olympian, Montgomery, Ala., on March 15, 2013. |
| | Allan W. Robbins, Alexandria, Va., on March 3, 2013. |
| 1952 | David A. Braun, attorney, Montecito, Calif., on January 28, 2013. |
| 1953 | Aristide R. Zolberg, professor emeritus, New York City, on April 12, 2013. |
| 1954 | A. Joshua Sherman, attorney, investment banker, academic, Middlebury, Vt., on April 6, 2013. |
| 1956 | William V. Silver, advertising display executive, New York City, on May 8, 2013. |
| 1958 | Myron Bander, Myron Bander, professor of physics and astronomy, Newport Beach, Calif., on December 19, 2012. Leon Mir, Brookline, Mass., on February 23, 2013. |
| | Leon Mir, Brookline, Mass., on February 23, 2013. |
| | Warren C. Smith, retired teacher, Hampton Bays, N.Y., on January 20, 2013. |
| 1959 | Allan D. Gardner, retired advertising executive, Hillsborough, Calif., on March 19, 2013. |
| 1960 | David S. David, nephrologist, Beverly Hills, on April 9, 2013. |
| | Norman E. Hildes-Heim, architect and international hotel developer, Fairfield, Conn., on March 20, 2013. |
| 1963 | Byron C. Cohen, art gallery owner, Kansas City, Mo., on May 10, 2013. |
| 1967 | John L. Dent, Etobicoke, Ontario, Canada, on May 7, 2013. |
| | Joel A. Linsider, retired, Jerusalem, on June 28, 2012. |
| 1972 | Harvey S. Hirsch, psychiatrist, New York City, on March 13, 2013. |
| 1977 | Paul R. Pastorini, physician, New London, N.C., on September 28, 2012. |
| | Mark V. Sutton-Smith, Swarthmore, Pa., on March 12, 2013. |
1955
Samuel Astrachan, novelist, Gordes, France, on August 5, 2012. Astrachan, who was born in the Bronx in 1934, wrote most of his first novel, An End to Dying, during his junior and senior years at Columbia. He married Claude Jeanneau in 1960 and began dividing his time between the South of France and the United States. He taught creative writing at Wayne State University in Detroit for one semester of every year starting in 1971 until his retirement in the late 1990s. Astrachan is survived by his wife; son, Isaac-Daniel '90; daughter-in-law, Meghan Farley; and one grandson, as well as his books: An End to Dying (1956), The Game of Dostoevsky (1965), Rejoice (1970), Katz-Cohen: A Saga of Three Generations (1978), Malaparte in Jassy (1989, 1994), Hotel Sevilla: Rockaway Beach (1996), Le General, Ses Filles (1998), Dans les Jardins De La Marquise (1999), Winston (2001) and Treife: la fable de l'architecte (2004).
James J. Phelan Jr., bank executive, New York City, on May 21, 2012. Phelan was born on May 7, 1931, in New York City. A Marine Corps veteran of the Korean War, he earned a business administration degree in 1970 from Adelphi. Exposed to Wall Street at 16 as a runner for his father's firm, he swore he "would never work on Wall Street again," recalling in Institutional Investor that "the pay was low, the trip [from home] was terrible, and the job was awful. I thought there must be a better way to make a living." In 1957, however, he rejoined his father's specialist firm, which became known as Phelan & Co., and became managing director after his father's death in 1966. As New York Stock Exchange president (1980–84), he was instrumental in Wall Street's multimillion-dollar investment in the computerization of many of the Big Board's high-tech operations. He then became chairman and chief executive from 1984–90. Phelan was commended for his response to the Black Monday crash of 1987, telling The Wall Street Journal at the time, "If we close it [the market], we would never open it." Survivors include his wife of 57 years, Joyce Campbell Phelan; sons, John '85, Peter and David; sister, Elizabeth Lawlor; and six grandchildren.
1961
Thomas E. Bratter, psychologist, Salisbury, Conn., on August 3, 2012. Bratter was born on May 18, 1939, and grew up in, Scarsdale, N.Y., where he also raised his family.He earned a degree from Teachers College and worked at The John Dewey Academy, a residential high school for bright, troubled adolescents in Great Barrington, Mass., which he established. He is survived by his wife of 49 years, Carole Jaffe Bratter; daughter, Barbara '90; son, Edward '87; daughter-in-law, Andrea; three grandchildren; and siblings Nancy Phillips, Nancy Polikoff and Stanley Newman. Memorial contributions may be made to The John Dewey Academy c/o Mario Verdolini, 450 Lexington Ave., New York, NY 10017.
1963
Gilbert W. Einstein, artists' representative, New York City and Wilmington, Mass., on September 21, 2012. Einstein was born in New York City in 1942 and graduated from Bronx Science. After his College graduation he enlisted in the Navy, where he served as Lt. j.g. in the U.S. Pacific Fleet during the early part of the Vietnam War. In 1967 Einstein returned to New York and earned an M.B.A. from the Business School in 1968. In 1972 he incorporated G.W. Einstein Co., which represents a select group of contemporary fine artists and specializes in 20th-century works on paper. It was there that Einstein met painter Anne MacDougall; they married in 1981. Einstein had an encyclopedic knowledge of jazz, loved going to the theatre and was an avid reader. He also took great pleasure in cooking for family and friends, smoking a fine cigar, flopping the nuts at the poker table and watching a winning New York Yankees season. He is survived by his wife; sister, Carol Einstein Neukomm; daughter, Susanna Einstein and son-in-law, David Zimmerman; stepson, Ashton Chandler MacDougall Ballou, and step-daughter-in-law, Laura Williams Ballou; four grandchildren; and first wife, Nancy York.
1964
Frederick H. Levine, retired cardiovascular and thoracic surgeon, Amherst, Mass., on September 18, 2012. Levine was born in Brooklyn, N.Y., and grew up in Queens. At Columbia he was a member of Beta Sigma Rho, the Columbia College Citizenship Council, the Seixas Society and the Pre-Med Society and wrote for Spectator. He earned an M.D. from Harvard, cum laude, in 1968 and was elected to the Alpha Omega Alpha Honor Medical Society. Levine completed his training at Massachusetts General Hospital in Boston and served in the U.S. Public Health Service for two years at the National Institutes of Health National Heart, Lung, and Blood Institute. He was on the staff at MGH and an associate professor at Harvard Medical School until he was named chief of cardiovascular and thoracic surgery at Detroit Medical Center Sinai-Grace Hospital. Levine was a member of the American College of Surgeons, the Society for Vascular Surgery, the Society of Thoracic Surgeons and the American Association for Thoracic Surgery. He is survived by his wife, Patricia '65 Barnard; daughters, Shira and Hallie; sons-in-law, Mark Enstrom and Jamie Sklar; brother Gary; and five grandchildren.
1972
Peter V. Darrow, attorney, New York City and Sag Harbor, N.Y., on May 19, 2013. Darrow was born in Ann Arbor, Mich., and earned a master's from Trinity College, Oxford. In 1978, he graduated from Michigan Law. During his 35 years as a corporate attorney Darrow was a partner in two firms, Mayer Brown and DLA Piper. He was president of the Columbia Chapter of Alpha Delta Phi and helped the chapter's alumni group acquire the AD house from Columbia in the 1990s. Darrow was chairman of the board of The Cambodia Trust as well as on the board of Everybody Wins. He began rowing in 1968 at Columbia and in 1998 organized a team reunion to compete in the Head Of The Charles Regatta in Cambridge, Mass., a tradition maintained for several years. Last year Darrow raised funds to purchase a shell for Columbia's women's crew team. After their mother died of cancer in 2001, Darrow and his brother, Duncan '71, established Fighting Chance, a free-of-charge cancer resource center. Darrow is survived by his wife, Denise V. Seegal; brother; children from a former marriage, Meredith '04 and Peter; and sister-in-law, Wendy. Memorial contributions may be made to Fighting Chance – Free Cancer Counseling Center, PO Box 1358, Sag Harbor, NY 11963.
1991
Juan J. Calderon, attorney, San Antonio, Texas, on June 12, 2012. Calderon was born in Mexico on November 23, 1968. As an attorney on the Southside of San Antonio, he was affectionately known as "el abogado de los Latinos." Calderon was a dedicated Spurs fan and season ticket holder. He is survived by his parents, Alfredo and Sara; brothers, Alfredo Jr. and his wife, Aurora, and Otoniel "Tony"; sister, Claudia; three nieces; a nephew; and two goddaughters.
1997
Laura L. Tatum '97Laura L. Tatum, architectural records archivist, Guilford, Conn., on October 13, 2012. Tatum was born on October 5, 1975, in Astoria, Ore. At the College, she discovered her professional and personal callings: the professional via work at Columbia's Avery Architectural & Fine Arts Library, and the personal through her delight in the vibrancy of life in New York City. Upon graduation, Tatum took a position in the MoMA library before returning to school to earn an M.S.I. in library and information services in 2002 from the University of Michigan. Tatum spent much of her career in Manuscripts and Archives at Yale University Library; she worked at UC Berkeley for one year and in 2011 joined the Canadian Centre for Architecture in Montreal. She held leadership roles with the Society of American Archivists and the International Confederation of Architectural Museums. Tatum also often wrote about food, keeping a blog and contributing to several books. She is survived by her husband, Andy Benner; sister Jesse; brother Mitchell; and parents, Bill and his wife, Lynda. She was predeceased by her mother, Teresa Karch Tatum. Memorial contributions may be made to The Center for Land Use Interpretation or the Connecticut Food Bank.
Lisa Palladino