Roar, Lion, Roar
Baseball Wins 11th Ivy League Crown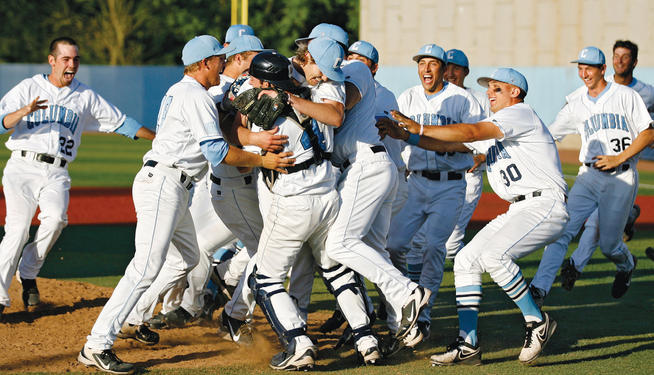 Columbia's baseball team celebrates near the pitcher's mound after sweeping Dartmouth to clinch the Ivy League championship. PHOTO: MIKE McLAUGHLIN
Columbia's baseball team won its second Ivy League championship in six years and 11th title overall, sweeping a doubleheader against Dartmouth at Robertson Field at Satow Stadium on May 4 to capture the 2013 Ivy crown.
Columbia then posted its first win in NCAA tournament play by beating New Mexico 6–5 in 13 innings on June 1. The Lions had scored five runs in the eighth inning to tie the game and won it in the 13th on an RBI single by Nick Crucet '13. Although Columbia was eliminated from the Regionals after losses to host Cal State Fullerton and Arizona State, the Lions finished the season with a 28–21 record and matched their record for most victories in a season, set in 1987.
The Lions won a school-record 16 Ivy League games during the regular season, capturing the Lou Gehrig Division with a 16–4 record. Then they swept Red Rolfe Division champion Dartmouth in the best-of-three playoffs, winning 6–5 in 10 innings in the first game and 12–5 in the second game."It feels great," pitching ace David Speer '14, who compiled a 6–2 record and a 2.17 ERA during the regular season, told Spectator. "I've been imagining this since the year started — since my playing career started, really. It couldn't be better. Everything we've worked so hard for this year is coming through, finally."
"The guys worked their butts off all year and it's great to see it come to fruition," said coach Brett Boretti, whose team last won the title in 2008 and lost to Dartmouth in the 2010 playoffs.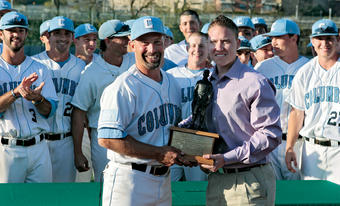 Coach Brett Boretti accepts the Williams Clarence Matthews Championship Trophy from Matthew Singer of the Ivy League. PHOTO: MIKE McLAUGHLIN
Speer had 12 strikeouts in the opening game against Dartmouth and reliever Kevin Roy '16 worked his way out of a no-out, bases-loaded jam in the 10th inning without allowing a run before Gus Craig '15 delivered the game-winning RBI single in the bottom of the 10th. Columbia broke the second game open by scoring six runs in the seventh inning, with Ferraresi's two-run double breaking a 5–5 tie and putting the Lions ahead to stay.
By winning the Ivy League title, Columbia became the first team to earn a berth in the NCAA Regionals. Speer, shortstop Aaran Silbar '14 and outfielder Jordan Serena '15 were named to the All-Ivy first team; pitcher Joey Donino '14, catcher Mike Fischer '14, first baseman Alex Black '13 and designated hitter Joey Falcone '15 GSAS made the second team; and Roy and pitcher Tim Giel '13E received honorable mention.
Bartnik Leads Lions to First Women's Tennis Title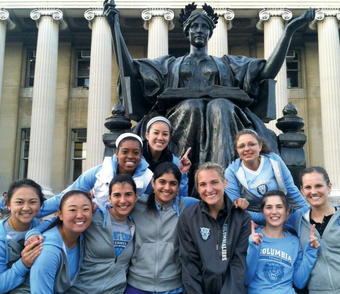 Columbia's women's tennis team gathers at the base of Alma Mater to celebrate winning the first Ivy League championship in school history. PHOTO: GENE BOYARS
In two seasons, Columbia's women's tennis team has gone from worst to first.
The Lions, who finished last in the league with a winless record just two years ago, captured a share of the first Ivy League title in school history by sweeping Princeton 7–0 on April 21. Columbia, led by two-time Ivy League Player of the Year Nicole Bartnik '13, finished the season at 6–1 in the Ivies and 13–5 overall, both program bests. Yale shared the crown with Columbia at 6–1 and advanced to the NCAAs by virtue of a 5–2 win over the Lions on April 14.
"In our first meeting of the year, I told the team that we had one and only one goal and that was to win the title," head coach Ilene Weintraub '02 said. "That was the first and last time I ever talked about it or allowed them to speak of it. Instead, we focused on the process and on the little things."
Weintraub added that she told the team that winning a championship "would require tremendous sacrifice on their part and when it happens in the end, then we would celebrate. Today is that day."
Bartnik was undefeated in Ivy singles play for the second consecutive season and earned All-Ivy first team honors for the third consecutive year. She was joined on the All-Ivy first team by Bianca Sanon '14, who earned the honor both in singles and in doubles, with Kanika Vaidya '16. Vaidya earned second team honors in singles, as did Bartnik and her doubles partner, Crystal Leung '15.
"This year, everyone was on the same page and was putting in 100 percent every day — every time they stepped on the court, or every time they went to the weight room," Bartnik said. "It just feels so great to have all your hard work pay off."
Columbia swept four of its Ivy opponents and compiled a 7–0 record at home in its memorable season.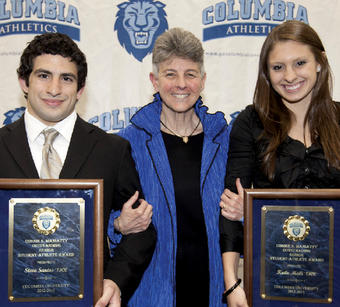 Wrestler Steve Santos '13 and swimmer Katie Meili '13 are congratulated by Director of Athletics M. Dianne Murphy upon being presented the Connie S. Maniatty Outstanding Senior Scholar-Athlete Awards. PHOTO: GENE BOYARS
Meili, Santos Honored at Varsity C Celebration
Swimmer Katie Meili '13 and wres­tler Steve Santos '13, both of whom finished third in the nation in their events, were presented with the Connie S. Maniatty ['43] Outstanding Senior Student-Athlete Awards at the 92nd Varsity C Celebration at Levien Gymnasium on April 30.
Meili, the Most Outstanding Swimmer in the last two Ivy League Championships, won seven Ivy titles and was part of three relay championship teams during her College career. She holds three Ivy records and 10 school records — five individual events and five relays. She finished third in the 100 breaststroke at the NCAAs to earn All-America first team status.
Santos, who wrestled at 149 lbs., won the first 15 matches of his senior season and concluded the campaign by becoming Columbia's 19th individual Eastern Intercollegiate Wrestling Association champion and then placing third in the NCAAs, the highest finish ever for a Columbia wrestler. He was recognized by the website Flo Wrestling as the most improved NCAA Division I wrestler of the 2012–13 season.
The Athletics Alumni Awards were presented to George Van Amson '74 and Ari Brose '84 Barnard. Van Amson, who was a University Trustee from 1996–2008, competed in football and baseball at Columbia. Brose was a distance runner who captained the first women's cross country and track and field teams to compete as Columbia Lions after the establishment of the Columbia-Barnard Athletic Consortium.
Archery Wins at Nationals
Columbia won the 2013 Archery National Championship, defeating Cal State-Long Beach 7–4 at the U.S. Collegiate Archery Association Outdoor US Intercollegiate Archery Championship event on May 18 in Cedar City, Utah. The Lions received a bye, then beat Atlantic Cape CC 4–0 and James Madison 5–4 to earn its spot in the finals.
In the women's recurve division, Sarah Bernstein '15 Barnard won the individual bronze medal by defeating Cal State-Long Beach's Kalie Sabajo. Bernstein was joined by teammates Tiffany Kim '16 and Grace Kim '15 in the top eight medal finishers to earn both All-American and All-Academic honors.
Campbell Sports Center scoreboard
2 times that Nicole Bartnik '13 was named Ivy League Women's Tennis Player of the Year.
7 Student-athletes named to Phi Beta Kappa.
9 Baseball student-athletes named All-Ivy League.
21 Outdoor track and field student-athletes who qualified for the NCAA Track and Field East Regional.
For the latest news on Columbia athletics, visit gocolumbialions.com.