Web Exclusive
Reunion and Dean's Day 2013
---
---
Alumni Reunion Weekend Class Photos
Download the full-sized image to view larger or to print.
Class of 1943: Class members who registered for reunion were (left to right) Giulio D'Angio, Bernard Weisberger and Immanuel Lichtenstein. PHOTO: MICHAEL DAMES
Download the full-sized image to view larger or to print.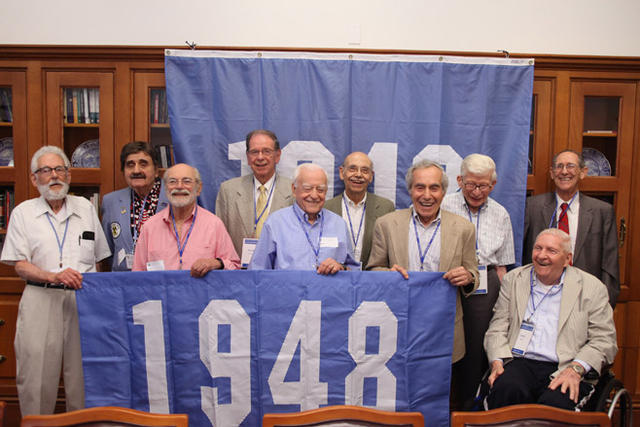 Class of 1948: Class members who registered for reunion were John Bottjer, David Burstein, George Dermksian, John Eagan, Sidney Fink, Herbert Goldman, Charles Schultz, Robert Silbert and Alan Steinberg. PHOTO: MICHAEL DAMES
Download the full-sized image to view larger or to print.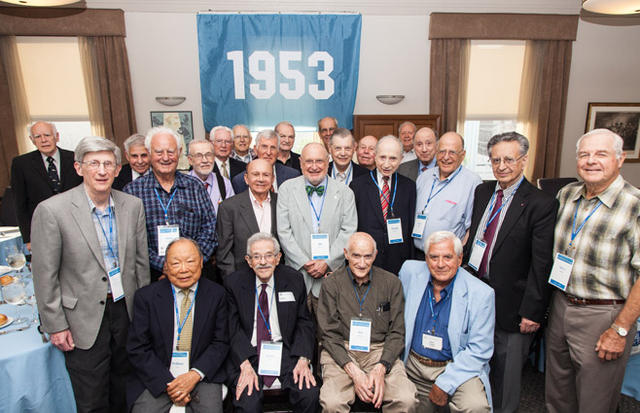 Class of 1953: Class members who registered for reunion were Allan Jackman, Stanley Alt, Richard Auwarter, George Barth, Peter Carbonara, Edward Clark, John Condemi, Joel Danziger, Morton Freilicher, William Frosch, Larry Harte, Eliot Hearst, Seymour Hendel, Gordon Henderson, Arthur Hessinger, John Huneke, Jay Kane, Richard Kleid, George Lowry, Pete Pellett, Gerald Pinsky, Martin Rabinowitz, Stephen Reich, Harry Rice, Lewis Robins, Jules Ross, Nicholas Samios, Stanley Sklar, Michael Sovern, James Steiner, Robert Walzer and William Won. PHOTO: SUSAN COOK
Download the full-sized image to view larger or to print.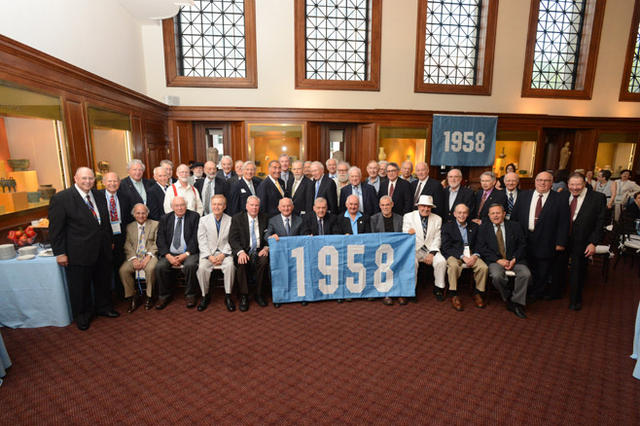 Class of 1958: Class members who registered for reunion were Morris Amitay, Henry Barbour, George Bear, Ernest Brod, Ira Carlin, Roger Castiglione, Peter Cohn, Joseph Coogan, John Diaz, Barry Dickman, Joe Dorinson, Russell Ellis, Tom Ettinger, Charles Feuer, Harvey Feuerstein, Arthur Freeman, Robert Furey, Charles Golden, Paul Gomperz, Ira Goodman, Charles Goodstein, Peter Gruenberger, Peter Guthery, Morton Halperin, Laurence Harris, Robert Hartman, Paul Herman, Floyd Hollister, Stuart Huntington, Robert Jespersen, George Jochnowitz, Steven Jonas, Maurice Katz, Harvey Kibel, Stephen Klatsky, Henry Kurtz, Arthur Levine, Robert Levine, John McGroarty, William Morrill, John Munyan, Bernard Nussbaum, Howard Orlin, Howard Presant, Sheldon Raab, Arthur Radin, Neville Robbins, Sidney Rosdeitcher, David Rosen, Robert Rosen, Stanley Schachne, Irwin Sharkey, Stuart Siegell, Carl Stern, George Stern, Ted Story, Robert Waldbaum, Mark Weiss and Leonard Zivitz. PHOTO: EILEEN BARROSO
Download the full-sized image to view larger or to print.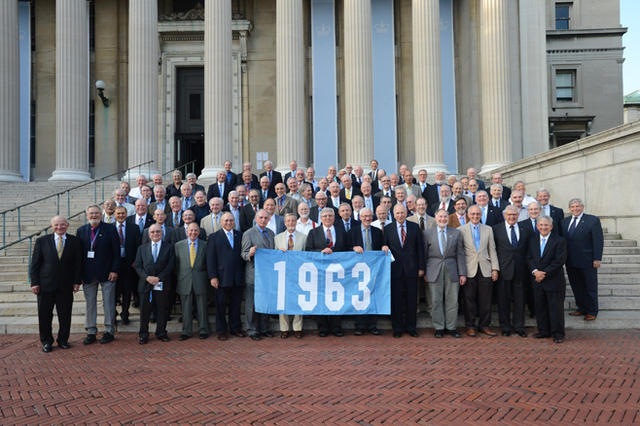 Class of 1963: Class members who registered for reunion were Roy Adaniya, David Alpern, Doug Anderson, Charles Angell, Lawrence Apple, Joseph Applebaum, Stephen Barcan, Herb Bernstein, Robert Bilenker, Henry Black, Michael Bowler, Stephen Brady, Myron Brenner, Peter Broido, William Burley, Charles Cantor, Harvey Cantor, James Cleven, Stephen Clineburg, Edmond Coller, S. Robert Contiguglia, C. Jeffrey Cook, F Lowell Curtis, Michael DiLorenzo, Richard du Busc, Gerald Dwyer, Jack Ebetino, Richard Eisenberg, Ira Epstein, Michael Erdos, Joel Felner, Roger Fine, Allen Frances, Harley Frankel, Philip Friedman, Stanley Gering, Andrew Glassberg, Richard Gochman, William Goebel, Peter Gollon, Doron Gopstein, Evan Gordon, Robert Heller, David Hitlin, Thomas Homburger, Stephen Honig, Farhad Idjadi, Alan Jacobs, Richard Juro, Sidney Kadish, Bruce Kaplan, Paul Kimmel, Edward Kosberg, Huai Han Kung, Barry Landau, Stephen Langfelder, Paul Lehrer, Conrad Levenson, Andrew Lewin, Lawrence Litt, Lee Lowenfish, Michael Lubell, Aaron Malakoff, Ira Malter, Donald Margolis, Donald Martin, Kenneth Master, John McMullen, Charles Miller, Hasso Molineus, Joel Moses, Seymour Moskowitz, Paul Muench, Michael Mukasey, A. Paul Neshamkin, Lawrence Neuman, Gary Nyman, William O'Connell, Thomas O'Connor, David Orme-Johnson, Francis Partel, Daniel Perl, David Pittinsky, Dave Plump, Robert Podell, Robert Prenner, Donald Putnoi, Maynard Rabinowitz, Gary Rachelefsky, Robert Ratshin, Barry Reiss, Victor Revenko, James Rodgers, Robert Rodvien, Elias Rosenblatt, Ira Rudin, Harry Saal, Phillip Satow, David Saxe, Ralph Schmeltz, Harvey Schneier, Albert Shapiro, Robert Shlaer, Martin Smithline, Stanley Sperber, Frederick Spin, Howard Spodek, Walter Stein, David Stern, Geoffrey Thompson, Frederick Toback, Benjamin Tua, Bruce Wechsler, Alan Wilensky, Carey Winfrey, Stanley Yancovitz, Rob Zev Bar-Lev, Gil Zicklin, Nicholas Zill and Peter Zimroth. PHOTO: EILEEN BARROSO
Download the full-sized image to view larger or to print.
Class of 1968: Class members who registered for reunion were Ross Ain, Jon Bauman, Edward Britt, Arthur Brown, Robert Carlson, Charles Coward, Paul deBary, Patrick Dumont, Paul Gallagher, Arthur Gallancy, Ira Goldberg, John Grant, Joshua Guttman, Andrew Herz, Leslie Jackson, Mark Jacobs, Peter Janovsky, Tony Kao (Ko), Arthur Kaufman, Michael Kronstadt, Jeffrey Kurnit, Bruce Levin, Robert Levine, William McDavid, Paul Migliore, Victor Miller, Douglas Motz, Gene Murrow, Russell Needham, Louis Neistadt, Steven Ney, Nigel Paneth, Patrick Patterson, Lorey Pollack, Robin Resnick, Russell Ricci, Jeffrey Rosen, Richard Rosenblum, John Roy, James Shorter, Edward Siegel, Robert Siegel, Kenneth Slater, John Slattery, Arthur Spector, Paul Spirn, Lawrence Susskind, Masahiko Taketomo, George Ting, Kenneth Tomecki, Randy Vaughan, Robert Weisell, Alan Weiss, Gregory Winn, Roger Wyatt and Alan Zucker. PHOTO: RICHARD D. COLE
Download the full-sized image to view larger or to print.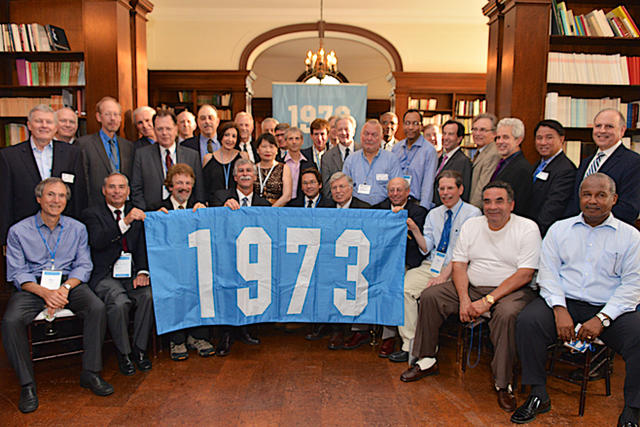 Class of 1973: Class members who registered for reunion were Alan Bell, Michael Byowitz, Steven Cantor, Richard Canzonetti, John Chan, Francis Dermody, Stephen Donovan, Louis Erlanger, Stephen Flanagan, Gary Friday, Gregory Gall, Robert Gallup, David Goldman, Andrew Goldwasser, Howard Gould, Gregory Gall, Marc Gross, Ronnie Heifetz, Jeffrey Herrmann, Jonathan Jacobson, Marc Jaffe, Mark Jarrett, William Jones, Nanda Kirpekar, Christopher Koefoed, Theodore Li, Nicholas Lubar, James Minter, Lawrence Momo, Paul O'Keefe, Stephen Pellino, Robert Pruznick, Sam Radin, Harlan Rips, Peter Sanderson, Marc Schildkraut, William Schmidt, Frederic Schneider, Maimon Schwarzschild, Michael Silverman, Maurice Silverman, Steven Sims, Allan Solomon, Jerome Spunberg, Ross Staffeldt, Stewart Sterk, James Thomashower, Raymond Vastola, Louis Venech, Henry Weisman and Benjamin Zibit. PHOTO: CHRIS BALMER '07
Download the full-sized image to view larger or to print.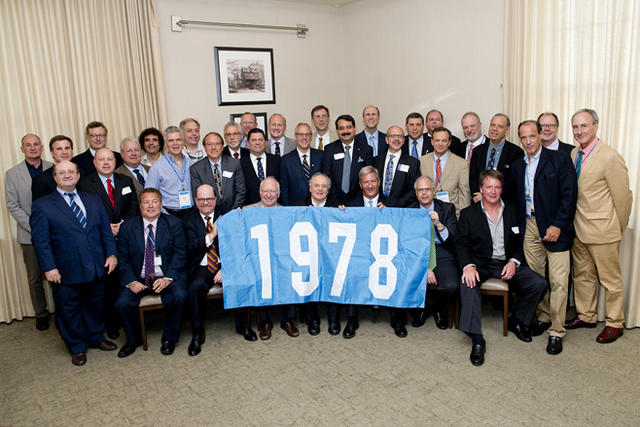 Class of 1978: Class members who registered for reunion were Timothy Alvino, Steve Bargonetti, Thomas Bisdale, Robert Blank, Ric Burns, Charles Callan, Danny Chen, Martin Cicco, Paul Cutrone, Edward Deitch, Christopher Dell, Alex Demac, Joshua Dratel, Ted Faraone, Alfred Feliu, Edward Ferguson, John Flores, Kevin Fox, Jonathan Freedman, David Freinberg, Joseph Giovannelli, Michael Glanzer, Joseph Greenaway, James Hill, Myron Levitt, Robert Lewton, John MacArthur, Dean Margolis, Thomas Mariam, Hugh McGough, David Melamed, Charles Meltzer, Evan Miller, Matthew Nemerson, Paul Phillips, Thomas Reuter, Kenneth Rose, Frederick Rosenstein, Allen Rothman, Nicholas Serwer, Marvin Siegfried, Mark Silverschotz, Donald Simone, Mark Stanford and Daniel Steigman.PHOTO: LYNN SAVILLE
Download the full-sized image to view larger or to print.
Class of 1983: Class members who registered for reunion were Bruce Abramson, Bertrand Alexis, Steve Arenson, Andrew Barth, Roger Blumberg, George Bogdan, Thomas Bow, Gerrard Bushell, Paul Canning, Kevin Chapman, Kenny Chin, Nathaniel Christian III, Steven Coleman, David Coplan, Mark Darlington, Robert Davis, Daniel Dean, Philip Dolin, Robert Drew, David Einhorn, Eric Epstein, Carl Faller, Seth Farber, George Fryer, Bob Gamiel, Ben Geber, Andrew Gershon, Elihu Gordis, Jonathan Green, Steven Greenfield, Myles Hansen, Lawrence Herman, David Hershey-Webb, Stephen Holtje, Daniel Jaffe, Thomas Johns, Edward Joyce, Robert Kahn, Joseph Keeney, Mark Kerman, John Kiernan, David Klein, Yu Jin Ko, David Kriegel, Miles Ladenheim, Paul Lerner, Larry Lester, Jay Lippman, Daniel Loeb, Robert Lucero, David Lyle, Anthony Marcus, Nick Mayer, Gary McCready, Mark McMorris, Geoffrey Mintz, Mark Momjian, Nicholas Paone, Ramon Parsons, P.J. Pesce, Roy Pomerantz, Richard Pressman, David Propert, Othon Prounis, Barry Rashkover, Peter Ripin, Wayne Root, Steven Rubenstein, Paul Saputo, Reynolds Scott-Childress, Gardner Semet, Marty Shore, Peter Simonson, Elliot Sloane, Neal Smolar, Darius Sollohub, Matthew Stedman, Joseph Sullivan, Mark Warner, Eric Wertzer, George Wilson and Chris Wood. PHOTO: SUSAN COOK
Download the full-sized image to view larger or to print.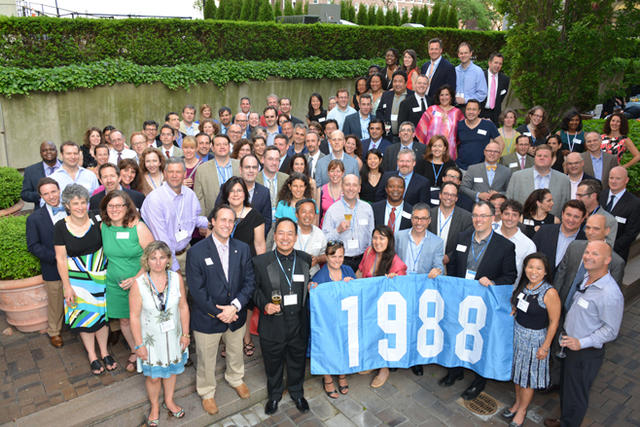 Class of 1988: Class members who registered for reunion were Erica Avrami, David Barres, Jonathan Bassett, Jessica Bendinger, James Bernfield, Sam Bloom, Chris Browne, Monica Byrne-Jimenez, Anthony Calenda, Ahmet Can, Ashley Charnoff, Matthew Cooper, Alexandra Wallace Creed, Carlos Cruz, Robert Daniel, Tony Daniels, Jeremy Dickstein, Madeline Djerejian, Graham Dodds, Daniel Drenger, Giuliana Dunham Irving, Deborah Field, Tina Fischer, Kristine Flynn, David Fondiller, James Friedman, Catherine Froman, Cornelia Gallo, Michael Girouard, Leslie Gittess Brodsky, Abraham Glazer, Russell Glazer, Aaron Gleckman, Jacob Goldberg, Daniel Goldberger, Michael Gordon, Andrea Groder, Daniel Grunebaum, David Gutterman, Thomas Halasz, Helaine Harte, A. Peter Harwich, Kristin Henikoff, Shari Hyman, Henry Jackman, Sara Just, Leah Karliner, Deborah Kassel, Stefanie Katz-Rothman, Farah Khakee, Patrick Killackey, Ayame Konishi, Brandon Laughren, Jonathan Lavine, Nicholas Leone, Kelvin Leung, Jill Levey, Sharon Levin, Martin Lewison, Pete Lukowitsch, Yuri Lustenberger-Kim, Karen Mahoney, Frank Marinaro, Jennifer McCarthy, Anthony Mechcatie, Brett Miller, Melissa Mirkin, Gerald Mullarkey, Lauren Mullen, Matthew Murabito, Regina Noch, Patience Okolie, Diane Orlinsky, Pamela Perry, Samantha Pirkowski, Ellen Pluta, Ramona Prioleau, Claudia Rimerman, Rich Ritter, Maria Roglieri, Jonathan Rosand, Jonathan Roskes, Jonathan Roth, Heather Ruddock, Stanley Sagner, Stephen Sagner, Michael Satow, Durc Savini, Carl Schaerf, Deborah Schenfeld, Kathryn Schneider, Stephanie Schwartz, William Seeley III, Hal Shapiro, Jacqueline Shire, Steven Silverstein, Ravi Singh, Jonathan Sobel, Elizabeth Spencer, Steven Stastny, Aaron Stern, Stephanie Sudikoff, Mark Timoney, Jennifer Tower, Margaret Traub Aguirre, John Vaske, Rebecca Weiker, Jonathan Weiss, Stephen West, Batia Wiesenfeld, Marie Williamson, Betsy Witten, Douglas Wolf, William Woo and Sean Wright. PHOTO: CHRIS BALMER '07
Download the full-sized image to view larger or to print.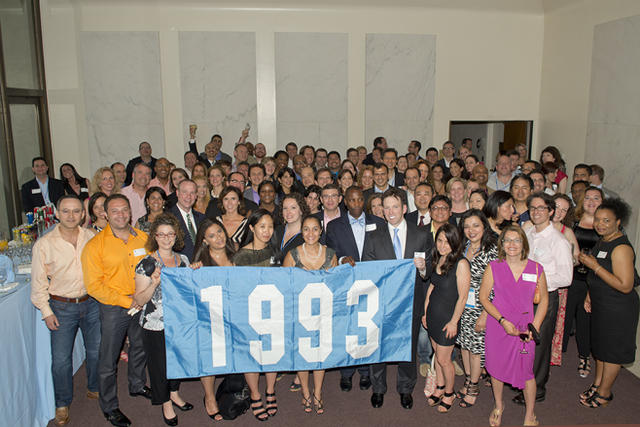 Class of 1993: Class members who registered for reunion were Amanda Aaron, Nina Abraham Lieberman, Rohit Aggarwala, Amy Ahn, Laphillia Andrews, Risa Arbolino, Jessica Auth, John Balestriere, Alyson Berliner, Alice Bers, Ben Besley, Adrian Bordoni, Andrew Borrok, James Boyd III, Andrea Boykowycz, Paul Bua, Elena Cabral, Jaishree Capoor, Richard Carrick, Andrew Ceresney, Kwon-Kyun Chung, Alan Cohn, Christine Coster, Joel Cramer, Jennifer Dahlberg, Melissa Dallal, Melissa de la Cruz-Johnston, Rosalind Dear, Matt DeFilippis, Isaiah Delemar, Sean Doherty, Sandra Fahy, Shiva Farouki, David Fellerath, Adam Fels, Alan Freeman, Miriam Friedlander, Israel Friedman, Leyre Goitia, Addison Golladay, Marguerite "Betsy" Gomperz, Wendy Haley, Molly Harris, George Hassan, Julie Hassan, Diego Hoic, Catherine Hong, Damon Horowitz, Chaumtoli Huq, Grace Hyun Lang, Miguel Iriarte, Sandra Johnson, Elizabeth Kaplan, David Kardon, Jeffrey Kelly, Ezra Kenigsberg, Dennis Kiely, Yumi Koh, Devraj Lahiri, Jennifer Larrabee, Joseph Laszlo, Patti Lee, Karla Lema, Grace Leung, Ricardo Lima, Linda Lipsius, Joel Lusman, Robert Marks, Aileen Martin, Rachel Mintz, Chad Moore, Diana Morales-Bories, Stephen Morfesis, Niza Motola, Rhanda Moussa, Matthew Murphy, Gina Neff, David Ng, Wun-Yee Ng, Tam Ngo, Sara Niego, Kristina Nye, Kerry Ogle, Rita Pietropinto-Kitt, Seth Pinsky, Rebecca Polyakovsky, T. Jackie Quan, Maria Ricci, Joseph Saba, Benjamin Sacks, Sharadchandra Samy, Arsenio Santos, Andrew Schmeltz, Grissel Seijo de Garcia, Thad Sheely, David Shimkin, Michele Smith, Joshua Spodek, Matthew Streem, Michael Taylor, Alison Towle, Robyn Tuerk, Erika Tullberg, Neil Turitz, Rose Ugarte-Gee, Tracy Palmieri Whelan, Margaret Wolf, Jennifer Woods, David Worenklein, Lorenzo Wyatt, Dario Zagar and Jonathan Zellan. PHOTO: LYNN SAVILLE
Download the full-sized image to view larger or to print.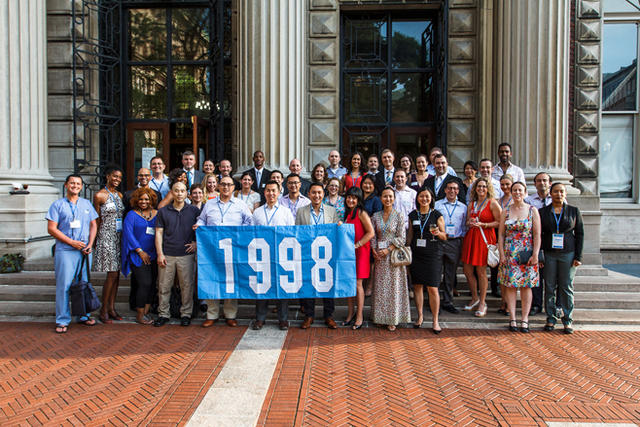 Class of 1998: Class members who registered for reunion were Tomachukwu Acholonu, Deok Keun Ahn, Alejandra Almonte, Ruth Bieler, Rebecca Calvani, Lisette Camilo, Shahida Carethers-Danier, Natalie Carlson, Rosario Danier, Jason DeLuca, Natalie Edwards, Anand Gandhi, Benjamin Gardner, Justin Garrett, Amy Kristina Herbert, Brooks Herman, Timothy Howell, Jeannette Jakus, Elon Johnson, Andrew Johnston, Dawan Julien, Nabeel Kaukab, Megan Kearney, Jordan Konig, Erik Laroi, Grace Lee, Abigail Lorge, Jennifer Lou, Elliot Lum, David Mack, Hilton Marcus, Jacob Maso, Joe Master, Karen Mauney-Brodek, Peter McGee, William Miller, Elizabeth Milton, Neal Minahan, Michael Mohammed, Megan Mulligan, Nicole Nembhard, John Ng, Adam Nguyen, Nam Tran Nguyen, Kate Olivier, Daniel Pianko, Melissa Pianko, Elizabeth Riordan, Melanie Samarasinghe, Tom Sanford, Amol Sarva, Adrian Sas, Donald Scott, Melissa Scott, Brad Sherman, Erica Siegel, Svetlana Stoyanova, Aviva Sufian, Jeremy Tamanini, Andrew Topkins and Noah Zucker. PHOTO: RICHARD D. COLE
Download the full-sized image to view larger or to print.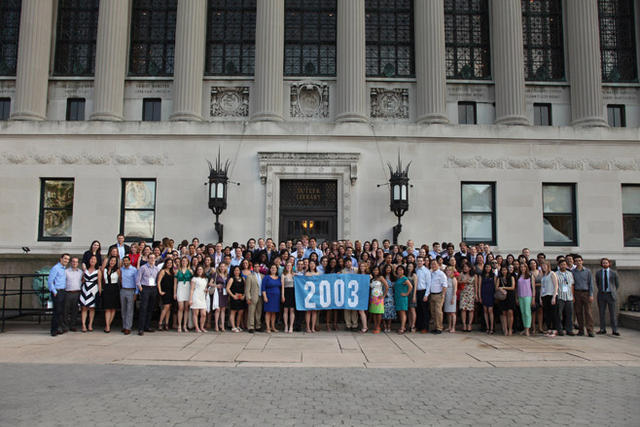 Class of 2003: Class members who registered for reunion were Kwamena Aidoo, Sam Arora, Matthew Arrieta-Joy, Julie Ashton, Jenny Bach, Jennifer Baskin, Aaron Bay-Schuck, Jessica Berenyi, Daniel Berghoff, Rachel Berk, Bryan Berkett, Rebecca Bloom, Ruby Bola, Emily Broad Leib, Anya Brodsky, Marva Brown, Elliott Bundy, Adam Bush, Brian Cantrell, William Carey, Joseph Catsam, Gladys Chang, Michael Chee, Alicia Cho, Jonathan Chow, Shawn Choy, Patrick Ciccone, Stephany Collamore, Monica Conley, Kristin Connors, Oana Cornis-Pop, Anel Cortez, Eleanor L. Coufos, David Currie, Colleen Cusick, Amba Datta, Katherine Day, Lien De Brouckere, Katharine Digman-Spector, Victoria Dower, Abby Drubetsky, Mary Ebner, Thomas Enright III, Flora Esterly, Anthony Faciane, Christina Fiorentini, Rachel Flax, Nadege Fleurimond, Michael Foss, Olivia Freeman, Claire Frisbie, Annemarie Gallagher, Rachel Gershman, Leslie Giegerich, Patrick Girardi, Lee Goldberg, Margaret Goracy, Amy Greenstein, Rajib Guha, Cyrus Habib, Katherine Haenschen, Katori Hall, Bari Handwerger, Raheleh Hatami, Ashley Henderson, Marjorie Hernandez, Michelle Hodara, Charlie Homans, Jeffrey Hsieh, Jessy Hsieh, Scott Hunter, Sandra Hu-Torres, Vijay Iyer, Yscaira Jimenez, Stacey-Ann Johnson, Michael Jones, Deborah Kaplan, Prashant Kedia, Thomas Kelly, Michael Kirk, Jonathan Klein, Adam Kushner, Alexander LaRosa, Kerry Lear, Carrie Lebigre, John L'Ecuyer, Eunice Lee, Arah Lewis, Lorraine Liang, Adam Libove, Eaton Lin, Steve Ling, Christina Liu, Francis Lora, Antonio Lucas, Peter Macchia, Melissa Macomber-Estill, Liza Mamtani, Maxim Mayer-Cesiano, Joseph McGinn, Alexander McSpadden, Anuj Mehta, Jenna Mendelson, Alexander Michaels, Shelly Mittal, Raamla Mohamed, Diana Moser, Dan Moss, Erik Moss, Chris Motley, Myralyn Nartey, Sharif Nesheiwat, Nathania Nisonson, Michael J. Novielli, Afia Owusu-Sekyere, Jason Paez, Karina Palafox, Raj Patel, Sonali Patel, David Perez, Megan Peter, Mary Phaphan, Nirmala Pillalamarri, Irene Plagianos, Maor Portnoy, Sridhar Prasad, Abimbola Pratt, Johanna Quinn, Jonathan Relay, Carter Reum, Hector Rivera, Hilary Rosenstein, Margaret Sallay, Janet Sanchez, Lisette Silva Sanchez, Jill Santopolo, Jennifer Schneider, Amy Schulz, Lee Schutzman, Michelle Schwartz, Fallon Scoggins, Simone Sebastian, Justin Sellman, Jerry Serowik, Andrew Shannahan, Julia Shannon, Albert Shin, Tamar Simon, Andy So, Tim Soliman, Winston Song, William Specht, Emma Stein, Nicole Tartak, Katie Rose Teesdale, Joel Teklu, Dana Tignor, Tu-Shaun Ting, Andrea Sanders Tobin, Morika Tsujimura, Erick Tyrone, Tyler Ward, Nicole Washington, Carl-Friedrich Christian Wentzel, AnnaMaria White, Jonathan White, Christian Wiedemann, Geoffrey Williams, Alex Williams-Resnick, Michael Wolf, Sau Man Wong, Kenneth Wood, Megan Yee, Christine Phillpotts Zimmerman, Jonathan Zimmerman and Dawn Jackson Zimniak. PHOTO: MICHAEL DAMES
Download the full-sized image to view larger or to print.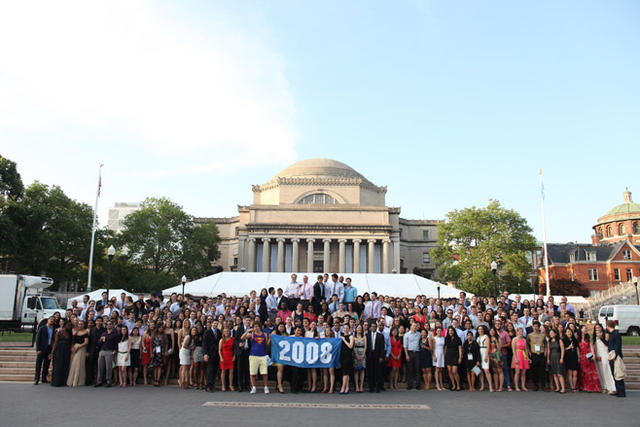 Class of 2008: Class members who registered for reunion were Rebecca Abbott, Paul Abelkop, Atossa Abrahamian, Adoma Adjei-Brenyah, Daniel Altabef, Jasmine Andino-Skinner, Savina Aneja, Catharine Arnold, Maud Arnold, Siena Artuso, Gilma Avalos, Andrew Avorn, Austen Bakker, Carmen Ballard, Ashley Banks, Christopher Baratta, Andrew Barza, Lahila-Carina Barzola, Alexander Bauman, Jason Bello, Shira Berenson, Kayleigh Bierman, Bradley Blackburn, Diana Braham, Alisa Brem, Laura Brunts, Elizabeth Burke, Charles Burton, Anne Cataldo, Philip Chan, Paula Cheng-Mehta, Jonathan Cioschi, Laura Cole, Jesse Cooper, William Coshburn, Roy Cureton, Jared Davis, Mark De Laura, Thomas de Swardt, Robert Deiches, Michelle Diamond, Melanie Dickson, Janine Diljohn, Shannon Ding, Michael Dreyfuss, Jared Drucker, Brittany Dubose, Eric Dwoskin, Alexandra Eisermann, Christine Espinoza, Alexandra Feldberg, Julia Fierman, Juliana Fitzpatrick, Neil Flanagan, Leila Forrence, Augusta Foshay-Rothfeld, Weston Friedman, Marissa Garcia, John Gardner, Rachael Gargano, David Gerson, Elizabeth Gill, Christian Gluck, Alec Glucksman, Dahlia Goldfeld, Elizabeth Gordon, Olivia Gorvy, Elizabeth Grefrath-Sessions, Ben Weinryb Grohsgal, Brian Grossman, Sarah Grossman-Greene, Rosalind Grush, Alexa Guerra, Christina Guzman, Christopher Haas, Nick Hammerschlag, Christine Han, Gavin Harris, Nikki Hasselbarth, Kelly Healton, Vishal Hegde, Anna Helsby, Joshua Hirschland, Kelli Hogan, Elizabeth Hormann, Wei-Jen Hsieh, Scott Hughes, Rahul Jain, Ijeoma Jemie, Marie Joseph, Lauren Kabakoff, Allison Kade, Megha Kalbag, Julia Kalow, Jonathan Kamran, Matthew Kane, Michael Kashan, Andrew Keh, Jun Hyuk Kim, Michele Klapper, Laura Kleinbaum, Angela Kou, Jacob Kriegel, Mark Krotov, Charlie Kubal, Shruti Kumar, Stephen LaPerla, Peter Law, Jessica Lee, Jessie Leiken, Molly Leiwant, Shelby Leland, Stephanie Lenihan, Olga Lepigina, Rachel Levenson, Matt Levitan, Ariel Levitan, Leon Levy, Andrew Liao, Edward Liao, Anna Lindow, Joshua Lipsky, Carlene Liriano, Linette Lopez, Miguel Lopez, Brett Loscalzo, Emily Low, Van Lu, Megan Lundy, Michael Lynch, Ian Mactavish, Chelsea Maeda, Avanti Maluste, Marisa Marcellino, Ellen Marrone, Bryce Marshall, Aimee Martin, Lucas Martin, Ariana Mason, Amy McCants, Charles McMillan, Caroline McShane, Elena Megalos, Neil Mehta, Sara Milstein, Elizabeth Monson, Mairead Murray, Christine Murti, Neda Navab, Daniel Neczypor, Alina Neganova, Jessica Nepom, Andrew Ness, Tarin O'Donnell, George Olive, Heather O'Neil, Christine Ortiz, Casey Palmer, Elena Parker, Kent Parmington, Tim Paulin, Dana Pavarini, Charles Pippen, Joe Piscina, Stephanie Quan, Kishori Rajan, Sumana Rao, Joshua Ratner, Brett Rees, Joshua Reinhold, Elizabeth Remes, Ciji Rich, Morgan Robinson, Amanda Rosencrans, Joshua Rosner, Vera Royf, Joseph Rubinstein, Katharine Ruskin, Shaun Salzberg, Kaustub Samant, Marla Samora, Tohm Sansani, Stefan Savic, Daniel Schachter, Ingrid Scholze, Lauren Schy, Anthony Segna, Nihar Shah, Hal Shapiro, Amy Shaw, Anushka Shenoy, Caroline Sherman, Jonathan Siegel, Stefana Simic, Danielle Slutzky, Elizabeth Smith, Terrance Smith, David Spector, Liora Powers Spiess, Matthew Spinelli, Sarah Stein-Sapir, Jonathan Stettin, Madeleine Stokes, Alexandra Stylianos, Lawrence Sulak II, Calvin Sun, William Suozzo, Richard Tan, Felipe Tarud, Kristen Teatom, Benjamin Teitelbaum, Michael Testa, Matthew Thier, Evan Thomas, Michael Toledano, Aaron Tolkin, Dena Tolkin, Christien Tompkins, Kenneth Tong, Alex Topkins, Eve Torres, Christopher Tortoriello, Kimi Traube, Nikhil Trikha, Tedde Tsang, Alec Turnbull, Kai Twanmoh, Bianca Tylek, Mark Vieyra, Elizabeth Vieyra, Emre Vural, Peter Wagner, Anders Wallace, Adrienne Walters, Christine Wang, Eric (Yihe) Wang, Chanel Ward, Rachel Weidenbaum, Hannah Weinstein, Stanley Weiss, Thomas Weldon, Geoffrey Whitehouse, Robert Wile, James Williams, Danielle Wilmot, Eric Wirtschafter, Catherine Woo, Kathryn Worland, Robert Wu, Teriha Yaegashi, Grace Yang, Noah Youngs and Sakellarios Zairis. PHOTO: MICHAEL DAMES
---
Dean's Pin Recipients and Class Agents
Dean's Pins are given to members of each class' Reunion Committee who have demonstrated particular dedication to and involvement in their reunion. Names listed below denote those who received Dean's Pins.
Class Agents share their time, connections and talents as spokespeople for giving to the Columbia College Fund. By networking at reunions and alumni activities, sending letters to or calling classmates, Class Agents champion worthy programs and give invaluable support to the College. Names listed below with an asterisk (*) denote those who are receiving a Dean's Pin and serve as a Class Agent.
Class of 1943
Giulio D'Angio
Class of 1948
Robert Silbert
Class of 1953
Peter Fauci
Bill Frosch
George Lowry
Pete Pellett *
Richard Phillips
Lew Robins
Jules Ross
James Steiner
Class of 1958
Morris Amitay
James Bast *
George Bear
Ernest Brod *
Rick Brous
Donald Chambers *
Tom Ettinger
Charles Feuer *
Harvey Feuerstein *
Marshall Front *
Stanley Goldsmith *
Paul Gomperz
Elliott Gross *
Peter Gruenberger *
Morton Halperin *
Larry Harris *
Paul Herman *
Stuart Huntington
Robert Jespersen
Steven Jonas *
Robert Levine *
Lawrence Margolies *
Bernard Nussbaum *
Howard Orlin *
Sheldon Raab *
Stanley Rabin *
Arthur Radin *
Sidney Rosdeitcher *
Irwin Sharkey *
Carl Stern *
Class of 1963
David Alpern
Douglas Anderson
Charles Angell
Lawrence Apple
Stephen Barcan
Henry Black
Peter Broido
Stephen Clineburg
Edmond Coller
S. Robert Contiguglia
Gerald Dwyer
Richard Eisenberg
Howard Freese
William Goebel
Doron Gopstein
Robert Heller
Richard Juro
Sidney Kadish
Bruce Kaplan
Robert K. Kraft
Michael Lubell
Donald Margolis
A. Paul Neshamkin
Lawrence Neuman
Thomas O'Connor
Francis Partel
Gary Rachelefsky
Barry Reiss
Phillip Satow
David Saxe
Ralph Schmelt
Harvey Schneier
Walter Stein
Geoffrey Thompson
Benjamin Tua
Class of 1968
Ross Ain
Paul de Bary
Ira Goldberg
Peter Janovsky
Russell Needham
Nigel Paneth
John Roy
James Shorter Jr.
John Slattery
Arthur Spector
Masahiko Taketomo
Alan Zucker
Class of 1973
Michael Byowitz *
Steven Cantor
Richard Canzonetti
Stephen Flanagan
Gregory Gall
Eric H. Holder Jr.
Marc Jaffe
Donald Jensen *
Robert Pruznick
Steven Sims
Raymond Vastola *
Class of 1978
Tim Alvino
Steven Bargonetti
Thomas Bisdale *
Gary Blackman
Mark Blackman
Robert Blank
Ric Burns
Charles Callan *
Joseph Cosgriff
Ted Faraone
John Flores
Jonathan Freedman
David Freinberg
Joseph Giovannelli *
Joseph Greenaway Jr.
Sinclair Haberman
Thomas Mariam
Matthew Nemerson *
John Ohman
Mark Silverschotz *
Class of 1983
Frank Antonelli
Gerrard Bushell
Kevin Chapman *
Nathaniel Christian
Steven Coleman *
Robert Davis *
David Einhorn
Eric Epstein *
Andrew Gershon
Steven Greenfield
Geoffrey Ho
Robert Hughes *
Edward Joyce *
Joseph Keeney
Daniel S. Loeb
Gary McCready
Mark Momjian
Roy Pomerantz *
Barry Rashkover
Elliot Sloane *
George Wilson
Class of 1988
Nairi Checkosky Balian *
Mónica Byrne-Jiménez
Ashley Charnoff
Alexandra Wallace Creed
Jeremy Dickstein *
Leslie Gittess *
Daniel Goldberger *
Shari Hyman
Sara Just
Stefanie Katz-Rothman *
Patrick Killackey *
Brandon Laughren *
Jonathan S. Lavine
Jennifer Wright McCarthy
Patrick McMorrow
Matthew Murabito
Stanley Nachamie
Regina Ehren Noch
Michael S. Satow *
Carl Schaerf *
Stephanie A. Schwartz
Jonathan Sobel *
Mark Timoney *
Douglas Wolf *
William Woo
Class of 1993
Adrian Bordoni
Ben Besley
Paul Bua
Andrew Ceresney *
Jamie Cesaretti *
Jack Chen
Alan Freeman *
Nina Hong
Yumi Koh
Karla Lema *
Amy Longo *
Rachel Mintz *
Ana O'Brien *
Rita Pietropinto-Kitt *
Jackie Quan *
Andrew Schmeltz *
Grissel Seijo
Thad Sheely *
David Shimkin *
Neil Turitz
Class of 1998
Jason DeLuca
Yelena Dudochkin-Berry
Natalie Edwards
Brooks Herman
Joanna Herman
Jeannette Jakus *
Daniel Jean-Baptiste *
Adam Nguyen *
Donald Scott *
Jeremy Tamanini *
Andrew Topkins
Class of 2003
Samir Arora
Katherine Day Benvenuto
Eleanor L. Coufos *
Michael Foss
David Keeffe
Michael J. Novielli
Raj Patel
Carter Reum
Justin Sellman
Tamar Simon
David Steinberg
AnnaMaria Mannino White
Dawn Zimniak
Class of 2008
Paul Abelkop
Lahila Barzola
Noah Cooper
Michelle Diamond
Brittany Dubose
Gabriella Fridman
Marcos Garcia
Olivia Gorvy
Elizabeth Hormann
Scott Hughes
Anna Lindow
Joshua Lipsky
Neda Navab
Christine Ortiz *
Timothy Paulin
Charles Pippen
Terrance Smith
Calvin Sun
Glenn Thompson *
Michael Toledano