Within the Family
Influences and Inspiration
This issue of Columbia College Today focuses on student-alumni engagement — the growing number of programs designed to build bridges between these two segments of the Columbia family and the value and enjoyment this interaction can provide for both.
Shortly after becoming editor of CCT, I had the pleasure of being asked to participate in a program in which an alum would speak to a group of students, in an informal setting, about his or her career path and the twists and turns along the way. The program was a forerunner to the Dinner & Discussion Series and others described in our cover story.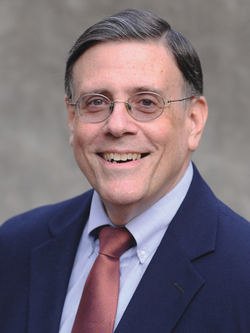 Photo: Eileen BarrosoWhen I got to the lounge on the top floor of Schapiro Hall dormitory, the site of the event, I was unsure exactly what I was going to say and why any 20-year-old would find my words to be of value. But as I began to speak, I found the students to be attentive listeners with provocative questions, and I enjoyed relating the way my career had evolved while mentioning some of the people who had influenced me, albeit indirectly, along the way.
One of those people was Robert Lipsyte '57, '59J. When I was in school, Lipsyte was a sports columnist for The New York Times who often wrote about what he labeled SportsWorld and Jock Culture, the interaction between sports and society. He didn't celebrate athletes but rather contextualized them, and this fascinated me; it also seemed to validate my subsequent career choice as something more than a frivolity, to say nothing of a waste of a Columbia education. Lipsyte's career has included a stint as an Emmy award-winning TV correspondent; authorship of numerous young adult novels as well as an acclaimed book about his battle with cancer; co-authorship of Dick Gregory's autobiography, Nigger; and now a post as ombudsman of ESPN.
Another influence was Leonard Koppett '44, who was more of a traditionalist than Lipsyte. Koppett, who died 10 years ago, was old school; he loved analyzing the games and the people who played them, and he relished the statistics of sports and the meaning behind the numbers. His perceptive analysis led to his induction to the writers' media of both the Baseball and Basketball Halls of Fame.
I describe them as indirect influences because, unfortunately, programs that promoted interaction between alumni and students such as the ones detailed in our cover story did not exist at the time I was a student. I admired Lipsyte's and Koppett's work and knew both were College alumni but felt too awkward as a student to reach out to them on my own. I did not meet Koppett until 15 years after graduation, after I had left AP and was working for the National Basketball Association in charge of its editorial department. And it wasn't until I interviewed for the editorship of CCT, nearly 27 years after my graduation, that I finally met Lipsyte.I'm glad programs now exist that promote interaction between students and alumni and urge members of both constituencies to participate.
Dean James J. Valentini welcomed the 1,169 members of the Class of 2013 into the ranks of Columbia College alumni on Class Day, May 21, with remarks that touched upon — in typical Deantini fashion — the humor of Dr. Seuss, the wisdom of William James and the inspiration of Juan Manuel Fangio.
Valentini quoted from Dr. Seuss' Oh, the Places You'll Go!, published in 1990, before nearly all the graduates were born: "You have brains in your head, you have feet in your shoes, you can steer yourself any direction you choose." He noted that the students had brains and feet before they got to Morningside Heights but that Columbia provided the shoes in terms of a College education featuring the Core Curriculum. Then he quoted another line from Dr. Seuss' book, sales of which annually peak around graduation time: "You're off to great places, today is your day, your mountain is waiting, so get on your way!"
For wisdom, Valentini cited James' words on how to spend one's life: "The best use of life is to spend it for something that outlasts it." Then he offered some more concrete advice of his own: "Work hard, try hard, play hard" and "Life's an adventure — enjoy the ride."
As for Fangio, an Argentinian Formula One race car driver, and why he should be a source of inspiration, the dean said, "No Deantini address to students is complete without a quiz," and drew laughs when he said he would provide the answer in his blog a week after graduation. So I quote from the Deantini blog of May 28:
"In the German Grand Prix on August 4, 1957, Fangio was in first place when he took a pit stop at lap 13. The stop was a disaster — a mechanic changing a wheel lost the wheel nut and spent nearly 30 seconds looking for it (an eternity in racing) — and Fangio fell way behind to a very distant third place. But over the next 10 laps he achieved what seemed impossible. He made up the time lost in the pit stop, setting lap record after lap record, and won the race. This is often cited as one of the greatest achievements in racing history.
"Fangio was put way behind due to an error by someone other than himself — a member of the pit crew — but he did not let the mistake keep him from trying. He seemingly had no chance of winning the race, but he was undeterred by his unfavorable circumstances. He could have given up, but he didn't; he simply tried harder. He did not let the seeming improbability of success limit his effort."