Alumni Profiles
Stefan Rudnicki '66 Gives Voice to Printed Word
By Mary Jean Babic
In his celebrated career as an audiobook narrator, Stefan Rudnicki '66 has voiced New England sea captains and 6-year-old boys. He has read poetry in French and adopted Welsh, Texas and Polish accents. He has narrated science fiction books, history books, business books, parenting books, mysteries, thrillers, Chekhov and Nabokov. He's lent his resonant baritone to some 400 works and, mostly as co-owner of Los Angeles-based Skyboat Media, produced more than 3,500.
Last year Rudnicki was named a Golden Voice by AudioFile, the audiobook business' trade magazine. Something of a lifetime achievement award, the Golden Voice is a capstone for a career already decorated with two Best Spoken Word Grammys for producing (2013's Society's Child, an autobiography of singer Janis Ian, and 1999's The Children's Shakespeare) and Audie Awards (the audiobook world's Oscars), among other honors. Not too shabby for what in fact is Rudnicki's second career, one stumbled upon but that's proven prolific.
"From week to week you're doing something different," says Rudnicki. And when your job requires you to read aloud every word of, say, Will Durant's multi-volume The Story of Civilization, "your education never ceases."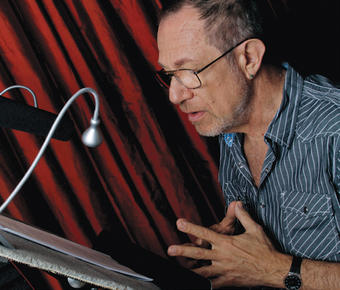 Audiobook narrator Stefan Rudnicki '66 has won two Best Spoken Word Grammys.PHOTO: Alex LinaresBook narration, Rudnicki says, draws on all the tools he's gained, from a multilingual childhood to his theater days at Columbia, his master's program at the Yale School of Drama and the hundreds of productions he was involved with — performing, producing and directing — during two decades as a theater professor. "The core of the process is always to identify what is unique about a particular book or author and discover ways to underscore that uniqueness," he says. It's not only about character voices but also pacing, tempo, intentionality and the tones of different segments of a book.
And if a book calls for accents or long passages in a foreign language? Rudnicki revels in it —it's kind of his thing. Born in Krakow at the end of WWII, he lived in Sweden and Montreal before his family settled in Queens when he was 7; there was a time when he spoke Polish, Swedish and German. He's since lost them all, but that early exposure, Rudnicki says, gave him a facility with language that he calls on time and again.
During his time at Columbia there was no theater major, so Rudnicki opted for English. But he credits the Core with making it possible for him "to do everything that came afterward." He adds, "I pity anybody who hasn't had it. I describe it to people and their jaws drop: 'You did what? You studied what?'"
Rudnicki honed his performance chops in Varsity Shows and Barnard Gilbert and Sullivan Society musicals, and in 1969 he completed an M.F.A. at Yale. He then held faculty positions at the University of Rochester, Jersey City State College, NYU (adjunct) and Long Island University's C.W. Post campus. By 1987 he was LIU's department chair in theater, film and dance. The only remaining career step was to dean, which did not interest him, so he left academia to focus fully on theater. In 1991, he drove his Honda to Los Angeles, where he's lived ever since.
In his first years there, Rudnicki landed acting and directing jobs on low-budget horror and action films (his description). Then one day a playwright friend mentioned a gig she had abridging books prior to their being recorded.
"I'd never heard of an audiobook," Rudnicki says. "I figured it was something for the blind."
At that time, the mid-1990s, most audiobooks were confined to two 90-minute cassettes, so the book, be it War and Peace or A Tale of Two Cities, had to be cut to fit that format. In his teaching and acting days, Rudnicki had abridged plenty of texts. "I did A Midsummer's Night Dream with eight actors in 45 minutes," he says. "I thought, if I could abridge Shakespeare, I could do this."
The friend hooked him up with Dove Audio, and in short order he became production coordinator and then VP. He got behind a mic around 1997.
Rudnicki's audiobook career has coincided with tremendous growth in that industry, which has been transformed by digital downloads and the exploding young adult market (notably, the Harry Potter series). Books are now recorded at full length, and most new titles come out on audio. In 2011–12 alone, audiobooks sales increased by 13.5 percent, according to the Audio Publishers Association.
In 2000, Rudnicki and his professional and personal partner, Gabrielle de Cuir, herself an audiobook narrator and director/producer, hung out a shingle as independent audio producers, under the name Skyboat Road Company Inc., now known as Skyboat Media.
Three of Skyboat's studios are in their home in L.A.'s Valley Glen neighborhood; another is minutes away in Studio City. Through the years, Rudnicki and de Cuir have developed close working relationships with writers such as Harlan Ellison, Ursula K. LeGuin, Deepak Chopra and Lewis Shiner.
Skyboat's best-known production is the Ender's Game series, written by Orson Scott Card. In recording those classic sci-fi novels, Rudnicki opted for multiple narrators, departing from the single-narrator norm. He voiced the main character, Ender Wiggin, who is, when the series begins, a 6-year-old boy.
"Clearly I don't sound like one," says Rudnicki. "The idea was to find that attitude and nail it down."
Card was so impressed that he now requires hiring Skyboat Media as a condition of selling audiobook rights to a publisher. "Stefan was determined to treat audionarrative as a new and separate art form, at the boundary between the narrative and the dramatic," says Card.
To stay competitive in an ever-more competitive business, Rudnicki is now positioning Skyboat to become a publisher as well as producer and is mining backlists to acquire rights to books that he wants to bring, in audio form, to a new audience. Many are science fiction, fantasy and horror books that he loved as a kid. One of Rudicki's first acquisitions, however, was Thirty Years of Treason: Excerpts from Hearings Before the House Committee on Un-American Activities, 1938–1968, written by one of his Columbia professors, Eric Bentley.
With the exception of The Delivery, a 2008 short film that he and de Cuir made — the plot centers on, yes, audiobooks — Rudnicki hasn't been on a film set in more than a decade. He says he misses it but has no complaints about the path he's taken. It turns out that being involved in every aspect of producing an audiobook is "a performance art that is also education." He adds, "It's really thrilling."
Hear Rudnicki discuss the best book he's narrated.
Mary Jean Babic is a freelance writer who lives in Brooklyn. This is her third article for Columbia College Today.