Alumni Profiles
Michael Bitz '94, '98 TC Uses Comics as Vehicle for Creativity
By Justin DeFreitas
Time was, comic books were considered the adolescent's gateway to ruin. In the 1950s, Senate hearings on juvenile delinquency focused largely on the medium and its purveyors as the roots of a nationwide epidemic. Whether scapegoated for society's ills or merely dismissed as childish entertainment, this form of storytelling — words and pictures arranged sequentially — has rarely garnered much respect.
Michael Bitz '94, '98 TC, an assistant professor of teacher education at Ramapo College of New Jersey, views comics quite differently and has spent 12 years developing and growing an educational curriculum centered on the medium. The Comic Book Project builds literacy skills by helping children write, draw and publish their own comic books.
"The Comic Book Project was born from a desire to do something different," Bitz says. "At Teachers College I was exposed to different kinds of educational theory and program ideas, including learning through the arts — how the arts and creativity in general is utilized or not utilized in teaching programs."
Bitz launched a pilot project at a New York City middle school in 2001. Then, after partnering with The After-School Corp., a nonprofit that supports programs in hundreds of New York City public schools, he implemented it in 40 more middle schools. Since then, the project has expanded to all 50 states and nine other countries, and has reached more than 150,000 students.
The Comic Book Project also gives students a chance to reflect on their experiences, ideas and communities. Many schools have applied themes to the work: Students in Hawaii produced comics about the effects of pollution, while Native American students in Washington State did theirs on the dangers of drug and alcohol abuse. Customizing the subject matter is a crucial element in engaging students, Bitz says.
Bitz didn't read comics much when he was growing up in Wyckoff, N.J. He was an aspiring musician and frequently made the trek from his quiet suburban home across the George Washington Bridge in pursuit of the diverse and stimulating culture of New York City. He further embraced big-city life — and delved into music full-time — at the College, where he studied western classical, jazz and popular music. After earning a degree in music, however, he set out on a different course. "Exposure to many different people from different backgrounds influenced my decision to go into education," he says.
Bitz put in time as a student teacher en route to a Ph.D. in education, but the experience convinced him that he wasn't cut out for full-time teaching so he instead focused on curriculum development.
The concept of using comics as an educational tool is hardly new. "People have been advocating for this since the 1800s, when schools became like factories," Bitz says. But transforming the idea into a replicable curriculum that is easy to implement was key.
The process is simple by design: Students are introduced to the language of comic books, including lines, panels, sequencing, word balloons and character development. Once they've completed a draft, they get feedback from their teachers, then turn the draft into a finished product, penciling the artwork, writing dialogue and captions, and inking and coloring. The books are published online and sometimes in print — "Getting your name in print is an incredible motivator," Bitz says — and exhibitions are mounted so that students can celebrate their work with friends, family, guardians and teachers.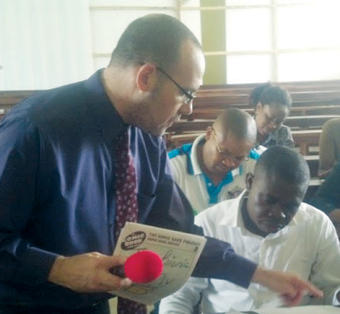 Michael Bitz '94, '98 TC works with teachers in Nigeria.The project quickly found success in New York City. "Teachers saw kids doing things they [the teachers] didn't realize they could do — reading and writing without worksheets," says Bitz.
He had been financing the endeavor himself but, with theprogram up and running, re-turned to Teachers College to ask if it would act as an incubator. With the Columbia name behind him, Bitz busied himself writing grant applications. A few were successful, enabling him to expand the program.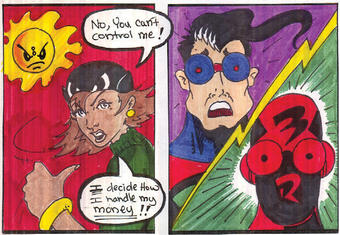 A student comic.PHOTOS: Courtesy Michael Bitz '94, '98 TC"Kids are drawn to comics, so engagement was easy," says Marge Pellegrino, program manager for Owl & Panther in Tucson, which provides expressive arts programming to refugee families affected by torture and trauma. Owl & Panther began implementing the Comic Book Project curriculum in 2006. "I started with the premise that the kids had knowledge that others didn't," Pellegrino says: "They were experts — they knew what it was like to have a parent incarcerated, or they knew what it was like to be a refugee. What should others know about it? How could we show those things through story?"
Pellegrino's students took to the exercise immediately. "They were elevated in their own eyes by the process," she says. "The kids with less English language fluency found they had a way to shine."
For the most part, Bitz has been able to launch the programs remotely, using Skype and social media to train and communicate with teachers around the world. But not all countries have such ready access to technology. Bitz recently returned from Nigeria, where he launched an international program in person for the first time. The program faced different obstacles in Nigeria, however, because comics are not popular there. "We first had to teach teachers what a comic book is," Bitz says.
"But it's not really about the comics," he adds. "The Comic Book Project represents a broader mission of creativity in the classroom, advocating for creative projects as learning projects. It's not about comics; it's about comics as vehicles for creativity."
Justin DeFreitas is a Bay Area writer, editor and cartoonist.