Alumni Profiles
Nikkie Zanevsky '07 Finds Outlet for Creativity in Parkour
By Elena Hecht '09 Barnard
The sun had already set on a chilly December evening when Nikkie Zanevsky '07, in a long-sleeved shirt and leggings, sprinted toward a jungle gym in Manhattan's Tompkins Square Park. She confidently walked up the rungs of the jungle gym — no hands needed — and then across the top of the monkey bars, silent and agile as a cat, before flipping over the edge and landing quietly on the ground.
To watch Zanevsky is to watch what seems almost supernatural, her movements like stunts out of The Matrix. But for Zanevsky this is old hat. This way of moving through the world as though it is an obstacle course to be mastered is her passion, otherwise known as parkour, a practice Zanevsky describes as "getting from point A to point B as creatively as possible using only your environment and your body."
Zanevsky, who majored in comparative literature, discovered parkour through a video sent to her by a friend during her senior year. "It captivated me," she says. "And I thought, 'This — I am meant to be doing this.'" Soon after, Zanevsky began commuting to Williamsburg, Brooklyn, once a week for a parkour class. She subsequently connected with the parkour community through online forums and began joining other devotees for informal training sessions. By the summer after graduation, Zanevsky was training three times a week.
Though her love for parkour was steadfast, she put it to the side in fall 2007 as she began a grueling schedule as a business analyst at McKinsey & Company — a turn that lasted only six months. "I knew I wanted to be more involved in the parkour community, so working all day [and] all night I couldn't really dedicate myself to that," she says.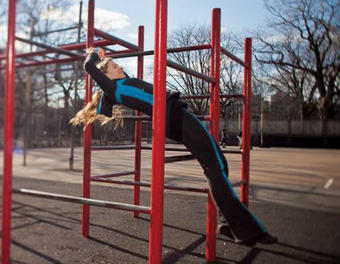 Nikkie Zanevsky '07 practices "the underbar."PHOTO: Andy OutisWhile Zanevsky is now a senior product marketing manager for Northwest Evaluation Association — what she calls her "regular job in the real world" — her dream has become a reality through The Movement Creative, an organization she began with friends, fellow traceurs (parkour practitioners) and training partners Jesse Danger and Caitlin Pontrella. The organization is a collective of instructors whose mission is to have a positive impact on the lives of children and adults by sharing parkour.
Officially founded in January 2013, The Movement Creative grew out of an informal free workshop that Zanevsky and Danger began hosting several years ago. "Eventually it grew, kind of snowballed, and then he [Danger] and I would take turns teaching these sessions," says Zanevsky.
Today The Movement Creative has brought parkour to six schools throughout New York City and is in discussion with nine more for the coming academic year. It has also run a one-week Parkour and Game Design Summer Camp through a partnership with Quest to Learn, a Chelsea school founded on the ideals of game-like learning, and the Institute of Play.
The impetus for starting The Movement Creative stemmed from an approach to parkour that is, as Zanevsky says, "about being open to all, so, egalitarian, accessible and learning through play." In keeping with this outlook, the organization uses modified children's games like tag and "The Floor is Lava" to teach and practice parkour techniques. The instructors have also shared parkour and their training expertise for free at festivals such as the New York City Department of Parks & Recreation's Summer Streets and Winter Jam.
While parkour's flashy moves might be the most visible elements of the practice, Zanevsky describes parkour as "like doodling kinesthetically," and is most drawn to its creative elements. "I think that parkour is all about saying, 'Never build what's in the picture on the [Lego] box,'" says Zanevsky. "Everybody makes their own thing with the same building blocks."
General awareness of parkour has grown thanks to increased visibility in media such as movies and music videos — and, of course, thanks to practitioners themselves. "On so many occasions I've watched curious children, hesitant adults and hurried passersby all stop what they are doing to learn a new movement from her [Zanevsky]," says Danger.
In December, The Movement Creative took part in TEDxBrooklyn, held at the Brooklyn Bowl, demonstrating parkour's potential as an accessible form of exercise by showcasing moves in both their basic and more advanced forms — a presentation that ties to the organization's concept that parkour is for everyone.
Zanevsky emphasizes that parkour is also for everywhere, though the environment endemic to an urban landscape makes it easy to see why parkour is well suited to a city like New York. She references her Columbia graduation, and how free she felt when she used parkour to jump over a physical barrier that was preventing her classmates from moving. "We want to give that to other people," says Zanevsky. "That sense of freedom and that feeling that living in an urban environment, it doesn't have to feel depressing or like you're fenced in, but you can treat these constraints as an outlet for your creativity."
Elena Hecht '09 Barnard, a former editorial assistant for Columbia College Today, is a writer and dancer based in New York City. Her work has also appeared in Dance Magazine.