Around the Quads
Class of 2014 Celebrates at Senior Dinner
On May 6, graduating seniors gathered under a tent on South Lawn at the annual Senior Dinner to celebrate the end of classes. More than 900 members of the Class of 2014 enjoyed dinner and mingled with friends while a photo slideshow played on the ceiling, projecting images of four years' worth of their favorite photos. In the background, upbeat music kept the energy high while students lined up for a turn inside the event's photo booth.
After an introduction from Class President Conan Cassidy '14, Senior Dinner Co-chairs Luisa Lizoain '14 and Abigail Pucker '14 recited a short poem about friendship and thanked everyone for coming. Next to speak was Dean James J. Valentini, who congratulated the seniors on their accomplishments.
As of June 3, the Senior Fund raised more than $22,600 and more than 250 seniors participated in Valentini's "3-2-1 Challenge," which encourages students to contribute for three years, encourage two friends to donate and have their donations matched one-to-one by an alumnus/a — for the third consecutive year, Gene Davis '75, '76 SIPA, '80L. Because the class met its participation goal, the Senior Fund also received a gift of $100,000 from Charles Santoro '82.
Student Council President Daphne Chen '14 gave a toast to their new lives as graduates, saying, "It's a hello toast, because I'm not ready to say goodbye to you."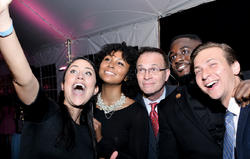 Kyra Tirana Barry '87, outgoing president of the Columbia College Alumni Association, welcomed the students to the CCAA and asked them to stand and cheer if they had participated in certain Columbia traditions, which brought the attendees to their feet for everything from passing the swim test to finishing off a giant Koronet pizza slice. Calvin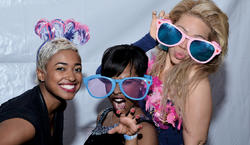 Sun '08, president of the Columbia College Young Alumni Board, closed out the evening by inviting the students to their first alumni event, a party on the U.S.S. Intrepid during Alumni Reunion Weekend.

Above, seniors and Gerald Sherwin '55 (middle) spell out a superlative message. Top and middle, Dean James J. Valentini poses for a group selfie and students don costumes for the photo booth.Photos: Rich Ormanowski