Around the Quads
Barry, Fergang Recognized for Service as Alumni Leaders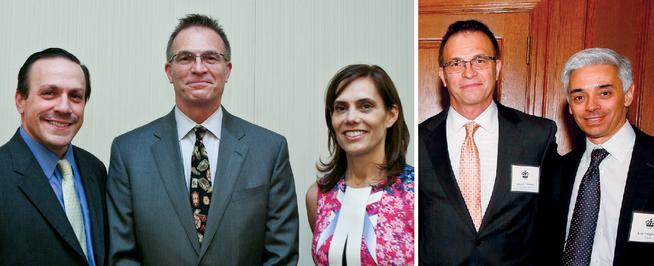 Dean James J. Valentini (above left, middle) with CCAA outgoing board president Kyra Tirana Barry '87 and incoming president Doug Wolf '88, and (above right) with outgoing BOV chair Yale Fergang '87, '88E. PHOTOS: CCAA, CHAR SMULLYAN; BOV, MICHAEL DiVITO
Classmates Kyra Tirana Barry '87 and Yale M. Fergang '87, '88E will complete their terms as president of the Columbia College Alumni Association (CCAA) Board of Directors and chair of the Columbia College Board of Visitors (BOV), respectively, on June 30. Both were honored for their service to the College with a toast from Dean James J. Valentini at the final meeting of the academic year of their respective boards.
Barry completed a three-year term as president of the CCAA Board of Directors and will be succeeded by Doug Wolf '88. Valentini praised Barry for her leadership, guidance and support during his first years as dean, calling her a key partner whom he frequently turned to for advice and counsel during that transition and praising her for her dedication and devotion to the College. He also thanked outgoing CCAA board members for their service.
Fergang, who will be succeeded as BOV chair by Alexander Navab '87, was presented with a personalized chair by the dean for leading the BOV for two years. Also thanked for their service were outgoing BOV members Alexandra Wallace Creed '88; Gene I. Davis '75, '76 SIPA, '80L; Allen I. Fagin '71; Robert L. Friedman '64; Thomas H. Glocer '81; Jeffrey D. Knowles '71; Sami W. Mnaymneh '81; J. Michael Schell '69; M. Glenn Vinson Jr. '67; and Rory Wilfork '97.