Bookshelf
Brad Stone '93 Examines Amazon and the Man Behind It
By Justin DeFreitas
S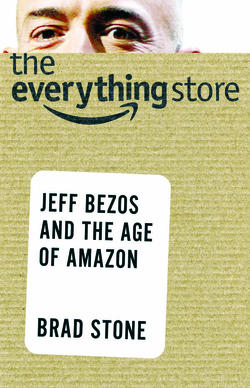 an Francisco journalist Brad Stone '93 has covered Silicon Valley for 15 years. During
that time, books about the great technology companies and their CEOs have proliferated, as their products have had increasingly profound effects on our daily lives. But Stone noticed a significant gap in the library.
"I saw all the books about other tech giants — Apple, Facebook, Google — but no one had done a great Amazon book," he says.
There were legitimate reasons. CEO Jeff Bezos had instilled a culture of secrecy at Amazon and many writers who wanted to tell the company's story had been denied access to its central figures. In addition, the online giant's Seattle location, away from the tech hub of the Bay Area, afforded it some relief from journalists. But Stone felt these obstacles only partially explained the lack of a serious study. "Everyone had dismissed Amazon as a boring old retailer," he says. "But the company was doing incredibly well and showed a constitutional knack for expanding and getting into different businesses."
Stone was well positioned to take on the challenge. He had interned for Newsweek after college and worked his way up to junior reporter, filling in for the magazine's New York and Chicago correspondents. In the late '90s he was assigned to the technology beat and moved to Silicon Valley — a shift that put him at ground zero for the industry's boom, subsequent bust and resurgence. After Newsweek, Stone worked for The New York Times and, more recently, for Bloomberg Businessweek.
Stone had something else working in his favor: access. He had interviewed Bezos a dozen times through the years and his coverage of Amazon and the tech industry had earned him Bezos' respect. After Stone pitched him the idea of a book modeled on business books they both admired, including Walter Isaacson's biography of Steve Jobs, the CEO was skeptical but supportive — and for the first time gave the go-ahead for many of his loyal associates, past and present, to speak on the record about Amazon and Bezos himself.
The result is The Everything Store: Jeff Bezos and the Age of Amazon (Little, Brown and Co.,$28), in which Stone traces the Amazon story from its birth as a start-up selling books out of a garage to an international corporation that employs hundreds of thousands of people, racked up $74 billion in sales in 2013, and is on track to reach $100 billion faster than any other retailer. The book covers the company's innovations, its influence on the business and tech world, its cultural impact and its internal operations — with Bezos as the relentless driving force pushing the company to expand, evolve and dominate. Stone makes the case that whether you love it or love to hate it, Amazon is one of the world's most pervasive and influential companies as well as "one of the tent-pole companies of the century."
And Bezos himself, Stone says, is not merely a retailer on par with Sam Walton, but one who "ranks up there with the greats of the technology industry. Like Steve Jobs, he has the ability to disrupt every industry he goes into."
Stone contends that Bezos was among the first to recognize the potential of the Internet, and his vision enabled Amazon to create new business models, changing the way consumers read and shop. As an example, he cites the first Kindle: "By no means a work of design art, it was like a bastard child of a BlackBerry and a '90s-era PC. But you could buy a book over a cellular network in 60 seconds, from anywhere in the world. Bezos made an unorthodox and risky bet on developing hardware and creating a digital distribution model."
PHOTO: CYNTHIA E. WOODAnd Bezos made that bet in 2004, at a time when the idea of e-reading was all but dead. "Without the Kindle, books may have been lost in transition to digital media," says Stone. "Sony's e-reader was failing, NuvoMedia's Rocketbook had failed, Google was embroiled in lawsuits over its effort to scan every book ever made and Steve Jobs said the whole concept of e-books was flawed because people don't read."
Bezos also pushed his company into new businesses and markets. Today, Amazon is not merely a seller of retail products but of the infrastructure upon which other entrepreneurs build their companies. In fact, half of Amazon's business is as a platform for other businesses. With Amazon Web Services, Stone says, "Bezos single-handedly reinvented Silicon Valley with web services that made it easier to start a company. He made cheap storage and processing power available to cash-strapped start-ups."
Along the way, Bezos, like Jobs, often pushed the ethical envelope. Stone recounts instances ofthe CEO's brutalizing and destroying competitors, as well as engaging in profit-bleeding price wars to force promising start-ups to sell out to Amazon. Bezos' leadership style also goes under Stone's microscope: He demands long hours from his employees, insists they be as driven as he and has been known to eviscerate them as incompetent, ignorant or just plain stupid when they fall short of his expectations. The reason, Stone says, is that Bezos wants every ounce of energy directed toward his ultimate goal of creating "the everything store"— a one-stop online source for everything that a consumer could want, and at the lowest prices.
For some, the idea of an enormous corporation selling everything under the sun and putting small, independent shops out of business is a kind of dystopian nightmare. Bezos is unfazed by such criticism. "He answers that it's the Internet that's disrupting businesses and industries, not Amazon," Stone says. In the Internet era, Bezos often says, the power rests with customers — they can compare prices, review products and make their voices heard. "The new regime favors the customer," says Stone. "Bezos' response is that Amazon is just good at thriving in that landscape."
Justin DeFreitas is a Bay Area writer, editor and cartoonist.