Cover Story
Class of 2014 Pauses to Graduate
By Alex Sachare '71

Smiles and tears at the end of a long road.
Dean James J. Valentini chose punctuation as the theme for his remarks to the Class of 2014 at Class Day on May 20, and in particular the importance of the comma.
Valentini said that while graduation might seem like a period or a full stop, coming at the end of students' undergraduate years, it should rather be regarded as a comma or a pause. "It tells you to take a breath before beginning the next phase of your life," he said. "It separates an independent clause — your four years here as a current student — from a dependent clause, the next 62 years or so that you can expect to live (as I'm told by the actuaries of the Social Security Administration), a period of 62 years during which you will be former students. … This dependent clause is one in which we want you to be engaged and continue to be nourished by Columbia but now also want you to be nourishing others. We invite you to a lifelong engagement."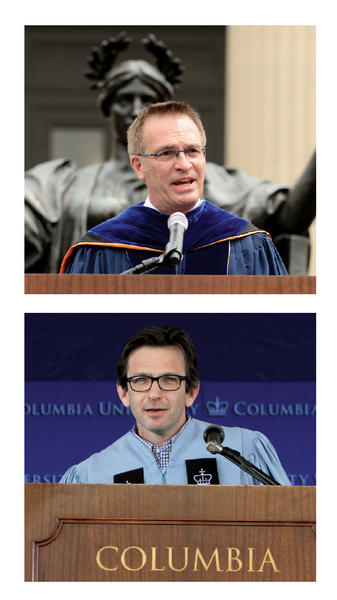 Dean James J. Valentini and Dan Futterman '89.
The keynote speaker was screenwriter and actor Dan Futterman '89, who noted that the graduates had drawn a lucky card in life but added, "With that privilege you have responsibility. Do not shut the door behind you. Turn around and give someone else a hand up the stairs and through the door." He urged them to be open-minded to what life has to offer: "Take the blinders off, look at all the paths available to you. You will get pushed back, you will get knocked down, you will. But you can handle adversity. The force of being set back can either injure and debilitate you, or it can propel you with greater force in a different and unexpected direction."
Salutatorian Samuel Walker '14 and Class President Conan Cassidy '14 delivered remarks; awards were presented by Interim Dean of Student Affairs Terry Martinez, Dean of Academic Affairs Kathryn Yatrakis and Columbia College Alumni Association President Kyra Tirana Barry '87; and Senior Fund Chair William Maxfield '14 presented the class gift.
The next day, the members of CC '14 were among the more than 14,000 degree candidates from the University and its affiliates who officially became graduates as President Lee C. Bollinger presided over Commencement, which he described as a chance to look at the world that awaits them. "Yours will be the biggest world ever invented, and yet also the smallest," he said. "And like it or not, your fates will be more intertwined with those of all humanity than ever before, for good or ill depending on how you handle it."
Several College alumni were honored during Commencement: David Rosand '59, '65 GSAS, the Meyer Schapiro Professor Emeritus of Art History, was one of eight honorary degree recipients; cellist Alisa Weilerstein '04 received the University Medal for Excellence, awarded annually to an accomplished alumnus or alumna under the age of 45; and Mitchell B. Freinberg '73, '77 Business and the Hon. Joseph A. Greenaway Jr. '78 were among 10 Alumni Medalists who were honored for distinguished service of 10 years or more to the University.
In a move to a more sustainable ceremony, half the gowns worn by the bachelor's and master's candidates were made from recycled plastic bottles — 46 water bottles per "green" gown, to be precise. The remaining gowns came from inventory. In future years, all graduation gowns will be made from recycled plastic bottles.
Clockwise from top left: Members of the Class of 2014, before and during Class Day and Commencement; President Lee C. Bollinger speaks to the more than 14,000 degree candidates and their guests; the Alumni Parade of Classes at Class Day; celebrating a job well done. PHOTOS: Eileen Barroso and Char Smullyan