Features
In the Groove
Particle physicist Carl Haber '80, '85 GSAS preserves sounds of the past
By David McKay Wilson; Photos: Berkeley Lab - Roy Kaltschmidt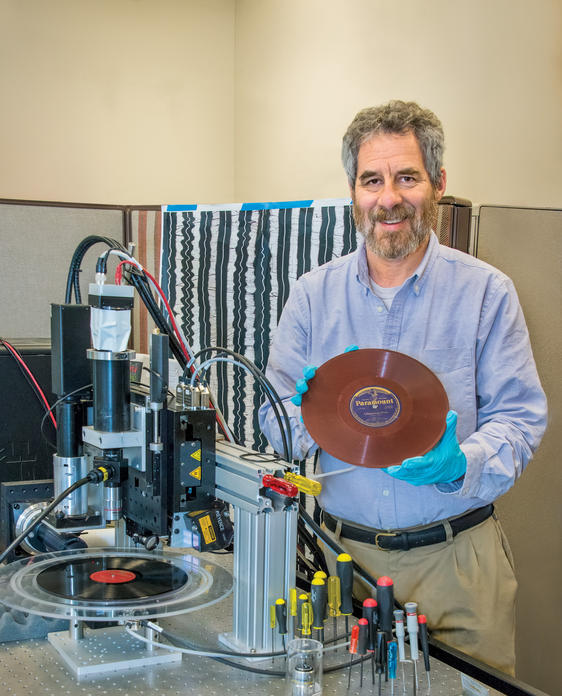 Carl Haber '80, '85 GSAS holds a 78 RPM shellac disc of Ida Cox performing The Chattanooga Blues, released on the Paramount label in 1923.
Particle physicist Carl Haber '80, '85 GSAS was listening to National Public Radio one day in 2000 when he heard Grateful Dead percussionist Mickey Hart discussing the problems inherent in audio preservation. Many early 20th-century recordings used primitive technology, with the sound etched in media such as wax cylinders, metal or shellac, and had become so fragile that playing one with a stylus could destroy the historical artifact.
Haber, whose day job has him designing instrumentation that detect the positions of sub-atomic particles to an accuracy of a few thousandths of a millimeter, wondered if he might adapt those imaging techniques to read the hills and valleys of sound encoded in the grooves of those centuries-old surfaces.
"I just thought: We've been doing optical measurements in the lab, which were ultra-clean, ultra-precise, and done with light and imaging," says Haber, a senior scientist at the federal Lawrence Berkeley National Lab, located adjacent to UC Berkeley, where he has worked since doing his post-doctoral work in physics there in 1985. "I decided to investigate the scale of measurement needed."
At a used book store, Haber found the classic text Acoustical Engineering, by Harry Olson, a pioneer of acoustical engineering, which confirmed that an imaging instrument in his lab was precise enough for the task. Then he did some moonlighting with a colleague, Vitaliy Fadeyev, to determine if the images could be translated into sound.
By 2002, they were ready. It was time to see if digital maps — gleaned from the surfaces of the recordings without contact — could produce genuine sound. Fadyev wrote a program to scan a few revolutions of a shellac disc, taking the analog version of the music and creating a digital data file that could be converted into sound. The test case: a 78 rpm pressing of the Weavers' 1950s hit, Goodnight, Irene.
"It was one of those moments," Haber recalls. "It actually worked!"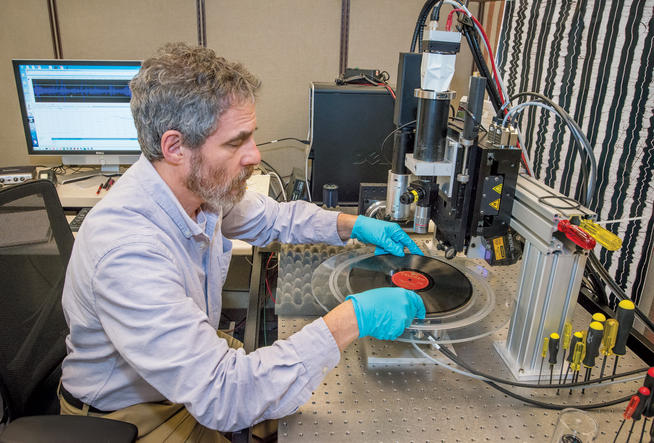 It is estimated that up to one million recordings could benefit from the technology Haber developed.
Haber's manner of retrieving sound from old recordings was a breakthrough in the field of audio restoration. His technology, developed in association with the Library of Congress, has since proved successful in helping bring to life sound from the oldest known recording of the human voice, made 154 years ago. It also worked to reveal the only known recording of Alexander Graham Bell's voice and to reconstruct the voices and instrumentation that were embedded in tinfoil in 1878 by a machine developed by Thomas Edison — the oldest recording of an American voice. The technology can also mitigate damage to recordings, helping to produce clearer sound.
Haber's first trial took an hour of measurement to produce one second of sound. He and Berkeley Lab colleague Earl Cornell subsequently created a scanning device called IRENE — Image, Reconstruct, Erase Noise, Etc. — to make the process more efficient. Twelve years later the technology has progressed significantly, enabling the development of optical scanning systems that cost about $200,000. Such systems are now used in Berkeley, the Library of Congress in Washington, D.C., and the Roja Muthiah Research Library in Chennai, India. A scanning system was installed in December at the Northeast Document Conservation Center in Andover, Mass., which makes the technology available on a fee-for-service basis.
Haber's research received a huge boost in 2013, when he was tapped as one of 24 recipients of a $625,000 award through the MacArthur Foundation's MacArthur Fellows program. MacArthur fellows don't apply for the so-called "genius grants" but rather are selected for their work, and for the potential for developing it further, and are given an income stream of $125,000 a year for five years.
Archivists estimate that up to one million recordings could benefit from the technology, with the sounds transferred into digital files. They include field recordings of linguistic and cultural importance, primary recordings of musicians and poets, speeches by historical figures, radio broadcasts, public and private dictation, and recordings made by world leaders.
Haber recalled the day he got the call of a lifetime from the MacArthur Foundation. It came three weeks before the award, as the foundation prepared its promotional materials.
"I really didn't know what to say when I got the call," he says. "All I could think of was what fun the person making the calls was having. It was the opposite of a parking meter officer. Instead of ruining someone's day, that person was making mine."
Haber, who grew up in Flushing, Queens, entered the Engineering School in 1976, thinking that he might want to design prosthetic devices for amputees. But that all changed after taking a Core Curriculum class taught by a doctoral candidate who was studying the epistemology of quantum theory. Haber became enthralled by this area of physics, which explores the physical behaviors of matter at the molecular, atomic and sub-atomic levels.
He started reading quantum theory on the side, and couldn't put it down. By the end of his freshman year, Haber was so enthralled by the subject that he transferred to the College to major in physics. That summer, he landed a job in the Columbia lab of a researcher who was carrying out experiments in the low-temperature properties of liquid helium.There, he met Chien-Shiung Wu, a renowned physics professor. Wu took Haber under her wing, and he worked in her lab in the basement of Pupin Hall for three years as she conducted experiments in "parity violation effects," which showed that certain physical phenomena are not symmetric. Soon after earning his undergraduate degree, he began his graduate studies in physics at Columbia."I fell in with these people," Haber says of the department's students and faculty. "It was a hospitable place to be."
Haber's manner of retrieving sound from old recordings was a breakthrough in the field of audio restoration. His technology, developed in association with the Library of Congress, has since proved successful in bringing to life sound from the oldest known recording of the human voice, made 154 years ago.
He continued to research under the tutelage of physics professor Michael Shaevitz, now the director of Columbia's Nevis Laboratories in Irvington, N.Y., who was his thesis adviser. By 1982, Haber was collaborating with Shaevitz on high-energy experiments at Fermilab, the federal research center in Batavia, Ill. Haber's thesis experiment involved the search for the transformations of neutrinos, which are sub-atomic particles that had been assumed to be massless, traveling at the speed of light.
"He was my first graduate student — and a really great student," says Shaevitz. "If there were some new idea, and I didn't understand it, I'd say, 'Hey, Carl, can you research that and write me a paper on it?'"
In the field of particle physics, Haber has made his name building instruments. While his graduate work focused on data analysis, his thesis project included the study of detectors used to measure the intensity of the neutrino beam at Fermilab.His experiment, however, did not locate the effect for which he was searching.
"Twenty years later, the effect was observed, but not in the region in which we were looking," he says. "It turns out, at very, very low energy, you could see it. We were just not looking in the right place. It's like if you were taking an opinion poll and you wanted to see how Republicans felt about an issue, you could be waiting for a very long time if you were asking in Berkeley. You should have been in Sacramento."
Haber headed west for his post-doctoral work, becoming the latest in a long line of Columbia physicists to go to Berkeley Lab. There, he joined a research team led by William Chinowsky '49, '55 GSAS and Bill Carithers, who had been a postdoctoral fellow at Columbia in the 1970s. Their team was working on developing a collider detector for Fermilab, which at the time was directed by Leon Lederman '51 GSAS, a former Columbia professor who shared the Nobel Prize in Physics in 1988.
Haber's team developed a device to track the trajectories of sub-atomic particles created in high-energy collisions. It was like a 3D camera that could create images of the particle tracks as they emerged from the collisions — at a precision of 10 microns, or 10 millionths of a meter. "Being able to obtain that level of precision was the starting point also for thinking about understanding grooved sound recordings, where the groove undulates again on a scale of microns encoding the recorded sound," says Haber.
Haber keeps in touch with his Columbia physics colleagues, including Shaevitz and professor Michael Tuts. Haber designed the invitation for the bar mitzvahs of both of Shaevitz's sons and, at Tuts' invitation, presented a colloquium on his audio preservation work at Columbia in late March.
Haber is collaborating with Tuts — and 3,000 other physicists from 178 institutions in 38 countries — on an experiment taking place at the CERN Large Hadron Collider near Geneva. Haber has helped design the system, which is 10 stories and uses silicon electronics to detect the sub-atomic particles that are set free by the collision of protons at close to the speed of light.Tuts says that Haber maintains a steady hand in the high-stakes research. "He's very calm," says Tuts, "and he's very thoughtful in the tools he needs to develop."
Haber also visits the class of UC Berkeley Professor of Physics Saul Perlmutter, a colleague at Berkeley Lab, as a guest lecturer in his popular class on the physics of music. "There's a huge physics component to music," says Haber, "but there are also ideas of [personal artistic] expression."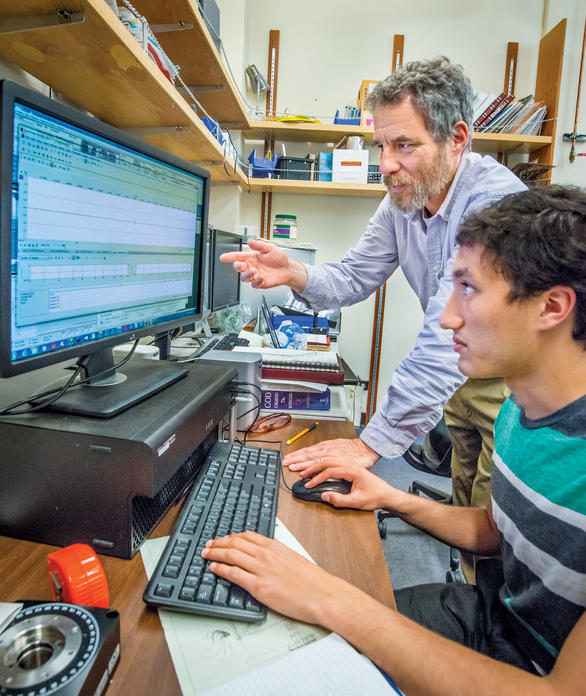 Haber says he has an open mind as to ways in which the MacArthur grant will benefit his work.
In 2003 — when Haber first contacted the Library of Congress about his findings — audio preservationists had a limited range of options for the restoration of mechanical sound carriers. Discs or cylinders composed of shellac, wax, lacquer or metal, which were not otherwise too fragile or broken, could be played back with professional grade turntables and a range of styli and cartridges. An optical laser turntable existed but was useful mainly for vinyl LPs that were in very good condition.
Peter Alyea, a digital conversation specialist at the library, read Haber's paper explaining his breakthrough. Alyea's father was a physicist as well, so Alyea had an inkling of what Haber was developing.
There were concerns, however, among others at the library. While the institution had purchased tools to assist in its preservation work, it rarely supported research that would require designing a tool like the optical device Haber had proposed.
"It was worth the risk," Alyea says. "No one was building the tools we needed to solve our problem. There was no guarantee that Carl's idea would solve everything. But it seemed like it would be useful for frail and damaged recordings, and it could be used as a tool for analysis. The advantage was that if we hit any of these, it would be useful."
Haber says the MacArthur funding will help extend his work into areas not supported by his current grants, which are targeted at specific collections. "The MacArthur grant is spread across five years, so it can help with flexibility," he says. "I have an open mind. I don't know what other ideas will come up. I'll take it one step at a time."
Of particular interest to Haber are the Alexander Graham Bell-Volta Laboratory Collection at the Smithsonian, late 19th- and early 20th-century recordings made in the field by ethnographers who documented the folklore and language of Native Americans, and the Milman Parry Collection of 3,000 recordings from the former Yugoslavia, which includes songs, poetry and epic tales that were passed down through oral tradition.
Then there's Alan Lomax's vast collection of folk songs, recorded in the hills of Appalachia and in the Deep South during the 1930s, which are stored at the Library of Congress and at Columbia. Many of the recordings were etched into aluminum."There are huge amounts of stuff on discs and on cylinders," Haber says. "I want to develop a more systematic campaign to make the transfers."
Haber's emergence as a leader in the field of audio preservation, including historical musical recordings, combines his scientific prowess with his interest in the arts and his knack for building. At Columbia, he delved into both science and the arts. Even as he pursued his doctorate in physics, he continued studying in the School of the Arts under print-maker Robert Blackburn.In one of his art classes Haber caught the eye of an undergraduate, Elizabeth McCoy '83 Barnard, and they became friends. They went their separate ways upon her graduation, only to meet three years later in Berkeley; she'd moved back home after spending three years teaching English in the Central African Republic, and he was ensconced at Berkeley Lab. One day, in the heart of town, at the corner of Euclid and Hearst Avenues, their paths crossed. By 1998, they were married. They live in Berkeley with their children, Theodore (14) and Lena (12).
Haber likes to work with his hands, be it drawing on a sketch pad or working in his garage woodshop building cabinets and furniture for his family's home.This winter the workshop was also a place to explore the world of sound and physics with Theodore, whose physics teacher assigned a project in which students were asked to build a musical instrument that played a scale in the key of C. Theodore turned to his father for help. First, Haber consulted with his brother-in-law, Roger Waxler '86 GSAS, a research scientist at the National Center for Physical Accoustics at Mississippi. Then Haber dug out another textbook by Olson, whose writings had served as a foundation for his audio preservation invention.
Haber and his son bought pieces of ¹/8-inch aluminum, measured the lengths that would deliver the precise tone and mounted them. They struck the bars, which resonated in what they asserted was the C scale.
But the teacher sent the project back for revisions, saying the notes weren't in the right key. When Haber measured the bars' thickness, he discovered that the aluminum strips were actually 10 percent thinner than advertised, which had thrown off the calculations. They ground off two or three millimeters from each bar. They had their C scale."In these projects, you need to measure everything," Haber says. "We discovered physics actually works."