Features
Senior Snapshots
The Class of 2014 is remarkable for its achievements and ambitions. Following are seven members' stories.
By Nathalie Alonso '08; Photos: Char Smullyan
Onella Cooray Helps Consumers Make Healthful Choices
Onella Cooray '14Onella Cooray '14 envisions a career in which she can help average consumers make healthful decisions for themselves and the planet. "There's so much information about sustainable living floating around," she says. "Not everyone has the time to sift through it or the knowledge to unpack it to see what actually goes into [the food] they eat and [the things they] use."
In her last semester, the self-professed foodie interned with Clean Plates, whose offerings — which include restaurant guides and a free app for Manhattan, Brooklyn and Los Angeles — direct consumers to sustainable, healthful and flavorful food sources. Though the company is based in Manhattan, Cooray mostly telecommuted thanks to the Center for Career Education's Virtual Internship Program. She both conducted research for the Clean Plates newsletter and contributed to a glossary of nutrition and sustainable food terms.
Previously, Cooray interned with GrowNYC, a nonprofit that operates more than 50 farmers' markets throughout the city. Once or twice a week from June 2013 through January 2014, she managed food stamp transactions at the Lincoln Hospital Greenmarket in the Bronx. Cooray also visited the hospital to encourage beneficiaries of the Special Supplemental Nutrition Program for Women, Infants and Children — federal food assistance for low-income pregnant and breastfeeding women, and children ages 5 and under — to use their checks at the market "to buy fresh produce that is in season and probably less exposed to pesticides and chemicals," she says.
A Kluge Scholar from Colombo, Sri Lanka, Cooray was drawn to Columbia's emphasis on the liberal arts. After completing a concentration in environmental science, she opted for a second concentration in sustainable development to see "the social and human aspects of environmental issues." She had an "aha" moment when she took "Global Food Systems" as a sophomore. "I was aware of issues surrounding food, but I hadn't really considered pursuing that as a career," says Cooray, who during her first two years was a member of Columbia University EcoReps, a student group that works with Housing and Dining to make the campus more environmentally sustainable.
Cooray's most significant co-curricular activities, however, revolved around the International Students Orientation Program, a Student Affairs initiative that helps foreign students transition to the United States and the College. For Cooray, the friendships and insight she gained from the program were so vital that she volunteered as an ISOP orientation leader the next two years and was one of two paid student coordinators for ISOP 2013. She was recognized for her dedication to the program with a King's Crown Leadership Excellence Award. "ISOP was definitely one of my more important commitments and has brought me a great sense of accomplishment," says Cooray.
After graduation, Cooray will be an editorial consultant at Clean Plates before turning her attention to graduate school. For now she'd like to stay in the Big Apple, where she relishes the culinary scene. "I really enjoy good food and good ingredients," says Cooray. "So coming to New York City was just marvelous."
Marvellous Iheukwumere Runs Toward 2016 Olympics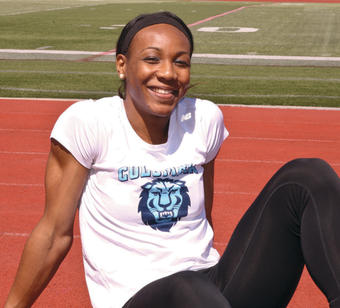 Marvellous Iheukwumere '14The 2012 Ivy League Heptagonal Indoor Track and Field Championships occupy a special place in Marvellous Iheukwumere '14's memories. The sprinter captured the first of her seven Ivy League titles at the event, hosted that year by Cornell, as she prevailed in the 200-meter dash and helped Columbia win the indoor championships for the first time.
"No matter where I am in life, that will always be something I helped accomplish at Columbia," says Iheukwumere, who was 9 when her family moved from her native Nigeria to Austin, Texas.
As a sophomore, Iheukwumere was named the 2012 Armory College Athlete of the Year for her indoor performance. As a junior, she won all the sprint titles in both the indoor and outdoor Ivy League championships and, at the NYU Team Challenge in January, won the 60-meter dash with a time of 7.46, breaking her own school record. She also received the 2014 Scholar Athlete Award and 2014 Arthur Ashe Sports Scholar Award.
Excelling in track and field while carrying a full academic load required a balancing act, but Iheukwumere welcomed the challenge when she chose the College. "I wasn't interested in going to a school where my experience would just be centered on sports," she says. "I wanted to expand my academic horizons."
A psychology major, Iheukwumere received a Mellon Mays Undergraduate Fellowship, awarded each spring to up to five sophomores from underrepresented backgrounds to prepare them for Ph.D. studies. For the remainder of their college career, fellows receive financial support and research training and engage with faculty. The fellowship allowed Iheukwumere to study the relationship between use of the drug ecstasy and cigarette smoking. She found a mentor in Associate Professor of Psychology Carl Hart, the program's faculty coordinator. "It was a great experience," says Iheukwumere. "It's really powerful to produce knowledge and tell people something new."
Eager to inspire others to pursue higher education, Iheukwumere mentored middle school students through Level the Field, a nonprofit started by Erica Woda '04 that connects youth in Washington Heights and East Somerville, Mass., with student-athletes from Columbia and Tufts. For six weeks each fall during her first three years, Iheukwumere visited the Washington Heights Expeditionary Learning School once a week to help students establish goals and teach them time management strategies and other skills. In turn, the students "taught me to continue to dream," says Iheukwumere, who as a senior recruited and trained fellow Columbians to serve as mentors for Level the Field.
Iheukwumere has pondered a career in the sports industry. Last summer, as an intern in the NBA's facilities and crisis management department, the Miami Heat fan helped devise security plans for various events, including the NBA Draft. After graduation, she will work full-time at the NBA in one of its Associate Programs as well as focus on running with the goal of representing either the United States or Nigeria in the 2016 Olympics. "I don't see that I'm done yet," Iheukwumere says of her running. "I really want to push my potential and get to the ultimate stage of competing."

Luisa Lizoain Uses College Experience for Urban Exploration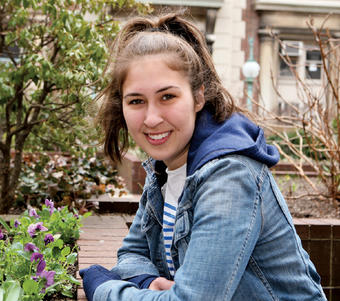 Luisa Lizoain '14Given Luisa Lizoain '14's primary reason for choosing the College — "I was excited about the cultural opportunities New York City provided," she says — it's no surprise that her favorite memories of the Core are the supplemental outings. "When I took Lit Hum, we got tickets to see Sleep No More [an interactive retelling of Macbeth]; that was definitely a highlight," says Lizoain, who also relished her Art Hum-related visits to the Met.
Lizoain, who majored in urban studies with a focus in sustainable development, also used her time at the College to explore other cities. She spent eight weeks during summer 2012 as an intern at ClearWorld Media, a social media consulting group in Beijing, through Columbia Experience Overseas, a program of the Center for Career Education. ClearWorld Media uses social media to raise awareness about environmental issues and promote its clients. Lizoain managed Facebook, Twitter and other social media accounts for two of the company's projects, Climate Action and Upcycling, which encourage individuals to reduce their carbon footprints and limit waste. "It was interesting to learn how companies like these [generate] the content they post," says Lizoain. "I hadn't really thought about online branding in that way."
Lizoain spent the Spring 2013 semester at the School of Land and Environment at the University of Melbourne, where she took four courses. She particularly enjoyed "Cities: From Local to Global," an urban planning course that involved excursions to the suburbs of Melbourne to study the use of space and to get local residents' perspectives on what they liked and disliked about their neighborhoods. "The field work forced me to pay attention to elements of the landscape that I might ordinarily take for granted," says Lizoain.
A movie buff who enjoys all genres, Lizoain initially thought to major in film. Instead, she pursued her interest through electives and the Ferris Reel Film Society, a student group that organizes on-campus screenings for Columbia students for free or at discounted prices. This year, Lizoain, who became president of the group as a junior, helped arrange advanced screenings of Don Jon at the 84th Street AMC Theater and of the mid-season premiere of the USA Network drama Suits in Roone Arledge Auditorium. The latter included a Q&A with cast members.
"There's a sense of community when students are watching the movies [and TV shows] together; that's been really rewarding," says Lizoain, who was honored as a Senior Marshal. The Toronto native also volunteered with the Global Recruitment Committee beginning in her sophomore year, was an orientation leader for the New Student Orientation Program 2011–13 and co-chaired the 2014 Senior Dinner.
In her last semester, Lizoain interned in the film and television division of Random House, where she evaluated the potential of book manuscripts for motion picture adaptation. In the short term, she plans to pursue a career in film or television production, but has not ruled out attending graduate school for urban studies. "I love them both," she says.
Darpan Patel Researches Cancer Cell Death Mechanisms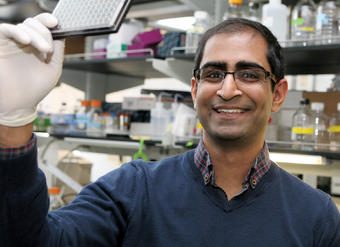 Darpan Patel '14Guaranteed research funding made the College an easy choice for Darpan Patel '14. A biology major, he was among the select few admitted to the I.I. Rabi Scholars Program as incoming first-years on the basis of "exceptional promise in the sciences." As a Rabi Scholar, Patel received stipends and free housing for three summers while he researched cell death mechanisms with Associate Professor of Biological Sciences and Chemistry Brent Stockwell.
Broadly speaking, Patel's research sought ways to kill cancer cells while avoiding the recurrence of the disease seen with conventional therapies. Most current treatments work by inducing a naturally occurring mechanism known as apoptosis, or programmed cell death. "The problem is that cancers eventually develop resistance to apoptosis," says Patel, whose experiments involved using small molecules — potential treatments — in attempts to destroy cancer cells through non-apoptotic means.
Each fall, as required by the program, Patel shared his summer work with his fellow scholars at the Rabi Scholars Program Annual Research Symposium. "What I really liked about the Rabi program is that it brought me into contact with people from many disciplines," says Patel, who received the Bridges and Sturtevant Prize in Biological Sciences, awarded every year to a graduating senior for "highly original and fruitful" research.
In his senior year, Patel worked with Senior Associate Dean of Academic Affairs Hazel May to lay the groundwork for an intergenerational mentoring program for Rabi Scholars. He held biweekly office hours during which he fielded questions from first- and second-year Rabi Scholars about life as an undergraduate researcher. He also gave talks to underclassmen on such topics as scientific writing and finding the right lab to work in. "It's helpful for them to think about these things early on so they can gauge for themselves whether they are having the best research experience possible," says Patel, who grew up in Morrisville, N.C.
Patel hopes to make the mentoring program available to all Columbia undergraduate science students. He is working toward that goal by continuing his research in Stockwell's lab as well as applying to M.D./Ph.D. programs. In the long run, Patel sees himself as a professor of clinical oncology at a research hospital or medical school. Accordingly, once a week during the spring 2014 semester, he volunteered at the Beth Israel Cancer Center, where he evaluated proposals for clinical trials and shadowed doctors. "I wanted to get an inroad into how clinical research is done, especially cancer clinical trials, and, more generally, get a better notion of how cancer patient-doctor interactions work," says Patel.
Also in his last semester, Patel gave lectures and created study guides as a teaching assistant for "Molecular Biology," co-taught by James Manley, the Julian Clarence Levi Professor of the Life Sciences, and Jennifer Punt, assistant professor of pathology and cell biology at the Columbia Medical Center. "I learned an astronomical amount during the last semester, just in terms of how differently people think about [scientific] problems and how valuable that is," Patel says.

Kai Schultz Pursues Law, Writing and Human Rights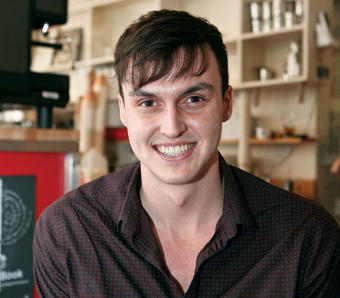 Kai Schultz '14From a nonprofit internship to literary research to extracurricular activities, Kai Schultz '14 used his time in the College to explore LGBT issues from a variety of angles.
Among his most informative experiences, he says, was an internship with the American Civil Liberties Union's LGBT and AIDS/HIV Project in the spring of his sophomore year, which entailed summarizing legal cases the nonprofit was considering for representation. He also was involved with the organization's "Don't Filter Me" project, which aimed to stop public schools from using web filtering software that blocks access to sites containing positive LGBT-related information. His experience at the ACLU "solidified my interest in going to law school," says Schultz, who now is a paralegal at a boutique securities litigation firm in Manhattan.
An English major, Schultz spent summer 2013 in London, where he conducted research on homoeroticism in Matthew Lewis' The Monk and other 18th-century Gothic texts. He studied one of Lewis' unfinished manuscripts, The Effusions of Sensibility, at the Victoria and Albert Museum. "[The Monk] treats homosexuality in more careful terms compared to its depiction of other transgressive sexualities," says Schultz, who concluded that "Lewis was thinking carefully about how to inscribe homoeroticism into the text without specifically calling attention to something that resonated in his personal life."
A $4,000 Richmond B. Williams Traveling Fellowship, awarded by the Department of English and Comparative Literature to English majors in their junior year, covered Schultz's travel and living expenses. While in London, Schultz started the website Let Me Speak (letmespeakproject.com), where he showcases "the diversity of queer life in urban spaces" through interviews with members of the LGBT community. He now conducts interviews with LGBT New Yorkers. "It's been a great way to meet people and to develop my writing in other ways," says Schultz.
Schultz, whose long-term plan is to "combine my interests in law, writing and human rights," was president of the Columbia chapter of Amnesty International in his senior year. The student group organizes events such as speaker panels and film screenings that are centered on a semester-long theme — for Spring 2014, it was transgender awareness — and other human rights issues espoused by Amnesty International.
Schultz, who grew up in the Phoenix suburb of Gilbert and now calls Scottsdale home, was drawn to the Core and New York City. In his first year, he joined the Undergraduate Recruitment Committee and began leading campus tours and hosting prospective students through the Lunch and Overnight Visits program and Days on Campus. As a URC member, he also interviewed prospective students in conjunction with the Alumni Representative Committee.
Schultz was a member of the URC Advisory Board in his senior year, during which he was responsible for coordinating all campus tours. "You learn to articulate your thoughts much better when you are in front of a group of people and have to talk about the school," says Schultz of his experience as a tour guide. "It's definitely one of the activities I'm going to miss the most."
Finn Vigeland Has the Right Word for Just About Anything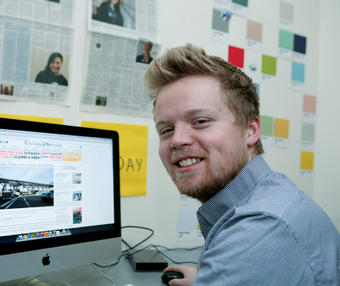 Finn Vigeland '14Finn Vigeland '14 was just a few weeks into his College career when, in October 2010, The New York Times published one of his crosswords. Though he attained at an early age what is considered the holy grail of crossword puzzling — and he's had two more puzzles published in the Times since — Vigeland is hardly complacent. "It's fun to try to get a word or phrase in that hasn't appeared in the Times puzzle," he says.
Vigeland, who was born in Buffalo, N.Y., and grew up in Westchester, first submitted a crossword to the Times in 2008. Crossword editor Will Shortz rejected it but suggested ways to improve the puzzle and invited Vigeland to compete in the Westchester Crossword Puzzle Tournament. Shortz organizes the annual event, followed by a reception at his area home.
Vigeland's interest in crosswords began in earnest when he saw Wordplay, a 2006 documentary about the American Crossword Puzzle Tournament, which was founded by Shortz in 1978. (Vigeland has twice competed in the event, most recently in March, when he finished 246th among 580 competitors.) The DVD extras, which include interviews with crossword constructors, inspired Vigeland to create his own puzzles. "It's important to have an aesthetic grid but it's very much a science of getting interlocking letters to fall into place," says Vigeland, who also has had a crossword published in The New York World, the Journalism School's online newspaper, and another in Twenty Under 30, a collection of puzzles by constructors under the age of 30.
Up until his last semester, when he was not in class or constructing a puzzle — his collection of unpublished crosswords is "sizeable" — Vigeland often could be found in the Spectator office, where he was managing editor for a year beginning in December 2012. "It's mind-blowing to me that at the ages of 20 and 21, I was responsible for something I like to think had a big impact on people's lives around campus and around the city," says Vigeland, who as city news editor in 2012 reported from President Barack Obama '83's election night rally in Chicago.
An urban studies major who chose the College largely because of the Core, Vigeland envisions a career in transportation planning. As a historical franchise intern last summer with the New York City Department of Transportation, he helped digitize the city's centuries-old utility company contracts for internal use. Using his knowledge of geographic information systems, he laid the groundwork for a database that allows users to search for contracts by keyword or by clicking on a map of the city.
A biking enthusiast, Vigeland hopes to find work that allows him to build upon the alternative transportation initiatives enacted by the Bloomberg administration. "I really think [they] moved the city in the positive direction of promoting more cycling and walking and less reliance on cars," says Vigeland. "I would love to work in a field that allows me to promote these policies and make them better."

Kalena Zimmerman Spreads the Columbia Gospel to Hawaii
Kalena Zimmerman '14As she was planning Perspectives in Diversity and Days on Campus this spring as co-chair and programming coordinator for the Multicultural Recruitment Committee (MRC), Kalena Zimmerman '14 paused to reflect on her time in the College. "I've come full circle, as these are the programs that got me to pick Columbia," she says.
As an incoming student, Zimmerman traveled from her hometown of Hilo, Hawaii, for the overnight visit programs, held each April. "I really enjoyed the atmosphere," recalls Zimmerman, a Kluge Scholar. "I wanted to experience four years in a place where I didn't know anyone and I would have to find myself."
As a member of MRC, Zimmerman also interviewed prospective students in collaboration with the Alumni Representative Committee (ARC) and contributed to a college application guide expected to be available online to the Class of 2019. Designed with first-generation students in mind, it includes a timeline. "The idea is to spread everything out so they know what is coming," says Zimmerman, the first member of her household to go to college.
From November 2012 until she graduated, Zimmerman also was an outreach intern with the Office of Undergraduate Admissions, which entailed corresponding with prospective students and leading campus tours and information sessions for groups from local schools and community organizations. Zimmerman, who is part native Hawaiian on her mother's side, contributed to recruitment efforts by helping to establish relationships with community organizations that reach indigenous populations in her home state.
Zimmerman was a liaison between Admissions and two student groups: Mālama Hawaii and the Native American Council. As a junior, she helped revive the former, which celebrates the islands' culture through an annual luau and other activities. During her first three years in the College, Zimmerman also helped plan and promote the Native American Council's annual Powwow and Native American Heritage Month.
Strengthening the Native American and native Hawaiian communities at Columbia "has been my biggest goal here," says Zimmerman, who as a senior mentored a Native American student raised in Hawaii through the Columbia Mentoring Initiative, a program of the Office of Multicultural Affairs that pairs first-years with upperclassmen. She received a King's Crown Leadership Excellence Award for her support of current and prospective students and for fostering a "diverse, tolerant, and inclusive community" on campus.
Zimmerman, who also was honored as a Senior Marshal, majored in East Asian languages and cultures and wrote her senior thesis on tourism marketing techniques in Hawaii, Japan and South Korea. Among her favorite memories of her College years is writing a paper for Art Hum on Pieter Bruegel's The Harvesters while sitting in front of the painting at the Met. "I loved that Columbia allows students to learn from the city," she says.
Zimmerman plans to return to Hawaii to share her knowledge of college admissions with indigenous and first-generation high school students. "I want to work with students to give them the opportunities I was given," she says.
Nathalie Alonso '08, from Queens, is a freelance journalist and an editorial producer for LasMayores.com, Major League Baseball's official Spanish language website. She writes "Student Spotlight" for CCT.