Features
At Reunion and Dean's Day, Alumni Reconnect and Reminisce
By Lisa Palladino
Almost 1,500 College alumni and more than 700 guests returned to campus and to venues throughout New York City May 29–June 1 for Alumni Reunion Weekend and Dean's Day 2014. Gathering this year were classes that end in 4 and 9, and all alumni were invited to Saturday's Dean's Day, which offered Talks Across Campus and Mini-Core Courses that recreated the educational experience that bonds all alumni.
View photos from Alumni Reunion Weekend and Dean's Day 2014.View and download reunion class photos.View the list of Dean's Pin recipients and Class Agents.
The Young Alumni Party aboard the U.S.S. Intrepid.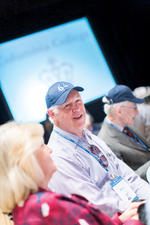 A proud member of the 50th reunion class.Among the weekend's other highlights were class-specific panels, receptions and dinners; the Young Alumni Party aboard the U.S.S. Intrepid; Dean James J. Valentini's Continental Breakfast and Address; and two perennial favorites, the Wine Tasting and the Starlight Reception. At Valentini's address, Jonathan Sobel '88 was presented the President's Cup, awarded annually to an alumnus/a for contributions to his or her class' reunion the previous year. Sobel co-chaired his 25th Reunion Committee.Gifts to the Columbia College Fund are an important part of reunion, and as of June 6, the Class of 1964 was on the verge of $6 million in gifts and pledges, which would tie it with the Class of 1963 for a 50th reunion record, and the Class of 1989 was approaching its goal of 70 John Jay Associate-level donors ($1,500 or more), which if reached would set a record for leadership gifts in a 25th reunion.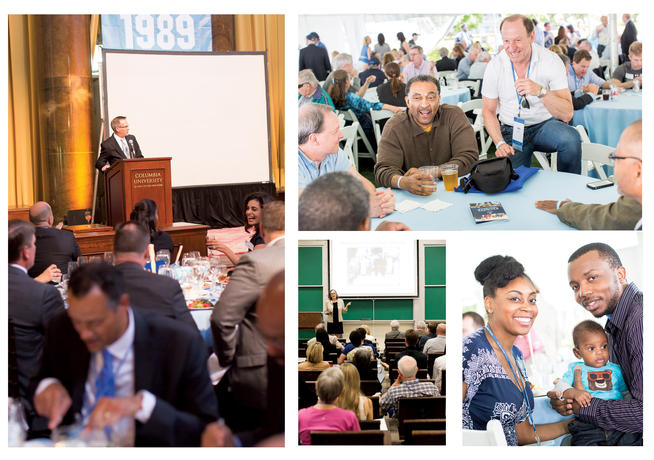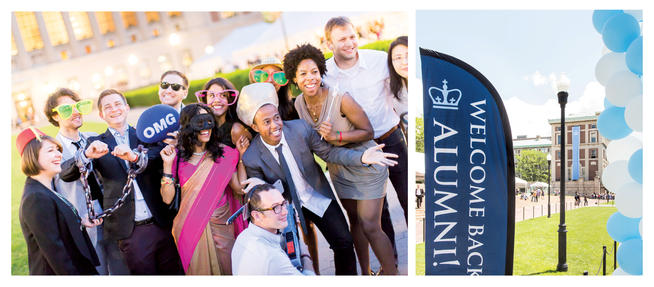 Clockwise from top left: Dean James J. Valentini addresses members of the Class of 1989 at a dinner; catching up during Saturday lunch on South Lawn; many weekend attendees bring their families; Professor Susan Pedersen lectures on the League of Nations; balloons and banners festoon campus; mugging for the camera at an outdoor photo booth before the Starlight Reception. PHOTOS: Scott Rudd/scottruddevents.com