Features
A Savory Tradition
Mauro Maccioni '95, youngest son of "the first family of fine dining," keeps making food lovers smile
By Nathalie Alonso '08
Restaurateur Mauro Maccioni '95 prepares his family's famous pasta primavera — a dish invented by his father, Sirio, in 1975 — tableside during lunch at Osteria del Circo. PHOTO: Natalie Keyssar
It's lunchtime on a humid summer Tuesday and a suit-and-tied Mauro Maccioni '95 is seated in a harlequin-patterned chair in the dining room of Osteria del Circo, the Midtown West restaurant inspired by his mother Egidiana's Tuscan home cooking. He's been back from Italy for less than a day, but defies any jet lag to watch over the flow of service beneath a ceiling adorned with trapezes and silhouettes of simian acrobats. The whimsical décor continues the circus theme conceived by his father, Sirio, for the family's first venture, the renowned French restaurant Le Cirque.
With the elder Maccioni now in his 80s, Mauro and his older, NYU-educated brothers, Mario and Marco, have taken over the family business and expanded it into a global restaurant empire. In the process, they've turned the Maccionis into what celebrity chef Anne Burrell has called "the first family of fine dining." Although they run a much bigger operation, the brothers, like Sirio, pride themselves on being visible, hands-on restaurateurs who tend to all aspects of the business, from employee management to hosting and, in the case of the culinary-inclined Mauro, menu planning.
"When you put a smile on people's faces and they say, 'Ah, the food is great. I want to come back,' you can go home and sleep well. Your feet may be tired, but it's very satisfying," says Mauro, who was a toddler in 1974 when Le Cirque opened at the Mayfair Hotel on East 65th Street, and less than a year removed from the College when Circo opened in January 1996. The family's third New York City restaurant, Sirio Ristorante, opened in October 2012 at The Pierre hotel. Maccioni Restaurant Group also operates three restaurants in Las Vegas, two at the Casa de Campo resort in the Dominican Republic and a growing number of ventures in India and the United Arab Emirates. Holland America Line also offers the dining experience "An Evening at Le Cirque" on its cruise ships.
That the Maccioni brothers would become enamored of the restaurant business seems inevitable, especially for Mauro, whose formative years coincided with the heyday of Le Cirque. Back then, Frank Sinatra, Woody Allen, Richard Nixon, Jackie Onassis or Nancy and Ronald Reagan could drop in on any given night and order the house's signature paupiette of black bass. Many of Mauro's childhood Saturdays were spent serving coffee and refreshments to the restaurant's elite patrons.While Sirio has said he envisioned his sons becoming "a lawyer, a doctor and an architect," Mauro doesn't buy that his father wanted them to pursue other careers. "He always jokingly said, 'I didn't send you guys to NYU and Columbia for you to sell soup,'" says Mauro. "And then all three of us went into this business of selling soup — very good soup — but selling soup."
The Maccionis at home (top, left to right, Mario, Mauro, Sirio, Egidiana and Marco) and at Le Cirque. PHOTOS: Top, Courtesy Mauro Macconi '95; Bottom, Sabrina Wender
Born and raised in New York City, Mauro traces his passion for food not to Le Cirque but to a 1982 family trip to Europe. "After spending time in France, eating the croissants, the amazing butters and marmalades, I fell in love with food," says Mauro, then 10. His teenage memories include strolling into the Le Cirque kitchen after school with a basketball tucked under his arm and asking chef Daniel Boulud, now a world-renowned restaurateur, to make him a burger. Boulud, seafood guru Rick Moonen, Food Network personality Geoffrey Zakarian and chocolatier Jacques Torres are among the star chefs whose careers were launched at Le Cirque.
In contrast with his sons' upbringing, Sirio, recipient of the 2014 James Beard Foundation Lifetime Achievement Award, was orphaned by 12. He supported his sister and grandmother by working at a hotel in his Tuscan hometown of Montecatini Terme. Sirio later worked in prestigious hotel restaurants throughout Europe before taking a job on a New York-bound cruise ship in 1956. In the 1960s, he made a name for himself as the maître d' at The Colony, a Manhattan café society restaurant with an A-list clientele. When The Colony closed in 1971, Sirio decided to open his own restaurant, which he named Le Cirque — French for "the circus."
Among the patrons who became fixtures at Le Cirque was the late pioneering television executive Roone Arledge '52, a University trustee who was also an occasional guest at the Maccioni home. "He knew I would be going to college soon and he would tell me, 'You should go to Columbia,'" says Mauro, for whom "being in the city and being able to attend such a prestigious Ivy League school" made the College an obvious choice.
Mauro lived at home on the Upper East Side and drove to campus — "I'm Italian; I'm a mama's boy," he says — though he occasionally crashed with his fraternity brothers at the Kappa Delta Rho house. He also spent considerable time at Dodge Fitness Center playing basketball. Even during his College years, however, Mauro devoted many nights and weekends to Le Cirque. He often would sit in budget meetings, but it was the food aspect that captivated him.
On his own initiative, Mauro spent his college summers in Italy and France, honing his skills through stages, or culinary internships, at such Michelin-starred restaurants as Enoteca Pinchiorri in Florence, Les Crayères in Reims and the Hôtel Ritz in Paris. In 2001, he spent a month under chef Juan Mari Arzak's tutelage at Arzak in San Sebastian, Spain, the first restaurant in the Iberian country awarded three Michelin stars.
At each restaurant, and in particular at Les Crayères, Mauro devoted some days to learning the nuances of being a host and running a dining room. It was the kitchen, however, where he spent most of his time.
At each restaurant, and in particular at Les Crayères, Mauro devoted some days to learning the nuances of being a host and running a dining room. It was the kitchen, however, where he spent most of his time. He describes his role as being "an extra pair of hands," and was often asked to help prepare for service in the mornings by chopping carrots and onions. "As I did that kind of work, I was able to see the plating," says Mauro, who also gained experience at the various kitchen stations, including salads and hot and cold appetizers.
Mauro continues to cultivate his knowledge of Italian cuisine through trips abroad. "I travel throughout Italy to eat at anywhere from three-star Michelin restaurants in Milan to simple trattorias [informal restaurants] in Tuscany — all different styles from high to low," he says.
Given his culinary experience, Mauro acts as an in-house food consultant at Circo, working with the chef to design and adjust the menu, plan specials and decide on new ingredients. "Mauro knows more about what food should look and taste like than any of us," says Mario, the eldest of the brothers. "If he has a strength, it would definitely be the food."
Mauro's love of food has long been evident to chef Cesare Casella of New York City's Salumeria Rosi Parmacotto; an authority on Tuscan cuisine, he has known the Maccionis for more than 30 years. Casella notes that of the brothers, Mauro is the most in touch with his Tuscan roots. "His passion was not only to be a restaurateur like his father but also to be knowledgeable about food and international cuisine. He respects simplicity and has great respect for the food that he provides to his customers."
Mauro also has a reputation for sparing no efforts when he cooks for friends and family, including his 8-year-old daughter, Stella. "You would think a guy who works in a restaurant five or six days a week, on his day off, the last thing he would want to do is cook. But that's what he does," says Mario, who praises Mauro's seafood pastas and marvels at the time his youngest brother will devote to stuffing calamari or zucchini blossoms. "He goes crazy, makes a huge mess and everyone has a great meal."
Mauro grew up playing with dough and making sundaes with Marisa May, daughter of Tony May, the Italian restaurateur behind former New York institution San Domenico. The father-daughter team currently owns SD26 near Madison Square Park, a modern spin-off of their original restaurant. "If Mauro cooks for me and other friends, it's always Italian, not French," says Marisa May. "He realizes what authentic Italian flavors are and which ingredients are top-of-the-line, which is extremely important when you are cooking Italian food because it's not worked like French food, where you simmer sauces for hours."
When it came to burgers, May notes, Mauro's taste was not limited to those made by Boulud: "If we were allowed to, we would love to go to McDonald's and have quarter pounders with cheese, which would make our parents pull out their hair."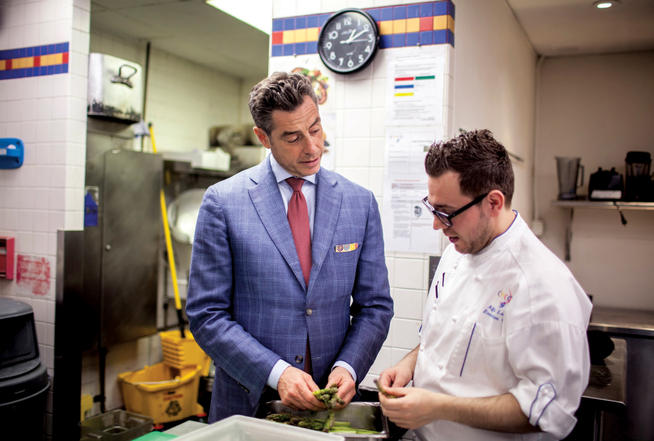 Maccioni reviews the dishes of the day with Osteria del Circo's executive chef, Alfio Longo. PHOTO: Natalie Keyssar
Mauro eases into a typical work day with a cappuccino at Circo around 10 a.m., followed by an informal meeting with the chef. Most days he devotes entirely to Circo. Other days, after touching base with Circo's general manager and checking reservations, he'll spend the early afternoon assessing things at Sirio, Le Cirque or both. Still an avid basketball player, if he's not spending time with Stella after school, he's at the gym shooting hoops before returning to one of the three restaurants for dinner service.
The responsibilities among the Maccioni brothers are divided in a way that, in Mauro's words, keeps them "out of each other's hair." While Mauro is hands-on at Circo and plays a supervisory role at Sirio, Marco is more focused on Le Cirque. Until recently, Mario lived in Las Vegas and oversaw the family's restaurants there. "It is quite a headache," says Mauro of running a business with his parents and siblings. "It does compromise the family relationships, but we all love each other very much and we make it work. It is not an easy thing. Sometimes my brothers and I see things quite differently."
Each of the brothers has carved a niche within the business. Mario considers himself "back-of-the-house and employee-oriented," while Marco's forte is service and wine programs. The culinary side is Mauro's territory. "Mauro is side by side with the chefs of all these restaurants, not trying to micromanage them but definitely having his input," says Mario.
Keeping the Maccioni brand current while preserving Le Cirque is part and parcel of the brothers' challenge. The restaurant enjoyed its prime at a time when New York City's dining scene was much smaller, and now faces competition from the city's seemingly endless food options. Le Cirque no longer draws most of its patrons from the upper echelon of society but Mauro believes its diners still seek the luxury associated with classic French fine dining. "If I was a customer, I'd go to all the other trendier places for variations on tuna and things like that. Le Cirque, for me, is about caviar and champagne, Dover sole and soufflé," says Mauro. Nonetheless, he recognizes the need to adapt to a changing culinary industry. "It's difficult to maintain that 'edge' with the journalists, the media and customers. We think we do a pretty good job at it. We go around. We visit all the restaurants. We're pretty involved trying to keep the younger edge."
The balancing act manifests itself at Le Cirque's latest incarnation, at the Bloomberg Building on East 58th Street, where it relocated in 2006. (After shuttering its original location in 1996, the restaurant operated as Le Cirque 2000 at the Villard Houses in the Palace Hotel 1997–2004.) Jackets and an ample budget are still required in Le Cirque's main dining room, but not at the adjoining Le Cirque Café, which according to Mauro, "is based on the principle of a simpler presentation of food at a more moderate price point."
May underscores how difficult yet crucial it is for a restaurateur in Mauro's position to strike the right balance between tradition and innovation. "He had to reinvent his father's concept, like I had to at SD26," she says. "Taking the torch and taking it to another level and bringing in a new generation — but not forgetting the past — is what helps him be such a successful restaurateur."
The Maccionis' willingness to evolve with the industry is evidenced by a foray into reality television. The family accepted a proposal to conduct a search for an executive chef for Circo Abu Dhabi, expected to open later this year, on the Food Network show Chef Wanted with Anne Burrell; each episode features four contestants competing for a position at a different top restaurant. Mauro represented his family in their episode, which aired in August 2013. "The industry has changed; I've gotten a lot of feedback from people who saw the show. They recognize me," he says. "Not that I'm a star now, but for business it definitely makes a difference, puts you on the map. It helps the brand."
Mauro's "all-in" approach to the restaurant business, whether he's in front of a camera, designing a menu or observing service from a back table at Circo, has earned him the praise of his family. "There are people who do this because they have to do it and they want to bring home a paycheck," says Mario. "[Mauro] really throws himself into it — both food and marketing. He eats it up. He's very passionate. Not to say that the rest of us aren't passionate, but he's the one who gets all bent out of shape when something isn't right."
For someone who once advised his children to pursue other paths, Sirio lauds his youngest son's passion. "Mauro is good because he's never happy," says Sirio. "He's always after the chefs: 'We should do more, we should do this.' And that's how a really good restaurant guy should be."
Nathalie Alonso '08, from Queens, is a freelance journalist and an editorial producer for LasMayores.com, Major League Baseball's official Spanish language website. She writes "Student Spotlight" for CCT.