Message from the Dean
A Plan for Lifelong Engagement
In May, 1,026 Columbia College students marched from Butler Library toward the Sundial in their Class Day ceremony to celebrate their accomplishments, commemorate their graduation and join our community of almost 48,000 alumni. Two weeks later, nearly 1,500 Columbia College alumni and more than 700 guests returned to Morningside Heights for Alumni Reunion Weekend and Dean's Day to celebrate on Low Plaza, take Mini-Core Courses and catch up with friends.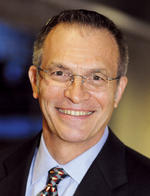 PHOTO: Eileen BarrosoAs I've written here, life as a Columbia College student is a continuum — you start as a "future student," spend four years as a "current student" and graduate to a "former student," a category in which you will typically spend more than 60 years. The events of each spring represent this, as current students transition to former students and former students reconnect with their Columbia College experience. But I don't want that to happen only at reunion. My goal as dean is to keep you connected and engaged in the life of the College throughout your personal and professional lives.
To figure out how best to engage you, the alumni of Columbia College, I appointed a College Alumni Relations Task Force last year. The 13-member committee, which included members of the University Board of Trustees, Columbia College Board of Visitors, Columbia College Alumni Association Executive Board and Columbia College Young Alumni, convened focus groups, benchmarked with other institutions and created a five-year strategic plan for Columbia College Alumni Relations. The committee believes this plan will enhance your Columbia experience, help you remain involved in the life of the College and connect you with other Columbians — both students and fellow alumni.
The plan that the committee presented to me earlier this academic year has four pillars:
Intellectual Experience: To provide content-rich, unique, intellectual experiences, ranging from Mini-Core Courses to virtual programming;
Power Network: To help you build personal and professional connections through the energy and accomplishments of our community, including career programming, mentoring and other tools;
Pride and Recognition: To build upon the traditions that connected you to the College and to your peers, and to recognize and celebrate your accomplishments as alumni; and
Columbia Service: To inspire you to get involved with students, other alumni and the College, and to give your time and talents, while having meaningful volunteer and leadership experiences.
Valentini shares a laugh with Wanda Holland Greene '89, '92 TC at the 1989 dinner on the Saturday of Alumni Reunion Weekend. PHOTO: SCOTT RUDD/SCOTTRUDDEVENTS.COMOur Alumni Relations team did a lot this academic year to carry out this plan — expanding our staff, strengthening our relationships across campus and enhancing our outreach efforts. I hope that you have begun to notice the changes. You are already connecting to the College by reading this issue of Columbia College Today. But I encourage you to get more involved with the Columbia College Alumni Association, to sign up to interview future students through the Alumni Representative Committee or do mock interviews for the Center for Career Education, to attend alumni events in your region and to come back to campus for the Alumni Parade of Classes at Class Day and for the Alumni Procession at Convocation, or for reunion and Dean's Day each spring.
This is a plan for you, so if you have questions or suggestions, please don't hesitate to reach out to ccalumni@columbia.edu.
Have a great summer!