Obituaries
1938
George W. Sferra, dentist, Gulfport, Fla., on November 6, 2013. Sferra was a captain in the Army in WWII. He practiced dentistry in New York City for more than 50 years and was a past president of the New York County Dental Society and the New York Academy of Dentistry. He was predeceased by his wife of 63 years, Edith, in 2012. Sferra is survived by his children, George W. Jr. and his wife, Barbara, Mary Sferra Facciolla and her husband, Tom, James and his wife, Cynthia Allen, and John and his wife, Ivana; six grandchildren; and sister, Elinor Bazaz. Memorial contributions may be made to Catholic Charities.
1942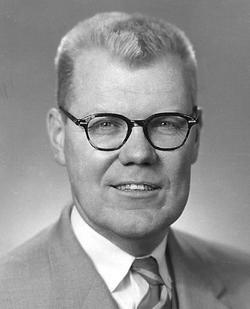 John A. Persson '42John A. Persson, retired engineer, Cranberry Township, Pa., on October 15, 2013. Born September 4, 1919, in Denmark, Persson immigrated to New York with his family. He entered Columbia with the Class of 1942 but graduated from Engineering with a B.S. in electrical engineering. At Columbia, Persson rowed crew. He was employed by Union Carbide and Carborundum Co., Mining and Metals Division, as senior design and development engineer, Engineering and Construction Department, in Niagara Falls. In 1969, Persson worked for Lectromelt Corp. in Pittsburgh as product manager, where he specialized in manufacturing electric furnaces and ancillary equipment. He retired and in 1987 formed Trode Tech to exploit invention of iron free self-baking electrodes for submerged arc furnace production of silicon metal. In the field of electrochemistry and metallurgy, he held 27 patents. He authored 20 publications. Persson was fluent in six languages and enjoyed traveling. He was predeceased by his wife, Aina Sophia Almen, whom he married in 1942 and who passed away in 1979. He is survived by a son, David J., and his wife, Marcia; two grandchildren; companion, Claudette Malfray; sister, Judith Harriet Foley; nephews, Frank and Jim Foley; and niece, Judy Lynn Foley.
1945
Joseph M. Stein, retired neurologist, Topeka, Kan., on July 24, 2013. Stein was born on January 27, 1924, in Weehawken, N.J. He commuted to Columbia while in the World War II Army Specialized Training Program, finishing his premedical degree in 1944. Stein earned an M.D. from NYU in 1947. After a yearlong internship at Morrisania Hospital in NYC, he completed a three-year residency at Bellevue Hospital. Stein served as a neurologist at Scott AFB for two years during the Korean conflict. He moved to Topeka in 1953 to join the Karl Menninger School of Psychiatry for training, completed in 1955. Hethen moved to the Winter General (V.A.) Hospital until 1957, when he became part of the Menninger neurology-neurosurgery staff and faculty of the University of Kansas School of Medicine. In 1991 he joined the Cotton-O'Neil Clinic and retired in 2009 at 85. Stein is survived by his wife of 53 years, Lucy "Nickie" Nichols; sister, Helen Alexander, and her husband, Robert; brother-in-law, Arthur Nichols, and his wife, Phyllis; children, Janet and her husband, Christopher Rauschenberg, Mark and his wife, Jill Kleven, and Naomi; two grandchildren; and two great-grandchildren. Memorial contributions maybe made to Doorstep, the Sunflower Music Festival or the Doctor Joseph and Lucy Nichols Stein Fund for Music Student Travel or Nursing Scholarships.
1946
Bernard Goldman, retired engineer, Lakewood, Colo., on October 27, 2013. Born on July 20, 1926, in Manhattan, Goldman was initially a member of the Class of 1946 but graduated in 1947 from Engineering and in 1948 from the Journalism School. He was retired from the Navy and had been affiliated with Ford Instrument, Grumman Aircraft, Connecticut General Life Insurance Co. and insurance/financial service companies. Goldman founded Evergreen Beth Congregation, in Evergreen, Colo., and the JCRS Issac Solomon Historic Synagogue Foundation for restoring the synagogue on the campus of the Jewish Consumptives Relief Society. An avid skier, he was awarded the Halstead Award by the USSA-Rocky Mountain Division for outstanding volunteer services to the sport and was aboard member of the Loveland Racing Club, promoting skiing for kids. Goldman is survived by his wife, Susan Zinn Goldman (née Shuman); children, Janlori and her partner, Katherine Franke, Michael '84 and his wife, DeeDee Carlson, David '85 and his wife, Karen Dodds, and Lisa Zinn and her husband, Steve Sikorski; and four grandchildren. Memorial contributions may be made to the Bernie Goldman Memorial Scholarship Fund, Loveland Ski Club, PO Box 1032, Georgetown, CO 80444.
1950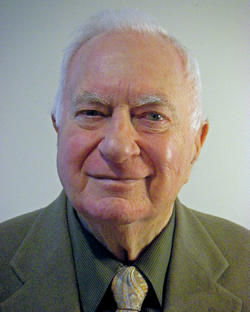 Joseph A. Mehan '50Joseph A. Mehan, retired communications executive, Fort Myers, Fla., on December 18, 2013. An Army veteran, Mehan earned a degree in 1951 from the Journalism School and was a newspaper reporter, writer and field producer for NBC News. He covered the Kennedy assassinations, the Civil Rights Movement, space missions and political conventions, and earned Peabody, Ohio State, Writers Guild and CINE awards. At the United Negro College Fund (UNCF), he wrote and produced documentaries featuring hosts such as Cyrus Vance, Harvard President Derek Bok, Hank Aaron, Arthur Ashe and Ray Charles, leading the Ad Council to name the UNCF a Major Campaign and appoint Young & Rubicam to develop a slogan to distinguish the UNCF. While director of communications at UNCF, Mehan introduced and promoted "A Mind Is a Terrible Thing to Waste." He represented UNESCO's controversial "New World Information and Communications Order" before the UN General Assembly and world press for 12 years and retired to become an adjunct professor of international communications at SIPA, where he taught 1990–2000. Mehan is survived by his wife, Margaret "Peggy" Mehan '63 SW; sons, Jeff and his wife, Kimberly Henderson '84 Business, David, Christopher and Michael; stepchildren, Katherine Stansmore-Heckscher '95 P&S and Thomas Stansmore; and 10 grandchildren.
1951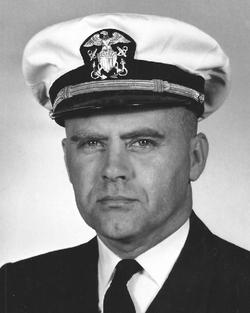 Allan W. Robbins '51Allan W. Robbins, retired Navy officer and branch librarian, Alexandria, Va., on March 3, 2013. Robbins was born in Camden, Maine, on October 22, 1928. At Columbia, he was a member of Phi Kappa Psi, completed the NROTC program and graduated with a bachelor's in political science and a commission in the Navy. Robbins served in both Korea and Vietnam and was awarded the Meritorious Service Medal. Following his military retirement in 1971, Robbins attended the Catholic University of America and earned a master's in library science. From 1973 to 1993, he was the branch librarian for two public libraries in Alexandria, Va. He also was the curator for the Alexandria Library Lloyd House, which housed the city's rare document collections. In his retirement, Robbins indulged his lifelong interests in literature, history, music and travel. With his wife of 61 years, Lianne Lawrence Robbins, he enjoyed winters in Florida and frequent visits with his six children and 11 grandchildren.
1952
Thomas E. Federowicz, retired physician, Binghamton, N.Y., on November 27, 2013. After graduating from Plymouth H.S., where he was a three-season athlete, Federowicz earned a football scholarship to Columbia, where he played tackle on both defense and offense. He then earned an M.D. in 1956 from P&S. After completing a residency in general surgery, followed by a hand fellowship at Roosevelt Hospital, Federowicz was hospital chief of surgery at Myrtle Beach AFB. He moved his family to Vestal, N.Y., in December 1962 to begin his private practice in surgery. There, Federowicz and his wife, Jeanne, raised their nine children. Federowicz was an assistant clinical professor of surgery for Syracuse Medical School. From a young age, he believed in community service and was involved with many organizations. Federowicz was predeceased by a son, Gregory, and is survived by his wife; children, Tom and his wife, Jane, Daniel '81 and his wife, Caroline, Stephen and his wife, Mary DeGuardi-Federowicz, John EdBon, Mary, Barbara Jean and her husband, Michael Houck, Janine, Ann Marie and Greg's widow, Maria Kirchever-Federowicz; and 21 grandchildren. Memorial contributions may be made to Lourdes Hospice, the Kopernik Society of Broome County, the Dr. Garabed A. Fattal Community Free Clinic of Binghamton or Birthright of Binghamton.
Robert C. Schwegler, certified life underwriter, North Tonawanda, N.Y., on June 25, 2012. Born on February 7, 1929, in North Tonawanda, Schwegler was Navy ROTC, a Lion linebacker and center, and member of Sigma Chi while at the College. After graduation, he and his wife, Patricia McCoy, moved to San Diego, where Schwegler graduated from the Naval Amphibious Training Unit. After serving as a naval officer during the Korean conflict, the couple returned to North Tonawanda and raised five children. Schwegler was a certified life underwriter with Home Life Insurance Co. and coached varsity football at St. Joe's and Nichols Schools in Western New York. Later, he worked in sales with Gray Line Tours in Niagara Falls. Schwegler enjoyed reading, gardening, bird watching, the beach, watching sports and playing euchre. He is survived by his wife of 59 years; daughter, Joan Winter, and her husband, Ron; sons, Robert P., William and his wife, Dawn, Carl and his wife, Gina, and George and his wife, Cathy; seven grandchildren; and one great-grandchild.
OTHER DEATHS REPORTED
Columbia College Today also has learned of the following deaths. Complete obituaries will be
published in an upcoming issue, pending receipt of information. Due to the volume of obituaries that CCT receives, it may take several issues for the complete obituary to appear.
| | |
| --- | --- |
| 1941 | John Stathis, retired physician, Longmont, Colo., on May 23, 2014. |
| 1945 | Stanley B. Braham, urologist, Sleepy Hollow, N.Y., on March 27, 2014. |
| | Seymour Fisher, retired insurance salesman, Bethlehem, Pa., on March 7, 2014. |
| | Howard M. Schmertz, attorney, Millrose Games director, Port Washington, N.Y., on March 27, 2014. |
| 1947 | George H. Borts, retired economist, Barrington, R.I., on May 2, 2014. |
| 1948 | Hoke Brissenden, Etna, N.H., on March 6, 2013. |
| 1949 | Albert F. Keegan, radiologist and professor, Haverford, Pa., on February 26, 2014. |
| 1950 | Weld S. Carter Jr, Penngrove, Calif., on April 10, 2014. |
| | David B. Karlin, retired ophthalmic surgeon, New York City, on May 10, 2014. |
| 1951 | Phillip A. Brooks, anesthesiologist, Longwood, Fla., on December 31, 2013. |
| | Gerald P. Brophy, retired professor, Amherst, Mass., on April 2, 2014. |
| 1952 | Charles Zimmerman, radiologist, Annapolis, Md., on May 3, 2014. |
| 1953 | James C. Coyne, New Providence, N.J., on January 27, 2014. |
| 1954 | Sander Goldman, Cutchogue, N.Y., on January 7, 2014. |
| | Martin Pine, professor, New York City, on March 15, 2014. |
| 1955 | John Burke Jr., retired, Montrose, N.Y., on January 6, 2014. |
| | Martin Gottfried, drama critic and Broadway historian, New York City, on March 6, 2014. |
| 1956 | Arthur Bank, physician, professor emeritus, New York City, on March 6, 2014. |
| 1957 | Erik R. Eybye, chemical company executive, Paoli, Pa., on December 20, 2013. |
| 1959 | Edward C. Mendrzycki, attorney, Bronxville, N.Y., on May 11, 2014. |
| 1961 | Kenneth C. Edelin, retired physician, Sarasota, Fla., on December 27, 2013. |
| 1962 | Daniel R. Shackman, psychiatrist, Santa Barbara, Calif., on March 20, 2014. |
| 1963 | Joel H. Rascoff, nephrologist, New Rochelle, N.Y., on March 31, 2014. |
| 1964 | Mark J. Zucker, professor, Innsbruck, Austria, on August 3, 2013. |
| 1966 | P. Lawrence Traynor, Robertsbridge, Kent, U.K., on October 15, 2013. |
| 1972 | Keith A. Luis, professor, blues musician, recording artist, Austin, Texas, on July 28, 2013. |
| 1999 | Adrianne Wadewitz, writer and editor, Palm Springs, Calif., on April 8, 2014. |
1958
Charles A. Swenson, retired software developer and editor, Alpharetta, Ga., on September 21, 2013. Swenson was born on September 23, 1936, in Bergen County, N.J. He graduated from the College with a dual major in history and philosophy. While at Columbia he was an active member of the Van Am Society. In his sophomore year he took a course in Zen Buddhism with Daisetz Teitaro Suzuki, which triggered his ongoing fascination with the Japanese culture. In 1974, Swenson began taking private lessons in Japanese while attending Japanese classes at night at Oglethorpe University in Atlanta. He also studied at the Atlanta branch of Brenau University and was a member of the Japan-America Society of Georgia for more than 20 years. A Japanese postal history specialist, he joined the International Society for Japanese Philately and in 2002 was elected a director of the society. In 2008, Swenson became assistant editor for postmarks for the society's bimonthly journal, Japanese Philately. He is survived by his wife, Sandy; son, Bjorn; daughter, Kristen; and son-in-law, Capt. Perry Yaw.
1959
Evan Juro, marketing and advertising executive, Matamoras, Pa., on November 13, 2013. A Brooklyn native, Juro earned an M.B.A. from NYU. He was an advertising and marketing executive with Grey Advertising, Citibank and Prudential Insurance, and also had his own firm, Evan Juro and Associates. His hobbies included sailing, running and playing jazz piano. Juro had recently published a book, Dear Instant Family, the true story of what happened when 400 women responded to his 1993 personal ad in New York magazine seeking a wife and a mother for his young children. Juro is survived by his partner, Teri Gottlieb; daughters, Becky and Samantha; sons James, Jeremy, Julian, Todd and his wife, Laura, and Stephen and his wife, Renee; four grandsons; and brother and sister-in-law, Richard '63, '66L and Fran.
1961
Marshall H. Berman, author, academic and philosopher, New York City, on September 11, 2013. Berman was born on November 24, 1940, in the Bronx. A graduate of Bronx Science, Berman earned a doctorate from Harvard in 1968. He joined the City College faculty shortly thereafter and was distinguished professor of political science. He also helped establish the Center for Worker Education in Manhattan, where working adults could pursue college degrees. Berman's intellectual passion was first stirred by Marx and he viewed him as deeply relevant long after Communist governments faded. Berman's New York Times obituary stated: "Marx, he insisted counterintuitively, might admire the energy and diversity that capitalism has delivered to the United States even if he believed there was a better way. The Bronx, Times Square, all of New York in its many incarnations — from the seedy, bankrupt 1970s to the murderous 1980s to today's urban boutique — was in his view alive and luminous in its recklessness and resilience." Berman was a prolific writer, contributing to many publications, including The New York Times, and he was a board member of the leftist journal Dissent. His best-known book, All That Is Solid Melts Into Air: The Experience of Modernity, was published in 1982 and took its name from a line in Marx's Communist Manifesto. Berman is survived by his wife, Shellie Sclan, and sons, Danny Berman and Eli Tax-Berman.
1965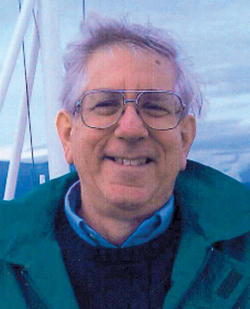 Geoffrey M. Horn '65Geoffrey M. Horn, editor and author, Red Bank, N.J., on November 25, 2013. Born in Manhattan in 1944, Horn was a first-generation college graduate who also studied at St John's College, Cambridge, U.K. Shortly after returning to the States, in 1967, he married his high school friend and pen palturned life partner, Marcia, who would be his wife of 46 years. Horn began work at Macmillan Publishers, leaving to start a freelance writing and editing business. He built a loyal network of employers and colleagues at Collier's Year Book, Funk & Wagnalls New Encyclopedia and The World Almanac. He penned several noted Judaica titles including Heritage: Civilization and the Jews (with Abba Eban) and the bestselling Bible Stories for Children. Later, he wrote more than 50 nonfiction children's books, profiling contemporary figures and career paths. Horn bought an original Mac in 1984, first took to the stage in his 40s, learned to play Bartók in his 50s and went to indie and punk concerts into his 60s. Survivors include his wife; sister, Madeline DeLeon; sons, Dave and Michael; daughter-in-law, Jennifer; and three grandchildren. Memorial contributions may be made to Doctors Without Borders.
1966
Leonard V. Don Diego Jr., retired teacher, EMT volunteer, Manalapan, N.J., on September 17, 2013. Born in the Park Slope section of Brooklyn, Don Diego had resided in Manalapan for 20 years. He taught at Xaverian H.S., Brooklyn, and then at Brick H.S. and Kean University. After retiring in 2007, Don Diego became a volunteer EMT for the Manalapan/Englishtown squad. He was a communicant of St. Thomas More Catholic Church, Manalapan, and had volunteered for the College's Alumni Representative Committee. Don Diego enjoyed learning, history, sports, collectibles and model trains. He was predeceased by his brother, Edmund, and is survived by his wife of 30 years, Patricia; and children, Leonard III and Laura. Memorial contributions may be made to the American Cancer Society.
1967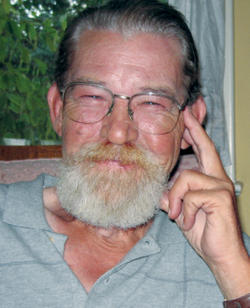 John W. Elsberg '67
John W. Elsberg, retired editor, Arlington, Va., on July 28, 2012. Elsberg was born in New York City on August 4, 1945. He was a history major at the College and received a Kellett Fellowship to attend St John's College in Cambridge, U.K. He and his wife, Connie '67 Barnard, moved to England where their son, Stephen, was born. There, Elsberg studied English history and taught for the University of Maryland overseas. On his return to the States, Elsberg settled at the Army's Center of Military History, where he worked 1975–2005. He rose to be the center's editor in chief. Elsberg wrote poetry from the time he was in high school, was the author of more than a dozen books and chapbooks, and appeared in a number of anthologies. He was fiction editor for Gargoyle magazine in the 1970s and recently was poetry editor for The Delmarva Review. From the 1970s on, he was the editor of Bogg, Journal of Contemporary Writing. He hosted open poetry readings at The Writer's Center in Bethesda, Md., for almost 25 years and led writing workshops. In recent years, Elsberg wrote primarily tanka and haiku and was working on a collaboration with a fellow poet in which they evolved their own style based on these forms.
1972
William A. Pencak, professor and editor, Coburn, Pa., on December 9, 2013. A native New Yorker, Pencak earned an M.A. in 1973 followed by an M.Phil in 1975 and a Ph.D. in 1978, all in history and from GSAS. A professor emeritus of history at Penn State, distinguished historian of early American history, historian of Pennsylvania and twice editor of Pennsylvania History, he also was an author. His first books, War, Politics, and Revolution in Provincial Massachusetts (198l) and America's Burke: The Mind of Thomas Hutchinson (1982), focused on New England, and his third, For God and Country: The American Legion, 1919–194l (1989) was written for a friend who had set out to write it but passed away. His Jews and Gentiles in Early America, 1654–1800 (2005) took him into the reconstruction of an oft-overlooked segment of colonial society. He co-edited Pennsylvania: A History of the Commonwealth and was working on a biography of Bishop William White, Pennsylvania's first Episcopal bishop. Pencak taught classes in Jewish studies prior to his retirement from Penn State and following his retirement accepted a position as the Bert and Fanny Meisler Visiting Professor of History and Jewish Studies in the Department of History at the University of South Alabama. Pencak is survived by his mother, Harriet; and husband, Vincent Parker.
1987
Karin M. Higa, art curator, Los Angeles, on October 29, 2013. Higa earned a master's in art history from UCLA. At the time of her death she was enrolled in the doctoral art history program at USC. Higa was a specialist in Asian American art who was a curator at the Japanese American National Museum in Los Angeles 1992–2006, rising to the rank of senior curator of art. Soon before becoming ill she had been named a curator for the Hammer Museum's "Made in L.A." Biennial for 2014 but had to step down. During her tenure at the Japanese American National Museum, Higa helped to organize many notable exhibitions, including a 1992 show of art made at internment camps during WWII and a 2008 show devoted to the art of ikebana, or Japanese flower arrangement. She was a curator of the touring exhibition "One Way or Another," spotlighting contemporary Asian American art, which ran at the Asia Society in New York in 2006. Higa was a Los Angeles native. She is survived by her husband, Russell Ferguson; mother; and brother.
Lisa Palladino